(Return to "Sharon - 2018" albumn)--------------(Return to "Brett - 2018" albumn)
| | |
| --- | --- |
| | click on the logo to go to the Official Web Site |
Workouts ... during 2018
Page #01

current page

Page #02

HERE

Page #03

HERE
NOTE #01
- this list below does not include every session that Sharon, Brett, Ritchie and the others
have completed ...... it shows only those where a report was made ... or ... when videos and/or photos were taken
NOTE #02
- and you can click HERE to see the details of how this exercise program got started during 2009
NOTE #03 - and you can click HERE to see over seventy entries made during 2009 and 2010
NOTE #04 - and you can click HERE to see dozens of entries and photos and videos made during 2011
NOTE #05 - and you can click HERE to see dozens of entries and photos and videos made during 2012
NOTE #06 - and you can click HERE to see dozens of entries and photos and videos made during 2013
NOTE #07 - and you can click HERE to see the entries made during 2014
NOTE #08 - and you can click HERE to see the entries made during 2015
NOTE #09 - and you can click HERE to see the entries made during 2016
NOTE #10 - and you can click HERE to see the entries made during 2017
Click on the panel
opposite to read this article
.
Saturday 11th May 2013


.
New Equipment Shed
Building Commenced on Wednesday 17th February 2016
| | | | |
| --- | --- | --- | --- |
| 32 x photos | 36 x photos | 33 x photos | 25 x photos |
Sessions at Trinity Beach
Tuesday 2nd January 2018
"Geoff's Arm Injury"
Note from Michelle
You have some 'war wounds' there
Hope it's not as bad as it looks !!
Ouch !!
Note from Graeme
Just a flesh wound
Reply from Geoff
Yes, I like Michelle ... but don't like Graeme much !!
.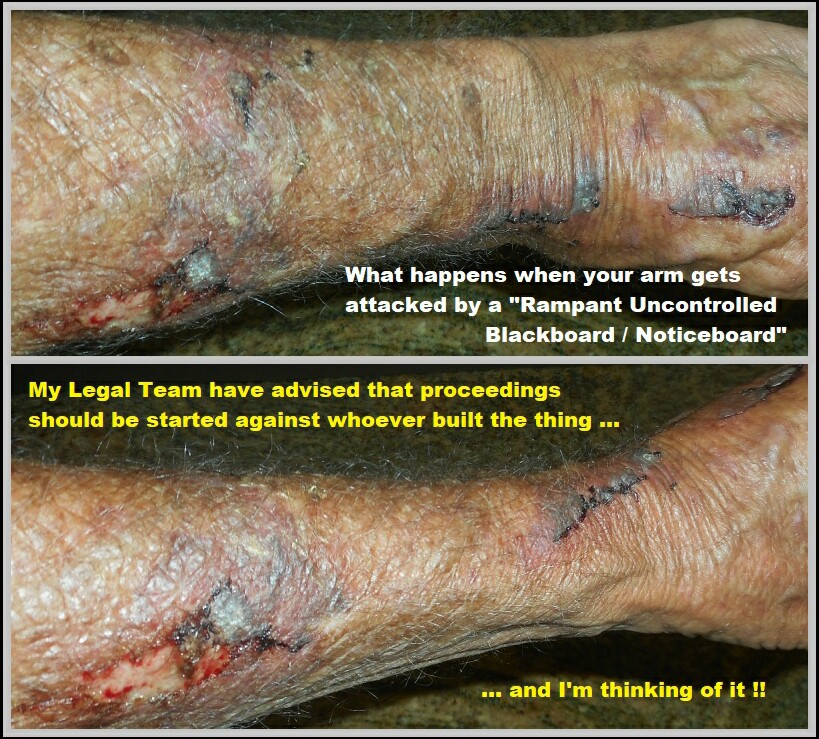 .
.
Friday 5th January 2018
"
HONOUR BOARD
"
.
Firstly, and most importantly, thanks to RUSSELL for donating this and hanging it in The Shed
This all happened some time ago ... and since then, not much has been added, etc ... and that is a bloody shame !!
That is going to change from now !!
Below are two photos ... "Yesterday and Today" ... and now, we will keep it going
PLEASE --- if you have any other "Facts and Figures", let me know and they will be added
Peter and Deb ... your names are not on the list as I've been told you are doing the "Bathtub Around The World" trip very soon
Kerry ... your name is not there because Sharon says you are a Wuss and Bludger
Tennille + Zoe + Susan ... bring your 'Hot Bodies' along
.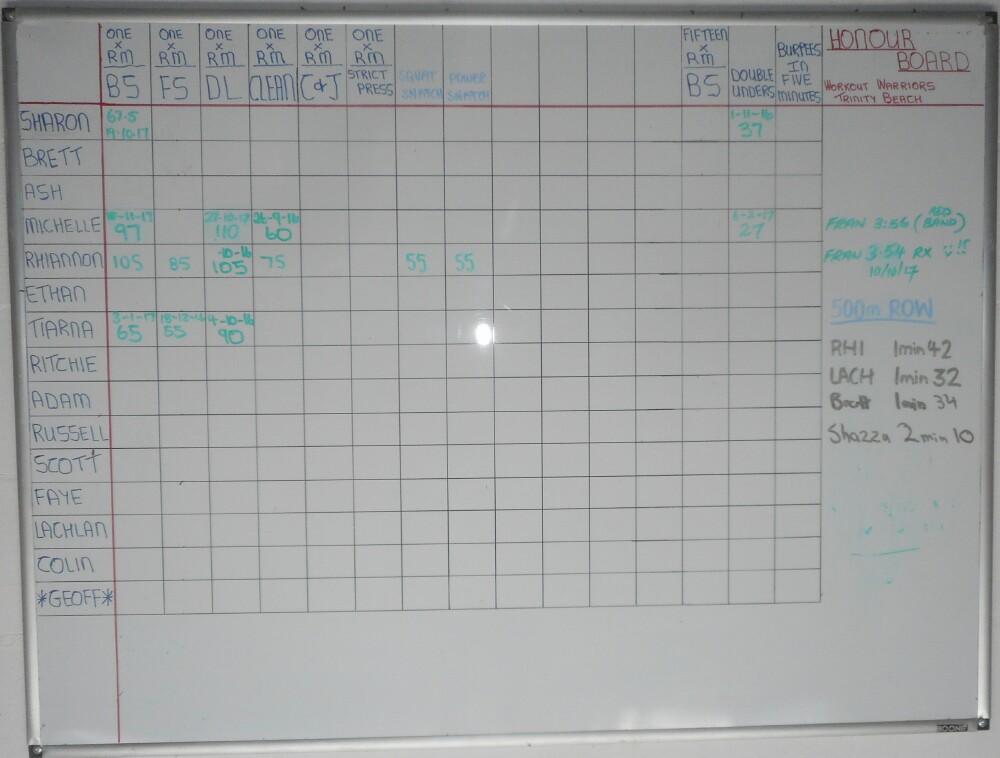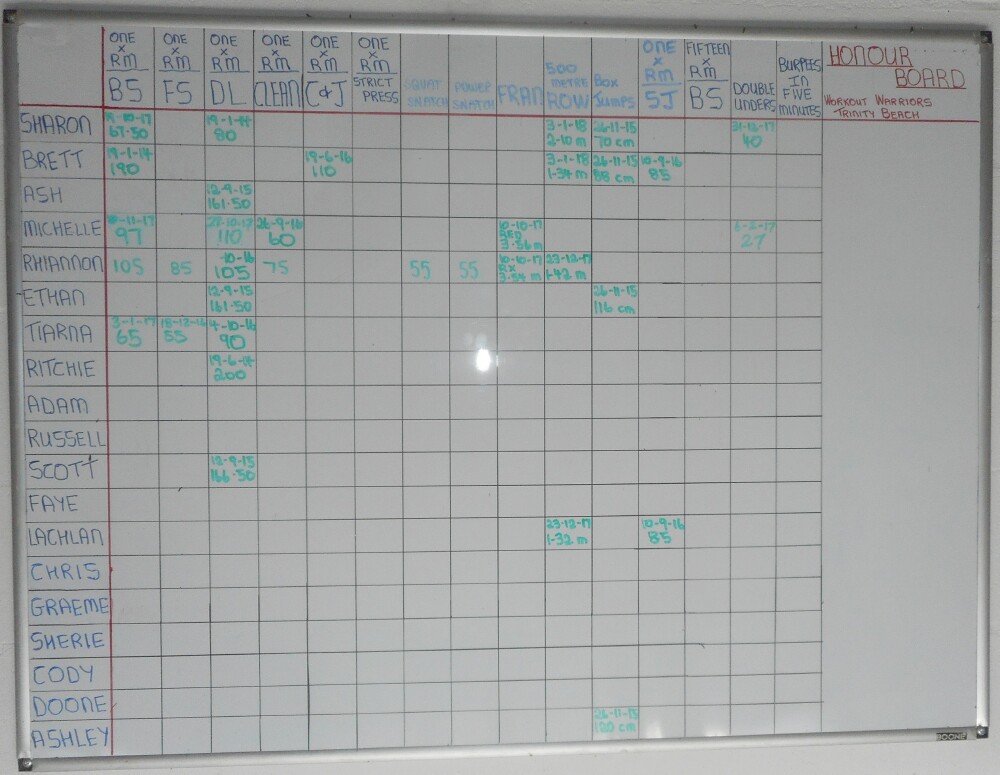 .
.
Thursday 11th January 2018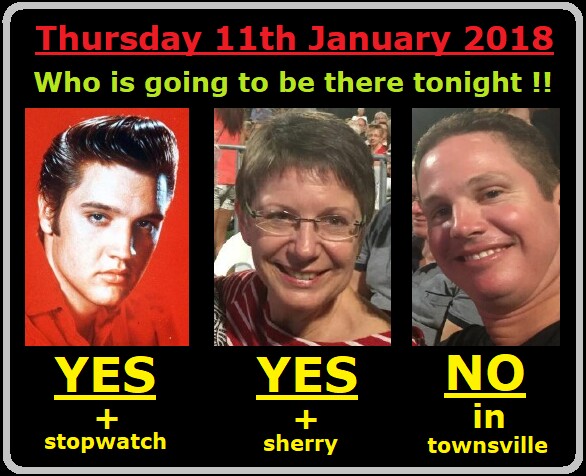 Note from Sharon
Sharon here ... I do not drink sherry !! ... although it is a wonder I haven't been driven to it !!
.
.
Saturday 13th January 2018
Workout ... as set by Rhiannon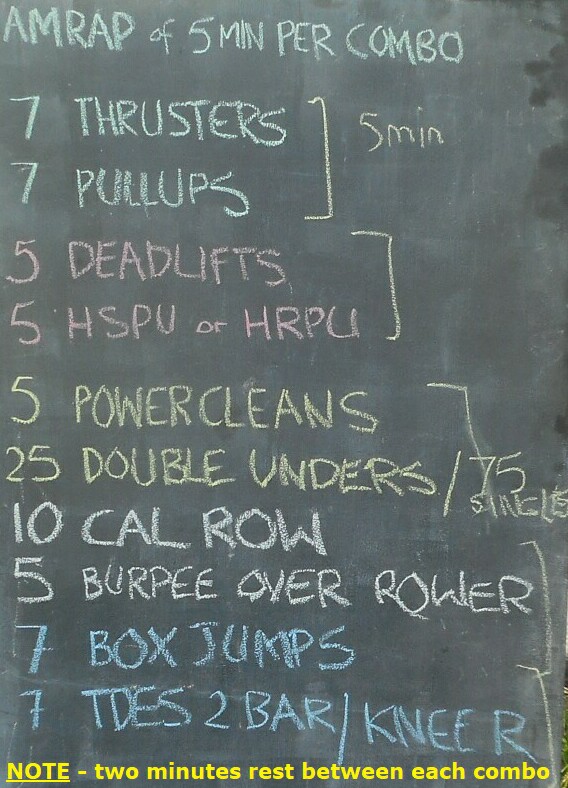 Notes from Geoff
We met up with this bunch today
They are "The Reservoir Dogs" and operate out of Yorkeys Knob
Rough looking bunch but Real Good Guys !!
and click HERE to download / watch a video in "mp4" file format
duration = one minute ... ... file size = 7.96mb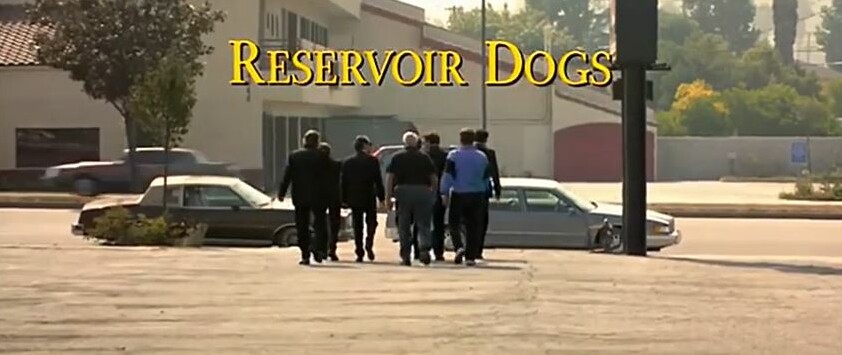 "The Workout Warriors" of Trinity Beach ... photo one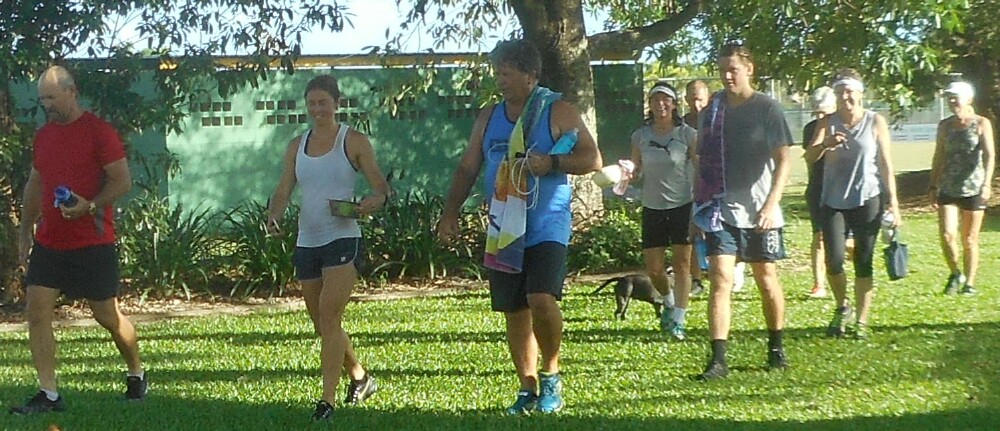 "The Workout Warriors" of Trinity Beach ... photo two

Note from Michelle
Nicely captured, Mr Timekeeper !!
Such a fit looking bunch we are !!
Reply from Geoff
Not as fit as the "Dogs" though !!
And I like the "walking" photos and videos
I am reasonably clever provided I have left a bit of sherry in the bottle !!
.
.
and click

HERE

to go to

Page Two
.
---
x
x