Thursday 7th April 2016 ... Karen Turner

These "Facebook Memories" really bowl me over some days
Just about to leave for work but now I find myself standing in the kitchen crying over Cake
Seems I was reminiscing with her before she was even gone
How blissfully ignorant we were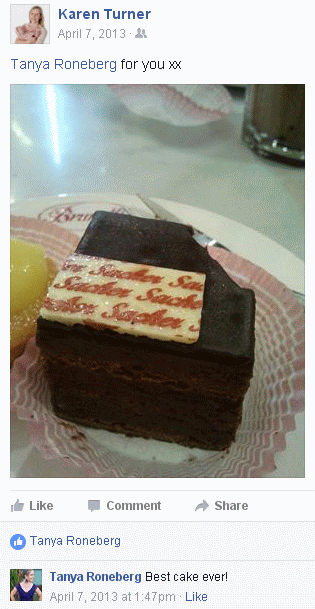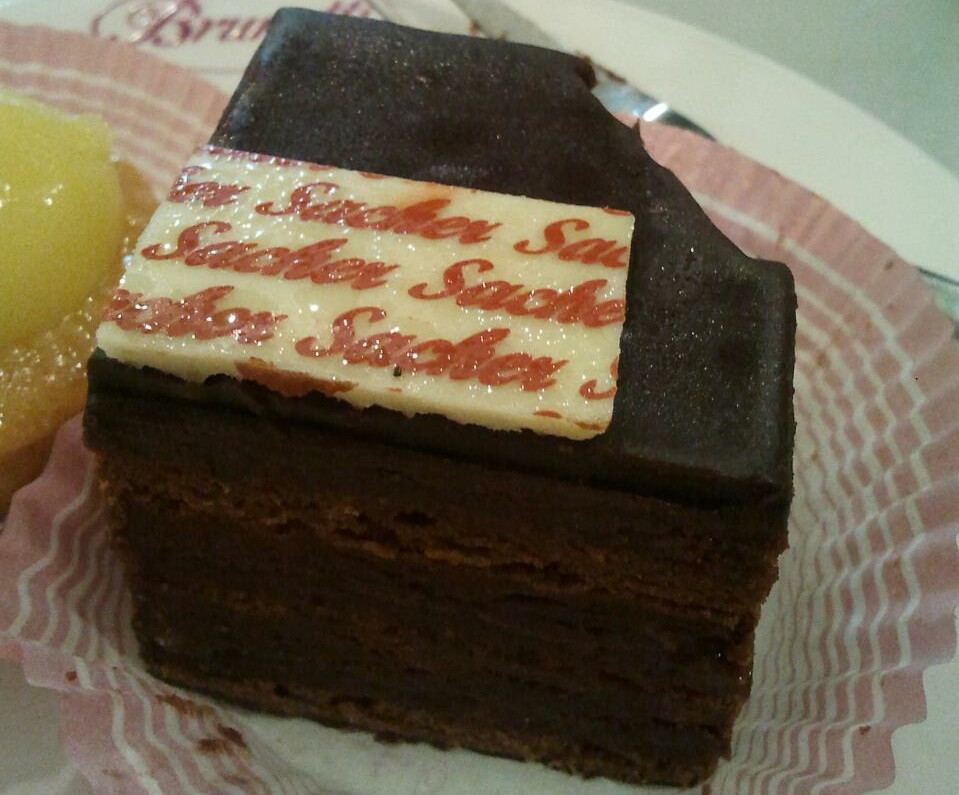 Note from Geoff
I understand ... a Note from April 2013
Memories ... and they do, Karen, they really do
As Sharon says, they are like "little signs" that Tanya is talking to us ... so sad sometimes, though we love it when they appear
( and "HELLO" back to you, Tanya Mary !! )
Oh boy, I remember this Cake !!
Click HERE to go to Tanya's Vienna Diary and scroll down until you see this photo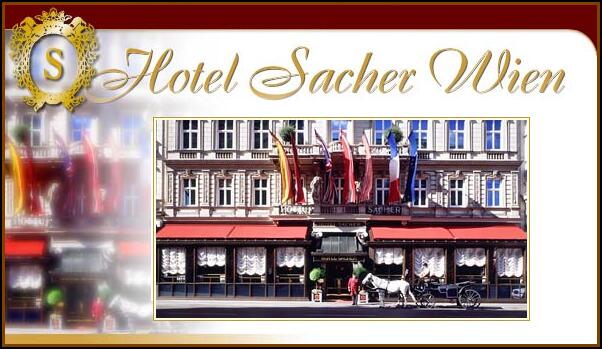 It is a Great Story - and she stole an ashtray !!
Thanks so much for sharing this

Wednesday 27th April 2016 ... Sue De Mamiel

Sending hugs to you Sharon, and Geoff, over these next few weeks

Note from Sharon
It's hard to describe our feelings as these dates come closer but thank you so much, Sue
We will need those hugs

Wednesday 27th April 2016 ... Fernando Roneberg

I'm on the other side of the planet but send you love for all the Roneberg Family
You will always be in my thoughts
Keep yourselves strong

Note from Geoff
That is a beautiful message, Fernando
Sharon will answer herself later ... it's a Public Holiday here, Monday 2nd May
7.05am and she's snoring away in bed !!
Best wishes

Note from Sharon
Thanks for your kind thoughts
I can hardly believe it has been three years since we lost Our Beautiful Tanya
The next few weeks will be tough and it's hard sometimes to be strong all the time but we do our best
Love to you and yours on the other side of the world

Wednesday 1st June 2016 ... Rhona McDonald

Guess what I am about to do ??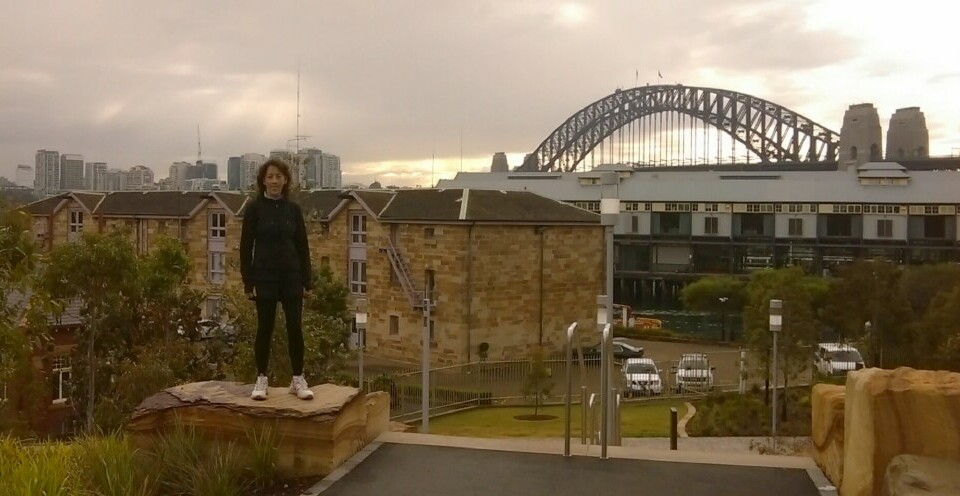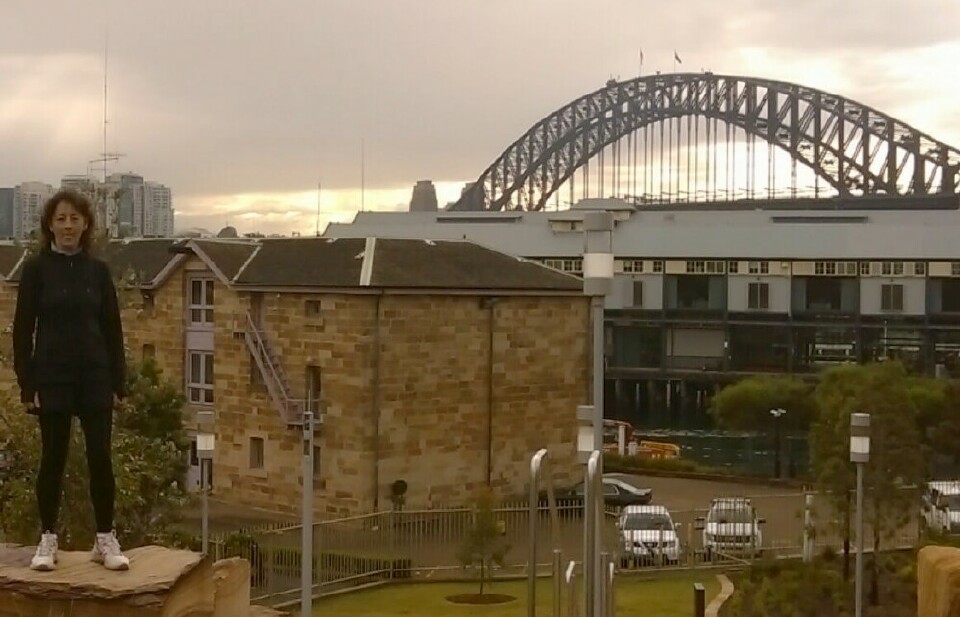 Note from Sharon
Climbing the Bridge or running over it !!
Wish I was there with you !!

Note / Photo from Rhona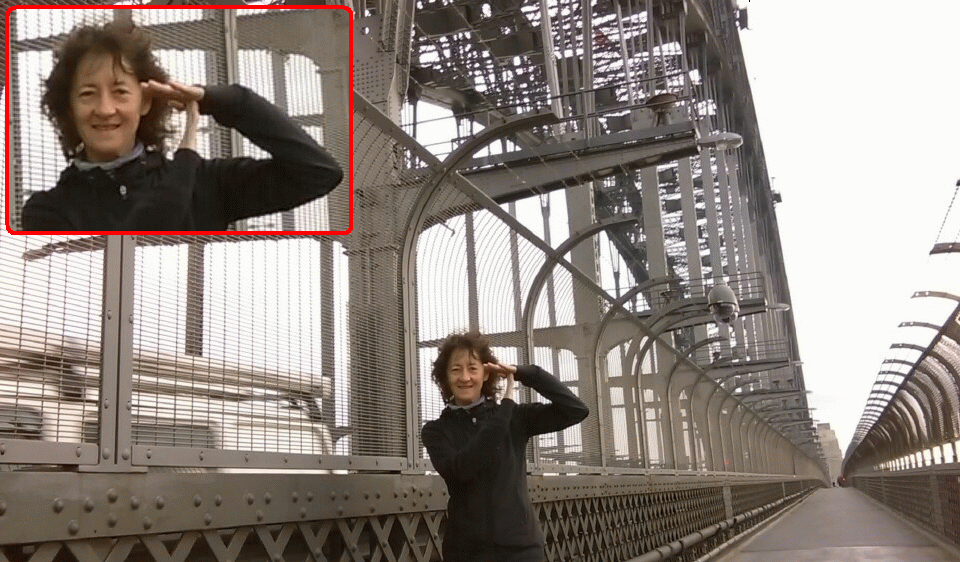 Note from Sharon
Now that made me cry !!

Other Links
Tanya climbing the Bridge
March 2007
CLICK HERE
Tanya's run around Sydney Harbour
February 2012
CLICK HERE
Sharon, Brett and Rhona in Sydney
March 2014
CLICK HERE
Sharon and Rhona running over the Bridge
March 2014
CLICK HERE
Rhona's visit to Cairns
July 2015
CLICK HERE
Thursday 16th June 2016 ... Tennille Denman
and click HERE and scroll down to Wednesday 20th July 2016 to see another "Tanya + Rainbow + Tennille" post and comments

Double Rainbow over Trinity Beach this morning !!
Tanya is saying "good morning"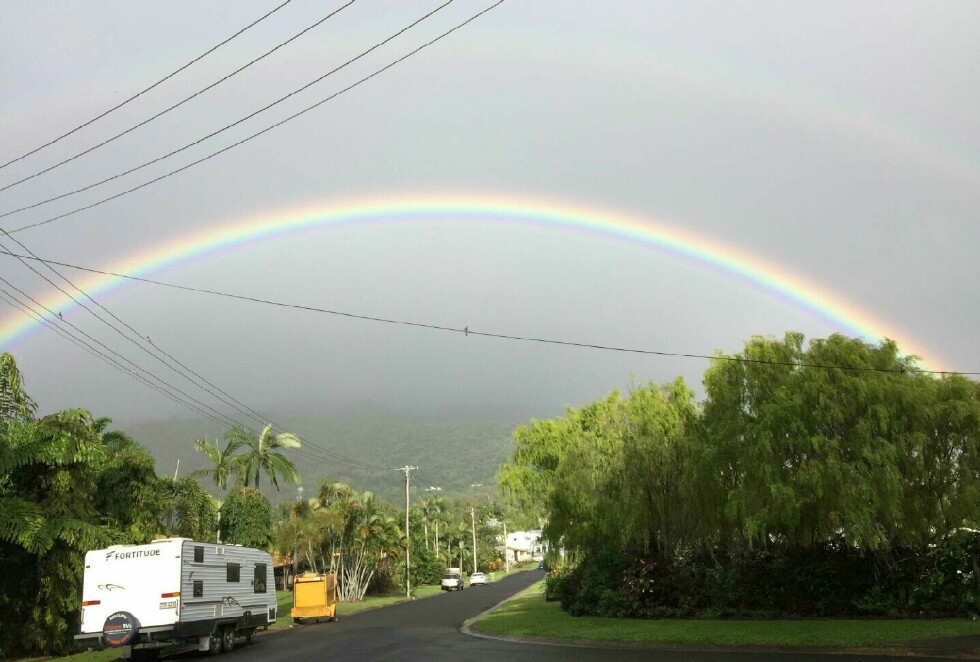 Note from Sharon
Wow ... she sure is !!
Thank you

Sunday 10th July 2016 ... Gloria and Agufana
and also refer to Friday 4th November 2016 below

Details from Sharon
When we went down to Tanya's Plaque today, I spoke to a lady and her son ... I often speak to people down there
Gloria and Agufana were working out on the bars nearby
We spoke about Tanya and they had 'googled' her name so they knew quite a lot about her
When we arrived home there was a lovely email from Gloria
She seemed so nice and I knew she was here on holidays from Port Augusta in South Australia
I had Tanya's Quilt so I contacted her and asked if she had time could I show her "something"
She said 'yes' so I called around to their unit on the way home from work and showed her
She was thrilled to see it and we had a lovely visit ... and here are the details

Note from Gloria
Dear Sharon
It was just so very nice that you came over to my son and me today on "The Bars" at Trinity Beach to say hello and give me so much encouragement and inspiration about attempting to 'hang', let alone aim for a pull up one day !!
We have, of course, now looked at some of the photos of Your Most Beautiful Daughter, who is so at your side and in your heart in all that you do
As a Mum I can only imagine the loss in your lives, and, as always, I am reminded of just how blessed I am
Perhaps we will meet again on the beach ... I hope so
Wishing you joy

Note from Sharon
Hi Gloria
What a thoughtful lovely note ... my husband Geoff forwarded it on to me but didn't tell me and I have just seen it !!
I am glad you have been able to see some photos of Our Beautiful Girl
Our Family Website is huge and Geoff has put it all together for us
We miss Tanya so much but I am thankful for the full happy life she had and the wonderful memories we have
You are right ... she is in my heart in all that I do
If you are here for a little longer and you can spare fifteen minutes, I have something I would like to show you
I just know you would love it because you are a 'mum' ... but no worries if you can't
Thanks again for your lovely note and as I am sure your son would say to you ... "keep moving" !!
Kind regards

Note from Gloria
Hi Sharon
Well, of course I would love to see what you want to show me
I am here until Saturday morning
Kindest thoughts

Note from Sharon
Hello again
Are you staying in Trinity Beach ??
I finish work at 4.00pm and if it is convenient I could call into your place on the way home
My mobile number is 0419 *** *** and if you can give me a call we can see what suits you the best

Note from Gloria
Hi Sharon
Yes, at Unit ** / ** Moore Street with Agufana, my son
I'll call you tomorrow ... but will be here all day both Tuesday and Wednesday
Apart from walks and swims, of course !!
Kind regards

Wednesday 13th July 2016 ... Note from Gloria
Dear Sharon
Thank you so much for sharing that Beautiful Quilt with me ... it is so very special
I attach something I wrote last time I was in Cairns, walking back from the beach at Palm Cove
I think you will like it ... I hope so
I look forward to seeing you again ... perhaps not tomorrow night though !! ( Sharon - Workout Warriors )
Take care, have some fun, love and laugh
Hugs
Note from Sharon
How absolutely perfect ... I love it
"The Cycle of Life" is true and that is how it is
I have no doubt I will see Tanya again in Heaven however that works
Tanya loved life and nature ... many mornings I slip down to the beach to take some breaths of fresh air and watch the sun rise
She sent me so many photos of sunrises telling me to get up and out and this is where I feel close to her
It was a lovely visit this afternoon and I knew you would appreciate and the understand The Quilt
I look forward to catching up again one day and if tomorrow night you feel like stretching your legs ... well, the offer is there ... no pressure !!
I have added a couple of links you may like to look at:-
#1 - Tanya's Red Wall in Brett's Home
#2 - The Story of The Quilt and Cushion
#3 - Mother's Day 2015 with Brett ... a "Special Day" and I felt Tanya with us
Enjoy the rest of your stay with your son
It was truly lovely to meet you both
Hugs to you too

Wednesday 27th July 2016 ... Note from Gloria
Hi Sharon
It has been pretty busy since I arrived home
We had organised a small luncheon for my Mum's 97th Birthday on the Sunday ... I arrived on Saturday evening
But even better, Agufana dropped me at the airport and as I was getting myself a bottle of water, I turned around and he was standing there with his backpack !!
He had decided to surprise me first, and then his Nana, by coming to Port Augusta for the weekend !!
His fiance, Leena, collected us at Adelaide and the three of us drove up together
What a wonderful surprise for us all !!
The lunch was also a surprise for my Mum who had absolutely no idea at all
So all in all, it was a wonderful couple of days
I so enjoyed the links you sent me ... thank you so much
I have to admit, though, to a few tears, but what a blessing to have so many wonderful memories of a life so well lived
You will have noticed that we didn't turn up on Thursday evening ... Agufana was still not really well enough but I think you may see him there one of these evenings ... and it was cold and wet !!
I loved my short time with you, and I look forward to, on my return to Cairns, meeting with you again
Until then, take care
Love and Hugs

Note from Sharon
Hi Gloria
What a lovely surprise for you all and especially your Mum ... seems like we have both have great kids !!
I am glad you liked the links I sent you
I am so lucky to have these beautiful reminders available at the touch of a button
I also look forward to catching up again when you return to Cairns
And please tell Agufana not to be shy ... he is most welcome to come along to our workouts !!
Love and Hugs to you too
Saturday 6th August 2016 ... Sharon to Jon and Angela Westaway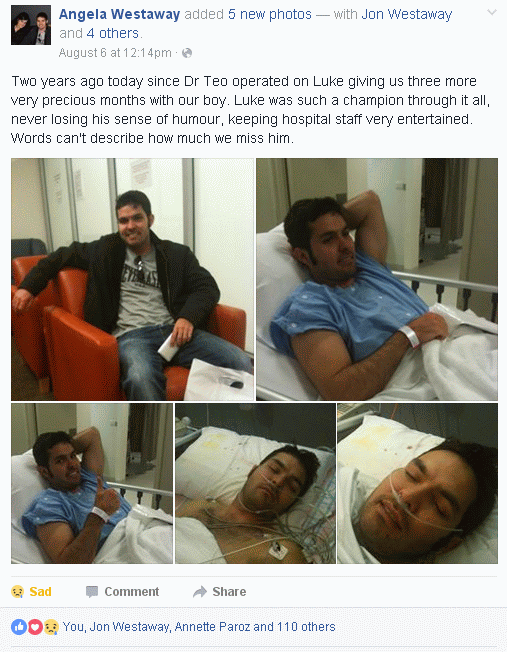 Every time I see a post from you guys --- sad times, funny times, happy times and even all your lovely photos, Jon --- I think you are like us
As a Family, trying to do the best you can after losing your child ... it's hard work some times
Just wanted to let you know I am thinking of you today

Note from Jon
Thanks, Sharon
I feel very much the same when I see your posts
I often yearn to say something to you but always struggle to put it into words
We both share a journey that no parents wants to experience ... the time passes but the ache in my heart is always there ... so raw
It helps to keep busy pushing myself to walk new trails or strive to capture a perfect image on my camera
Having caring friends has also helped, so thank you and Geoff again for all your support
I hope we can meet up one day

Note from Angela
Thanks, Sharon
Feels like it will never get easier ... in fact, the ache has worsened
But you guys know as well as us that you become very good actors and liars when someone asks "how are you"
We think of you often and just wished we'd met Your Beautiful Daughter

Note from Sharon
Yep ... keep busy and be good actors !!
I would like to have known Luke and I would love Tanya to have known him too !!

Sunday 21st August 2016 to Sunday 4th September 2016 ... Jacqui Searson

Big love to you both from me and Sammy
What a powerful video !!
( "My Road Toll" and "Broken Family" ... click HERE )

Note from Sharon
Thanks, Jacqui ... it is powerful and that was the aim of the Campaign
We met the other families in Brisbane this morning and I am just about to look at their videos now
"TMR" is still orchestrating proceedings !!

Note from Sharon ... Sunday 4th September 2016
Vacumed the car this morning ... found three sequins ... ha ha !!

Note from Jacqui
So sorry, I meant to respond to this earlier but did it in my head
Those sequins are all through my house !!
How are you both going ??

Note from Sharon
We are good thanks, Jacqui
There were a few little signs that Tanya was around this Father's Day weekend
An amazing one is Brett was coming to cook us dinner on Sunday and during the day I went to buy a few groceries
I had to get some Almond Magnums for dessert
When I got to the counter I had four of them !!
I looked at them and said "I only need three" and the girl said "That's okay"
Only a little thing but it shocked me
Made me a little sad but happy too ... not everyone would know what I mean but I figured you will !!
Much love to you and your gorgeous boy

Note from Jacqui
Oh, I do know what you mean ... she's around !!
I met up with Lauren a few days ago who was on the same Greek Islands Tour with Tanya ... CLICK HERE
I also met her husband Stafford who went onto tell me he knew Tanya too
He met her in London and didn't meet Lauren until he got back to Australia a year later
I found that really weird ... Tanya was the common denominator between all of us
I don't think they quite understood my joy and fascination at making this link, but it's just all the little signs that tell me she is definitely around !!
Much love

Note from Sharon
Love that story !!

Saturday 24th September 2016 ... Geoff to Jodie Vincent (Wilson)
and also refer to Sunday 5th November 2016 below
Sunday 6th November 2016
Sheraton Mirage Half Marathon
CLICK HERE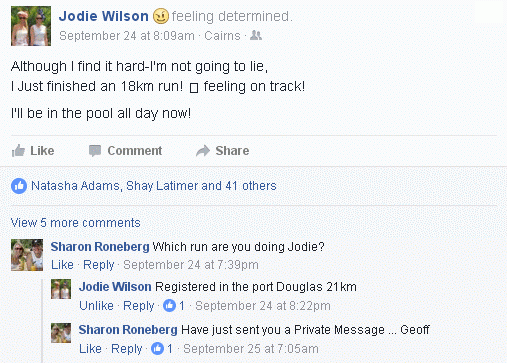 Hi Jodie ... Sharon has done this Run twice ... both times for Tanya Mary ... in 2013 and again in 2014
Have a look at those links ... and Good Luck to you from all of us !!
Geoff

Note from Jodie
Thank you
I was really tempted to join Sharon in 2014 ... but had health issues
Now, after losing another friend this year I am determined
For Tanya and for our friend Scott Penny, who was my first Triathlon Coach and The Best Man at Our Wedding
I'm following the program that is in the website
So far okay but yesterday's run has left me with a strain in the ankle
Didn't feel it til last night ... tried to run today but couldn't so changed programs and did a fourty five minute gym workout here at home
At least it's something !!
Did Sharon train on the beach and trails ?? ... I'm mainly doing roads and treadmill as I get up at 4.30am before work
I've registered and booked a room ... so fingers crossed I can do it !!

Note from Geoff
Sharon is out doing the "Green Arrow" at the moment ... she will answer herself later today re training, etc
Hope the ankle comes okay
And yes, you can do it !!

Note from Jodie
Thank you, Geoff !!
Hope you are doing well

Note from Sharon
Hi Jodie
When you decide to do something that is quite hard, it helps to have a good reason to keep you going ... and you have two very good reasons !!
I didn't train on sand and if it is low tide which it should be, the sand at Port Douglas is quite hard so it is easy to run on
I didn't do any trail running ... and there was hardly any on the course
My coach had me run for time ... run for an hour ... run for an hour and thirty minutes, etc
I only did one long run ... eighteen kilometres about two weeks before the race
Mind you, I just wanted to complete it and she said if you can run eighteen kilometres on the day, you will be fine
And I was ... I was just hot !!
We will be cheering for you !!

Tuesday 25th October 2016 ... Jacqui Searson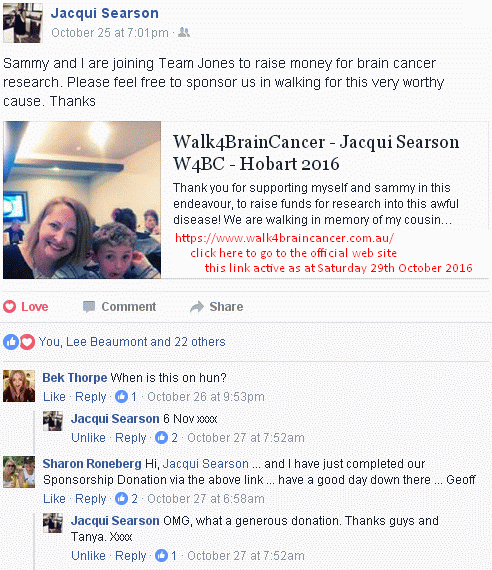 Jacqui mentions her 'Cousin' in the above post
and Sharon also mentions 'Him + Tanya + Three Years' in her post below

?? what is this all about ??

click HERE and scroll down to Thursday 4th July 2013 to read the details
Details on the Donation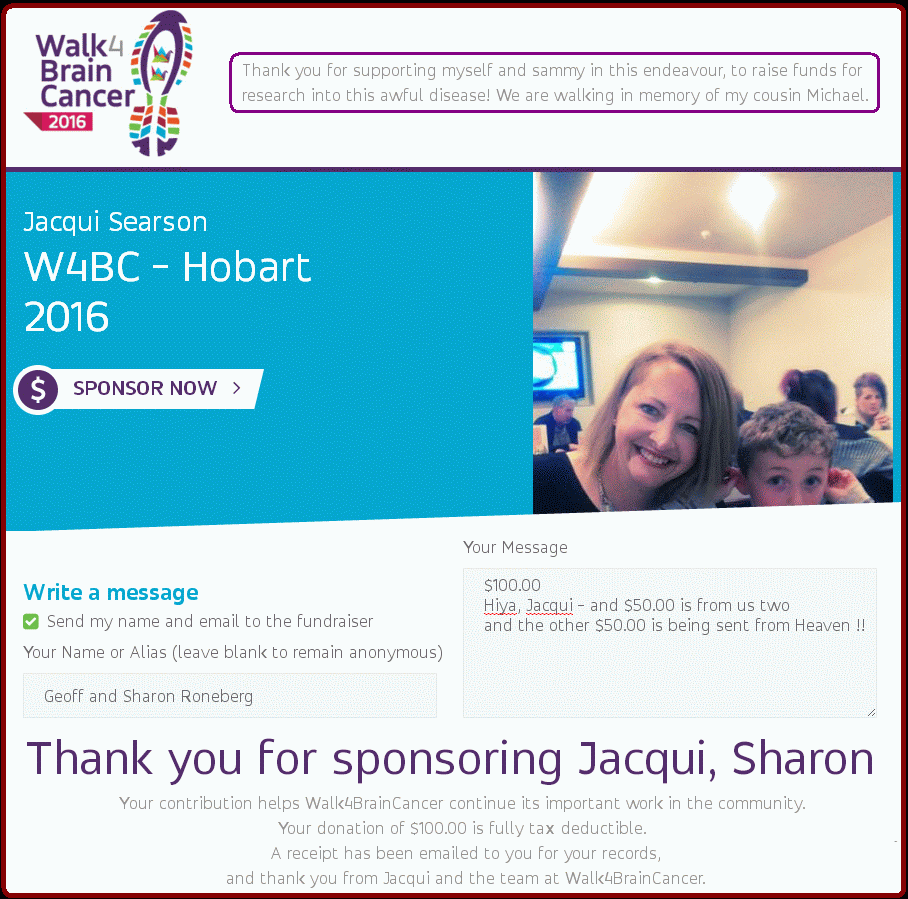 Friday 4th to Wednesday 9th November 2016 ... Gloria and Agufana
and also refer to Sunday 10th July 2016 above

Greetings and Hi, Sharon
I have been in Cairns for a few days
I came here with my husband, David, after visiting the grandchildren in Brisbane
I took David to Cedar Park for a few days as his birthday present ... CLICK HERE
We had been able to put my Mum into respite care for a while, and we both needed a little break !!
David has now returned home, and I leave on the weekend
I thought I would have time to see you, but it has been a pretty short trip
But I wanted to tell you that every time I walk up those "Stairs" I first go and speak to Tanya and gather some inspiration from her
When Agu and I 'work out' on the bars, we both speak to her, always say goodbye before we leave, and thank her for the inspiration she gives us both ... and probably especially me on those Stairs !!
I hope you are doing okay ??
I sometimes think about you on a Thursday evening and all the energy you must be expending at your 'boot camp' !! ... he thought of the hard exercise is a bit daunting to say the least !!
Take care, and I do hope I will see you next time I am up here
Love and hugs

Note from Sharon
Hi Gloria
So lovely to hear from you and I hope you have all enjoyed your much deserved break
It is lovely to read your words about how you say "Hi to Tanya" ... I love to think that others spare a moment to think of her
You will have to say 'Happy Birthday' to her before you leave ... she would have been 'Fourty One' on Wednesday 9th November
CLICK HERE for a link to the "Queensland My Road Toll Campaign / Join The Drive" which was released on the day of my Birthday
You may like to read some of it
It was a hard thing for Brett and I to do but when asked if we would participate I felt that anything to stop people being distracted and to take more care while driving was the right thing to do
The idea was to have it shared through social media and get the message through to as many people as possible
I am sure we will catch up at some stage and I look forward to it
Take care
PS - did Agu show you the "Awesome Photo" I took of him at Trinity Beach ... if not, just click HERE and scroll down to Monday 3rd October 2016 ... fantastic !!

Note from Gloria
Dear Sharon
Yes, we did wish Tanya a "Happy Birthday" for today !!
And left a couple of Frangipani Flowers that Agufana climbed up the rocks to pick !!
We are still sorting ourselves out from being away, so I haven't as yet had a look at your link, but I will
I hope that you are okay today ... I can only imagine how hard it is
I am thinking of you and wish you strength and hope that happy memories sustain you
Take care
Love and hugs

Note from Geoff ... Tanya's Birthday ... Wednesday 9th November 2016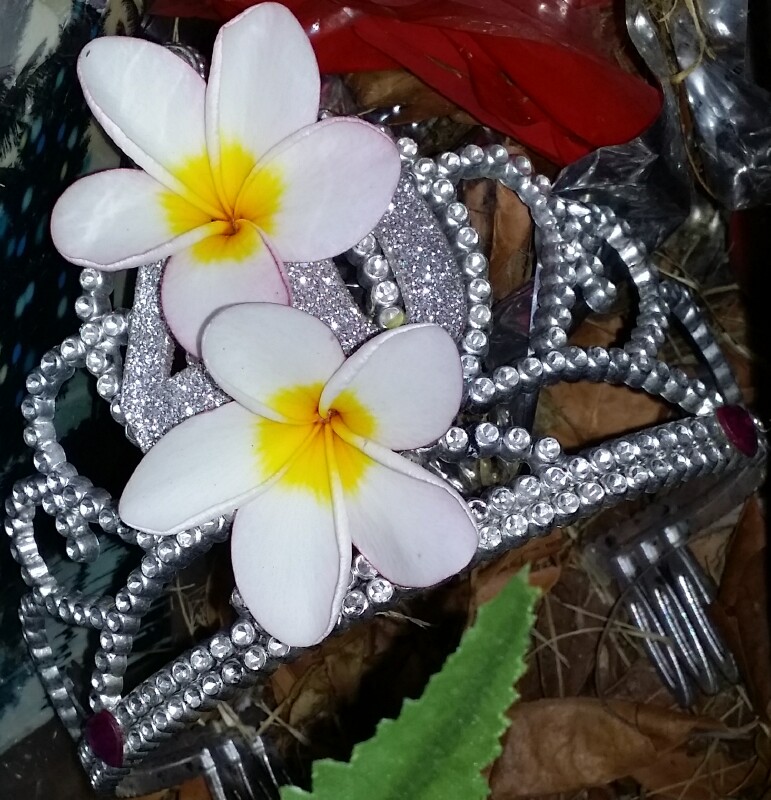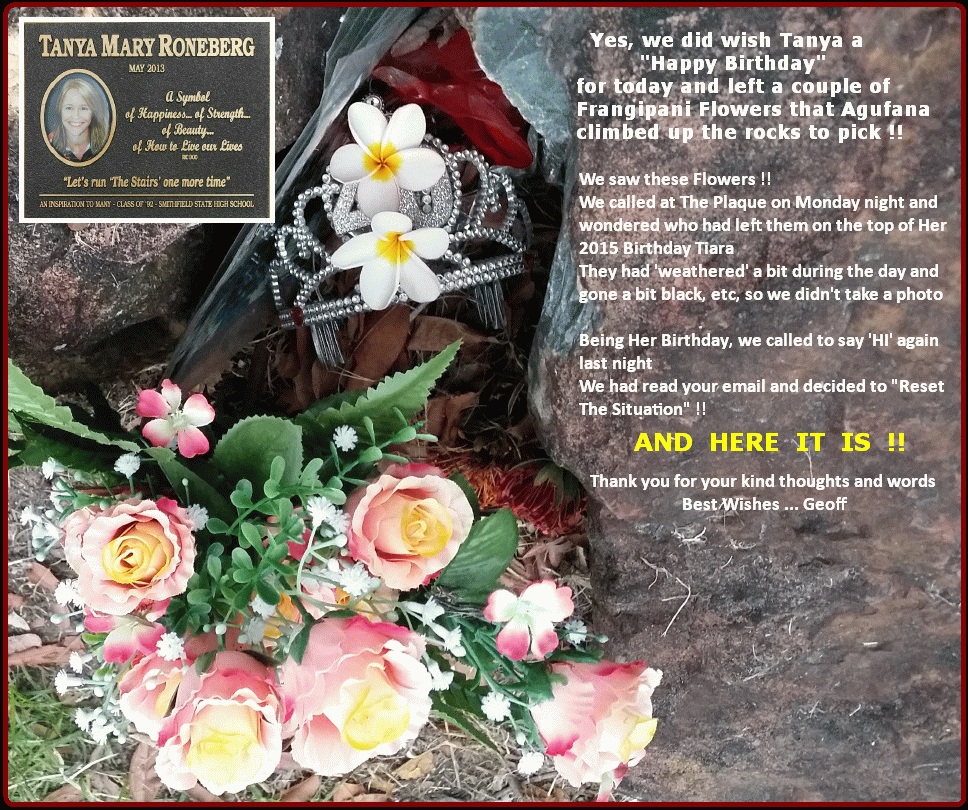 Note from Gloria
Aaaw, that was a great thing to do !!
I am so pleased she had fresh flowers for the Day !!