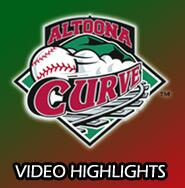 The boys of summer are back
This is a thirty second television
advert promoting the Curve's first
home game of the season which is
at Blair County Ballpark
on Thursday 12th April 2007
The voice over includes the
commentator's call of one of
Brett's home runs from last season!!!
Windows Media Player required
Click on the "PLAY" button in the controls
above to watch the video
If the video does not play, you most probably
have an older version installed
Minimum of Version #9 is necessary, and it
can be downloaded for free by clicking here

* make sure your speakers are on

NOTE - this video file is 1114Kb and it may take
a few extra seconds to download completely
after you have clicked the play button
- just be patient for a minute or so!!!