(Return to "The Roneberg of Cairns Index" page)
(Return to "Brett's Introduction" page)
(Return to "Brett's Baseball Career Index" page)
The 2007 Season


------

------

SIGNED WITH THE PITTSBURGH PIRATES
One year Contract for the 2007 Season
Tuesday 31st October 2006
Contract and other information arrived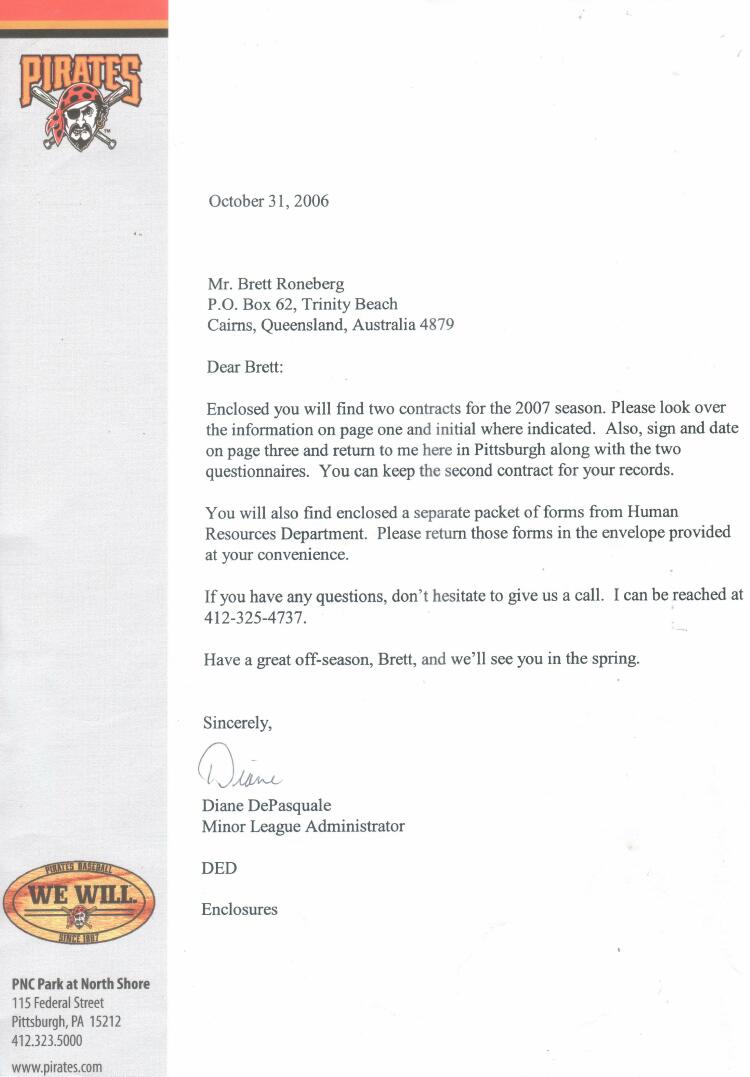 video = http://www.ronebergcairns.com.2007onwards/0video2007_01.flv

January 2007

Local television news sports reports
in which Brett speaks about his new contract

Also mentioned is the possibility of playing in Asia, his great season
with the Altoona Curve in 2006, the World Baseball Classic last year,
and the upcoming Claxton Shield being held in Perth

x

x

An Interesting Note

As the main story starts, there is a shot of Brett in the background
What is wrong with it ??
Clue = Brett is a lefty !!
and I have no idea how this could have happened !!


Friday 22nd December 2006
Pirates sign three minor league players
The Pittsburgh Pirates signed minor-league catchers Omar Falcon and John Castellano, and outfielder Brett Roneberg
Falcon, 24, batted .264 with seven home runs for the Seattle Mariners' Class A affiliate in Inland Empire
Castellano, 29, batted .333 with seven home runs, mostly with the Philadelphia Phillies' Class AA affiliate in Reading
Roneberg, 27, batted .303 with 10 home runs and 74 RBIs for the Pirates' Class AA affiliate in Altoona
******************************************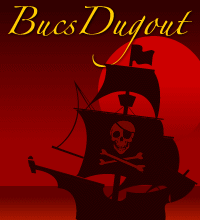 Friday 22nd December 2006
Pirates Message Board
The Post-Gazette reports that the Bucs have signed three minor leaguers
One is catcher Omar Falcon who played last season in the Seattle organization - didn't he just get taken in the minor league portion of the Rule 5 draft?
Another is Paul Castellano, a 29 year old catcher
He'll probably be at Altoona, perhaps catching occasionally but probably also playing some outfield
The Bucs also re-signed Brett Roneberg, who played outfield for Altoona last season
******************************************

Friday 22nd December 2006
Roneberg signs minor-league deal
The Pittsburgh Pirates have signed OF Brett Roneberg to a minor league contract, according to The Pittsburgh Post-Gazette's Dejan Kovacevic
Financial terms of the deal were not disclosed
******************************************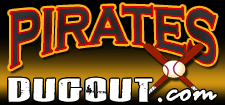 Friday 22nd December 2006
Posted by - Masrur - Administrator
Pirates Message Board - Pirates Minor League Free Agents
I spotted a few more signings on Baseball America's transaction log that I hadn't seen reported anywhere, so here goes
Brett Roneberg - 28 - LHB - OF/1B
A resigning - spent '03 and '06 with Altoona - Aussie player (remember Snowy's posts about him earlier in the year?) - Silver Medalist from the '04 games - good all around guy - glad to see him back - he might end up at either 'AA' or 'AAA' - I'm hoping for 'AAA' - he looks to be fully recovered from his shoulder problem
There is heaps more info on him here

This will be Brett's third season with the-



Click on the above logo to go to
BRETT RONEBERG'S PAGE
which we sponsor!!!
The page includes a brief biography, year-by-year Minor League statistics,
Spring Training statistics --- and a note from Dad, Mum and Tanya

CLICK HERE
for all the details of the 2007 Pirates Spring Training
---
x
x
x