(Return to "The Roneberg's of Cairns" home page)
(Return to "Sharon's Index" page)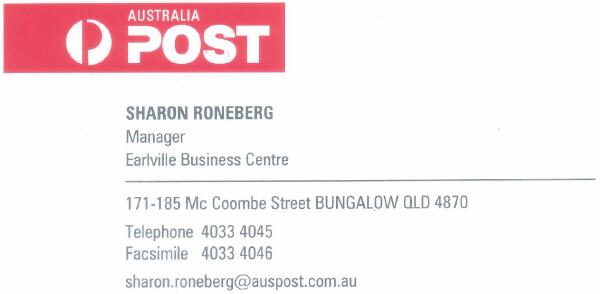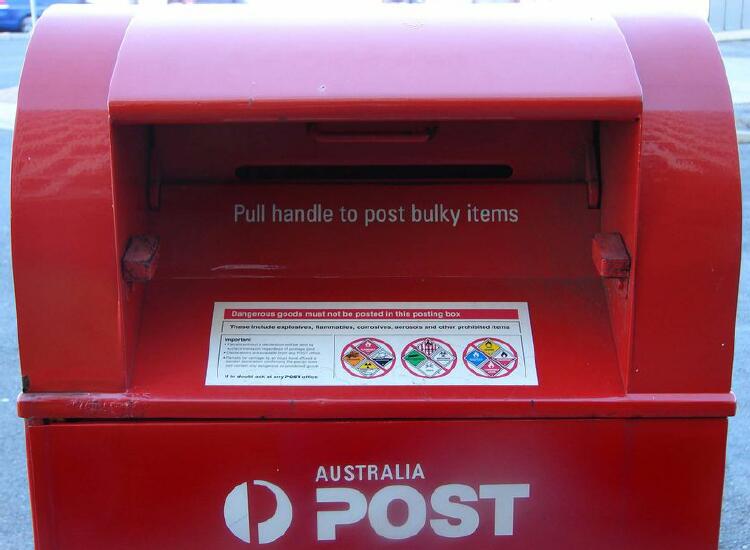 ***************************************************************
1989
After being a Casual Worker, Sharon was offered a "Permanent Appointment" - page includes the letter detailing the 'terms and conditions' - Thursday 14th December 1989
1990
Sharon in various Australia Post uniforms - three photos - July 1990 ..........a lovely Post-Mistress!!!
1993
Certificate received on the completion of the "Customer Contact Skills Program" - 18th August 1993
1994
"One Year Sick Leave Free" - Certificate for 1994 - presented on 31st January 1995
1995
To promote the release of the "Centenary of Cinema" set of stamps, Sharon and other staff members
decided on a "Four Weddings and a Funeral" theme - and all dressed in their wedding finery!!! - July 1995
----------The Brides and Grooms ..........and Sharon looks happy about getting married again!!!
----------and here they are again - this photo was published in the Cairns Post
Steve Renouf, a player in the National Rugby League, was employed by Australia Post
He travelled to Cairns to assist in the release and promotion of Matchbox Collectible Cars
These featured Rugby League, Basketball, and Australian Rules Football logos - 19th July 1995
----------Two photos including Sharon - and a copy of the promotional brochure
1996
Orchid Plaza Cairns Post Office - "relief" duies at this shop - Sharon at her desk, and standing at the entrance - two photos - June 1996 ..........very nice photos
----------enlagred one of the above photos ..........and it's a fabulous picture of Sharon!!! - beautiful!!!
"Post Update" is the in-house magazine of Australia Post - this edition was released in July 1996 - includes an article on the staff at Cairns Orchid Plaza Post Office completing their "QS2 Accredition" - Sharon included in the photo ..........a nice shot, even though it is a bit blurry
Manunda Cairns Post Office - Sharon was the "relief" Postal Manager for a short time - standing near the merchandise displays - two photos - October 1996
1998
Airlie Beach Queensland Post Office - Sharon working on the floor!!! - setting up the merchandising displays - June 1998
----------working on the wall/shelf displays - what a beam!!! - and is this ladder strong enough???
----------"Hullo Darling" - sent a postcard home - spider, dinner, and "you should have lots" - of what??? - 18th June 1998
1999
Ready for work - uniform and vehicle - two photos - January 1999
Melbourne Cup Day - November 1999
----------Sharon, Janelle, and Jennifer - out of their uniforms and into their race day outfits - ready for lunch and to watch the race
----------and here they are again - ready to win a million on a horse race!!!
----------the luncheon spread - and some of those that ate it!!! - two photos
2000
"Thank you" letter from the Queensland Retail State Manager - in appreciation of Sharon's efforts in organising a Cairns Business Lunch - letter dated 6th July 2000
----------The above letter mentions a gift - it was an "Ian Healy Limited Edition 395" shirt - Sharon's gift is #177
----------Special Note - a new page has been made up for these items
----------Click here to see the Letter and Certificate mentioned above - PLUS four photos of the shirt
----------All on the one page!!! - updated on Wednesday 20th July 2005
Janelle Murphy, Liz Monson, and Suanne Rohan - taken on the last day at work for Janelle - going on maternity leave!!! - two photos - October 2000
In her position as Manager Sales and Merchandising, Sharon made a trip to Thursday Island
This was in November 2000 and she assisted the local staff to set up the TI Post Office
----------click here for the photos
"Post Update" is the in-house magazine of Australia Post - this edition was released on the 31st December 2000, and includes Sharon's thoughts on her year as Sales Merchandiser
2001
In the blue Post Office uniform - Thursday 4th January 2001
Ready to head off to work in the flash Post Office car - Friday 5th January 2001
Sales Executive - in the car and on the phone!!! - Thursday 25th January 2001
Australia Post were an official distributor of the range of Sydney 2000 Olympic Coins
Sharon arranged a display and promotion of the coins
This was held outside the Post Office in Cairns Central Shopping Centre
Thursday 1st February 2001
----------#01 - Sharon ready for sales!!!
----------#02 - Sharon and Wendy
----------#03 - showing one of the coins to a customer
----------#04 - with another customer
----------#05 - and a smile for everyone!!!
----------#06 - customers browsing through the display - Cairns Central Post Office in the background
----------#07 - and another look at the display and customers
A -NEW -POSITION
Sharon's position at Australia Post was Manager Sales and Merchandising - on Tuesday 13th February 2001 she accepted a new position as Postal Manager Earlville Business Centre - (and the car was gone!!!)
..............and here is her new business card
Earlville Business Centre
----------#01 - exterior of the Post Office - December 2001
----------#02 - and another view of the Shop
----------#03 - merchandise display - the "Stationery" section
----------#04 - and more of the "Stationery" display
Brett made a visit to his Mum at work!!! - December 2001
----------#01 - sitting in Sharon's chair in Sharon's office in Sharon's mess!!!
----------#02 - sharing the chair - and posing with the "Bulk Mail Lodgement" sign!!!
----------#03 - Sharon and Brett, with a couple of Brett's pictures that hang on the office wall
Christmas 2001
----------#01 - Sharon and Rhona - exchanging gifts??? - or doing a sales "role play"???
----------#02 - Sharon, Janelle and Rhona - in their Post Office Christmas shirts
----------#03 - Sharon, Debra, Janelle and Rhona - four of Santa's elves!!!
----------#04 - one of the drivers, Dave - with Santa on the dashboard
----------#05 - Suanne, with another decorated van
----------#06 - the drivers and posties - in the Christmas spirit!!!
2002
At Earlville Business Centre - "her area"!!! - Tuesday 29th January 2002
Licensed Post Office and Postal Managers Annual Conference
Held at The Mecure Inn, Townsville Queensland on Saturday 8th and Sunday 9th June 2002
----------Sharon's friends during the Conference - four photos
----------"C'mon everybody, on your feet!!!" - Sharon 'The Personal Trainer' - two photos
"Post early for Christmas"
Australia Post conducted a nation-wide campaign during early December
----------Sharon with the decorated delivery van - three photos
----------"Post now for Christmas" - all finished, and the van is ready for the newspaper and television cameras
----------Sharon and a couple of her friends with the van
A "chemical spill scare" at Sharon's offices!!! - fortunately it was a false alarm - Wednesday 11th December 2002
2003
"The Post Office Girls" (aka The Hen Pen!!!) - five photos which include Sharon, Suanne Rohan, Joyce McLennan, Rhona McDonald and Janelle Murphy - these photos were taken at various times over the last few years
Memorial Service for Suanne Rohan - March 2003
Queensland Cancer Fund - Cairns "Relay for Life"
----------Members of the Australia Post Team - Saturday 31st May 2003
----------An article on the Relay which was included in the "Australia Post Queensland News" magazine - includes Sharon's photo
"We're Number One" - a note from the Managing Director of Australia Post detailing the Company's performance during the year - along with a "Gift Voucher Bonus"!!! - December 2003
Janelle Murphy's last day at Earlville Business Centre - Wednesday 24th December 2003
----------Seven photos - including Sharon, Janelle, Rhona McDonald, Debra Allgood, and Janelle's two children, Mikayla and Daniel
----------Three Chooks in the Hen Pen!!!
----------Refer to Thursday 2nd April 2009 below
A Bomb Has Hit!!! - Sharon's office on Christmas Eve - a mess, but everything was processed on time!!!
2004
Queensland Cancer Fund - Cairns "Relay for Life"
----------Members of the Australia Post Team - Saturday 5th and Sunday 6th June 2004
"On Time Delivery Performance"
----------"On Time Delivery Performance" - Australia Post achieved a 95.5% record - a card and $96.00 voucher was sent to each employee - December 2004
The Australia Post Staff Magazine - an article on Sharon being "The Mother of an Olympic Medallist" - this is the December 2004 edition of the magazine
"The best Post Office in town!!!" - an article which appeared in the Cairns Post - Sunday 26th December 2004
----------AND AN EXTRA!!!
----------"We love Earlville Business Centre" - this article was in the Queensland section of the Post Journal - May 2005
2005
A "photo session" at the Earlville Business Centre!!! - Thursday 3rd March 2005
.......... and featuring:-
--------------------------------------------------Sharon
--------------------------------------------------Karlie Morcom
--------------------------------------------------Rhona McDonald
--------------------------------------------------Alan Forsyth
--------------------------------------------------Alan McNally
--------------------------------------------------Greg Swifte
--------------------------------------------------Sue Schwartz
--------------------------------------------------Kerry Fogarty
----------Karlie
----------Karlie, Rhona and Sharon (two photos)
----------Alan F
----------Karlie, Rhona and Sharon
----------Alan Mc
----------Greg
----------Alan F, Greg and Sue
----------Sue, Alan F and Greg
----------Sue, Kerry, Alan F and Greg
"Delivery Driver" Dave's 60th Birthday - a card Sharon made - and it's signed by the Earville Business Centre staff - Thursday 8th September 2005
An Australia Post Promotional Flyer - for the Earlville Business Centre - designed and organised by Sharon!!! - October 2005
2006
Postal Manager's Conference
This is held every year in Townsville, Queensland - during the Conference there was a presentation of Awards - and Sharon received one!!! - this page includes all the details along with a note from Sharon - Wednesday 16th to Friday 18th August 2006
2007
Postal Manager's Conference
A change in the venue, and this year the Conference was held in Brisbane - this page includes the results of a Post-Conference Feedback survey - there is also a photo of those attending ... and Sharon is there!!! - Saturday 21st to Monday 23rd July 2007
Training Course - "The 7 Habits of Highly Effective People"
Sharon is attending this course - it is being held on the Gold Coast Queensland from Wednesday 31st October to Friday 2nd November 2007 - this page includes all the Course details, along with Sharon's flights and accommodation
Australia Post - 2007 Staff Get-together ... aka A Christmas Party !!
This page includes all the details on the function and the venue - plus "graphic detail" on what Sharon will be having for dinner!!! - also includes lots of great photos - held on Saturday 8th December 2007
Christmas 2007 - a note from an eighty-five year old customer who "was very much helped by Sharon" - Wednesday 19th December 2007
2008
A "Thank You" letter to Sharon, her Office, and the Mail Centre - Monday 28th April 2008
Perfect Attendance!!! - in the twelve months up to the end of September 2008, Sharon did not have a single day off!! - this page includes a letter from Kerri McConnel, State Manager Retail - Tuesday 30th September 2008
----------Refer to Tuesday 31st March 2009 below
The Melbourne Cup
Melbourne Cup Day has arrived!! - Sharon had arranged for her and the staff to wear fascinators supplied by one of their business clients - and here they are - Michelle, Adin, Rhona and Sharon looking 'Fascinating in their Fascinators'!! - eight photos - Tuesday 4th November 2008
"Spot - a - Lead" Campaign - Sharon identified new business for Australia Post - and picked up a Certificate and a $25.00 Gift Card!! - the page includes a "Thank You" letter with all the details - Wednesday 19th November 2008
An Article and Photo published in The Cairns Post
"Here's the late mail - check for correct address" - this article covers postal deliveries at Christmas time and the importance of using the correct address - and it includes a terrific photo of Sharon!!! - Friday 19th December 2008
Australia Post - 2008 Staff Get-together ... aka A Christmas Party !!
For the staff at Earlville Business Centre - this page includes details on the "Breakfast Banquet" - plus five photos - held on Sunday 21st December 2008
"An Ode to Al" - a 'poem + pictures' that Sharon and the Staff at Earlville Business Centre put together for Alan Forsyth who was finishing up today - Wednesday 24th December 2008
A HUGE box of chocolate!! - Australia Post introduced a new product during December - this was a "5kg Prepaid Express Post Satchel - as part of the release promtions, there was a competition to see which Post Office could sell the most - and Sharon's office won ... and the prize was 5kg of chocolate!! - the page includes a photo of some of the five kilos, along with a note from Sharon about the competition and the many ways she and the staff tried to share it around!! - December 2008
A bunch of flowers from a customer - Sharon's office had processed a priority passport for him and there was a bit of concern that he may not receive it in time - after some "follow up" and "hurry up" calls to the right people, he received it on time and sent the flowers to say 'thank you' - Sharon did not want to leave them just sitting in the office over the New Year break so she brought them home - and there are a few photos of her with the arrangement - December 2008
2009
Janelle Murphy came to visit at the Earlville Business Centre with her beautiful daughter Mikayla and son Daniel - two photos - Thursday 2nd April 2009
----------Refer to Wednesday 24th December 2003 above
Perfect Attendance!!! - Again - in the twelve months up to the end of March 2009, Sharon did not have a single day off!! - this page includes a letter from Kerri McConnel, State Manager Retail - Tuesday 31st March 2009
----------Refer to Tuesday 30th September 2008 above
Long Service Recognition Scheme
CONGRATULATIONS ... SHARON !! - Sharon has reached Twenty Years of Service with Australia Post - this page includes a letter to Sharon from the Queensland Commercial Manager - plus there are details on a Gift along with a Certificate of Appreciation that she will be receiving on her Anniversary Date - this letter was received during April 2009
----------Page updated on Tuesday 19th May 2009 - now includes the Award Gift selected by Sharon along with her Certificate of Appreciation
----------Page updated on Wednesday 20th May 2009 - now includes Three Roses sent to Sharon
Sharon is going to the Opera to see "Madame Butterfly" - this page includes all the details, and as Oz Opera's rendition is being brought to Far North Queensland courtesy of Australia Post, Sharon is attending as their representative - plus she also is attending the 'Opera in Schools' program on Friday - Thursday 30th July 2009
"Wash Day" at Earlville Business Centre - and the range of vans used by Australia Post - a couple of the shots also include Maurie Clarke, one of the drivers - five photos - Thursday 30th July 2009
"Mater Little Miracles 5ks"
Australia Post is a Major Partner/Sponsor of this fundraising event - it is held in numerous Queensland centres from May through to August, and "the walk is a wonderful way for families to help make little miracles happen for sick children and babies at the Mater" - the walk in Cairns is being held on Sunday 9th August 2009 - this page includes all the details including the "Certificate of Appreciation" - plus there are eighteen photos and thirteen videos!! - both Sharon and Tanya attended
Sharon, Velda Perkins and Sue Schwartz - and these photos were taken as part of a gift made for the shop cleaner June who retired - two photos - October 2009
The Melbourne Cup
Melbourne Cup Day is here again!! - Sharon had arranged for her and the staff to wear fascinators - and here they are!! - Sharon, Sue, Michelle, and Velda ... and one of the Australia Post vans - three photos - Tuesday 3rd November 2009
Sharon and "Ethel" ... who is one of the smallest variety of the Macaw parrots!! - she belongs to Sharon's work colleague Phil Mullens - these shots were taken in Sharon's Office - three photos - Thursday 3rd December 2009
Australia Post - 2009 Staff Get-together ... aka A Christmas Party !!
For the staff at Earlville Business Centre - this page includes details on the Ten Pin Bowling Championships and "Certificates and Blurbs" on each of the staff members along with the 'Secret Santa gifts' - and a note from Sharon on the night out - there are over eighty photos and lots of these include Sharon - held on Saturday 5th December 2009
2010
It's Sue Schwartz's Birthday!! - and this page includes details on a "Special Program" that has been started at Sharon's Office - which resulted in an unusual Birthday Cake!! - one photo - Tuesday 19th January 2010
Sharon's good friend, Velda Perkins, is leaving Australia Post - on this page there is lots of information on a new craft Sharon has started - and which she used to make Velda a gift - lots of photos - Friday 22nd January 2010
"Thank You" flowers from an appreciative customer - Sharon and Rhona helped this lady out with her Passport Application - four photos including the card - Friday 7th May 2010
A look at Earlville Business Centre - the entrance, shop and all the displays, Sharon's office, storage areas and the delivery vans - these fifteen photos were taken by Sharon - late June and early July 2010
Dave Mawby and Michelle Powell - two photos - Thursday 8th July 2010
AIM Management Excellence Awards
Australia Post is one of the main Sponsors of these Awards and Sharon attended with the Area Manager for North Queensland, Shane Devereaux - this page has complete details along with a note from Sharon and four photos - Thursday 9th September 2010
Sharon, Sarina Regan and Rhona McDonald at work in the Earlville Business Centre - two photos - Tuesday 19th October 2010
Dave Mawby Retirement Day
After fifteen years on the job, Dave has retired - he was one of the Delivery Drivers at the Earlville Business - there are fifteen photos on this page and they include Dave of course, plus other shots of him with clients and workmates - and two of the photos include Sharon - November 2010
Australia Post Staff Christmas Party
The staff at Sharon's office, the Earlville Business Centre, got together with those from other offices and headed out for their Christmas Party - they went to Casa de Meze for dinner and this restaurant is 'famous' for it's Salsa Dancing ... and naturally, everybody had a go at this!! - the page includes the venue details, Sharon's partner for the evening, and over sixty photos ... and there are all sorts of "looks" and "poses" !! - Saturday 11th December 2010
2011
Sharon attended a 'FOGS' Seminar highlighting Indigenous Employment and Careers of which Australia Post is a Sponsor - there was a Lucky Door Prize and Sharon won and came home with an All Stars Jersey!! - the page includes photos of Sharon receiving her prize, details on 'FOGS', and all the information on the Rugby League Indigenous All Stars Team - Wednesday 23rd February 2011
Sarina Regan - "Goodbye and Good Luck"
Lots of her friends, including Sharon, got together to say 'Farewell' ... the lunch was held at Mondo's Cafe at the Cairns Hilton - and this page also includes the Gift which was given to Sarina - sixteen photos - Saturday 30th April 2011
Cairns Chamber of Commerce - May Luncheon
Representing Australia Post, Sharon attended this event - the page has all details along with a photo of her and Tanya (who also attended) with the Guest Speaker, Steve Moneghetti - plus Sharon's photo was also included in a Cairns Business Magazine - Tuesday 24th May 2011
Australia Post - "Quiet Achiever Award"
Sharon headed off to Brisbane to attend a Manager's Meeting and while there, she was presented with this Annual Award!! - the page includes a note from Sharon along with a photo of her receiving the Award from Trish Jager of Australia Post ... and naturally, a couple of shots of the Award itself - Tuesday 30th August 2011
Australia Post Staff Christmas Party
The staff at Sharon's office, the Earlville Business Centre, got together with those from other offices and headed out for their Christmas Party - this year they went to Barnacle Bill's Restaurant on the Cairns Esplanade - the page includes nineteen photos ... and seven of these include Sharon - Saturday 3rd December 2011
A look at the shop ... a week before Christmas - two photos - Friday 16th December 2011
2012
Earlville Business Centre - Closure of Front Counter Services
A major change after many, many years!! - the shop will now be the 'Cairns Mail Acceptance Centre' and the 'Mail Collection and Delivery' service will still be in operation - the retail section is finished and the page includes the official letter given to all customers ... along with many complaints and comments from those customers!! - also included are shots of the staff and shop and flowers and gifts ... and a very big cake!! - twenty photos - Friday 27th January 2012
RHONA - due to this change, she has now retired from Australia Post - and the page includes lots of shots of her, Sharon, the staff and the Present that was organised for her - twenty six photos - Wednesday 1st February 2012
Sharon's Final Day at Australia Post
Wednesday 1st August 2012

My last couple of days at Australia Post were nice
Heaps of people from the Mail Centre and Delivery Centre
took the time to say goodbye and good luck and that they would miss me
I will certainly miss the camaraderie of the people I have worked with for over twenty years
But life is always changing and I am looking forward to a new chapter in our life

CLICK HERE
photos ... cards ... gifts ... lunches ... resume
Australia Post Staff Christmas Party
Naturally Sharon went along to this and got together with all her ex-workmates and headed out for a good time at their Christmas Party - this year they went to Kani's Restaurant on the Waterfront - the page includes details on the restaurant, the menu, 'Secret Santa', along with lots of photos - Friday 30th November 2011
---
x
x
x