(Return to Home page)
(Return to Sharon's page)
(Return to Geoff and Sharon's page)
Sharon - 2003
PHOTOS
NOTE - as well as dozens of links, this page also includes 45 thumbnail images
It may take a few extra seconds to download completely
Our 28th Wedding Anniversary - a card I made up for the Bride - which includes "then and now" photos - Saturday 4th January 2003
----------and here is Sharon showing off our Anniversary Dinner!!! - delicious fish'n'chips!!! ..........a great shot
----------and more photos taken on our Anniversary can be seen by clicking here
"A garden nymph!!!" - two photos - Sunday 12th January 2003 ..........and both are very nice pictures
Wow!!! - Spectacular!!! - three photos - Sunday 19th January 2003 ..........a great "photo program" effect!!!
"Sharon's Great at Fourty-eight" - I have an Intel PC Camera/Web Cam/Video Recorder and though it is not a "top of the range" model, it takes a good photo - but when taking photos, the main problem is not the camera but the camera operator!!! - ME!!! - it is usually "hit and miss" - with a lot of hope for a good result!!!
Sunday 19th January 2003 - and Sharon and I were sitting in the patio area - it was a nice sunny day, and Sharon looked real nice in red shorts and a black mesh top.
So I grabbed the camera and snapped a few shots - 30 of them!!! - and they ALL turned out fantastic!!!
So, which ones should I keep, and which ones should be deleted??? - could not decide!!! - they were all good!!!
SO I KEPT THE LOT!!! - simply click on the thumbnail images below to see how great she is at fourty-eight!!!

-

-


-


-

-

-


-

-

-

and click here for the rest - 28 fabulous shots!!!
"Baseball Training with Brett" - Geoff and Sharon helping out during the 2002/3 off-season - Monday 27th January 2003 - click here to go to the albumn which is listed in the Special Occasions section ..........and includes some very nice photos!!!
Whatever was said, it must have been really funny, 'cause Sharon is laughing her head off!!! - Sunday 2nd February 2003
Earings - a gift from her friend Suanne Rohan - three photos, and a note from Suanne - February 2003
Her own computer!!! - three photos - Saturday 15th February 2003 ..........nice shots
------and click here to send Sharon an email!!!
------UPDATE - this page also includes a link to Sharon's new lap-top which was purchased in February 2006
An Exercise Program - "Wants to 'tidy-up' a few areas!!!" - "Wants to buy a size smaller in clothes!!!" - so she has started an eight-week fitness program - Thursday 27th February 2003 ..........includes lots of photos!!!
Esplanade Lagoon and Aquatic Centre - a visit to Cairns' newest attraction - eighteen photos - Sunday 6th April 2003

-"Operation Iraqi Freedom" - and Sharon has her say!!! - which is basically 'Protesters, go home'!!! - she sent her thoughts to The Cairns Post newspaper, and they were published in the 'Letters to the Editor' section - Saturday 12th April 2003
A day trip to Kuranda - which is situated in the ranges to the east of Cairns - a very popular tourist destination - Sunday 27th April 2003
----------two postcard views of the attractions at Kuranda ..........a 182Kb download, but the shots are great!!!
----------Sharon at the entrance to the Barron Falls Lookout walking track/boardwalk - and a postcard view of the Falls
----------on the boardwalk, which winds for two-hundred metres through the rainforest - two photos
----------we reached the Lookout!!! - Sharon, with the Falls in the background - two photos ..........terrific pictures
--------------------and here we are together - two photos
----------a healthy snack!!! - Sharon having a "banana/mango/watermelon" drink - two photos
----------Sharon at the lookout on the Kuranda Range Road - Smithfield can be seen, and Cairns city would be to the right of these photos
Sharon, the kitchen, food and fire - a deadly combination!!! - Wednesday 14th May 2003
A day trip to Port Douglas - a "tourist city" sixty kilometres north of Cairns - Sunday 18th May 2003
----------on the beach - one of the many scenic spots on the coastal highway - two photos ..........nice photos
----------a visit to an "early settler" cemetary - two photos
--------------------and this tombstone is dated 22nd October 1890!!! - two photos
----------at the lookout above Four Mile Beach, Port Douglas - two photos ..........great shots
--------------------and heading back down - two photos
----------a stroll through the Community Markets - Sharon did not buy this outfit!!! - two photos
----------enjoying a yogurt smoothie - two photos ..........really nice pictures
"Relay for Life" - a fundraising event for the Queensland Cancer Fund - Sharon and her friends from Australia Post formed and entered a team for this eighteen hour event - Saturday 31st May 2003
This page includes (1) details of the Post Office Team and why they entered (2) two photos of Sharon ready to head off to the event - in her "Relay for Life" shirt (3) a summary of the night's activities (4) plus links to photos of Sharon and Tanya taken during the night
----------an article which appeared in the August edition of the "Australia Post Queensland News" magazine - includes Sharon's photo
A new denim suit - and the price tag!!! - six photos - Saturday 31st May 2003

Hair Cut and Color

From this -

-------- To this -

Saturday 16th August 2003 - and click here for the "before" and "after" comparison!!!
The following shots were also taken before her trip to the hairdresser......
Simply click on the thumbnails to see the photos

---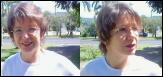 ---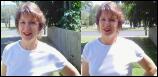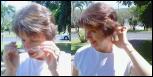 ---

......and more that were taken after the event!!!

--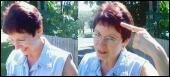 --

--


--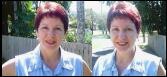 --

--

Her Birthday - Friday 22nd August 2003 - and Tanya invited her for 'coffee and brunch' the following day
----------Click here for over twenty five photos, including The Birthday Girl, Geoff, Tanya, her card and her present
----------STOP PRESS!!! - this page was updated on Sunday 19th October 2003 - now includes all "The Family Portraits"
-------------and they are FANTASTIC!!!
Here she is - happy and smiling - Sunday 12th October 2003

Haircut time again - and a new pair of "multi-million $$$" glasses!!!

Fifteen photos!!! - and these shots were taken on Saturday 13th December 2003
at the Cairns Baseball League Complex in Trinity Beach, Cairns
Simply click on the thumbnails to see the photos

---

---

---

---

---


and click the thumbnail for a close-up look at her new glasses
In our front yard, and surrounded by flowers - ready for work, and has her "Briefcase Christmas Present"!!! - Tuesday 30th December 2003
Sharon "The Artist's Model" - an oil painting effect applied to a shot of Sharon - December 2003
---