(Return to "The Roneberg's of Cairns Index" page)
(Return to "Brett's Introduction" page)
(Return to "Brett's Baseball Career Index" page)
2003 Minor League Baseball Season

A Harrisburg Senators' fan following Brett's progress - posted on the Senators Baseball Board - Sunday 17th November 2002
A notice that appeared on the Baseball America web site - listed all the players becoming free agents on Tuesday 15th October 2002, and Brett was included in the Montreal Expos section - published on Thursday 24th October 2002
"Roneberg Free Agent" - a notice published on Flintoff and Dunn's Australian Major League Baseball web site


--Signed with the Pittsburgh Pirates
THE OFFICIAL ANNOUNCEMENT - from the Pirates Home Page
"Early present for Roneberg" - a few details on the contract and an interview with Brett - from the Cairns Post on Tuesday 29th October 2002
----------the photo published with the above article ..........a nice shot
Transaction Notices from various baseball web sites - including Minor League Baseball - "Voice of a Season Ticket Holder" - "CougarFan.com" - Baseball America magazine
"Welcome to the Pittsburgh Organisation!" - contract and other information arrived - page includes a photo of Brett opening his letter, and the "Welcome" note from the Pirates - Thursday 21st November 2002
"Brett Roneberg a Pirate" - notice of Brett's signing published on Flintoff and Dunn's Australian Major League Baseball web site ..........used the photo of Brett from the above page!!!
Placed on the "Reserved List" for the Pirates "AA" affiliate, the Altoona Curve - notice from the Minor League Baseball web site - Wednesday 20th November 2002
========================================
VIDEO
Brett is interviewed and speaks about his new contract with the Pirates
The interview was filmed in our lounge room,
while Brett and the reporter watched footage of Brett on television
(web site notes - this video was uploaded on Wednesday 24th June 2009 and is in 'flv' format - the video
file name is '0video15.flv' and the full address is 'http://www.ronebergcairns.com/0video15.flv' - the
associated player, which also has been uploaded to the same directory, has the file name of 'player.swf')
=========================================
Brett has been a Pirate before !!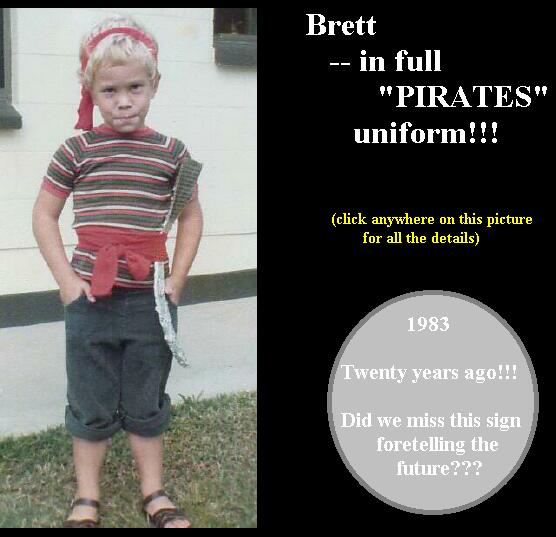 ---
x
x