(Return to "The Roneberg's of Cairns Index" page)
Cairns and Trinity Beach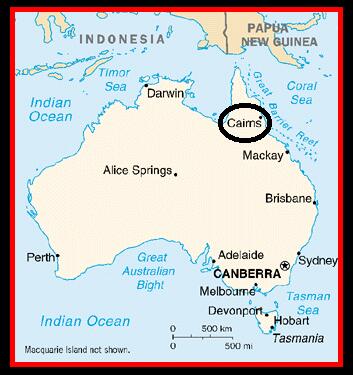 Click on this thumbnail for a map
of the Cairns area, including
the beaches north of the city

General
View from a lookout on the Kuranda Range Road
Captain Cook Highway - the main road between Cairns and Trinity Beach - taken from the car!!! - January 2001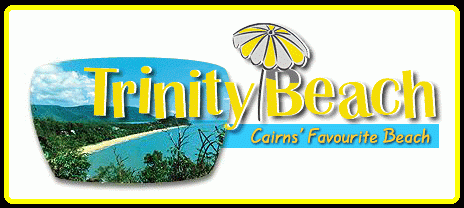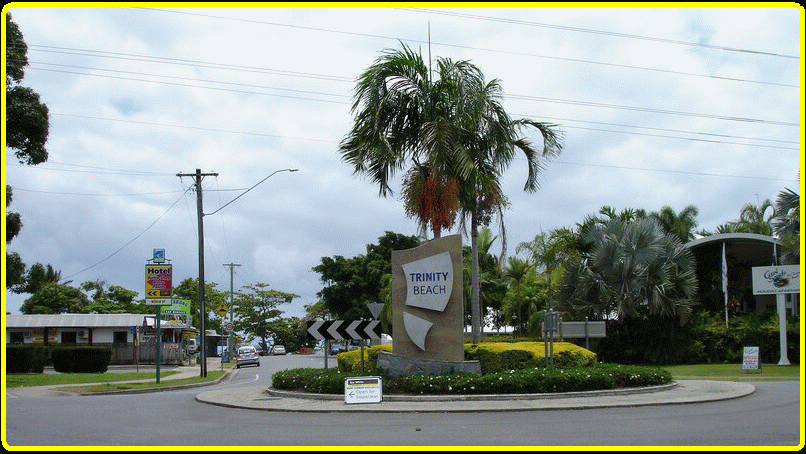 Tanya's "Homesick Moments" Photos
Tanya departed for her
"Two Year Working Holiday"
on Tuesday 21st October 2003

Before leaving she went down to the
beach and snapped a few shots

To take with her for those
"homesick moments"!!!

Here are Tanya's four photos
Trinity Beach ... looking from a helicopter
Trinity Beach - from the air!!!

Eight fabulous photos

Simply click on the helicopter


Taken during 2006, these shots include:-
Our three homes in Trinity Beach
Tanya and Brett's Primary School
our local shopping centre
the baseball fields
......and more!!!
X
X
Saturday 16th December 2006
Added four more aerial photos
Click here to see these shots taken
via "Google Earth" and "Whereis"
A crocodile visits Trinity Beach!!! - the page includes the front page of The Cairns Post and the complete article - there are a number of photos, plus a link to a video of the croc in the swimming enclosure - Sunday 23rd March 2008

Cairns
July 1986---Cairns - before the reconstruction and new developments - this photo and article was published in a "Twenty Years Ago" supplement in a July 2006 edition of the Cairns Post - here are some major changes when compared to the other shots in this albumn!!! - one photo ..........NOTE - we moved to Cairns in November 1981
Reconstruction of the Cairns Esplanade - from mudflats to a Lagoon and Aquatic Centre!!! - March 2003 ..........great picture
----------and an article on the Official Opening - from the 'Cairns Sun' newspaper - March 2003
Aerial view of Cairns, showing the Marina and Esplanade developments - July 2003 ..........great picture again!!!
----------This page also includes a link to eighteen photos of Sharon!!!
Another aerial view of Cairns City - postcard - April 2004
Looking across the Lagoon and out to sea, and this is a postcard shot added during April 2004 - in May 2008, a great photo of the Lagoon at night was added to this page
The Cairns Esplanade and beach walk - postcard - April 2004
The Esplanade - outdoor dining at night - April 2006
The Esplanade - the Lagoon during the day and evening - two photos - April 2006
Entrance to the Flecker Botanic Gardens - April 2006
Cairns is flooded!!! - a cyclone crossed the coast to the north of the City and dumped a lot of rain - this page includes a rainfall chart, newspaper articles, and a number of photos - Thursday 20th April 2006
---
x
x
x