(Return to "Our Home at Trinity Beach" albumn)
(Return to "Antiques and Collectables" albumn)
(Return to "Sharon - 2008" albumn)
SPECIAL NOTE

Make sure you scroll all the way to the bottom of the page
Why??
#1 - to see all the plants, and
#2 - to see if they are growing ... or not !!!
#3 - to see auctions for similar carts and wheels
*****************************************************************
Sharon's
"Herb-A-Torium"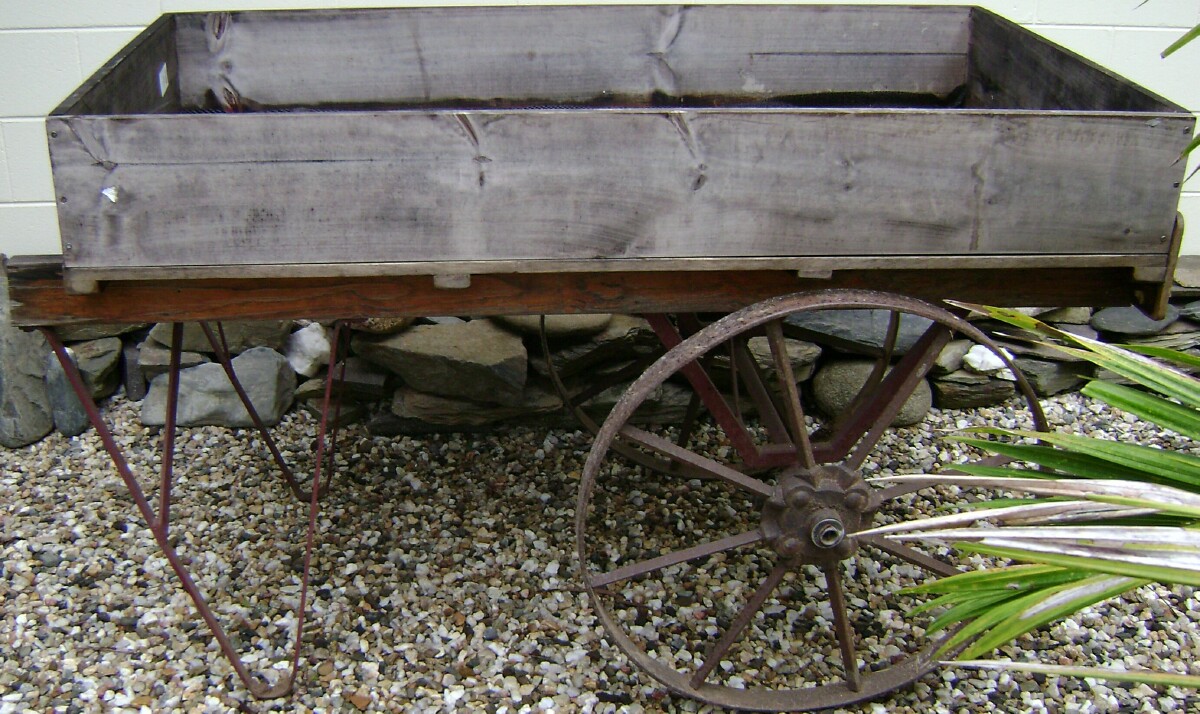 A note from Sharon on Thursday 13th March 2008
I am on holidays and today I was very happy pottering about in the kitchen
Geoff wandered in and said:-
"There is something down at the Trinity Beach Shopping Centre that I have been looking at for two years now
I reckon you would like it and you should go down and ask about it"
Now, that's fine ... but he wouldn't tell me what it was
He likes to play these 'mental-guessing-games' ... and when he does, I feel like shooting him!!
Anyway, he started giving me a few clues
At first I had no idea what he was talking about ... shooting him came to mind again ... but I eventually worked it out

As you can see from the shots below, it is an old wooden cart with big cast iron wheels

We have lived in Trinity Beach for over twenty years, and I reckon it has been there for most of that time
It used to sit inside the Supermarket and was used to display fruit and vegetables
The shop has changed hands a few times and for the last two years it has been sitting in a small fenced in garden at the front of the shop

Geoff felt it would be perfect for me ...... why??
I love my salads!! ... I love herbs and spices and what they can do to all sorts of foods!!
So this is going to be my 'Herb-A-Torium'

Now we had to buy it
There is a television program called 'Bargain Hunt' and we have watched hundreds of these shows
People walk around Antique Fairs bargaining and buying bits and pieces
Geoff, the wretch, wouldn't come with me and said that I fancied myself as an expert Bargain Hunter and I should go and make an offer!!

So I did!!

The Supermarket Manager said that over the years, lots of people had mentioned the cart saying that it would look nice in their gardens or on their patios
But none had ever made a firm inquiry ... until I mentioned it!!

Geoff, who is still a wretch, gave me a few suggestions on how to approach the negotiations:-
First he said to undo a few buttons on my blouse and try use my sex appeal ... the guy probably would have put the price up!!
Next he said to treat it like a used car ... kick the wheels and stuff like that ... saying it needs lots of work to get it roadworthy!!
Another idea he had was to say that I had just given birth to a very, very large baby and we needed it for a pram!!

I ignored all his weird ideas
I just used my charm
The Manager said $50.00 ... I scratched aound in my purse and told him I had $44.00
He said okay ... it's yours!!

Shopping at a nursery is next ... to fill it up with heaps of herbs in pots!!

PS ... new photos will be added here once my garden is up and, hopefully, growing!!
***************************************************************
Sharon may soon be wanting to become a Member of ......



...... but in the meantime ...... CLICK HERE
This page has lots of information on herbs, including the following

Apothecary
Herbalism
Herb garden
The Herb Society of America
List of herbs and spices
Remedy
Prehistoric Medicine
International Herb Association
***************************************************************
More Photos
Measurements
The cart is 59 inches (150cm) long and 32 inches (80.1cm) wide
It stands 38 inches (96.5cm) high
The wheels are 28 inches (70.1cm) in diameter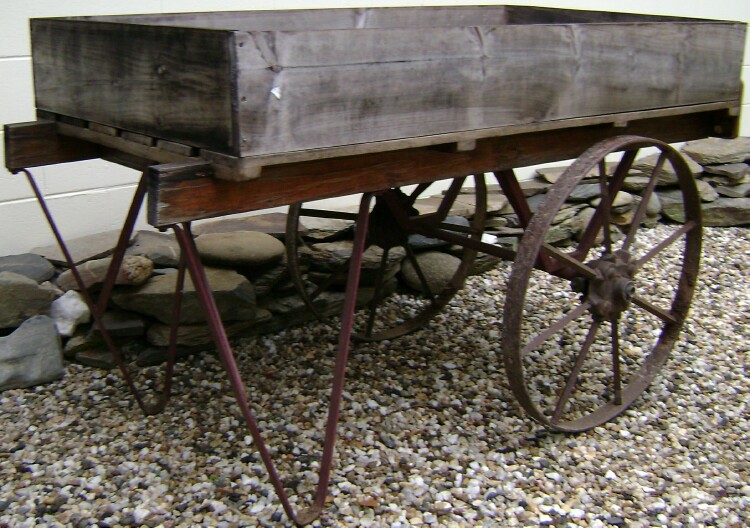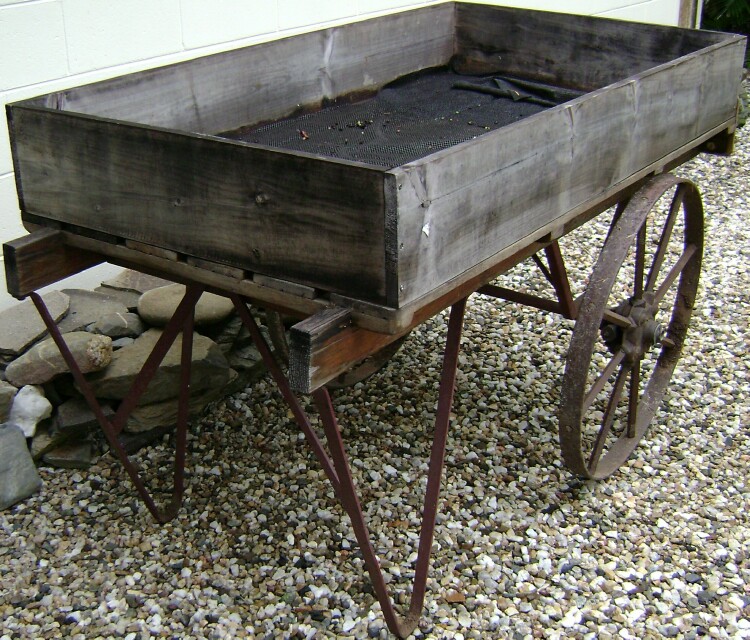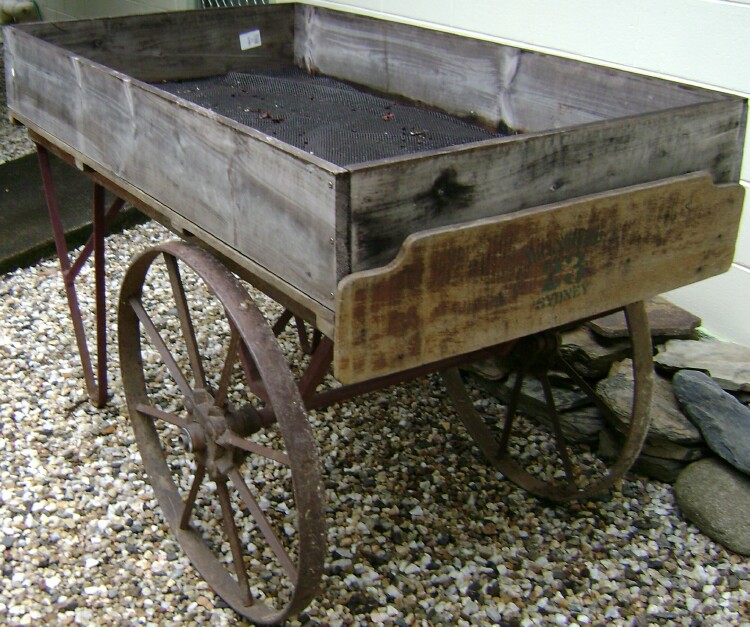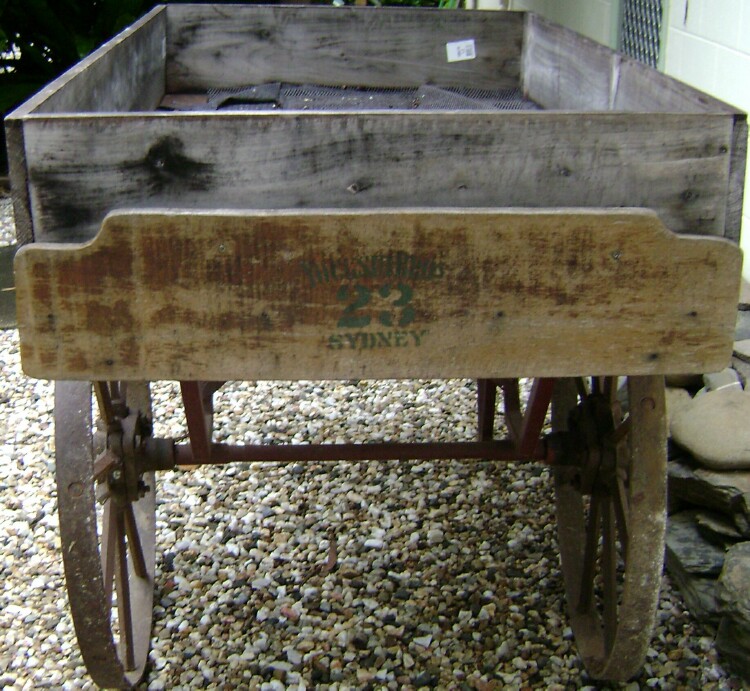 ***************************************************************
?? How to get it Home ??
A note from Sharon on Thursday 13th March 2008
Look at the idiots below!!

As I drove up the driveway after my very stressful negotiations, Geoff was talking to our neighbour Heath
I very proudly told him I had closed the deal successfully and I would drive him down to the shops so he could push the cart home!!
Geoff conned Heath into helping ... thank heavens ... because it was rather heavy

As you can see, neither had 'their very best' clothes on ... I couldn't care ... the cart was mine and I wanted it home!!

I dropped them at the shop and watched them start the journey along Trinity Beach Road
They looked like a pair of old bag-ladies you see on the streets of New York!!

It was very funny watching them negotiate the carpark, the road , the gutter and the trip home with several smoke and rest stops!!

You can see why they drew some interesting looks!!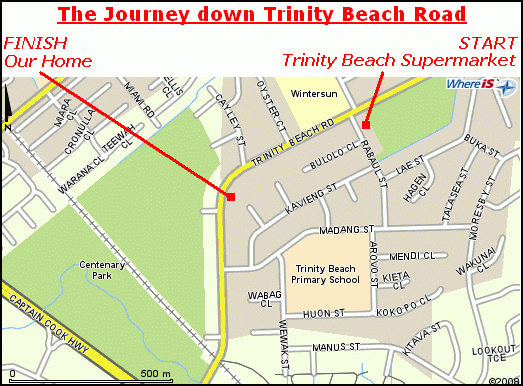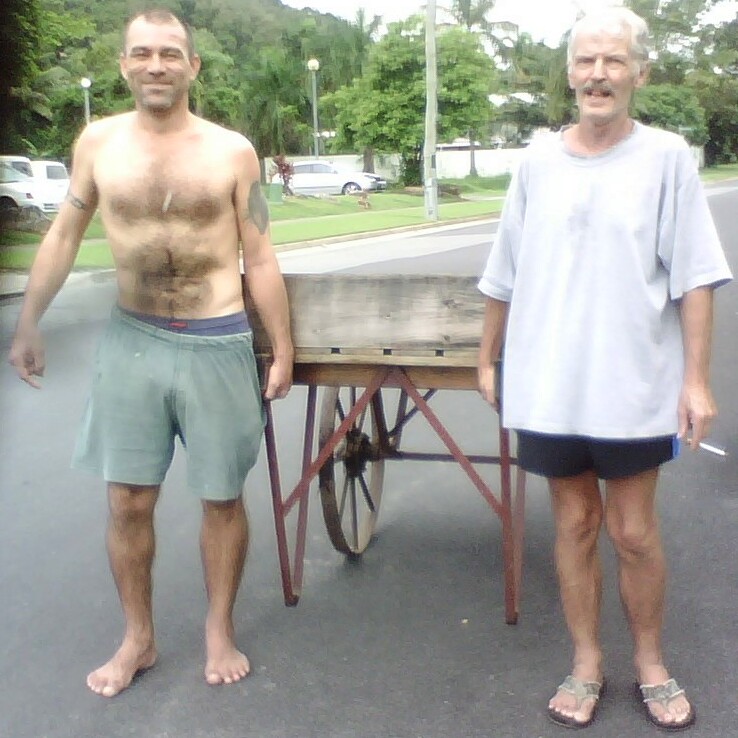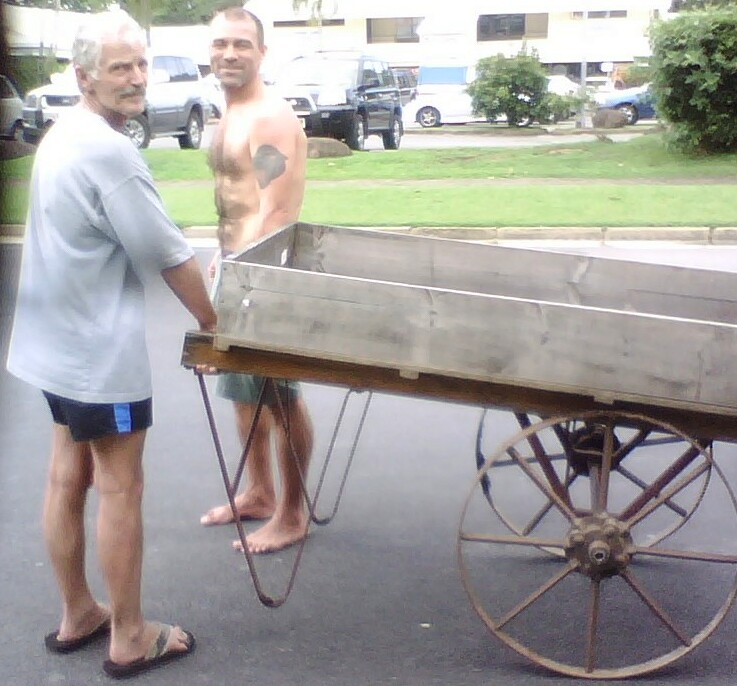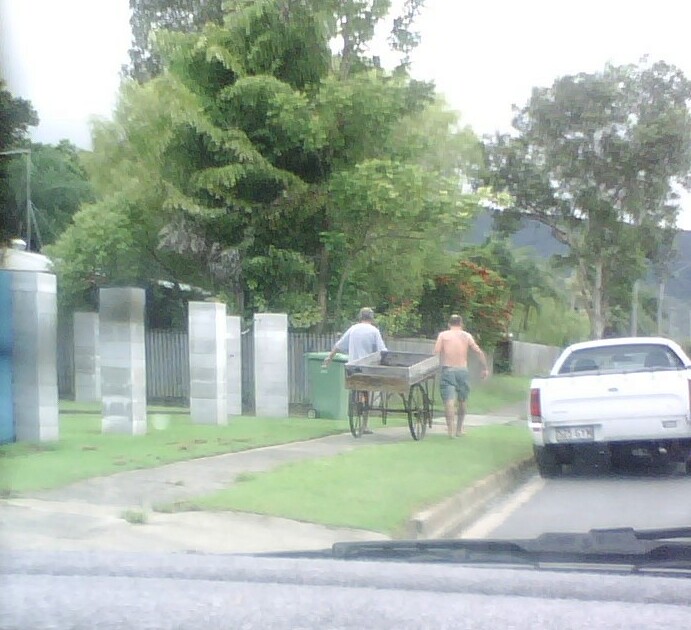 ************************************************************************************
The planting is finished !!
Stage #1 - Tuesday 18th March 2008

Still more planting
Stage #2 - Monday 5th May 2008
CLICK HERE

for the details
and dozens of terrific photos
Growing from Seeds
Stage #3 - Sunday 1st June 2008

More Tomatoes
Stage #4 - Sunday 22nd June 2008
CLICK HERE

for the details
and dozens of terrific photos
Lettuce with a Heart
Stage #5 - Sunday 13th July 2008

Lettuce and Rockets
Stage #6 - Thursday 24th July 2008
CLICK HERE

for the details
and dozens of terrific photos
Tomatoes Capsicum Lettuce Squash
Stage #7 - Saturday 6th September 2008

Coriander E'Plant Lettuce Strawberry
Stage #8 - Saturday 6th December 2008
CLICK HERE

for the details
and dozens of terrific photos
Tomatoes Capsicum Lettuce Thyme
Stage #9 - Saturday 4th April 2009

Spinach
Stage #10 - Wednesday 29th April 2009
CLICK HERE

for the details
and dozens of terrific photos
************************************************************************************
Are they growing ??
CLICK HERE

for the details
and heaps more terrific photos !!
************************************************************************************
Auctions for similar Carts and Wheels
CLICK HERE
for the details
************************************************************************************
---