(Return to "Our Home" albumn)
(Return to "Antiques and Collectables" page)
(Return to "Christmas - 2005" albumn)
**********************************
SPECIAL NOTE
During October 2007
we bought another set of 'retro' Salter scales
Salter Kitchen Scales Number 54A
and click here for those details
**********************************

Mum
from Brett
Salter Family Scale No 45

- The Ebay Auction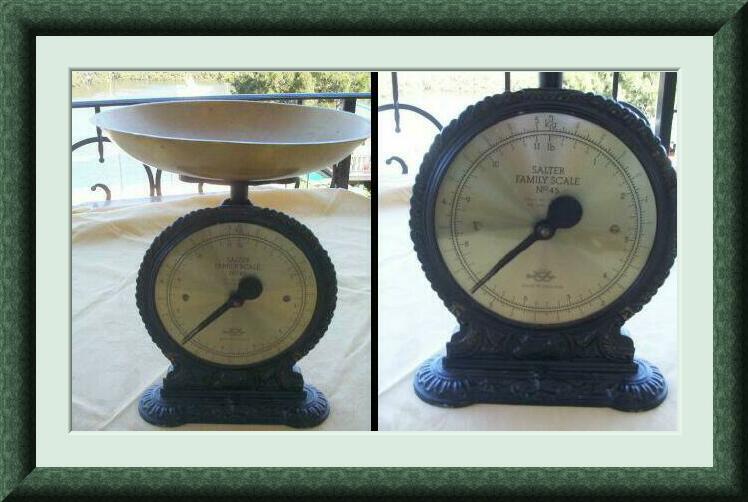 Salter Family Scale

Made in England
A beautiful addition to an kitchen benchtop
Vintage Salter scales are very sought after
and you would be pleased to have this one in your kitchen
It is in excellent condition with a brass bowl and face housed in a black metal body
Stands 32cm high x 26cm wide
You will really be happy with this buy!!!


Item location - Sydney, New South Wales Australia
This auction finished on Tuesday 6th December 2005
The starting price was set at $49.00 and there were twelve bids during the auction
Brett won!!! - with a bid of $152.50 plus postage and insurance

More photos of our Salter scales
......and these were taken after the scales were delivered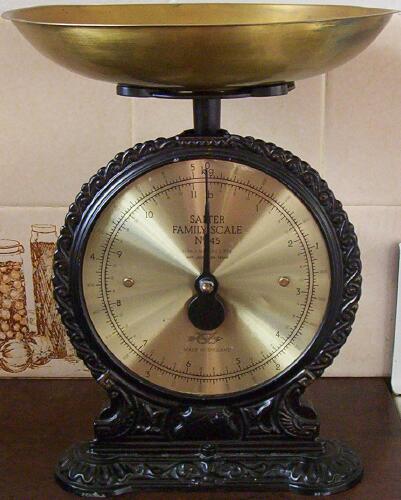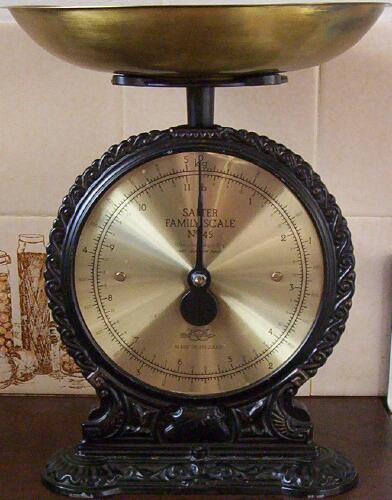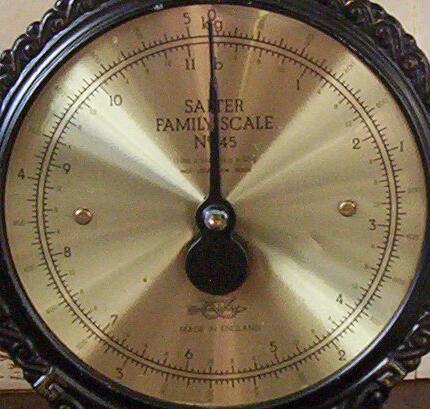 SPECIAL--NOTE
Please refer to the photos that were included in the auction details - at top of this page
You may have noticed that the pointer is not in the "0" position
Click Here for the details

Information on these Scales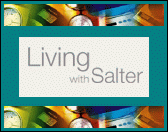 ......and click on the above logo to go to the Official Salter Housewares Web Site
An email sent to Salter Housewares on Sunday 1st January 2006
Salter Family Scales No 45 - Made in England
(photo attached)
Hi
We managed to get a set of these scales --- and they are fabulous!!!
The set looks fantastic displayed in our kitchen!!!
I am hoping that you might be able to give us a bit of information
Number One
The scales have a "very antique type look" about them,
but I have been told that they were made in the mid-1980's
Is this right??? - and is there any other info that might be of use/interest to us???
Number Two
We also had a chat to one of the Salter Agents here in Cairns, and he said that
he is "pretty sure" that these are still available direct from your Company in England
I looked through your site (http://www.salterhousewares.com/)
but could not find any reference to "No 45"
Is this true??? --- and is there a web-link that you could send me???
(our daughter has seen the scales, and we may purchase them for her if they are still available)
The price, plus freight here to Australia, would be very much appreciated
Once again, they look great, and have become a "focal and talking point" in our home!!!
Thanks for your time
Regards, Geoff
......and the reply on Thursday 12th January 2006
Dear Geoff
Thank you for you interest in Salter Model 045
Unfortunately this model is discontinued and we do not have any old stock
This scale was introduced in the early 1980's as a close copy of the original
Salter scales of the same type, which date back as far as the late 1800's
Regards, Joe MacNeil
Director of Technical Services
Salter HoMedics Group
211 Vale Road, Tonbridge, Kent TN9 1SU
T: +44(0)1732 354828
F: +44(0)1732 358631

Other
-

-auctions for similar sets of Scales
......for price comparisons!!!
NOTE #01 - the photos listed with these auctions have not been included
as each photo was very similar and looked exactly the same as our set
NOTE #02 - there is a BIG variation in the price range!!!
From $21.00 up to $151.81 - plus a few with no bids!!!
Auction #01
Salter Family Scales No45 - a set of Salter Family Scales Number45 - with brass face and bowl and a black cast iron body - measurements are 12 inches high by 7 inches wide - the scales weigh up to 11 pound (5Kg) - the face/dial is marked slightly - the bowl has "seen some work" and needs a good clean-up by someone who has the time to restore it to it's original condition - having said that, it will make a rather good display piece in any kitchen once it's had a bit of "tender loving care" - item location in Huddersfield, West Yorkshire United Kingdom - this auction finished on Friday 9th December 2005 - the starting price was set at GBP10.00 and there were no bids during the auction
No bids - probably due to the condition of these scales
Auction #02
English Salter kitchen Family Scales No45 - a fantastic set of black English Salter Family Scales No45 - Made in England - it has a brass face with measurements in pounds and kilograms - there is a round brass bowl - the markings to base read "Salter Housewares Ltd 1982" - wonderful reproduction scales that would look great in a vintage or country kitchen - in excellent working order - there is some loss of black paint which could be easily touched up - the brass dish shows light signs of use - measurements are 32cm tall including the brass dish - circa 1982 - item location in Melbourne, Victoria Australia - this auction finished on Sunday 31st July 2005 - the starting price was set at $15.00 and there were twenty-four bids during the auction
The final selling price was $107.50
Auction #03
Salter house wares scale - here is a great high quality scale!! - these scales were Made in England, and are marked Salter House Wares Limited 1982 - measurements are base is 8.25 inches wide by 5.50 inches and the face is 6.50 inches in diameter - with adjustment knob on the back - the set is in excellent condition with only a few very light scratches on the face - but there is no bowl - item location in San Pablo, CA United States - this auction finished on Saturday 17th December 2005 - the starting price was set at USD$60.00 and there were no bids during the auction
No bids - probably because there wasn't a tray
Auction #04
Vintage collectable Salter No45 scale - what a wonderful auction I have for you!! - a very rare collectors item - Made in England - extremely rare piece and this item is not to be missed!! - includes the tray - the scales are in good condition and working - measurements are 32cm high and 21.5cm wide - an absolute beauty!! - item location in Outer Western Sydney, New South Wales Australia - this auction ended on Sunday 19th March 2006 - the starting price was set at $0.99 and there were twenty-three bids during the auction
The final selling price was $99.00
Auction #05
Salter Family Scales - Made in England is stamped into the brass - fantastic!! - in excellent condition!! - there is a brass dial and the auction includes the tray - measures in 'lbs' and 'kg' and has a very accurate reading - the scales stand a huge 32cm to the top of the tray - they have not had much use, so don't miss this real collectors' item!! - item location in South Australia, Australia - this auction ended on Sunday 13th August 2006 - the starting price was set at $60.00 and there were ten bids during the auction
The final selling price was $103.50
Auction #06
Rare vintage collectable Salter No45 Scale - including tray - Made in England - extremely rare piece to come across!!! - it is in good condition and working order - an absolute beauty!!! - the scales stand 31.5cm high - a wonderful collectors' item!!! - item location in Outer Western Sydney, New South Wales Australia - this auction ended on Wednesday 23rd August 2006 - the starting price was set at $2.00 and there were thirty-six bids during the auction
The final selling price was $151.81
Auction #07
Vintage English kitchen Salter No45 - this auction is for a stunning set of Salter 45 top pan scales in cast black metal and brass - the set is particularly exceptional as it has never been used and is still housed in the original box with instructions - perhaps an unwanted wedding present in the early 1980's!! - these scales can measure up to 11lb or 5kg - they are marked with the Salter knot trade mark - the scales measure 8 inches across and are 13 inches high - the scales are in perfect condition - the best I have ever seen!! - they would be a statement in any kitchen, new or old!! - item location in Hexham, United Kingdom - this auction ended on Tuesday 29th August 2006 - the starting price was set at $19.80 and there were twelve bids during the auction
The final selling price was $106.34
Auction #08
Salter Family Scales No45 - with a brass tray - the scales measure up to 11lbs by 1 oz (5kg by 25g) - Made in England - I am not sure if they are old the brass tray has a bit of wear - item location in Victoria, Australia - this auction ended on Wednesday 13th September 2006 - the starting price was set at $40.00 and there was one bid during the auction
The final selling price was $40.00 - low compared to the other auctions above
Auction #09
Vintage large style Salter Family Scale No45 - you are bidding on a lovely metal set of Salter scales No45 - the item is in good used condition and works well - these scales were Made in England - the scales measure 32cm in height and 20cm in width - item location in Picnic Point, New South Wales Australia - this auction ended on Tuesday 20th March 2007 - the starting price was set at $49.95 and there was one bid during the auction
The final selling price was $49.95 - again a low price
Auction #10
Salter Family Scale No45 - these scales are made from cast aluminium and have a brass bowl - the scales are marked Salter Housewares Limited 1982 - the bowl has some dents around the edge and measures 25cm wide - the scales weigh up to 5kg or 11lb - they are in good condition - the scales are 32.5cm high with the bowl on - item location in Canberra, Australian Capital Territory Australia - this auction ended on Thursday 22nd March 2007 - the starting price was set at $10.00 and there were two bids during the auction
The final selling price was $21.00 - a very, very low price
Auction #11
Traditional old cast iron Salter Kitchen Scales No45 - these attractive design scales were Made in England - they are black cast iron with a shiny brass pan - there is a knob at the back to adjust the hand - these scales are in working order - a great item for display or use in a traditional style kitchen! - item location in Nottingham, United Kingdom - this auction ended on Wednesday 28th March 2007 - the starting price was set at $22.00 and there were five bids during the auction
The final selling price was $31.00 - again a very, very low price
Auction #12
Salter Family Scale No45 - these scales are beautiful!! - they have a brass bowl and are made from cast aluminium - Made in England by Salter Homewares - 1982 - 11lbs x 1oz and 5kg x 25gm - they are not legal for trade - the brass bowl is 78cm around and 25.5cm across at the top - without the bowl the scales are 27.5cm high, and 31cm with the bowl - the bowl has been knocked a few times and isn't perfectly round anymore but this just adds to the character of the scales! - it doesn't affect how they work - they would make a beautiful addition to any kitchen!! - item location in Gympie, Queensland Australia - this auction finished on Thursday 3rd May 2007 - the starting price was set at $10.00 and there were thirteen bids during the auction
The final selling price was $55.75
Auction #13
Large Salter England No45 Family clock face scales - a fantastic piece up for grabs!! - quality, ornate and all metal - a fine example and would fit in nice with any decor or collection - 32cm high and 22cm wide - the scales are in excellent working condition considering it's age - worthy of your bids! - the quality is apparent! - you won't find a better piece! - presentation and appeal are extremely nice! - item location in New South Wales Australia - this auction finished on Saturday 5th May 2007 - the starting price was set at $20.00 and there were sixteen bids during the auction
The final selling price was $120.50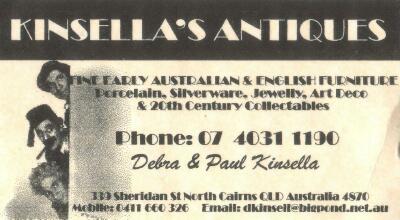 Saturday 8th April 2006
We were out for a drive and doing our regular rounds of the secondhand and antique stores in Cairns
This was one of the places we visited
And there was a Salter No 45 Scale!!!
We could be wrong, but it appeared to be an original set, as described above in the note from Joe MacNeil of Salter Homewares
Our set, also mentioned above, is an early 1980's reproduction
This set at Kinsella's Antiques was in 'just fair condition' and was priced at $155.00
We paid $152.50 for our scales
---