UPDATE
After eight years great service, this went 'bang' as Sharon switched it on
and click HERE to see the new unit purchased on Wednesday 25th July 2012
*********************************************
(Return to "Our Home in Trinity Beach" albumn)
(Return to "Sharon - 2004" albumn)
She is a terrific person, a great Mother, and a lovely Wife ... BUT ...she is also
"a-self-confessed-not-very-good-type-of-cook!!!"

So, on Friday 23rd April 2004, we went out and bought this

The Heinemann Australian Dictionary defines "cordon bleu" as
"of the highest degree of exellance"
Surely all the features listed below will ensure that this standard
will now be achieved in her kitchen !!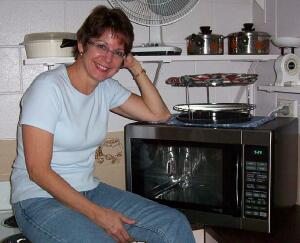 42L family size capacity
900W power output - 1350W Convection Power
Stainless steel door & control cover
Intellowave cooking
Easy control
Auto cook (8 categories)
Auto weight defrost (4 categories)
Auto roast (3 categories)
5-Way cooking
More/Less control
Custom Set
Quick start & Quick defrost
Kitchen timer
Child Safety Lock
Recommended Retail Price = $999.00
!! Fingers Crossed !!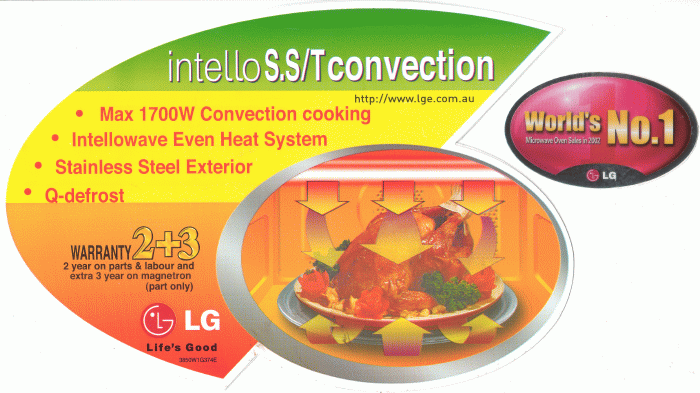 CLICK HERE
... to download the User / Instruction Manual
---
x
x
x