(Return to "The Roneberg's of Cairns Index" page)
(Return to "Sharon's Index" page)
Friends
PHOTOS
'Teen'-Sharon with her Friends
George Byrne - and his wife Sharon and family
1975 - George - "an old rocker"
1985 - George and Sharon - out to dinner
1990 - George - at work
???? - Sean - on the Yamaha 900cc - "a future biker"
2001 - Sean - with his dog 'Missy'
2002 - Sean, Sharon, Damien, Felicia, George and Nicole - at the wedding of George's stepson Damien to Felicia
2004 - George - on his current motor bike
2004 - George - Photo #01
--------------------Photo #02
--------------------Photo #03
"I cannot remember their names!!!"
1972 - two guys that Sharon met in Tasmania - this was during a holiday with her cousin Erina Hutton
Steven Keeler - and his wife Caroline and family
1969 - Sharon and Steven
1972 - Steven and Sharon - at a hairdressing show
2001 - Christopher, Steven, Esther, Caroline, Kathryn, Matthew and Kirsten
David Hill
1973 - Sharon and David - at the Marion Hotel
1973 - David, Sharon and friends - at the Arkaba Hotel
Our Friends
Ritchie Mounsey
As a Kiwi, Ritchie participated in a promotional campaign for a 'Cairns v New Zealand' National Basketball League match which is being played in Cairns on Friday 3rd October 2003
Ritchie doing some batting training - he is 'at bat' and Brett is throwing batting practise - six photos - Saturday 13th December 2003
Terry Beattie
Terry's 40th Birthday Party - and it was Fancy Dress!!! - four photos with Terry and Sharon Beattie, Ritchie Mounsey, Masa Endo and Ben Shepherd - Saturday 25th August 2007
Vince Askey - and family
Vince as a member of the "1969 Menlo Park American Little League All-Star Team" - coached by Bob Budelli
Vince and his son, Bradley - New Years 2000
Vince v's An Inanimate Object - and the inanimate object won!!! - two photos - Wednesday 24th December 2003
Vince competing at the Bodysurfing Championships in California - two photos - Saturday 26th August 2006
Anne Kippin
Anne, Brett and Sharon - the day before Brett left to compete in the Sydney 2000 Olympics - September 2000
Official scorer - at the Australian Provincial Baseball Championships - April 2001
With Sharon at Alan and Wilma's wedding - Saturday 29th September 2001

- Sharon organised a lunch for Anne's 50th Birthday which was on Monday 3rd June 2002
The lunch was the day before, and Anne's sister Jane Cairns, Tanya and Steve attended as well as the "Birthday Girl"
..........Photo #01 - Anne and Jane
..........Photo #02 - and here they are again
..........Photo #03 - Anne, Sharon and Jane ..........a nice photo of all three, and Sharon looks really nice!!!
..........Photo #04 - Anne, Jane, and Sharon showing off her cleavage!!!
..........Photo #05 - the food Sharon prepared - and she must have done a good job because most of it disappeared!!! - three photos
..........Photo #06 - Anne with the present Sharon made for her - a beaded purse ..........for a closer look at the purse, click here
..........Photo #07 - the three of them sitting around the table
..........Photo #08 - and again ..........and this is another nice picture of Sharon
Jane is organising a Birthday Celebration for Anne's 50th!!!
and this is to be held on Saturday 22nd June 2002 - more photos will be added after this night
..........The invitation - to be held at the Sheridan Plaza Hotel in Cairns
..........After the party - an email Sharon sent to Brett
Anne, Sharon and others at Sharon's "Birthday/Nutrametics Party" - Thursday 22nd August 2002
Anne's birthday - an e-card and her "mouse mat" gift - June 2004
Anne has been nominated for the "Services to North Queensland Sport" Award which is part of the 2012 North Queensland Sportstar Awards - and she asked Sharon to take a few shots to be included with the nomination - the page includes all the details along with three photos - Tuesday 3rd April 2012
------------page undated on Wednesday 25th April 2012 - now includes an article from The Cairns Post after the Awards
Celebrating Anne's 60th Birthday - and Sharon, Tanya, Brett and Kahlia went along to the Ba8 Bar and Lounge - seven photos - Saturday 2nd June 2012
------------page undated on Friday 8th June 2012 - added two photos of Anne's Birthday Cake
------------page undated on Wednesday 13th June 2012 - added seven photos taken at Anne's Party in Townsville
------------page undated on Saturday 16th June 2012 - added two more photos from the Townsville Party
Matt Bolton
"Happy Birthday" card - Tuesday 18th September 2001
Sliding into home plate!!!
Matt's "alter ego" - Joe Blake, the Cairns Taipans Basketball Team mascot - Monday 4th February 2002
"Booze and Broads" - out at "1936 Club" - published in the Cairns Post on Friday 15th March 2002
Was the Winning Coach and also selected as the Tournament Most Valuable Player during the North Queensland Games held in Townsville during the Easter weekend - March/April 2002 - brief Tournament report and photo of Matt swinging the bat!!!
Craig and Diane Foot - and family
Craig and Dianne - a nice portrait - about 1997
Craig with a friend - all dressed up!!! - September 2000
Craig - a change over the years - September 2000
Card sent for Craig's birthday - Wednesday 25th July 2001
Their 30th Wedding Anniversary - Tuesday 18th December 2001
......and a note back from Craig and Dianne
Craig and Diane - Saturday 26th July 2003
Amanda with her son - Saturday 26th July 2003
Diane's parents - Saturday 26th July 2003
Alan and Wilma's Wedding - Saturday 29th September 2001
..........#01 - the invitation
..........#02 - the gift - a wrap for a champagne bottle - made by Sharon - cross-stitch
..........#03 - Alan - looking cool and ready to go!!!
..........#04 - Sharon and Alan
..........#05 - Sharon and Anne Kippin
..........#06 - the ceremony is over - and here is Mr and Mrs King!!!
..........#07 - The Bride and Groom
..........#08 - Sharon and Anne, and the traditional "Bubble blowing"
..........#09 - Sharon - and she is wearing her Mother's brooch
..........#10 - lots of photos of Sharon taken during the day - "pretty flowers"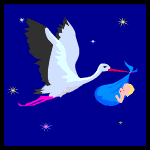 "Alexia Anne King"
Born - 4th September 2003
Weight - 6lb 14.5oz

......and here she is - in the bath!!!
A card "Handcrafted by Sharon
Christening Invitation - and a note from Sharon
Alexia - three photos - December 2003
Heather Law
Part of the Sydney 2000 Olympic Torch Relay in the Cairns area - 26th June 2000
Bob and June Williams - and family
June working in the backyard with their dog
David with his girlfriend Lauren
Their home
'Next-Door-Neighbours-Unit-One' - Kath, Nev and Heath
Nev - with his new bike - Saturday 26th February 2005
Nev - on the Cairns to Kuranda Skyrail - early 2005 (?)
Nev - ACCIDENT!!! - and the car is a write-off!!! - three photos - Saturday 4th June 2005
------------NOTE - all three of the above links were closed - 6.40pm Monday 6th June 2005
------------These links were re-established on Thursday 27th September 2007
Heath - having a rest after a day at the beach!!! - four photos - Sunday 25th March 2007
Kath - Sharon had just cut her hair - two photos - Saturday 7th June 2008
Collette (Walpole) and David Purves - Wedding Photos
"Included are shots of Mum and Dad, and Zoe and Peta - my two bridesmaids in their absolute glory!" - ten photos - late 2005
Malcolm and June Felt
Malcolm owned the hairdressing Salon where Sharon worked when we were married in 1975 - he and his wife June visited Cairns and took Sharon out to lunch - two photos, including a nice shot of Sharon - Monday 16th June 2008
Pam and Adrian Wilson
Sharon caught up with these school friends and neighbours when they visited Cairns - one photo - Tuesday 15th July 2008
---
x
x
x