(Return to "Brett's Baseball Career - Year by Year Index" page)
(Return to "Brett's Baseball Career - The Highlights Index" page)
(Return to "Brett's Off Season - 2007 into 2008" albumn)
"I am Baseball" ... Part One ... Postcard
An initiative of the International Baseball Federation
and click HERE to go to Part Two ... Booklet

(click on the above logos to go to the Official Web Sites of the "IBAF" and "Athorn, Clark & Partners")
An email Brett received from Athorn, Clark & Partners - Friday 8th February 2008
From - Kate Sullivan
Email address - kate.sullivan@ibaf.tv
Subject - (IBAF) International Baseball Federation Initiative
Hello Brett
My name is Kate Sullivan, and I work for Athorn, Clark & Partners, the advertising agency working for the IBAF
I recently received your application for Participant Accreditation as part of Australia's Team for the March Olympic Qualifier Tournament to be held in Taiwan during March 2008
I wanted to contact you to see if you would be interested in participating in the IBAF's "I am baseball" campaign
This campaign is directed towards IOC members in an effort to have baseball reinstated into the Olympic Games
If you would be interested in helping, we would develop a player profile of you, including your name, photo of you playing, and a brief biography of you as a player, your age, experience, position, commitment to anti-doping, etc
These profiles would be used as direct mail pieces, features on our website (www.ibaf.tv), and may be used as large advertisements in international airports
What we would need from you, should you be interested in participating, is a large-file, high-resolution photo of yourself playing, and a short write-up about yourself
We are also keeping the option of doing a photo shoot open
I have attached a copy of a photo release form that would need to be filled out and sent back via fax at +1 212-457-6161 or sent to me at:-
----------Kate Sullivan
----------C/o Athorn, Clark & Partners
----------38 East 32nd Street, Floor 11
----------New York, NY 10016
Please email me back to let me know if you are interested in participating in this campaign
I look forward to working with you to help get baseball back into the Olympics
Best wishes
Kate Sullivan
Brett answered this request and sent over his profile and photos

There was quite a bit of correspondence between Brett and Kate, including playing notes,
more photos ...... and Brett's "Anti Drugs in Sport" statement ...
You take drugs ?
You are nothing but a cheat !
Imagine walking to the starting line or onto a field with your team
You are the one that has to look around and say to yourself ... "I shouldn't be here"
The other competitors and your team mates reached this point because of their ability and lots of hard work
They deserve to be where they are
You ?
You are only here because you are a cheat !
You haven't got the ability and you haven't got the discipline to train hard and improve
Do your secret things ... pop a pill ... get the injection
Pretend you are a champion
You know, and eventually the world will also know, that you are not
There are no excuses for it
You are a cheat !

An email from Kate - Friday 11th April 2008
Hello Geoff
Just wanted to let you know that I am shipping several copies of the postcard we created featuring Brett for your family to keep
Please let me know when you have received these
Again, 'thank you' to you and Brett and the rest of your family for all your help and excitement about this project
Best wishes, Kate
The Postcard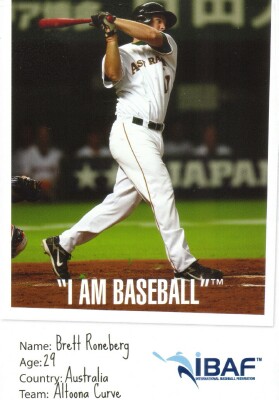 ...............................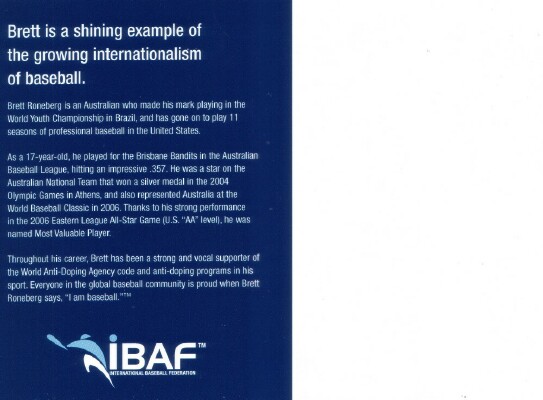 Front View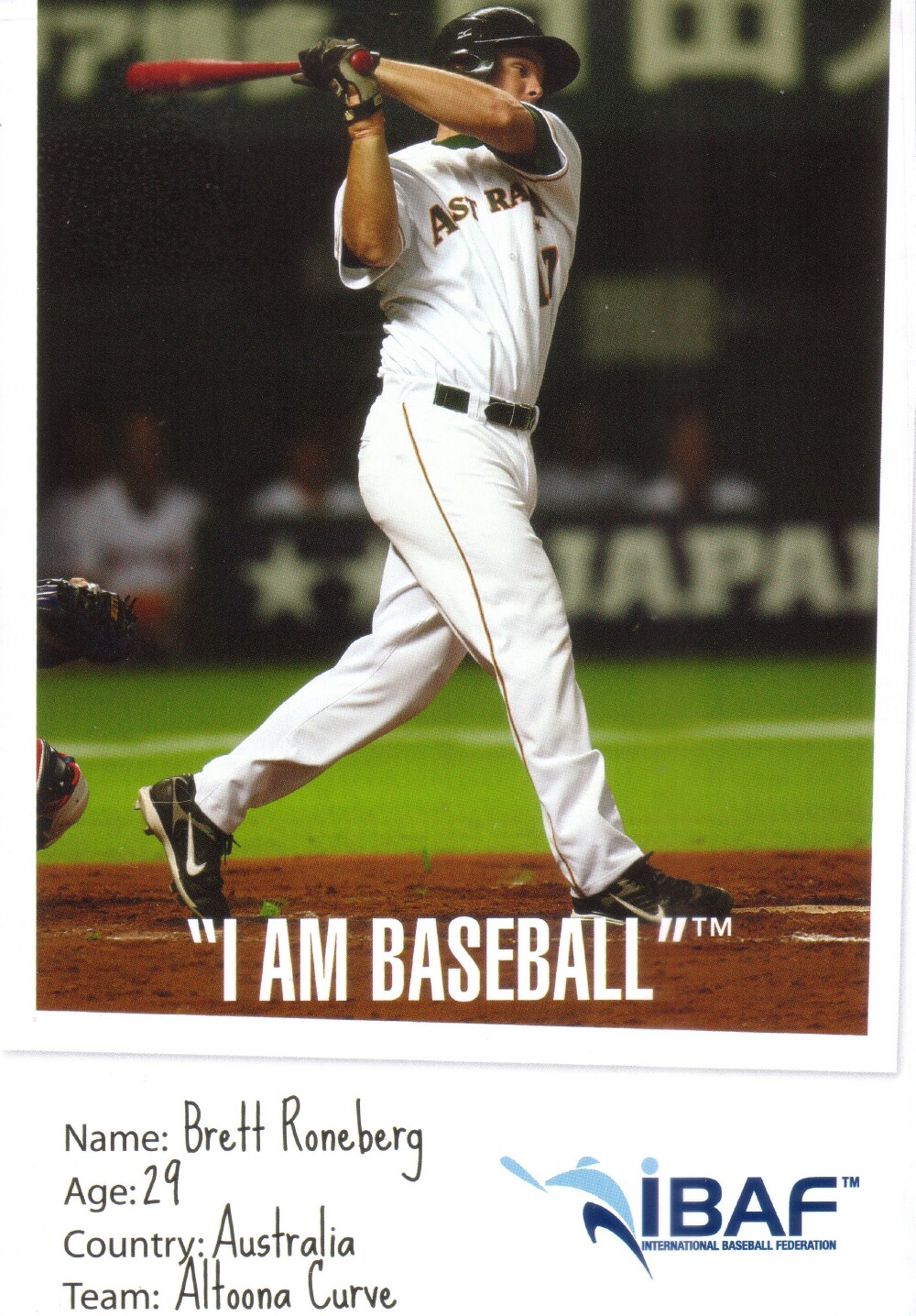 Back View
... and a note from Kate Sullivan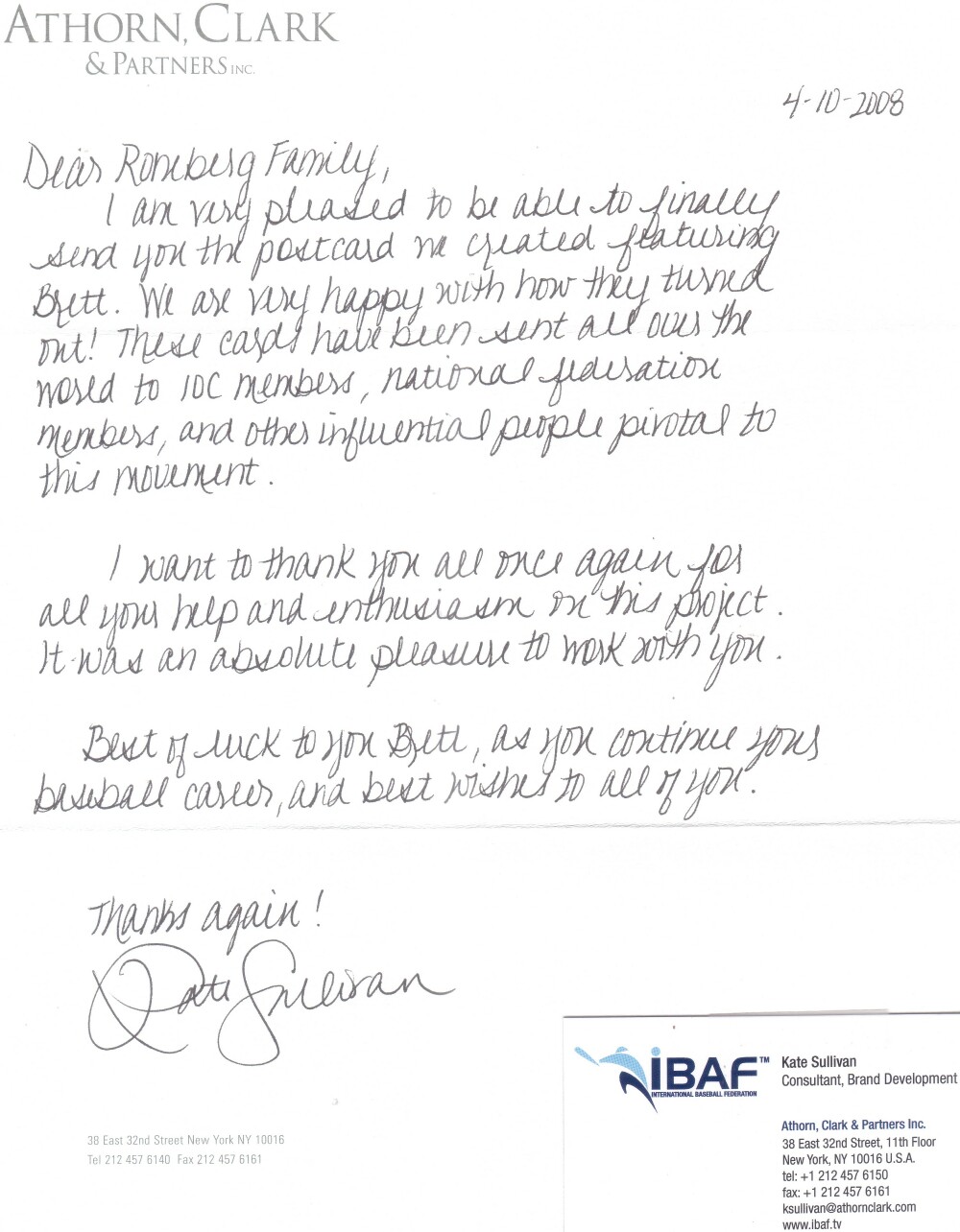 A note to Kate - Thursday 17th April 2008
Brett Roneberg's Postcards
Hi from over here
Received a parcel from you yesterday ...... and ......
WOW !!
FANTASTIC !!
I think that covers it !!
Whoever put these together should be congratulated ...... a great presentation, and we hope it helps with the "I am Baseball - Anti Doping Campaign"
Your letter was very nice, and thank you for you comments and 'best wishes' to Brett
He is "hobbling around" with an ankle injury at the moment, but that should be okay in about a month
Now I'm going to 'push-my-luck' and ask for a special favour !!
These mint-condition cards will be shared amongst us ...... in fact, we are going to have one of them framed professionally ...... it should look great
But I also think it would be terrific to have copies as they are meant to be ...... postcards !!
So could I ask you to send three ...... no envelopes, just the New York - USA stamp, addressed as below, and also signed by yourself with a "hello"
One to his Mum, one to his Sister, and one to Brett
Would this be okay ??
I know they might get a bit knocked around travelling across the ocean, but that will just 'add' to them
Here are the addresses:-
Sharon Roneberg
Postal Manager - Australia Post
Earlville Business Centre
171 McCoombe Street
Bungalow
Qld Australia 4870
Tanya Roneberg
c/- MacDonnells Law
Post Office Box 5046
Cairns
Qld Australia 4870
Brett Roneberg
Post Office Box 62
Trinity Beach
Qld Australia 4879
Thanks for this ...... and if you ever get over here to Tropical Cairns, Brett will take you out to dinner !!
You first contacted us back on the 8th February ...... and these cards are a great result !!
Have a nice day
Regards, Geoff
The reply from Kate - Thursday 17th April 2008
Hello Geoff
So glad that you and your family liked them!
We were certainly very proud of them
I passed your compliments on to the designer, who was very appreciative
I would be happy to send a few more your way
You should receive them next week
And if I ever have the pleasure of traveling to Australia, I will certainly let you know!
Best wishes, Kate
A note to Kate - Saturday 3rd May 2008
Hello over there in New York
The three postcards have arrived !!
...... and they travelled all the thousands of miles fairly well ... just a few bumps and bruises
They are 'just right', and thanks for your personal notes on each one
Brett has his, and Sharon and Tanya have the cards on display in their offices
It was an interesting and enjoyable project, and we hope that Baseball is soon back in the Olympics !!
Don't forget your night out in Cairns !!
Regards, Geoff
......and below are the three cards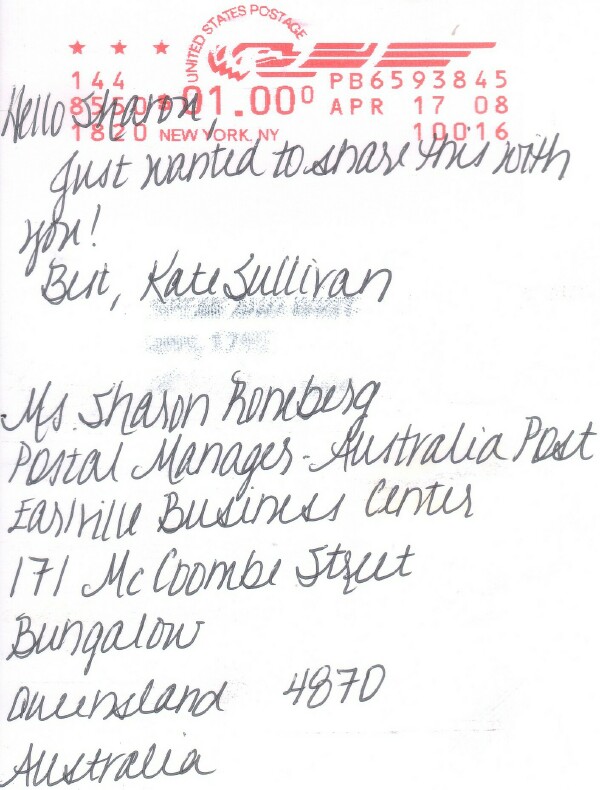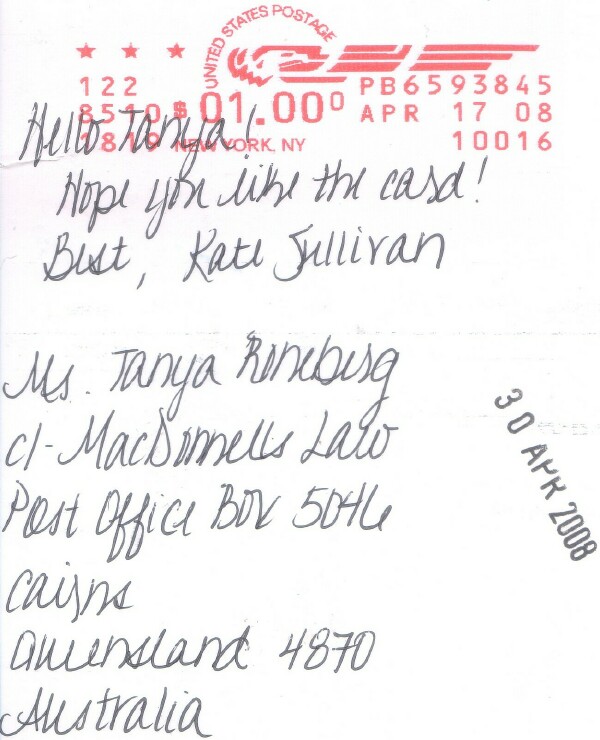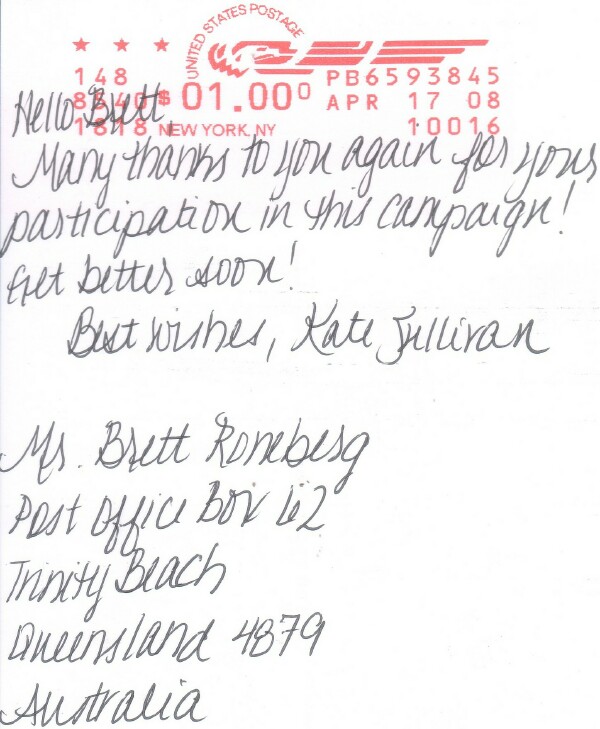 ---
x
x
x