(Return to "Our Home" albumn)
(Return to "Antiques and Collectables" page)
Willow Brand Kitchen Tidy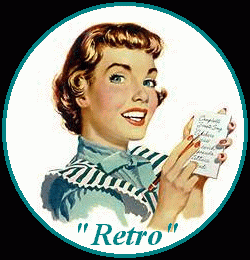 A note from Geoff on Friday 28th April 2006

Recently we have bid on and won a few Ebay Auctions
and now have some very nice "kitchenalia" items featuring Australian Artists

Sifters, biscuit tins and a bread bin

The Artists are Maynard Waters and Brian Baigent
and the photos and details can be seen by clicking here

This item is by another well-known Australian, Pro Hart, and the painting is very nice
There are further details below on the Artist and his work,
along with a link to the Official Web Site

It will replace an old pastic kitchen tidy, which is broken, that we have had for years
and will look fantastic with all the other items that we have from the 1950's and 60's!!

Just as a matter of interest, Sharon has said
"I hate that thing and want to get rid of it"
numerous times!!!
We have sorta-half-looked at some of the modern silver-type ones
but found nothing suitable

I think she'll like this, and it's a surprise for her!!
******************************************

- The Ebay Auction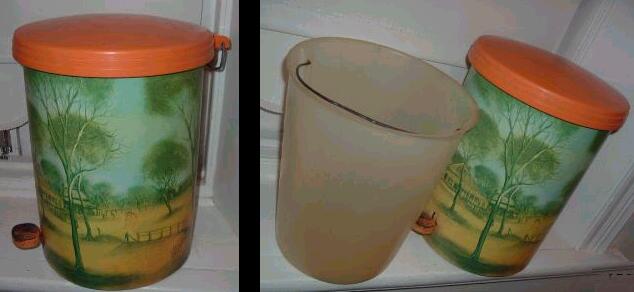 Willow Brand Kitchen Tidy
1970's 'retro' pedal bin
Collectable
This dear little kitchen tidy is perfect for your 70's kitchen
The painting is by Pro Hart - "The Homestead"
The painting is in good condition but here is a little fading to the picture near the pedal
Also there is some wear to the paintwork on the pedal
The interior lift-out bin is still intact and also in good order
It still retains a nice overall appearance
The bin stands 36cm high including the slight dome on the lid

Item location - Lyndoch, South Australia Australia
This auction ended on Friday 28th April 2006
The starting price was set at $0.99 and there were seven bids during the auction
Ours was the Winner!!! - at the final selling price of $62.00 plus postage and insurance
***********************************************************
An email I sent to the seller during the auction

Hi ya, and I am very interested in this item
Have you any larger photos of the bin that you could send me?? - the bigger the better!!
And would it be possible to include a shot of the signature??
Thanks a lot, Geoff
......and the reply
Hi, and I'll take some more shots for you and email them to you
Cheers, Julie


......and these seven photos are below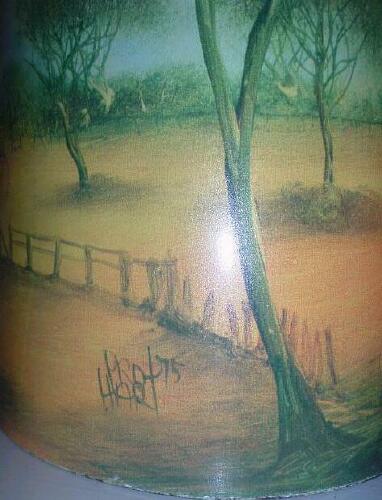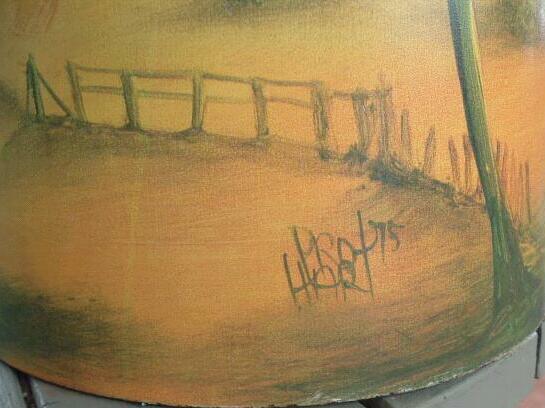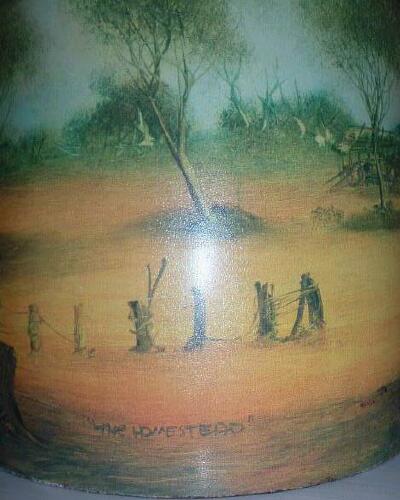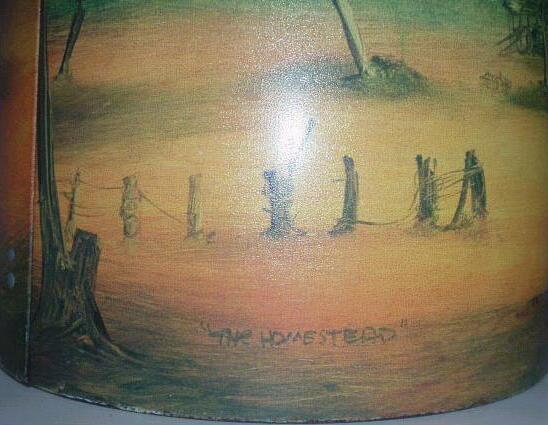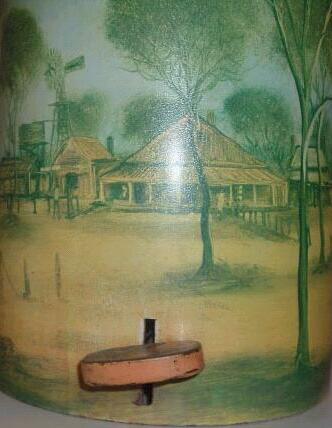 ----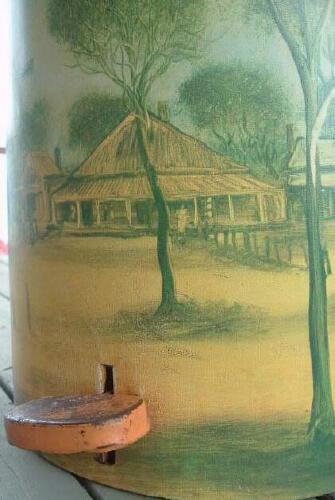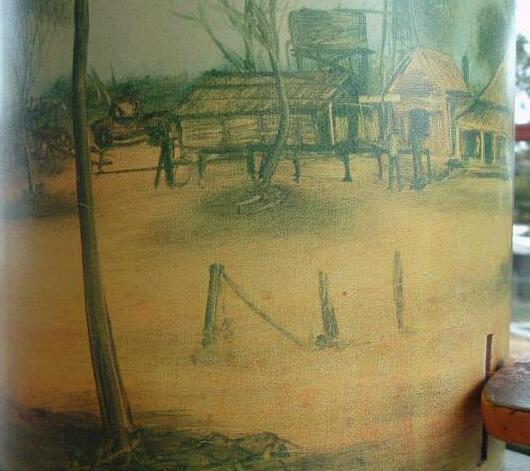 ***********************************************************
The Artist --- Pro Hart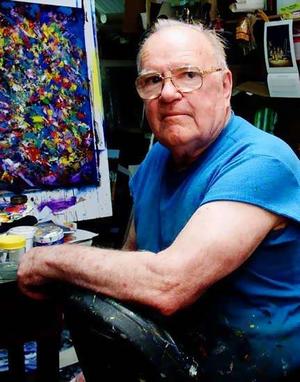 "Vale Pro Hart"

The Australia Council for the Arts today pays tribute to the remarkable life and prodigious work of famed Australian visual artist Pro Hart who passed away at his home in Broken Hill in the early hours of 28 March 2006

Born in Broken Hill, NSW in 1928 Pro Hart was in his twenties before embracing his gift for painting seriously

Drawing inspiration from the mining town of Broken Hill he was discovered in Adelaide in 1962 by then gallery director Kym Bonython

From there his success as an internationally renowned artist began to flourish
In 1976 he was awarded an MBE for services to art in Australia
In 1982 he received an honorary Life Membership of Society International Artistique for outstanding artistic achievement
This is granted to one artist per continent
In 1983 he received an Australian Citizen of the Year Award

A much loved, generous and popular artist, whose bush paintings capture the quintessential spirit of the Australian outback, his career spanned more than 40 years

In typical Pro Hart style, despite exhibitions in every state of Australia and in numerous countries around the world, he was probably prouder of being five times winner of the Broken Hill Art Prize

The Australia Council for the Arts extends our sincere and heartfelt condolences to the Hart family and celebrates his remarkable life

Click on the above logo to go to the Official 'Pro Hart' Web Site
***********************************************************

I found the record of this auction when looking around the internet
The painting, though it is called "The Homestead", appears to have been painted
around ten years later than the one on our kitchen tidy
The paintings 'look similar', and these auction details are included here just for the interest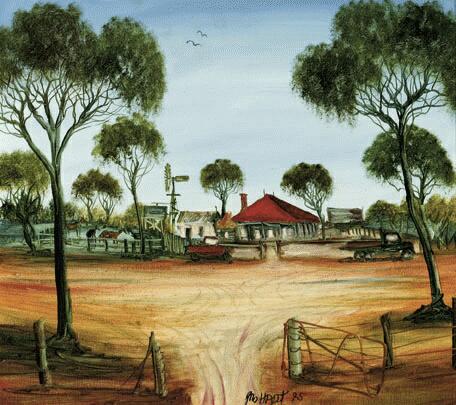 Artist - Pro Hart
Born 1928

"The Homestead" 1985
Oil on canvas
40.4cm x 45.5cm

Signed and dated lower centre - PRO HART 85
Inscribed on stretcher verso - "The Homestead"

Auction Date - 11th March 2004
Estimated - $2,500.00 to $4,500.00
Actual - $6710.00
***********************************************************
Other---

- Ebay Auctions #01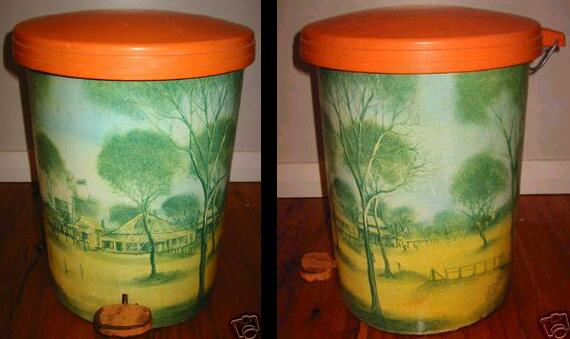 Pro Hart Garbage Bin - "The Homestead"
Up for auction here is an old kitchen trash can/bin
It features a print of the 1975 "The Homestead" painting by Pro Hart
The bin stands around 35 cm tall and the lid is in working order
It is in great shape for it's age but the lid has a small (5cm) crack in it
Item location - New South Wales, Australia
This auction ended on Wednesday 19th April 2006
The starting price was set at $1.50 and there were fourteen bids during the auction
The final selling price was $31.00
***********************************************************
Other---

- Ebay Auctions #02
Included on this page as it also features "The Homestead" painting by Pro Hart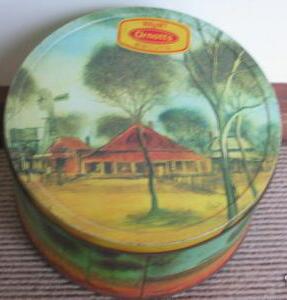 Arnotts Pro Hart "The Homestead" Tin
You are looking at the Arnotts Pro Hart tin
It is part of the Outback series
There are two other tins in this series
The other two being "Trappers Camp" and "The Woolshed"
The tin is in good condition apart from one small area
on the side of the tin where there is some small surface rust
The original label is still on the lid
The inside of the tin is good condition
Item location - Tumby Bay, South Australia Australia
This auction ended on Tuesday 9th May 2006
The starting price was set at $15.00 and there were three bids during the auction
The final selling price was $21.50
***********************************************************
Other---

- Ebay Auctions #03
Included on this page because we have a biscuit tin (HERE) and
a sifter (HERE) which feature paintings by this artist
Also see Auction #04 below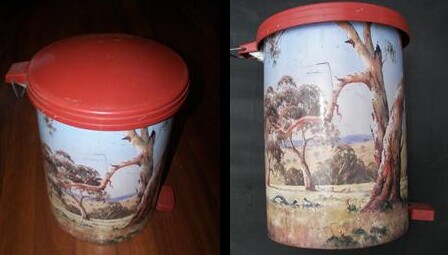 Retro Australian Kitchen Tidy
Fabulous!!
It has a typical Australian outback painting decorating the outside
This is by Brian Baigent
This tidy comes with the liner
It is approx 35.5cm tall
It is a kitchen tidy and as such it has seen use
There are some scuffs, scratches and a little rust
This would look great in any Australian country kitchen!!
Item location - Gympie, Queensland Australia
This auction ended on Tuesday 11th March 2008
The starting price was set at $9.99 and there were six bids during the auction
The final selling price was $21.50
***********************************************************
Other---

- Ebay Auctions #04
Refer to comments for Auction #03 above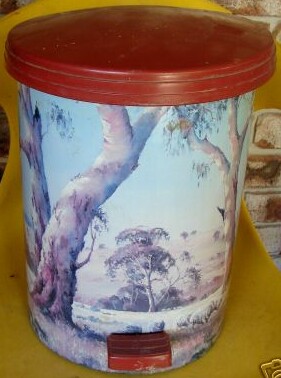 ---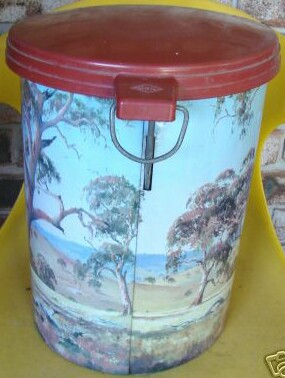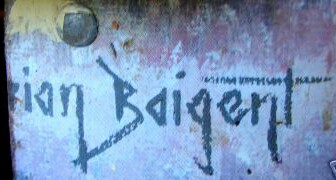 Vintage Australian Pedal Bin
Vintage Willow pedal bin featuring a Brian Baigent Australian landscape scene
The bin comes complete with it's original plastic bucket liner and is in very good condition
However, it does have a few scuffs
and a few spots of paint which could be easily removed by the new owner
It is 35cm high and 27cm in diameter
Item location - Gladstone, Queensland Australia
This auction ended on Sunday 27th April 2008
The starting price was set at $9.99
There were no bids
---