(Return to "Our Home" albumn)
(Return to "Antiques and Collectables" page)
Willow Biscuit Tins
Two styles --- by Australian Artists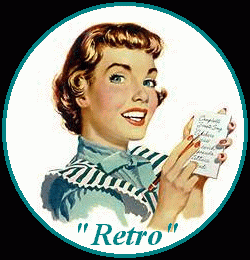 A note from Geoff on Tuesday 11th April 2006

"Well, we are starting to build up a bit of a collection
of "Kitchenalia Items" by these artists!!!
They look very nice on display
and Sharon loves the various paintings"
SPECIAL NOTE #01
These items also feature paintings by this artist!!!
Click Here to look at two Sifters
Click Here to look at a Bread Bin
SPECIAL NOTE #02
Click Here
for details on the artist, Maynard Waters
who is associated with one of these Biscuit Tins, the Bread Bin and the Sifter
AND
the page also includes photos of all the items displayed together!!!

- The Ebay Auction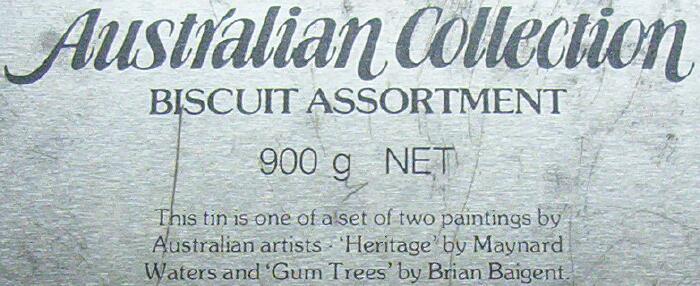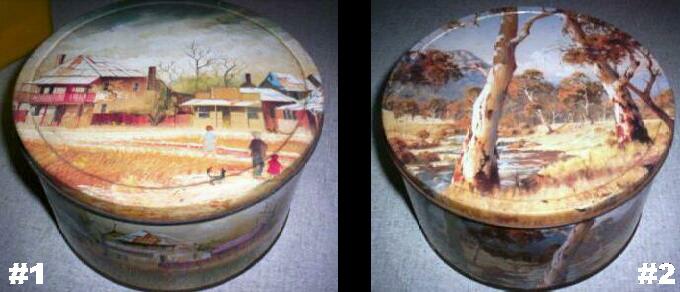 Number One - A Collectable Arnotts Tin
"Heritage" by Maynard Waters
From around 1979 (??)

Number Two - A Collectable Arnotts Tin - Rare
"Gum Trees" by Brian Baigent

Recapture your childhood with an Arnotts Bikkie Tin!
Arnotts biscuit tins are something that transport you back to your childhood
and makes us remember all the delicious biscuits and cakes
that have been stored in these tins over the years!!
These two tins are in pretty good nick for their age, but with signs of normal wear and tear
They would be a great addition to any collection
I have been collecting these treasures for years and I am now de-cluttering!!

A question I asked the seller during the auction
Hi, and I am interested in these two biscuit tins
Could you let me know the diameter and height of each tin??
Are the paintings in good condition??
Regards, Geoff

......and the reply
Hi there, and I'm happy to answer your questions
The measurements of each tin are 23cm across the top and 12cm deep
The paintings are in good nick
Cheers, Rae

Item location - Wide Bay-Burnett, Queensland Australia
These auctions ended on Tuesday 11th April 2006
These two items were auctioned by the same seller
Both had a "Buy-It-Now" price of $20.00 each
So that is what we paid - a total of $40.00 plus postage and insurance
**********************************************************
Markings on the Tins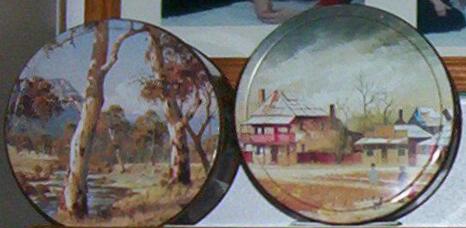 Both of the biscuit tins had these details on the bottom......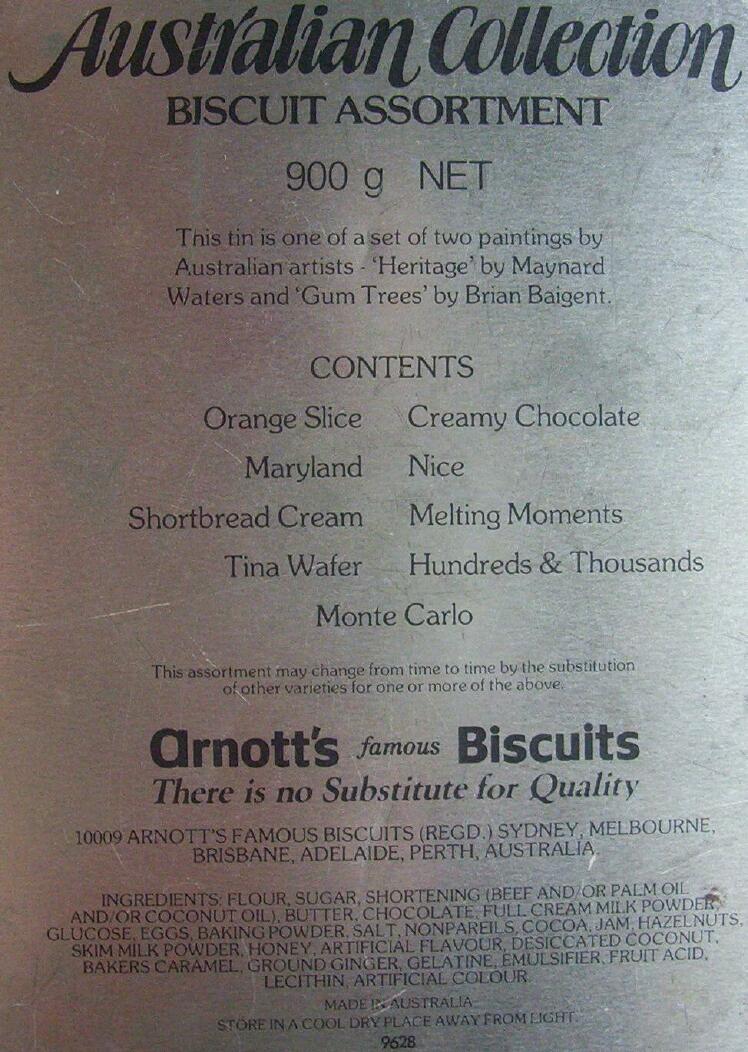 ......and one had this sticker

So we now know that they were made pre-1981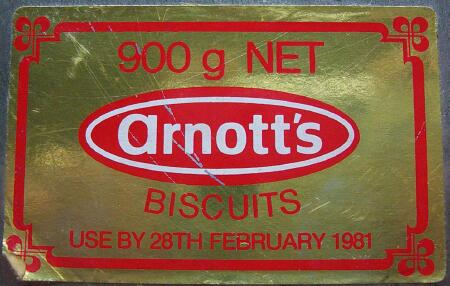 **********************************************************
Other Auctions #01
The following details and photo are from......

......and click on the logo to go to their Official Web Site
Round Biscuit Tin

Arnotts Biscuits
Painted "Heritage" - by Maynard Waters
Price - $18.00
(we paid $20.00 each for our tins)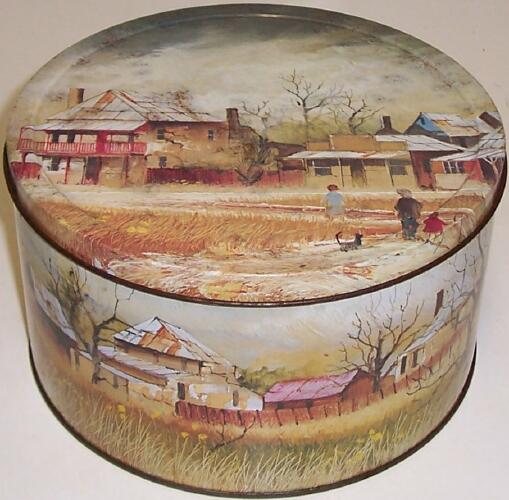 **********************************************************
Other--

--Auctions #02
This tin is from the "Outback Series" whereas our tins are from the "Australian Collection"
It is by the artist Pro Hart
and it is included here for "comparison" purposes
It looks to be in poor condition
but it still finished at a comparative higher price!!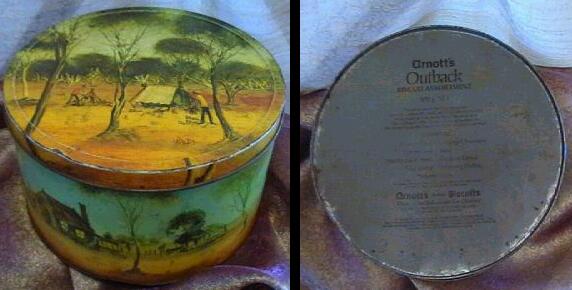 Vintage Arnotts Tin
Up for auction I have an Arnotts Outback Series biscuit tin painted by Pro Hart
The tin is in fair condition,
but has a small dent to the bottom edge and rubbing around the edge of the lid
Mainly just an aged appearance!!
The colour is good
Item location - Ballarat City, Victoria Australia
This auction ended on Wednesday 19th April 2006
The starting price was set at $10.00 and there were eight bids during the auction
The final selling price was $31.00
**********************************************************
Other--

--Auctions #03
This tin has the same painting as the above Auction #02
It is by the artist Pro Hart
and it is included here for "comparison" purposes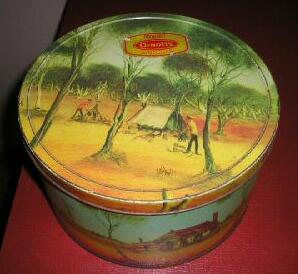 Arnotts Tin
This tin is of "The Hut" by the late Pro Hart
It was painted in 1975 and the tin was brought out in 1976
It is one of the "Outback Series" of three by Pro Hart.
Pro Hart had his studio in Broken Hill NSW
Item location - Toowoomba, Queensland Australia
This auction ended on Monday 1st May 2006
The starting price was set at $10.00 and there were eight bids during the auction
The final selling price was $32.00
**********************************************************
Other--

--Auctions #04
I would guess that this tin is also from the "Australian Collection"
It is by the artist Pro Hart
and it is included here for "comparison" purposes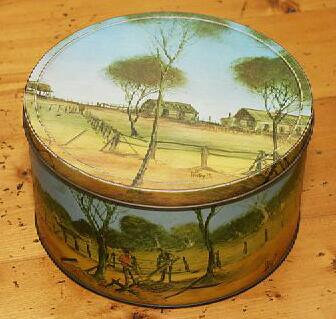 Arnotts Biscuit Tin
Painting is "Fence Menders" by Pro Hart
I am pretty sure that this is an Arnotts tin,
but you can be the judge as there are no markings
It measures 22cm wide x 12cm high, and weighs 410grams (nice solid feel to it)
Condition is very good, with some light wear around the rim
and on top of outer border of lid, plus some very light scratches here and there
No dents and the colour of the print has little if any fading
It might need some polishing inside as there is some light surface rust to the metal
The Pro Hart signature looks to have the date of '75' after it
This tin will add nicely to any collection
Item location - Perth, Western Australia Australia
This auction ended on Thursday 4th May 2006
The starting price was set at $20.00 and there were thirty-one bids during the auction
The final selling price was $212.50
**********************************************************
Other--

--Auctions #05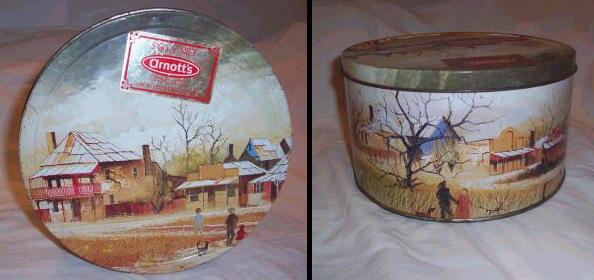 Arnott's Heritage Tin
This is a 'Maynard Waters' round tin in good condition
The tin measures 215mm x 120mm
It has some surface rust on the bottom of the tin
But, remember, it is twenty-five years old!!
Item location - Thorneside, Queensland Australia
This auction ended on Monday 29th May 2006
The starting price was set at $30.00
There were no bids
---