(Return to "Our Home" albumn)
(Return to "The redecorated Bedroom" page)
(Return to "Antiques and Collectables" page)
Saturday 21st January 2006
Crocheted Bedspread
This was given to Sharon by her friend, Estelle
Completely hand-made!!!
A note from Sharon

"Estelle - a friend of 25 years - and I were discussing crochet and knitting

She showed me a heap of things she had made over the years

I was busy pulling things out of her cupboards!!
......and then I pulled out the bedspread

She told me she started crotcheting it in 1955 (a year after I was born) and she finished it in 1965
She was a nurse and made it during the quiet times when she was on night shift
She said it has never even been used on a bed before
It is so beautifully made

The best news is - she said I could have it!!

She has one son and she said he and his wife wouldn't use it
I was really touched that she wanted to give it to me
- she said she was happy for someone who appreciates it to have it

Just think - it took 10 years to make and has been in a cupboard for 40 years!!
Now it is on our bed!!

I have to say it was a little yellow in places
and Geoff took great care in soaking it, washing it and drying it so it kept it's shape!!"
(five photos)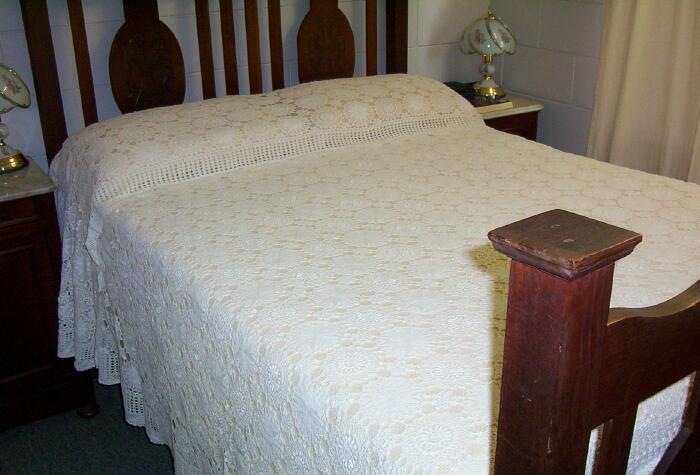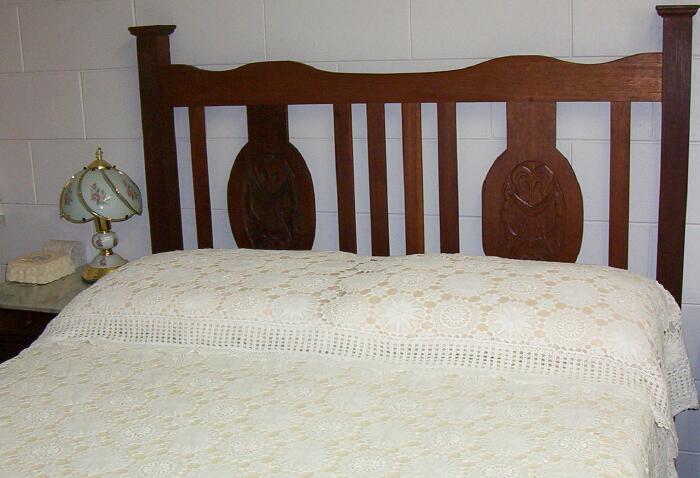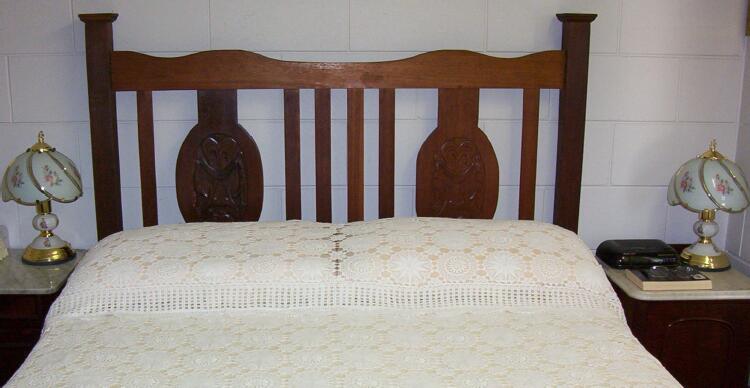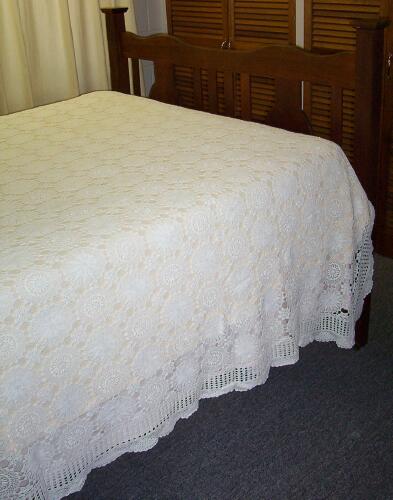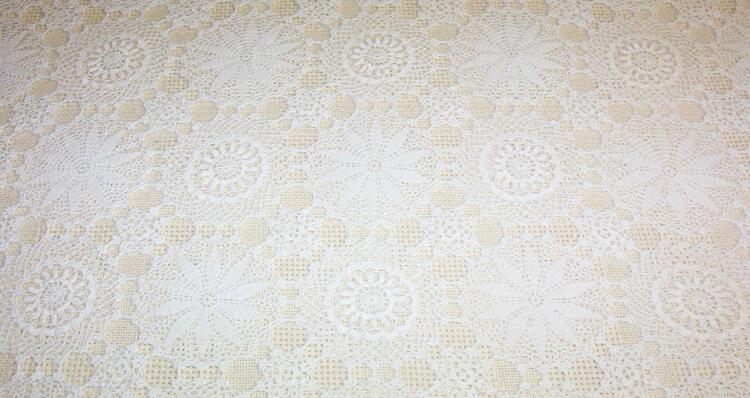 ***************************************************************

--Auctions for similar Bedspreads
......for a price comparison!!!
********************************************
Auction #01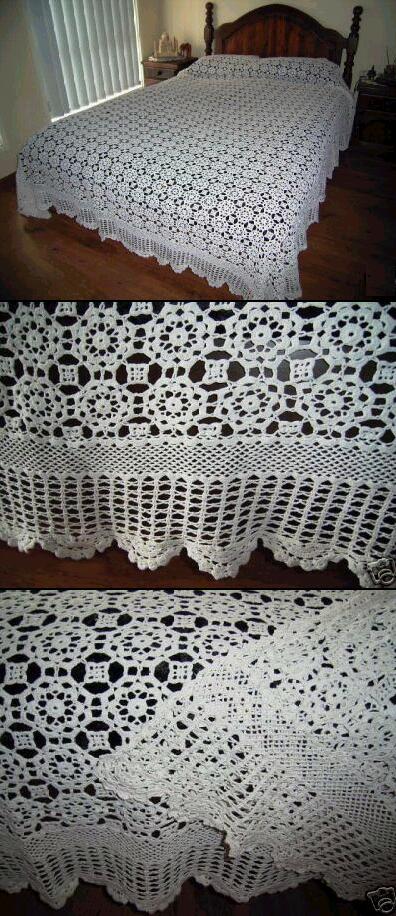 Vintage White Crochet Lace Cotton Bed Spread Throw
Gorgeous!!
Lovely Vintage Condition!!
Pretty White Crochet Lace
Measures - 295cm x 265cm
In one of the pictures you will see one that I have folded back the top so you can see
the head part is different to the three other sides
This is shown on a basic Queen size water bed with a black under blanket
This would fit a normal Queen size bed very nicely
There are no stains or damage that I could see
I try to describe my items to the best of my knowledge
Please remember most of my items are vintage and not new
Item location - Adelaide, South Australia Australia
This auction ended on Sunday 5th February 2006
The starting price was set at $19.95 and there were fifteen bids during the auction
The final selling price was $61.00
********************************************
Auction #02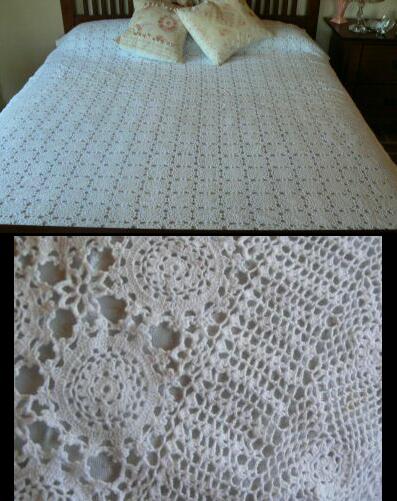 Vintage White Lace Bedspread
Crocheted --- Shabby chic
White crocheted bedspread, or topper, and it is pure white in colour
(as seen in the photo in contrast to my cushions which are cream)
There is about 6 inches or 15-18 cms overhang on the sides when used on a queen,
more on a double and single bed
The best thing about these old crochet covers is that you can change the look of your
colour scheme by adding different coloured sheets or doonas beneath them
Pink and Blue always looks great under these covers
Could also be a tablecloth for a large rectangular table
Vintage, and in perfect as new condition
Item location - St Andrews, Victoria Australia
This auction ended on Saturday 10th February 2007
The starting price was set at $15.00 and there were eight bids during the auction
The final selling price was $31.00
********************************************
Auction #03
Vintage Shabby Chic Hand Crocheted Cotton Bedspread
It is antique beige colour
In original unrestored condition
The bedspread has a lovely border as per photograph
No rips or mends
Has been stored away for many years, and does not appear to have been used much
Measures 2.75 meters x 1.8 meters
Would be ideal on a single bed for a full look
or fit quite well on a double over another plain spread
However please see measurements before making any decision as to suitability
Would also make a beautiful table cloth
Item location - South Eastern Outer Melbourne, Victoria Australia
This auction was listed with a "Buy-it-Now" price of $95.00
There were no bids (item was listed for over three months)
---