(Return to "Our Home" albumn)
(Return to "Antiques and Collectables" page)
Carlton Ware "Rouge Royale - Spots" Demi Cup and Saucer
Pattern Number - 4225
Shape Number - 1582 - "Rita"

Made in England

A note from Geoff on Thursday 13th October 2005
"I bought this as a 'Surprise Present' for Sharon!!!
......because it matches this set - click here
(the same Shape Number/Series but a different Pattern)
and they will look terrific as a 'pair' in her display cabinet
PLUS it looks like I managed to get a good deal!!! - info below"

- The Ebay Auction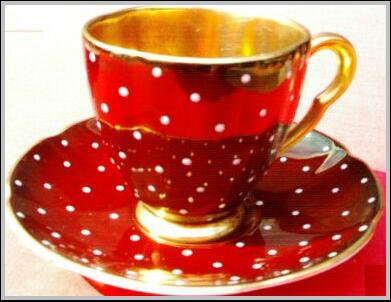 Carlton Ware "Rouge Royale" Cup and Saucer - Handpainted

Stunning!!!
Carlton Ware - Made in England
This is an excellent cup and saucer!!
Rouge, with lot's of hand painted white dot's and extensive gilding
Near mint and is unused!!
Measurements
Cup - 6cm high
Saucer - 13cm diameter
Bid with confidence on this rare collectable!!
Item location - Adelaide, South Australia Australia


This auction finished on Thursday 13th October 2005
The starting price was set at $44.00 and there were seven bids during the auction
Ours was the winner!!! - at $71.00 plus postage and insurance
**********************************************************
THE BACKSTAMP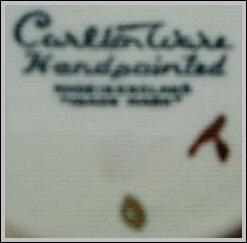 **********************************************************
DATING CARLTON WARE
The following information is from the links included in this logo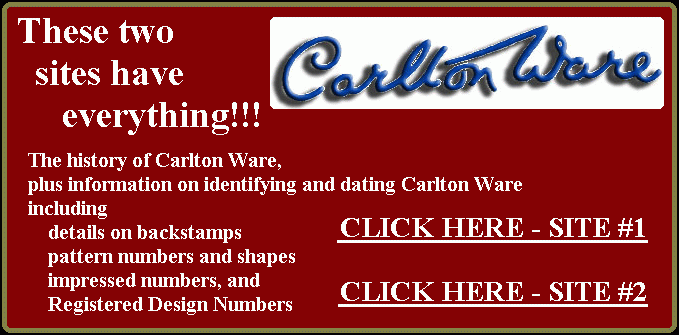 Intoduction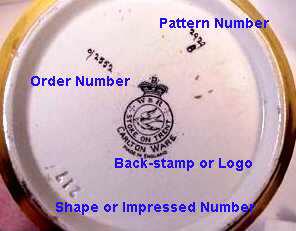 To help date Carlton Ware you need to look at
(1) the Carlton Ware (or W&R) backstamp or logo,
(2) the pattern number (usually handpainted) on the base, and
(3) the impressed number on the base

Sometimes the pattern numbers and impressed numbers are not present or are very difficult to read

In the picture above, the pattern number is '2929' and the shape or impressed number is '217'
The marking of '0/2552' is an order number
Backstamp



The following table provides a rough indication of the date a piece of Carlton Ware was made
by looking at the backstamp

NOTE - the above backstamps were taken from the table mentioned above,
and look very similar to the stamp on the item bought on Ebay

The dates given in the table were 1952 to 1962
Shape - "Rita" (#1582)
The shape or impressed numbers are not always useful for ageing an item

For example, the impressed number of '1582' was first introduced in the late 1930's
It was used for coffee sets for several years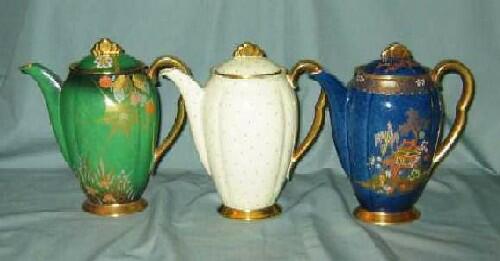 The picture above shows three coffee pots all with the same impressed number '1582'
but with different patterns and different pattern numbers

The impressed number of '1582' was used for coffee sets and as such sets were sold in sets,
all items in the set had the same impressed number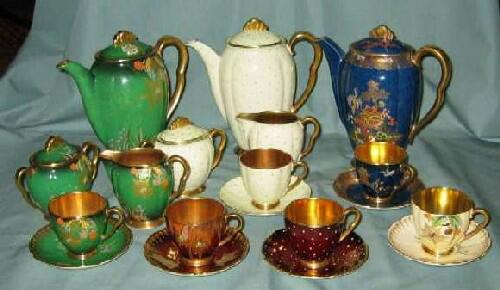 The picture above shows a selection of items from coffee sets, including coffee pots, milk jugs,
sugar bowls, and cups and saucers
All have the same impressed number of '1582'

The following table indicates approximately when a shape was first introduced
These dates will only indicate how old the item might be, but cannot be a guarantee of its age

NOTE - this information was taken from the table mentioned above
Shape or impressed number - 1500 to 1600
Approximate date when first introduced - 1937/1938
Pattern Number - "4225"
This pattern was described as:-

"Rouge Royale with spots"
NOTE - the following photos are of this pattern and look identical to our cup and saucer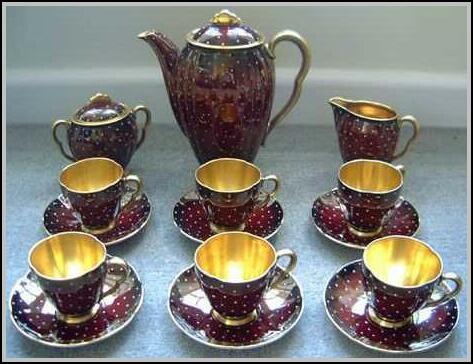 **********************************************************
NOTE ONE
The photo and information below are from page 50 of
"The Carlton Ware Collectors Handbook"
and click on the book cover for more details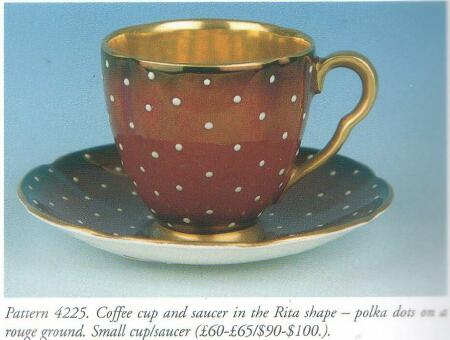 NOTE - this pricing is in GBP and USD
At today's exchange rate, the value would be $140.00 to $150.00 Australian dollars
**********************************************************
NOTE TWO

The information below is from



and click on the logo to go to their web site
or click here to go directly to the "Rouge Royale" items page
(these pages/details were available as at Thursday 13th October 2005)
Carlton Ware "Rouge Royale"
Shape #1582
Pattern Description - Dark Red, Gold Trim
Items similar to ours were not listed
**********************************************************
NOTE THREE - Carlton Ware Information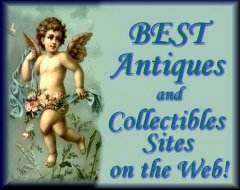 Click on this logo
The page has heaps of details and photos of Carlton Ware
It also includes this Message Board


which you can join if you want and have
"lots of chats with like-minded people!!!"
(these pages/details were available as at Thursday 13th October 2005)
**********************************************************
NOTE FOUR


Click on the logo to go to this site
or click here to go directly to their Carlton Ware page
It has lots of items "For Sale"!!!
(these pages/details were available as at Thursday 13th October 2005)
**********************************************************
NOTE FIVE

Click on this logo

This is the search page for Carlton Ware
It has thousands of bits-and-pieces
and I suggest you click on the "Picture Gallery" view to make it easier
---