(Return to "Sharon - 2004" albumn)
(Return to "Antiques and Collectables" page)
Sunday 22nd August 2004
SHARON
HAPPY-

BIRTHDAY
"Her gift from Tanya"
Regency Period (late) - Cup and Saucer - circa 1835
......and scroll down the page to see
(1) lots of photos!!!
(2) the manufacturer's markings,
(3) measurements,
(4) the receipt,
(5) details on the Regency Period, and
(6) a complete Online Appraisal and Valuation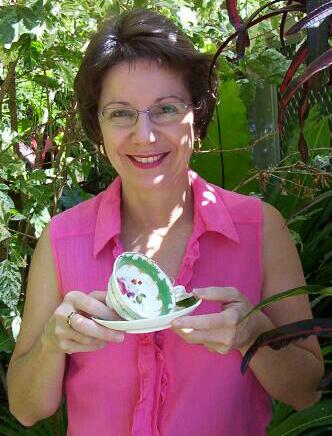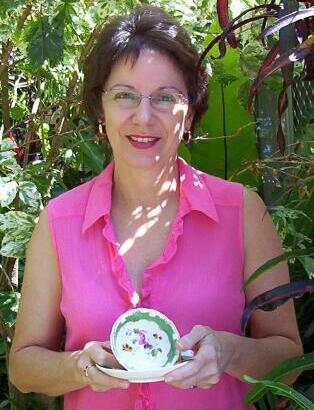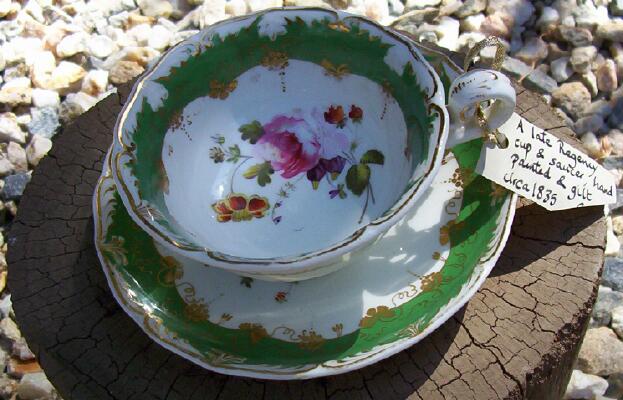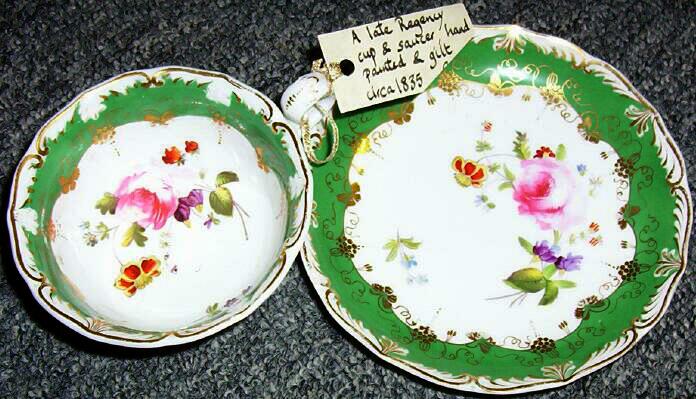 NOTE ONE - BACKSTAMP and MARKINGS
A note from Sharon

"All I can see on the saucer is the number "2" and there is a line under that
and the number "394" is under that
There are no more marks anywhere on either the cup or the saucer"
......but there is a mark on the cup!!!
Very faint and almost 'invisible'!!!
- but it's there as shown in the photo below
All the marks on the cup and saucer are written in gold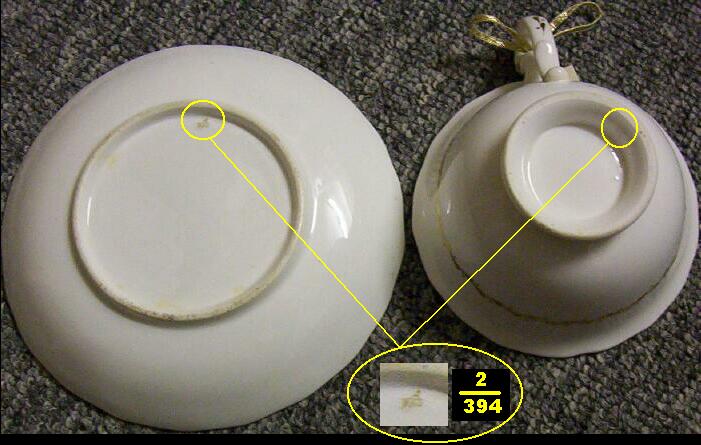 NOTE TWO - MEASUREMENTS
Cup
Width - 4 inches - 100mm
Heighth - 2.125 inches - 53mm

Saucer
Width - 5.750 inches - 145mm
NOTE THREE - THE RECEIPT
Tanya purchased this set from Fortnum and Mason in London on Saturday 17th July 2004
She paid 95.00 English pounds
Conversion rates are continually changing,
but it would be equivalent to around 230.00/250.00 Australian dollars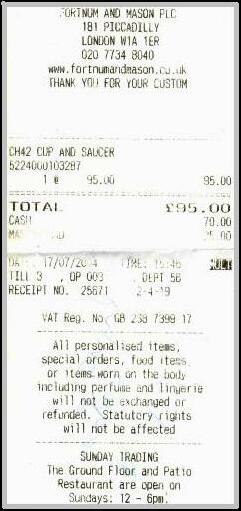 NOTE FOUR

Three articles on this Period
The Regency Era is that narrow period after the Georgian time of powdered wigs and gaudy satins, but before the Victorian time of dull, straitlaced staidness
Some say that when Victoria took the throne, she was fed up with the loose morals and hedonistic behavior which had characterized the Regency
The Regency Era, generally c1790-1820, was indeed a time of undiluted pleasure-seeking and over-indulgence
From glittering London with its cobblestone streets and Palladian-style buildings, to the magnificent country estates built to display a family's wealth and power, to the seaside resort of Brighton that the Prince of Wales made popular and where he built his fantastic palace, the Royal Pavilion, the Regency Era has a charm unmatched by any other period of British history
The term Regency itself means that the current ruler (mad King George III, recently depicted in a movie called "The Madness of King George") is incapable of performing his royal duties, and a "Regent" (his son and heir to the throne, the Prince of Wales) must be appointed to govern
The Prince of Wales was designated Regent in 1811
###
Strictly speaking, the Regency period in English history began in 1811 when King George III was declared insane and his oldest son, George, Prince of Wales, became the Prince Regent, acting in George III's stead until the old king died in 1820
However, George III's illness had almost led to a regency much earlier, in 1788
At that time the Prince became an important figure in the government even though his father recovered before a regency could be created
When the Prince Regent became King George IV, he ruled from 1820-1830
This period, from 1788 to 1830, is often called the "extended Regency"
###
What is the Regency Period?
1 - Time
The Regency was only 10 years long
King George III went quite mad for the last time in December 1810 - from early 1811 the Prince of Wales became regent, essentially ruling in his father's place
George III died in 1820 and the Regent became King George IV
His coronation ceremony was in 1821
2 - Extended Regency
There are various time spans used for what is called the 'extended Regency'
From around 1800 for instance the empire style of dress that is so linked to the Regency became popular in Britain
Some people use as early as 1780 and as late as 1830 for the Regency period
This period covers the Prince of Wales attaining his adulthood until his death in 1830 as King George IV
Clearly these are liberal interpretations which is why they are known as the 'extended' Regency
3 - What is a Regent
Some appointed to rule in lieu of the King
Regent's have been appointed in the past to rule for child Kings and Queens
Mary, Queen of Scot's mother ruled Scotland for her as she inherited the throne at the age of 6
Her son King James I of Britain (and VI of Scotland) was the last King to have a Regent rule for him
4 - The Hanover Kings in brief
George I (1714-1727)
George II (1727-1760)
George III (1760-1820)
George IV (1820-1830)
William IV (1830-1837)
As the throne of Hanover could only be inherited by males on William's death the throne separated from the British throne
Victoria was the next in line to the throne of Britain as she was the daughter of the George III 4th son, Edward, Duke of Kent
The next male heir in line to the throne was her uncle, George III's 5th son the Duke of Cumberland
It was he who became the King of Hanover thus after some 120 years the two thrones separated
---
Appraisal Request

(click on the logo to go to the Official Site)
Deluxe Appraisal Request
Step 1: Category Selection
Appraisal ID:
79448
Item Title:
Regency Period (late) - Cup and Saucer
Selected Category:
Porcelain, Ceramic and Pottery->Porcelain (China - Individual)->Cup and Saucer
Step 2: General Information
Item Description:
Regency Period (late) - Cup and Saucer
Item URL:
This page
http://www.ronebergcairns.com/sharon2004_28.html
Date/Era/Period:
circa 1835 - ???
Condition Of Item:
Excellent
Provenance:
Unknown
Origin Of Item:
Gift from our daughter
Purchased in London at 'Fortnum and Mason'
Step 3: Appraisal Images
Submitted all the images on this page
Step 4: Subjective Questions
Q: When did you purchase/acquire the item(s)?
A: July 2004
Q: Purchase price of item (if known)?
A: English Pounds - 95.00
Q: Who is the manufacturer, if known?
A: Unknown
Q: Describe the material your item is made of
A: China - ???
Q: Describe any markings and list any words found on your item
A: Refer to item website/URL submitted with this request
Q: Who is the artist? [if known]
A: Unknown
Q: Is it signed by the artist?
A: No
Q: Is the piece numbered?
A: No
Q: If yes, give number details
A: N/A
Q: Height of item
A: Refer to item website/URL submitted with this request
Q: Width of item
A: Refer to item website/URL submitted with this request
Q: Length of item?
A: N/A
Q: Does the piece have a pattern or is it plain?
A: Pattern
Q: If patterned, briefly describe
A: Refer to item website/URL submitted with this request
Q: If unpatterned, what is the predominant color?
A: no answer given
Q: Does this piece have any hallmarks or other identifying marks?
A: Yes
Q: If yes, give details
A: Refer to item website/URL submitted with this request
Q: Give any other details you feel are pertinent
A: See the next answer
Q: What is the main reason for your appraisal? (ie: value, history, insurance, etc.)
A: Hi, and we are hoping that you can help us with identifying this cup and saucer

Please refer to the included web site/URL, in which I have included the purchase details, photos, markings, measurements and other information

We would like to be able to confirm that it is from the Regency Period, and from around 1835
And also, if possible, who it was made by, the pattern name and any other information you may be able to forward to us

Our daughter purchased this in London as the receipt shows, and we understand that the price she paid was "retail" and may be "inflated", so we are also interested in what your valuation may be

Please note that the label attached to the cup that is shown in the photos is as it was when purchased by our daughter

Thank You
Geoff and Sharon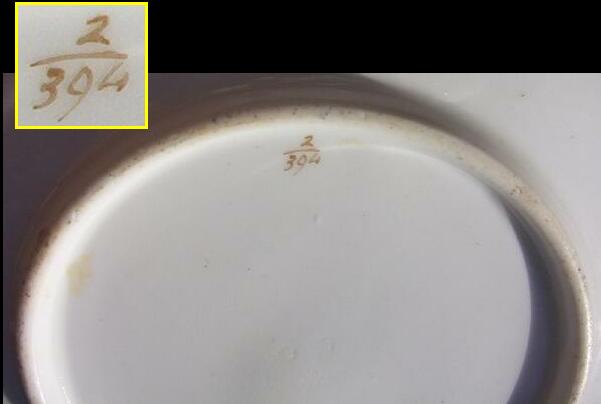 Step 5: Appraisal Question and Answer
Wednesday 6th July 2005
Appraiser Ellen Charland asked

Hello
I have tried a couple of things to enlarge the markings from this end, but to no avail

Would appreciate a closer look at the marking, and a brief discription of that mark - the numbers are fine

Hope to hear from you soon
Ellen ANA/MCA
A: Hi Ellen

Firstly, I hope I have understood your request properly

I have just taken the cup and saucer out into the full sunlight and again examined them all over, and as I mentioned on the web page, the only markings that are visible are the numbers detailed on the page

However, I did manage to get a better image of these, and the photo is attached

This is the bottom of the saucer, and the same markings appear on the cup but are too feint to photograph

In your question you mentioned that "the numbers are fine", so I am not sure if this is what you were looking for

Please send another note if you need something else, as we are keen to assist in any way to achieve an accurate appraisal

Thanks
Geoff
The Appraisal Certificate

(click on the logo to see the Original Appraisal Certificate)
Appraisal ID:
79448
Appraised On:
09-07-2005
Title:
Regency Period (late) - Cup and Saucer
Date/Era/Period:
circa 1835 - ???
Item URL:
This page
http://www.ronebergcairns.com/sharon2004_28.html
Description:
Regency Period (late) - Cup and Saucer
Condition:
Excellent
Origin:
Gift from our daughter
Purchased in London at 'Fortnum and Mason'
Provenance:
Unknown
Appraised By:
Ellen Charland
History Of The Item:
During the eighteen hundreds, women did not have many outlets for expressing their creativity
Some of their activities could have been sewing, working hair into jewelry or into a piece of art work and, painting china

The experience was most likely very similar to the way we shop at the mall
They would shop the local potters, purchase a blank piece of china (unpainted), take it home and add their own design

It was one of the things that a respectable woman, of that time period, was allowed to do - to occupy themselves and allowing them something they could do socially

China painting was a very popular hobby in Europe during the 1830's and, experiences occasional revivals

Today, being a popular hobby, you will find many beautiful and well executed handpainted plates and assorted pieces of porcelain and china
Appraiser Tips:
TIPS FOR VARIOUS POTTERY

Keep it clean but, before washing pottery, place a soft towel at the bottom of the sink for safety
Use warm water and a mild dishwashing soap

Removing stain from pottery - add bleach to the wash water and clean with soft cloth

Stains on the inside of white ironstone can be removed by filling the object with a 40% peroxide and 60% water solution and allowing it to sit for two to four weeks
Then line the bottom of your oven with aluminum foil, preheat to 250 degrees, and put the ironstone in the oven for 20 minutes
Take the ironstone out of the oven, allow to cool, and wash in soapy water
Research Sources:
Books
Encyclopedia of British Pottery&Porcelain Marks by, Geffrey A. Godden
Encyclopedia of English China by, Mary Frank Gaston
British Tea & Coffee Cups by Steven Goss

Websites
www.tudorhouse.com
www.madelenaantiques.com
www.ebay.com
Appraiser Comments:
I suspect that perhaps your item, showing some good signs of age, started life as a blank piece of pottery - sold to a woman who would pursue the hobby of hand painting china

During this time period both professional and amateur painters were plentiful

The professional, having more skill, would have been hired by a well established potter to work with blanks that would have been stamped with his mark and sold on the market

With the amateur, it was more of a social thing
They would meet in groups to share small talk, chat about design and share some of the latest techniques

Shape dictates the value more than anything with these pieces

Most of these pieces are not stamped with a maker's/manufacture's mark

The numbers reflected would be mould/style marks and could be used by various makers/manufacturers

From my research, I agree with the statement that the price may be inflated

The price below reflects pieces in excellent condition
* Current Fair Market Value:
$105.00 - All values are in US currency
Equals $141.52 Australian dollars as at Sunday 10th July 2005
** Replacement Cost:
$170.00 - All values are in US currency
Equals $229.13 Australian dollars as at Sunday 10th July 2005
This online appraisal is an expert's opinion of the item(s) depicted above based solely on images and information supplied by our customer
Additional information, not shown on this certificate, may have been taken into account for this online appraisal
Please Note: Our service strives to include the best international authorities in their respective fields
While the appraiser may be an expert in rendering the valuation, please understand that they may not be completely fluent in English
* Current Fair Market Value is the amount someone might receive when selling their item to a dealer or at auction
It is also the amount most government tax agencies (IRS, Revenue Canada, Inland Revenue, etc.) recognize as the tax deductable amount were the item donated to a charitable organization
** Replacement Cost is the retail amount one might reasonably pay to purchase the item from a dealer, gallery, store, etc
It is also the amount for which one may want to insure an item
---