Hello

I am writing to request a photo of the Gravesite and a close-up shot of the Headstone for my Great-Great-Grandmother

I have these details ...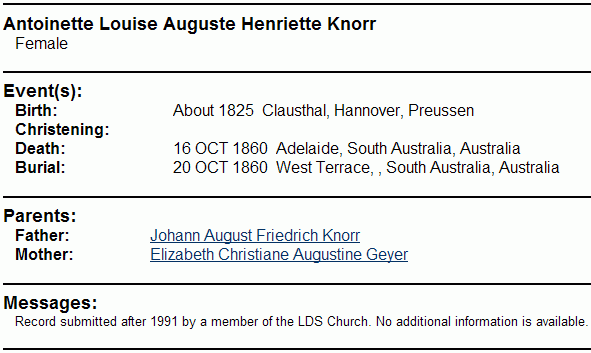 ... plus I can add this information as well ...

---------------#01 - she was a widow at the time of death
---------------#02 - her husband's name was Julius Bierwirth - he died in 1853 in Germany - could be spelt Bierwierth
---------------#03 - her parent's were Johann Knorr and Elizabeth Geyer
---------------#04 - and I have another brief note stating that her death was recorded in the West Terrace Burial Register

Plus, is it possible to have a copy of the details that are in this Register as well as the photos ??

Naturally I am willing to pay any costs that may be involved

Thank you for your time ... and I look forward to hearing from you

Regards ... Geoff
x
Reply from the Cemetery Staff
G'day Geoff

I can find no reference to the death of A.L.A.H. KNORR so I can see no point in checking the cemetery

In any case, there is ninety-nine year tenure on grave sites at West Terrace and so I would suspect it is probable the grave site has been reused

Also, I would be surprised if a headstone from that era has survived although the odd ones have

I did find the death listed below which may be connected in some way but it would appear you may need to do a bit more research !!
The final reference is to the Birth Death Marriage Registry and not the Cemetery Records
Surname: BERRVORTH
Given Names: Louisa
Date: 19 October 1860
Sex: Female
Age: 35y
Status: Widow
Relative: Bertha BERRVORTH (Presumed Relative)
Death Place: Adelaide
Book: 9
Page: 179
x
Another note to the Cemetery
The death notice you included is very interesting !!

I know that you should never "assume" anything ... but this could be the lady that I was looking for

And here are the clues ...

---------------#01 - in my research to date I have found the name Beerworth spelt in a dozen different ways
---------------#02 - plus many people in days gone by used their second Christian name (my father did) and these names match up
---------------#03 - plus there is only one day difference in the recorded burial date
---------------#04 - plus both mention thirty-five years old
---------------#05 - plus both mention that she was a widow
---------------#06 - and I guess the 'clincher' is that I know that the lady I was inquiring about had a daughter named Bertha, and this
---------------------------------------------name is mentioned in the notice you sent !!

I read your note about the grave tenure and survival over time
BUT ... would this be one of the "odd ones" that have lasted through the years ?? ... Hope so !!

Thanks for your help ... and I'll keep my fingers crossed that you can send a photo !!

Regards ... Geoff
x
!!--No Reply Received--!!