(Return to "2002 Sea Dogs" albumn)
The Jupiter Hammerheads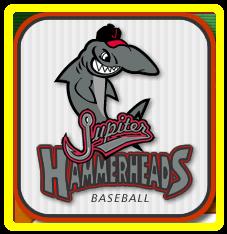 The "High Class A" affiliate of the Florida Marlins - based in Jupiter, Florida
The Hammerheads are in the Florida State League - click on the logo to be taken to the League's web site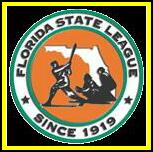 and this page has a link to the Team's Home Page
Brett joined this team on a "rehab assignment", and played his first game on Saturday 1st June 2002
Below is an article from the Portland Herald newspaper on Monday 3rd June 2002
"Outfielder Brett Roneberg, who started the season on the disabled list due to a finger injury, was activated Friday and is on a rehabilitation assignment with Class A Jupiter"
PHOTOS
Roger Dean Stadium
#01 - main entrance to the Stadium
#02 - aerial views of the complex - the main field, plus at least eight others!!! - two photos
#03 - the view from rightfield towards home-plate - a great looking Stadium!!!
General Information
Brett listed on the roster - outfielder - Monday 3rd June 2002
---