(Return to 2002 Season page)
2002 Calgary Cannons
Following his rehab games with the Jupiter Hammerheads, Brett was assigned to the Cannons, the "AAA" affiliate of the Florida Marlins, joining up with the team on Wednesday 19th June 2002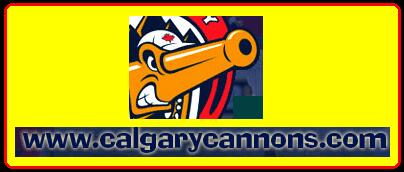 (click on the logo above to go to their web site)
The Cannons are based at:
Burns Stadium
Office Address: 2255 Crowchild Trail NW, Calgary, Alberta T2M 4S7
Phone: (403) 284-1111
Fax: (403) 284-4343
and compete in the Pacific Coast League


(click on the logo above to go to the League's web site)
PHOTOS
Burns Stadium
A great shot taken from the stands above first base
Looking from the rightfield bleachers towards home plate
The move to "AAA"!!!
"Congratulations" card sent to Brett - Tuesday 18th June 2002
Notices of Brett's transfer/promotion to the Calgary Cannons - includes transaction details from the Minor League Baseball and Florida Marlins web sites, plus an article and photo from the Australian Baseball League pages
An email sent to the Cairns Post, with a copy to lots of people!!! - and their replies passing on "congratulations" to Brett
"Congratulations" card sent to Brett - from the Renner family in Illinois, United States - Friday 21st June 2002
The First Game
Brett flew from Florida and joined up with the Cannons in Sacramento - his first game was against the River Cats on Wednesday 19th June 2002 - and he got a couple of hits!!! - "souvenir picture" sent to Brett
"Brett boosts hopes" - an article published in the Cairns Post on Friday 21st June 2002 - details his performance in his "debut" game, plus the move from Florida to Canada - and maybe one day "an invitation to The Show"!!!
The Team
Updated Cannons roster ..........Brett is the second youngest player on the team (one of the pitchers is a few months younger) - and at 23 years old, is by far the youngest "outfield" player (one guy is 32, another 30, plus there are two more at 26 and 25 years of age)
---