(Return to "The Roneberg's of Cairns Index" page)
(Return to "Our Family Index" page)
Our Cars

PHOTOS
Ford Falcons - "L'Oreal of Paris" - Geoff's Company Vehicles
1973 - The white Ford Falcon Geoff had - which was used as a wedding car for Rodney and Sue's wedding - pictures also show Tony with Geoff and Sharon - two photos
1974 - As an Account Executive for L'Oreal of Paris, Geoff was supplied a new vehicle every two years - this is the yellow Ford Falcon used in 1974 - and Sharon as well!!!
1980 - This photo was taken at our home in Brisbane - Geoff had been promoted to Sales Manager, and this is the Ford Fairmont that he was supplied - and was in place of the standard Falcons that company representatives were given
Sharon's car - Morris Major Sedan
This was the first car that Sharon had after we were married - and unfortunately, this is the only photo we have of it - Geoff's Dad was a mechanic, and he had rebuilt the car's engine, transmission, brakes, etc and it was a terrific and solid vehicle - this photo was taken during 1976
Sharon's car - 1963 EJ Holden Sedan
Sharon, with the 1963 EJ Holden she got for a Christmas present in 1979 ..........it was a fantastic "old" car!!!
..........another picture of the car - this time including Sharon and Tanya
1991 Suzuki Sierra Soft-top
Yellow Suzuki Sierra Soft-top - purchased new in 1981 - this photo was taken on Tanya's sixth birthday, the 9th November 1981 - and includes the Birthday Girl!!!
......and here it is with the top down - taken when we lived in Wewak Street, Trinity Beach - and that is six year old Tanya in the back!!! - January 1982
The car on the beach - a great looking machine!!!
1971 Hillman Hunter Sedan
A really good car!!! - this photo of Sharon and the car was taken in March 1983 - at the Rex Lookout on Captain Cook Highway, north of Cairns
............and this page was updated on Monday 13th October 2008 ...... with "super size" photos !!
And here it is again - considering it was twelve years old, it was in very good condition - November 1983
An 'old' Ford Transit Van
Sharon and I established a lawnmowing and landscaping business, and we needed something to carry around all our equipment in - this was all we could afford!!! - looks a bit beat up, but it went very well and pulled the trailer nicely!!! - February 1986
It didn't have any seats in the back, so we bought a couple of old, big lounge chairs and bolted them to the cabin floor - and this is where the kids used to sit!!!
Very much like Granny in "The Beverley Hillbillies"!!!
And a final note - the business we established was named "BRETANYA" !!
1972 Mazda 1300 Sedan
This car was buggerred!!! - engine used to burn gallons of oil!!! - with some financial help from Sharon's parents, it was completely rebuilt - new engine, new seats, new tyres, etc - and it was great!!! - photo taken in November 1986
ACCIDENT!!! - an eight year old Brett and I were coming home from baseball training one night - and I lost control!!! - and this was the result!!! - after having it completely rebuilt, the car was now a write off - two photos - May 1987 ..........needless to say, but Sharon did a lot of yelling, screaming and crying!!!
1972 Ford Cortina Sedan
What a fantastic car!!! - a 6 cylinder, 250 motor - heaps of power!!! - taken in August 1987
1994 Festiva Trio Hatchback
!!--Bought New--!!
First registered on 8th February 1994
This update added on

Tuesday 21st November 2006

Click Here
#01 - a valuation as at today
#02 - two reviews ... and they are very unflaterring !!
#03 - specifications and details
1994 Ford Festiva Trio Hatchback - and it has been a fantastic car!!! - bought brand new, and has cost "nothing" to run except normal wear'n'tear!!! - photo taken Christmas Day 2001
ANOTHER ACCIDENT!!! - hit from behind while sitting at a set of traffic lights - and Geoff was driving again!!! - 18th January 1999
Two Festivas!!! - ours is the blue one which, after nine years on the road, still looks like new!!! - the white one is Tanya's four door model which she purchased soon after we got ours - Sunday 2nd February 2003
Here it is!!! - nearly ten years old and after almost 200,000 kilometres, and it still looks like new!!! - Saturday 13th December 2003
Updating the sound system - installed a SANYO high power FM/AM stereo receiver plus compact disc player - two photos - Wednesday 13th April 2005
..........and we also had two new JENSEN speakers installed - one photo - Friday 12th August 2005
A full detail!!! - after nearly thirteen years and 236,609 kilometres, the car was given a present!!! - a cut and polish, upholstery and carpets cleaned, engine clean, windows, etc, etc - and it came up like new!!! - eight photos - Monday 27th November 2006
Another milestone is coming up - today the odometer crossed over 280,000 kilometres!! - and the car is now over sixteen years old ... and goes along great!! - two photos - Friday 7th May 2010
Time for some "Tender Loving Care"!! - fitted a new set of front seat covers plus a new steering wheel cover - the page includes all the details along with both the 'before' and 'after' looks ...... and a photo of the odometer which is now reading 297,267 kilometres - Sunday 12th June 2011
!!--300,000 kilometres--!!
Monday 22nd August 2011
Click here for the Details
***************************
!!--310,000 kilometres--!!
Wednesday 25th April 2012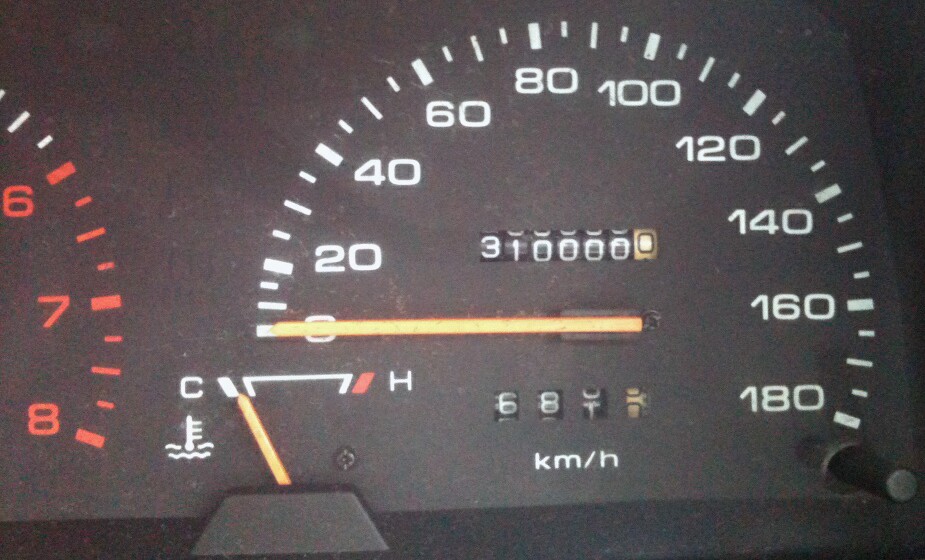 *****************************
!!--314,645 kilometres--!!
Saturday 11th August 2012
!!--TRADE-IN..DAY--!!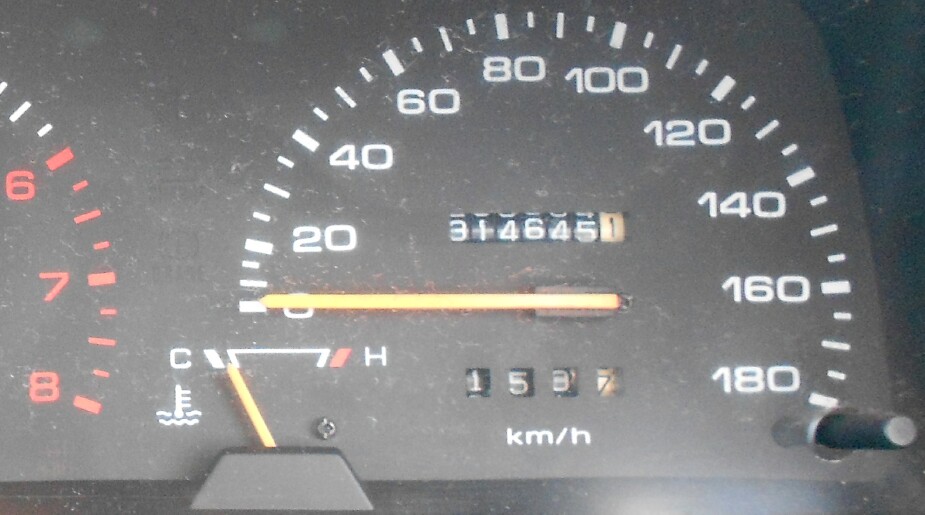 "Goodbye to 838 CJN"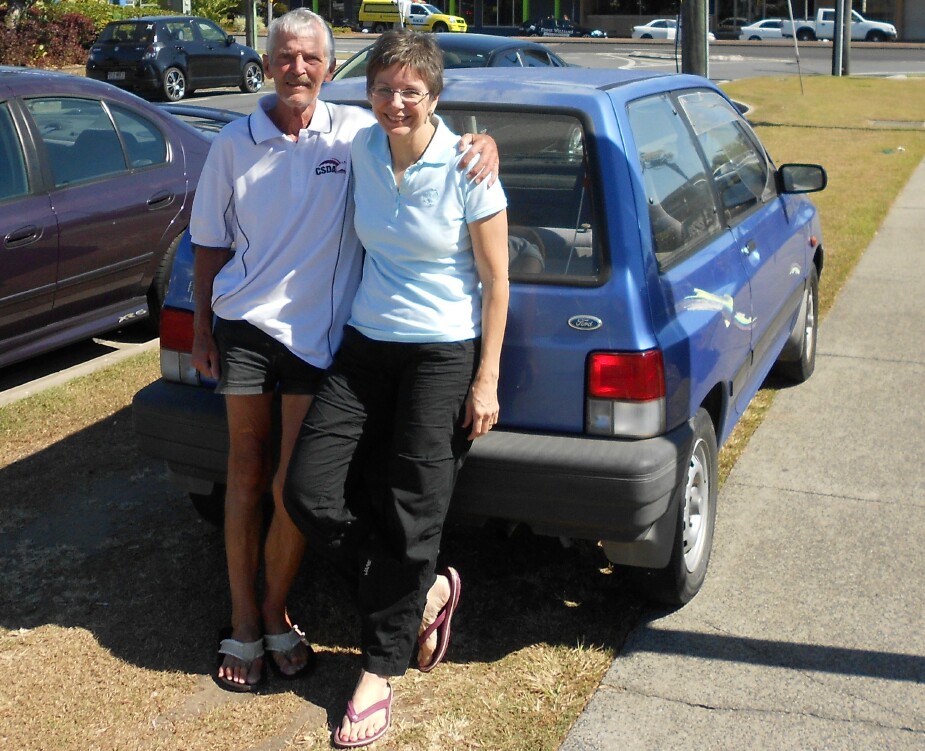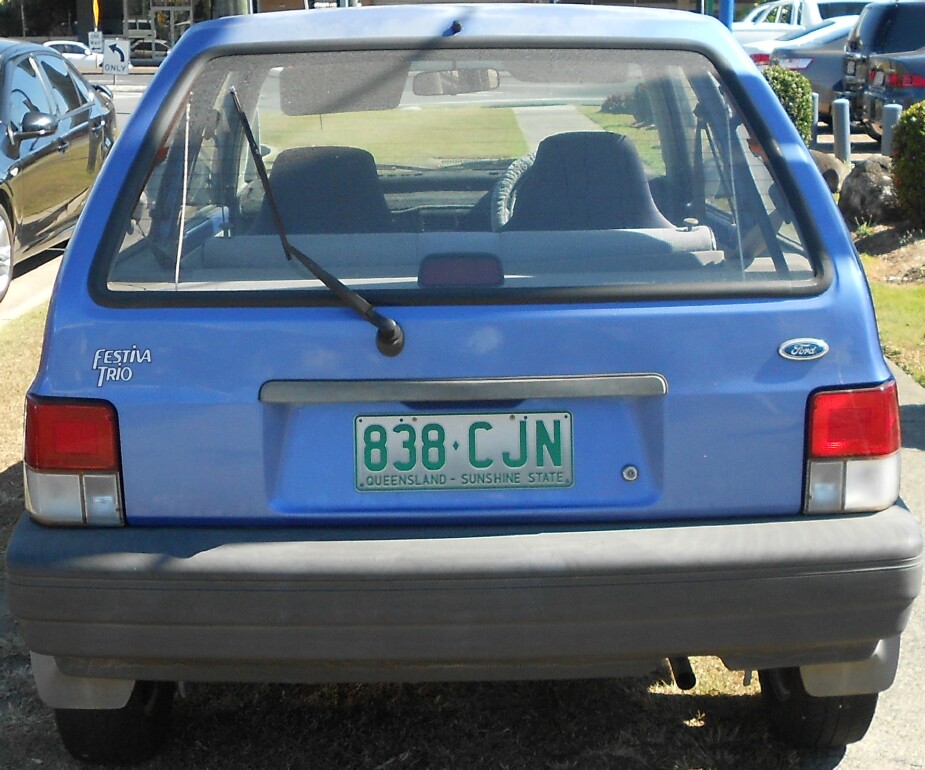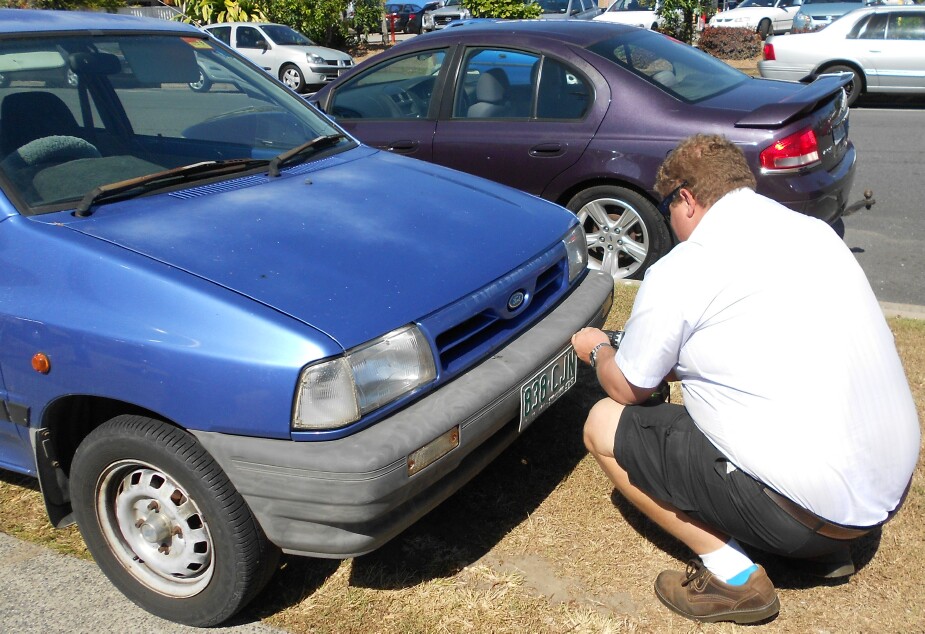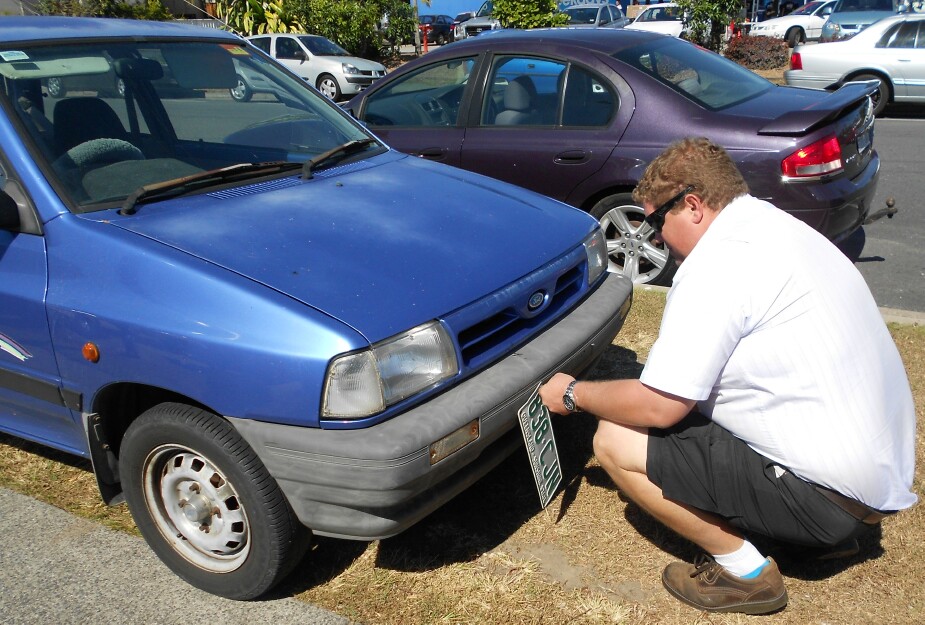 ***********************************************************************
2009 Ford Fiesta ... WS Series ... CL Model
3 Door Hatchback ... 1.6 litre with Manual Transmission
After all those kilometres, the Festiva was starting to get a bit tired!! - plus it also needed new tyres, front suspension repairs along with other maintenance - we decided to go for an update and get some comfort with airconditioning as well - this page includes details on specifications and features, plus Pre-Launch Articles and Reviews and Road Tests - along with the price paid for the car and extras we wanted - and naturally, there are lots and lots of photos!! - Monday 6th August 2012
............and this page was updated on Friday 7th September 2012 ...... added four photos of Sharon's Personalised Number Plates
............and this page was updated on Sunday 17th February 2013 ...... and it now has a set of Seat Covers
............and this page was updated on Saturday 17th February 2018 ...... and it now has a set of "Tanya Red" Seat Covers
---
.