.
** page has been updated to Tuesday 29th November 2016 **
.
(Return to "TANYA - Our Beautiful Daughter and Sister" Index Page)
(Return to "The Baseball Diamonds" albumn)
.
Diamond Two
Tuesday 19th October 2004 ... Note from Geoff
This is a grand-stand Geoff built for the spectators on Diamond Two
It was put up in 1992 ... twelve years ago !!

As can be seen from the photo, it is starting to rot away and fall to pieces
and as it was "Dedicated to Tanya and Brett", a photo had to be taken ... for posterity !!
.
.
Saturday 9th May 2015 ... Note from Geoff
In the 2004 note above I mentioned that this stand was built twelve years ago
!! it is now twenty three years ago !!
The grandstand has been demolished ... but the "Special Post" was left in place
And here it is ... covered in grass and dirt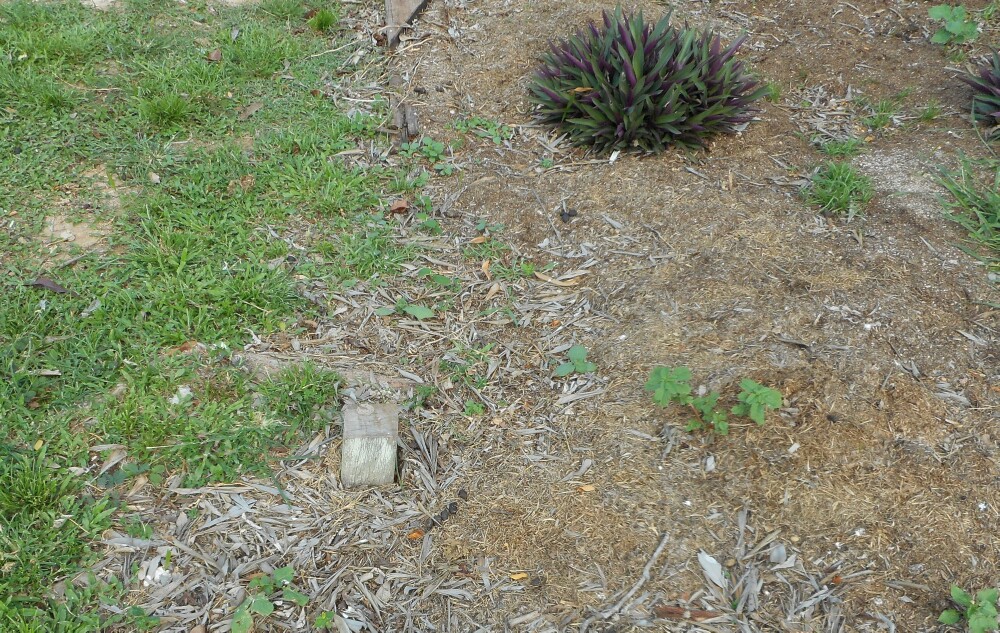 .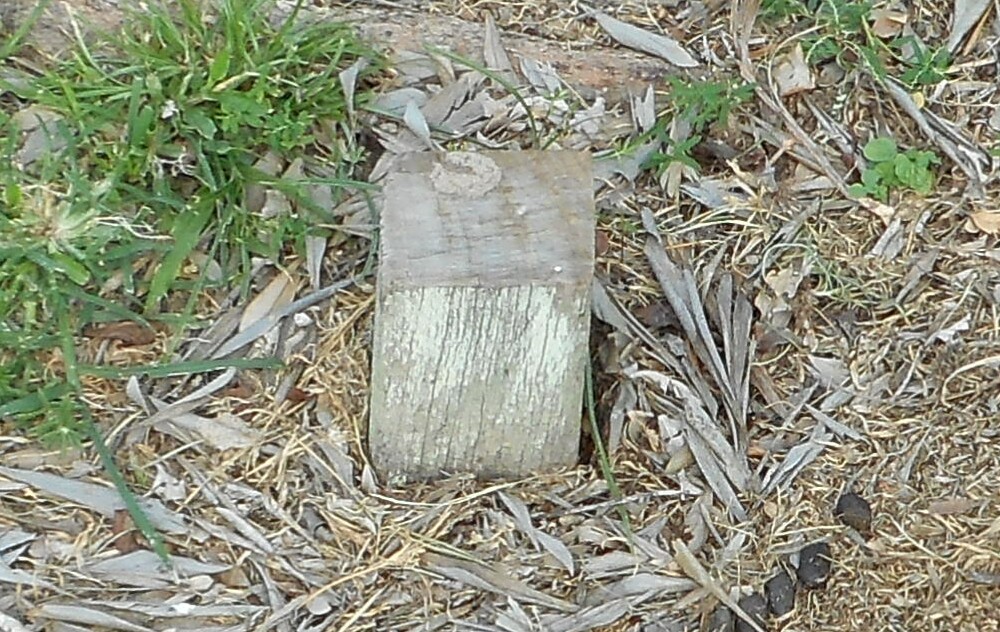 .
Note from Adrian Nelson

Hi Geoff and Sharon
I will be heading out to the fields today to start digging out for the bit of concreting
If I don't run into too much trouble I should even be able to pour it today

Note from Geoff

Hi Adrian, and we had the "Ride for Tanya" this morning
Bit emotional but there was a lot of friends participating to help us through it
Tomorrow is Mother's Day and then Monday makes it Two Years ... fucking tough weekend (HERE)
Thanks for doing this, thanks a million !! ... but we will not be there to "supervise" but know the job will be perfect anyway !!
PS - make sure you send the account !!

Note from Adrian

Its an absoloute pleasure ... have been thinking of you guys this weekend
Will send some photos
Take care

Note from Geoff

Thanks for understanding, Adrian
Any photos would be terrific !! ... my email address is 'geoff@ronebergcairns.com'
PS - Ric and Brandon Doo rode this morning and they just happened to mention
that the Mighty Bandits kicked some Cubs butt last night ... I am so sorry about that !!

Note from Adrian

Hahaha ... yes, they did indeed !!
Some say kicked butt ... others might say they got lucky ... it's very political

Note from Geoff

Yep, got a laugh out of that !! ... perfect answer !!
BUT ... now go dig out some ground including that huge bloody tree root that I'm guessing is causing some problems !!
OUR APPRECIATION
Geoff and Sharon and Brett ... plus, of course, Tanya !!

Note from Adrian

All done !!
I left the timber post sticking up a bit and just tidied it up, cut it, sanded it
and also painted some timber oil on it to brighten it up and make it handle the weather a bit better
That's the only colour red I could get, but if you would like to change it we can just paint over it
I don't want any money for this, Geoff and Sharon
Tanya was always a good friend to me so I'm just glad I could do something for her and your family
Hope you like it and we'll talk soon
AJ
Comment from Geoff and Sharon
!! PERFECT !! THANK YOU SO VERY MUCH !!
.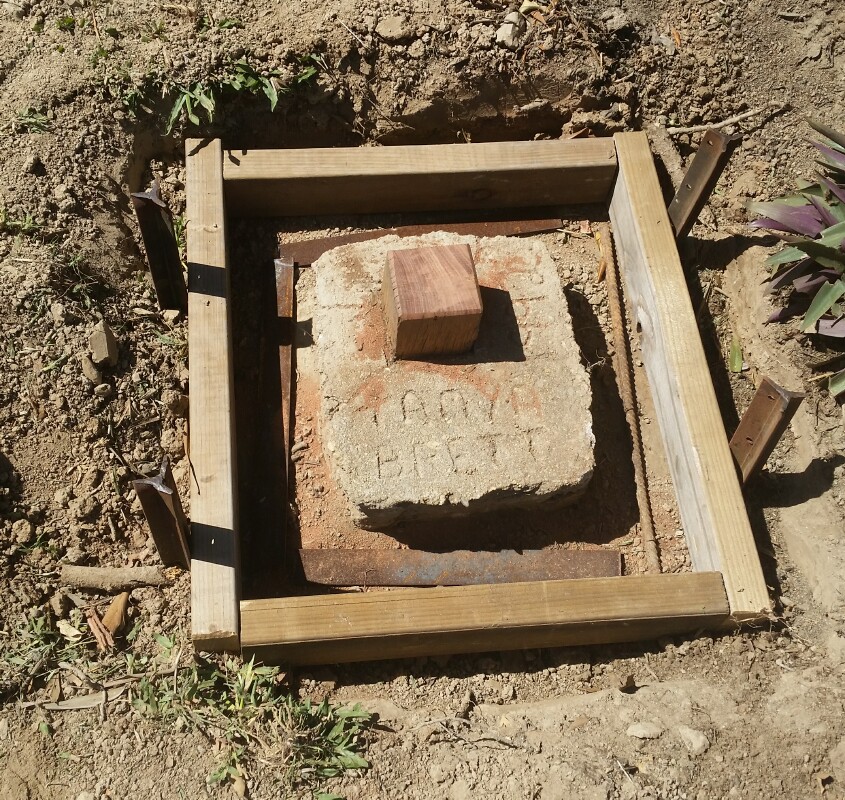 .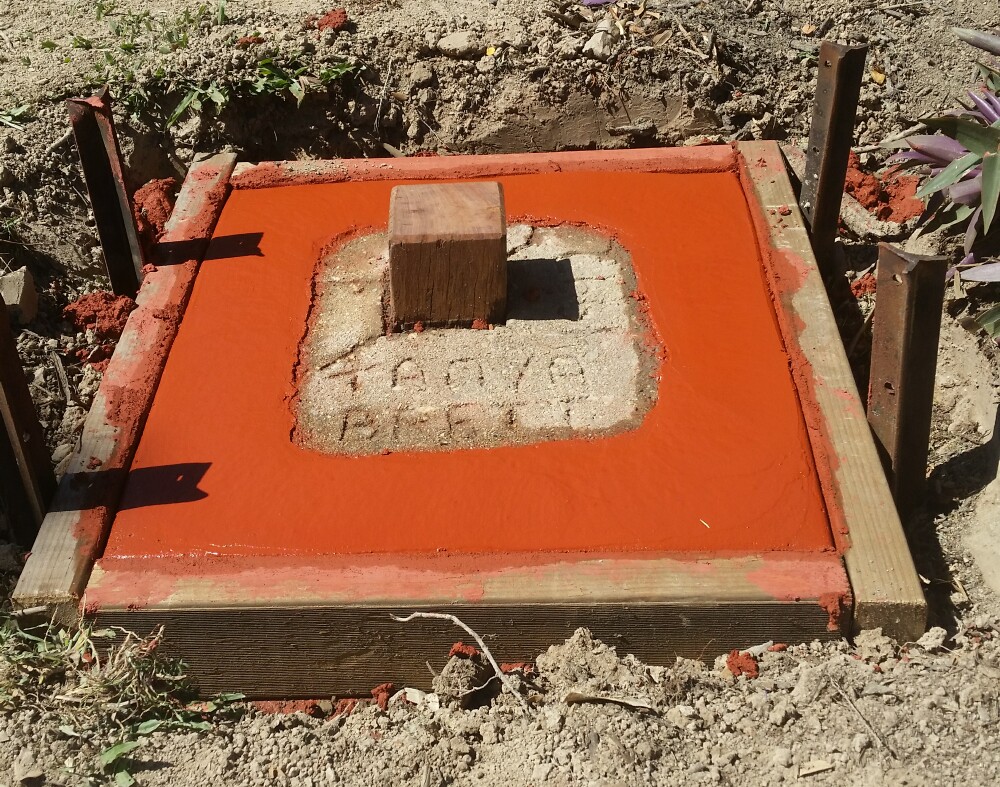 .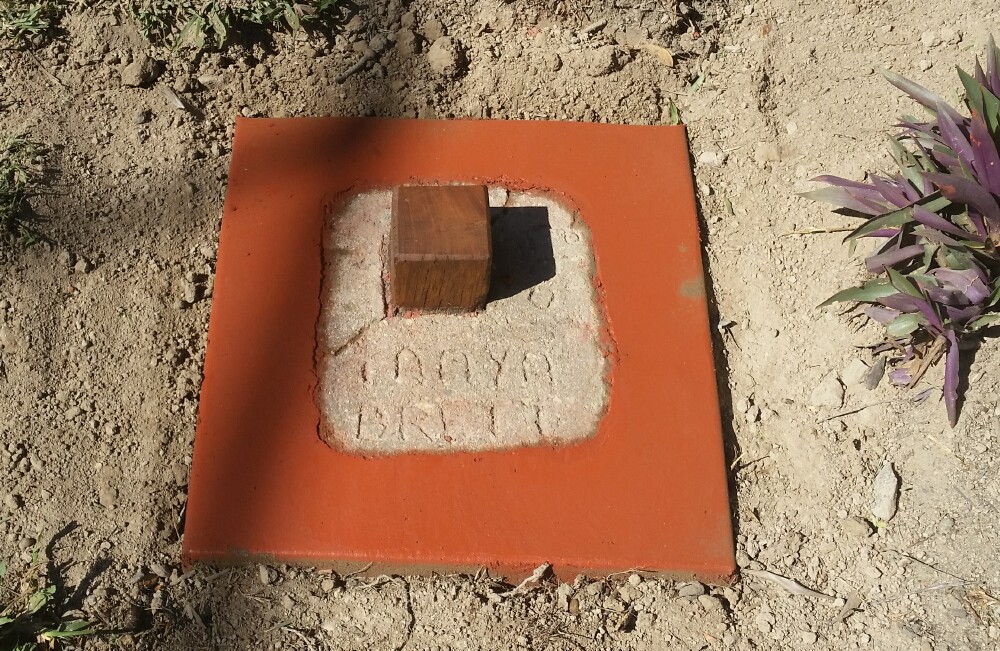 .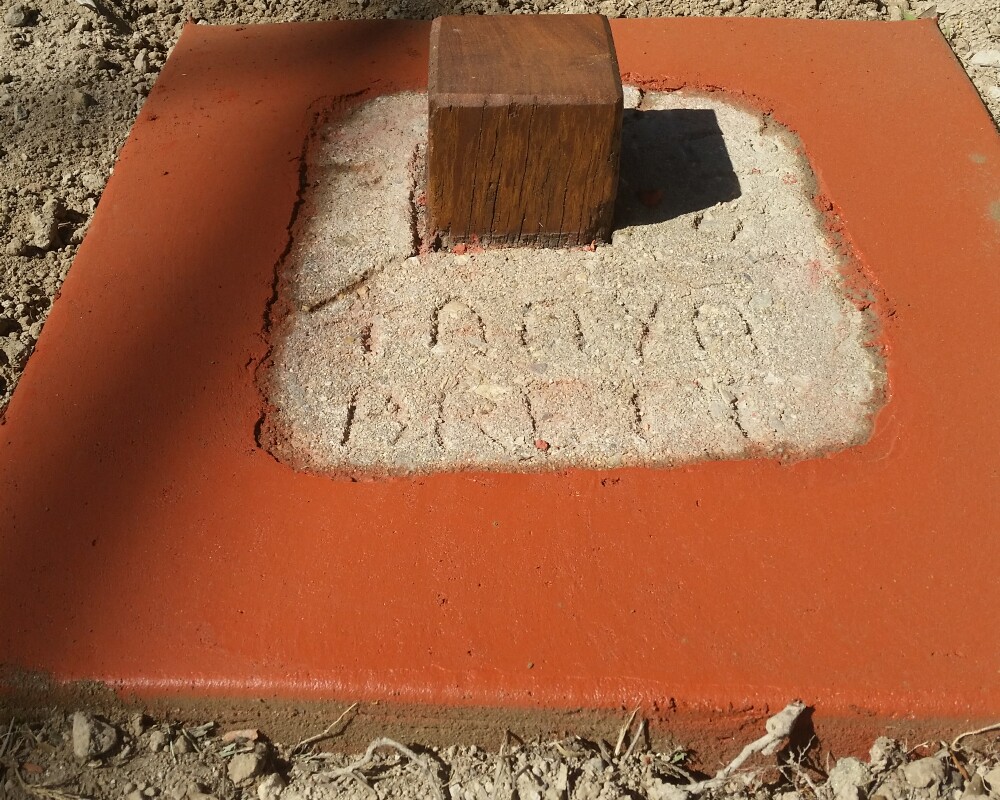 ****************************************************************************
The three photos below were taken on Tuesday 19th May 2015
You can see the garden area that has been established over the last two seasons by the groundsman, Leon Nelson
Some tidying-up now needs to be done and new shots will be added here when the area and work has been finished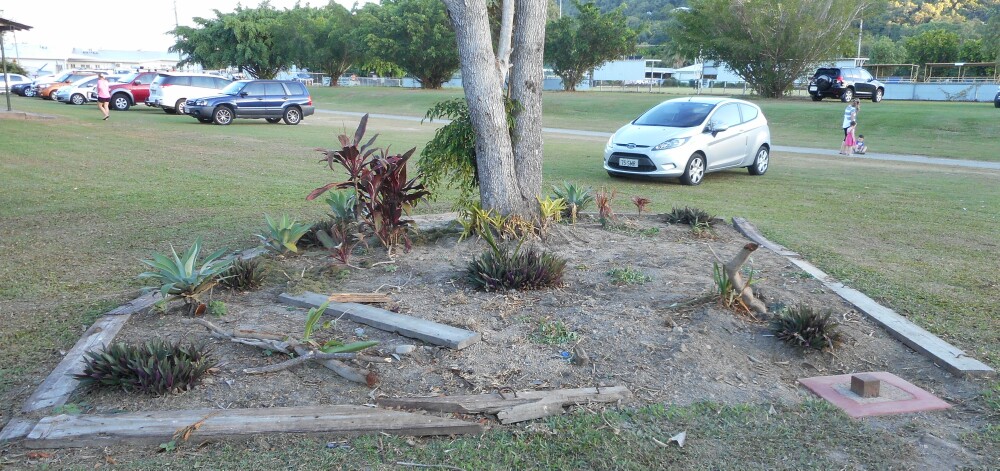 .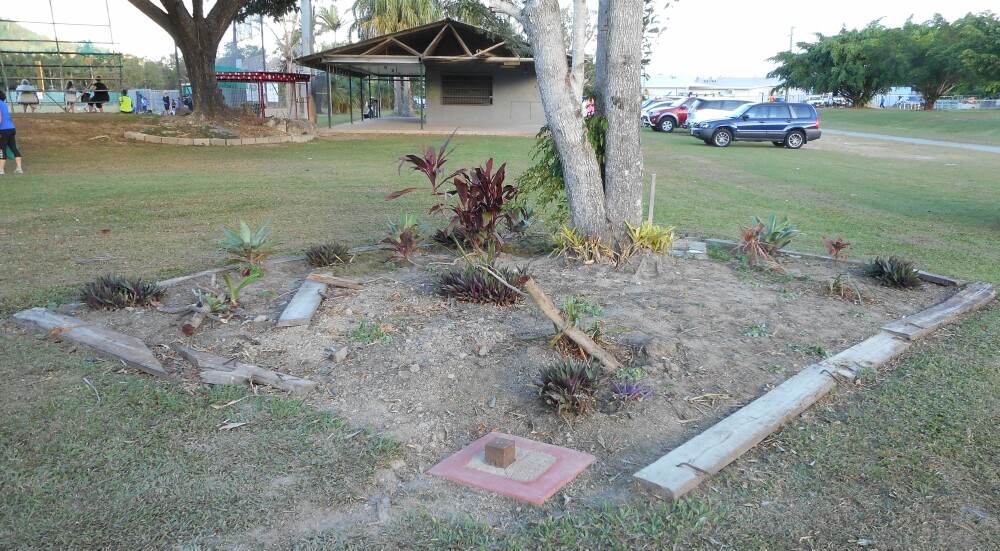 .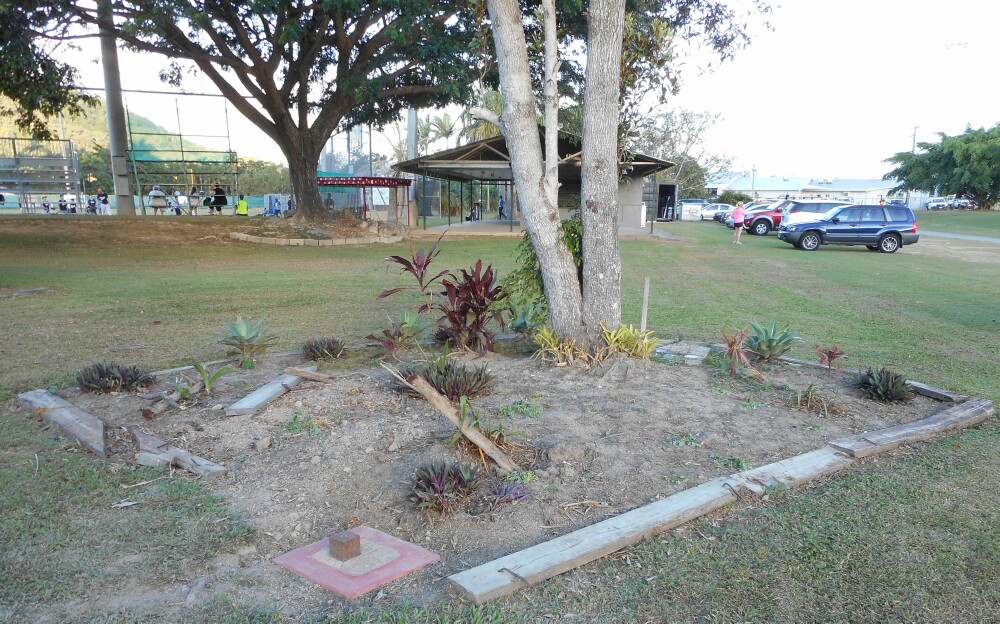 ****************************************************************************
TO -- The Cairns Baseball League
Facebook Message and five photos sent by Geoff on Sunday 27th November 2016
there are enlargements of these photos further below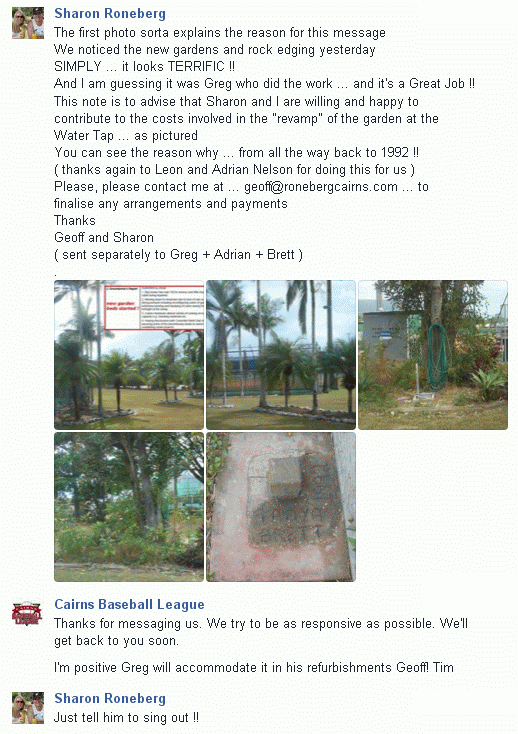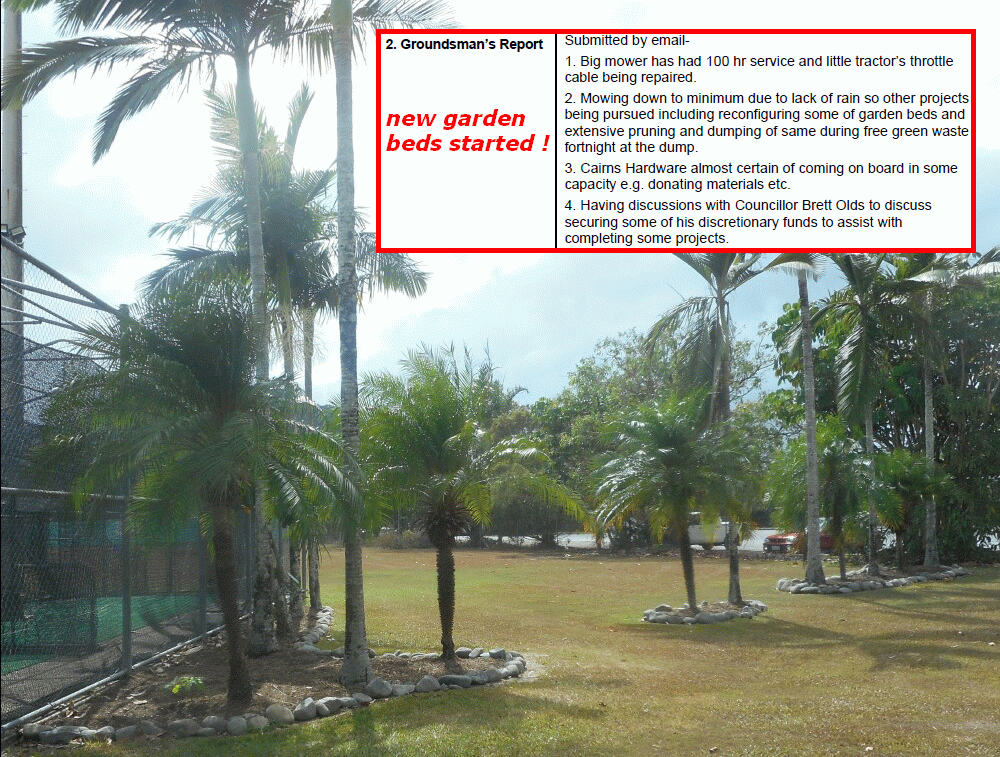 .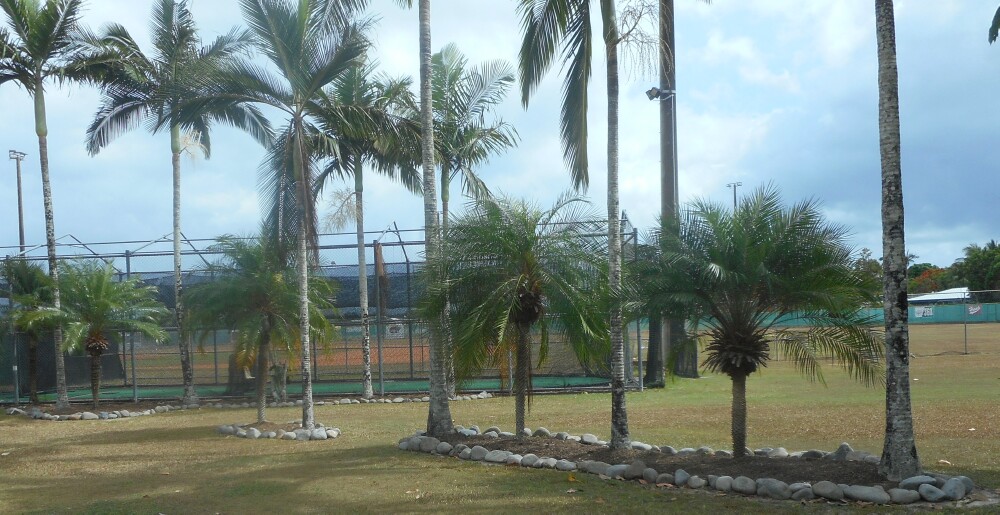 .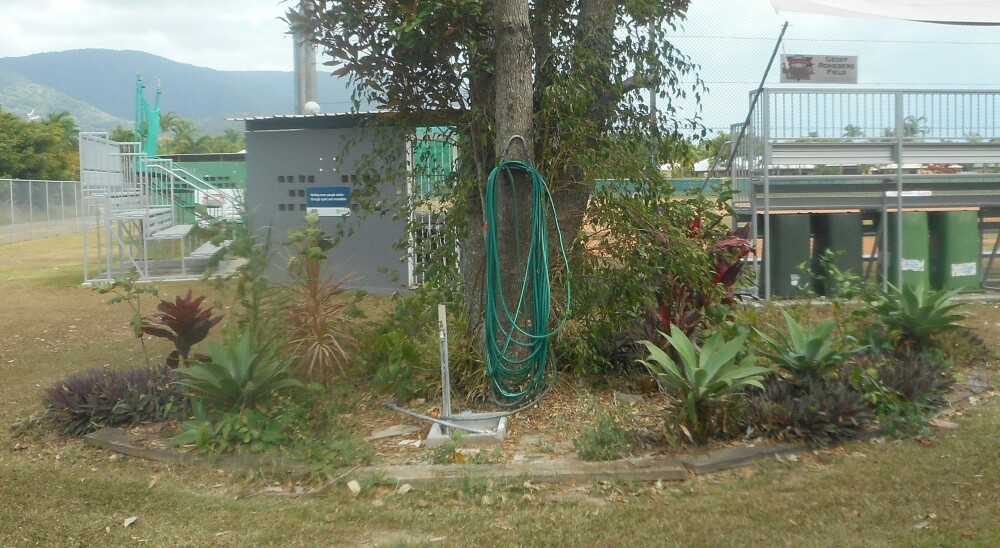 .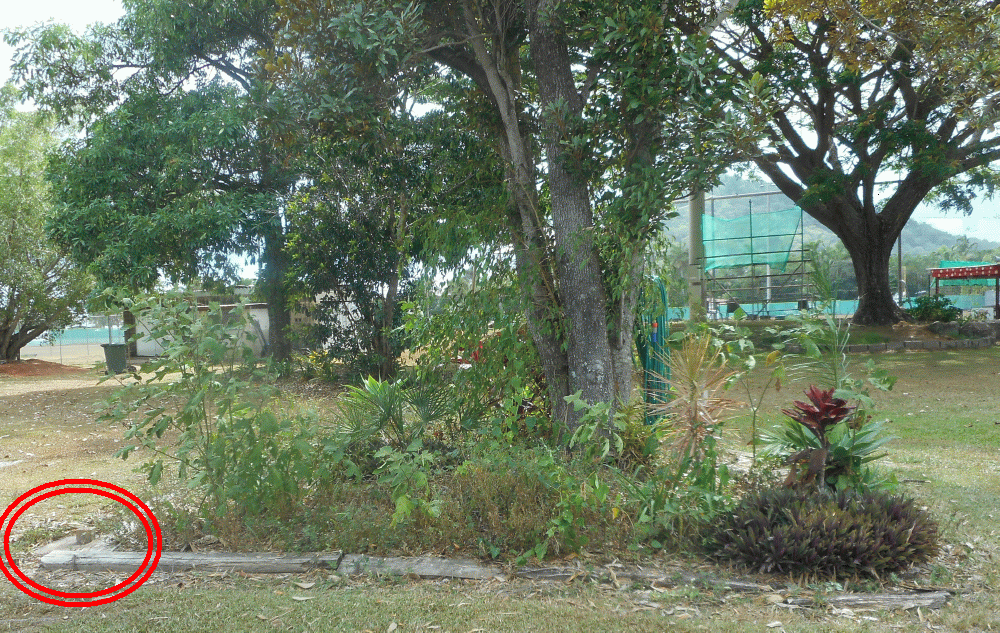 .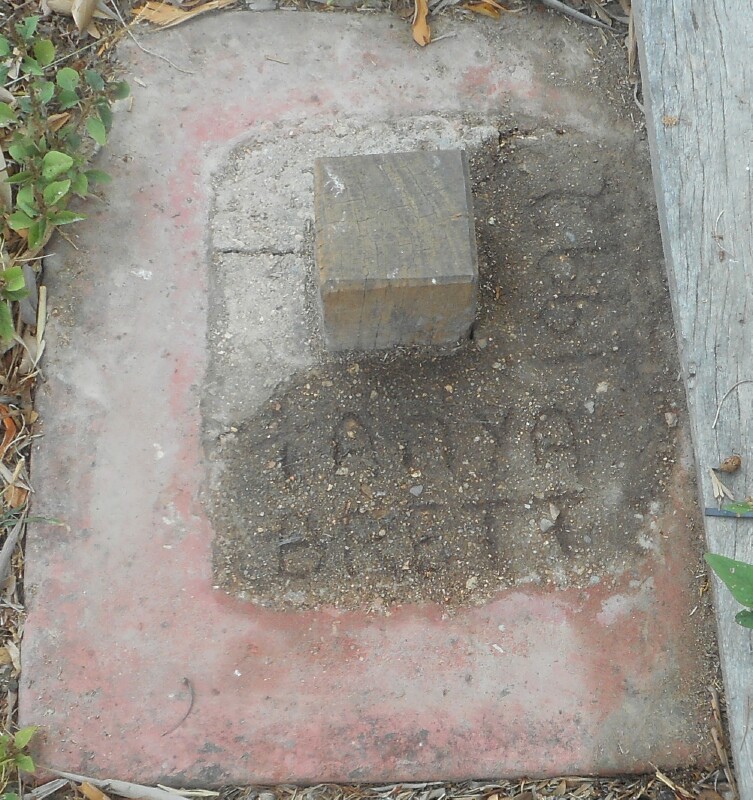 Note from Greg
Note from Geoff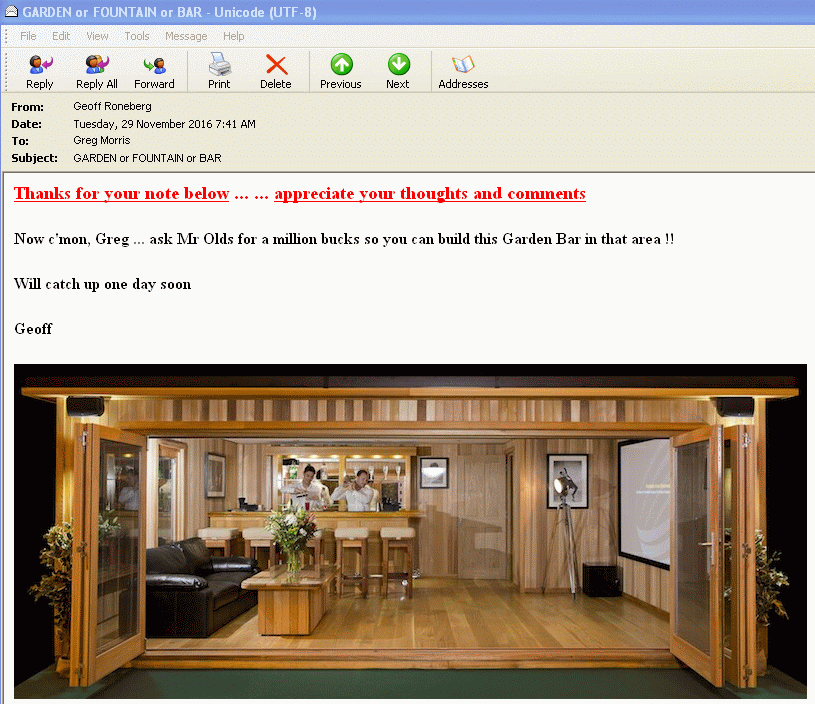 ***************************************************************
TO -- The Cairns Baseball League
DONATION OF $500.00
from Geoff, Sharon, Tanya and Brett on Sunday 11th December 2016

Note from Anne Kippin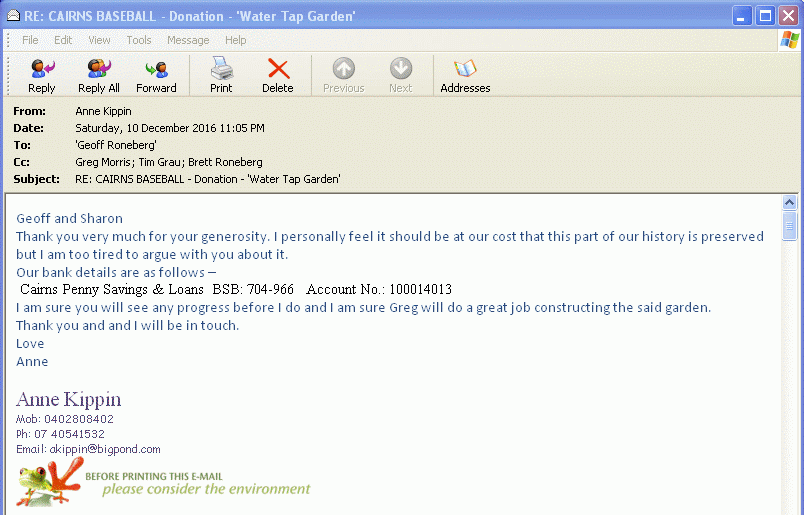 Donation Details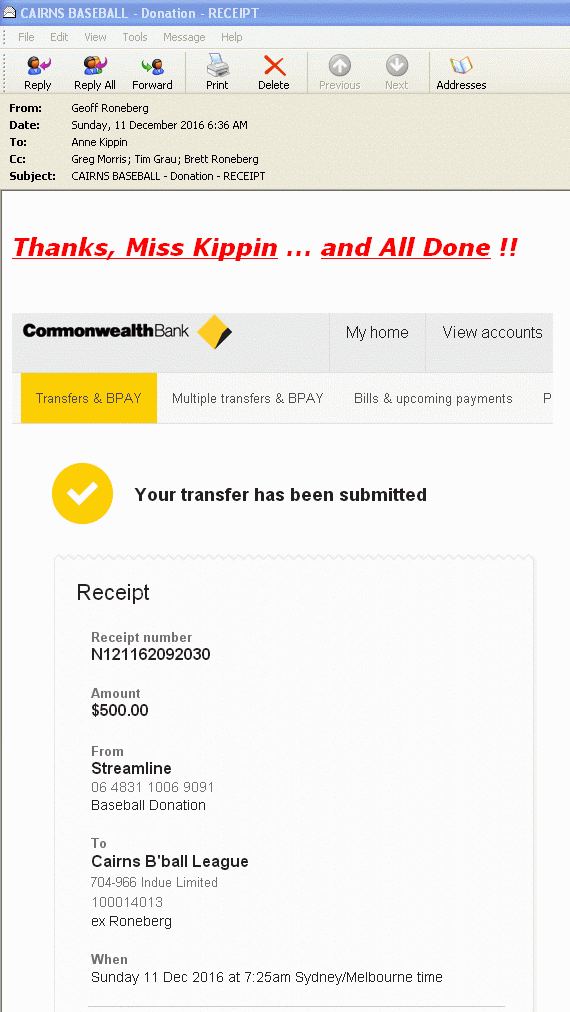 Note from Anne Kippin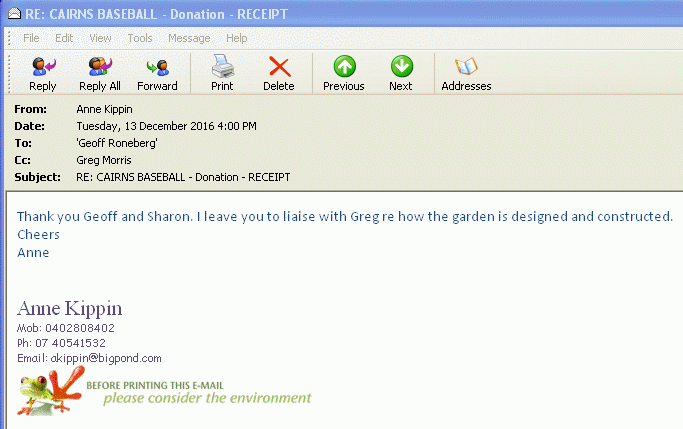 Note from Tim Grau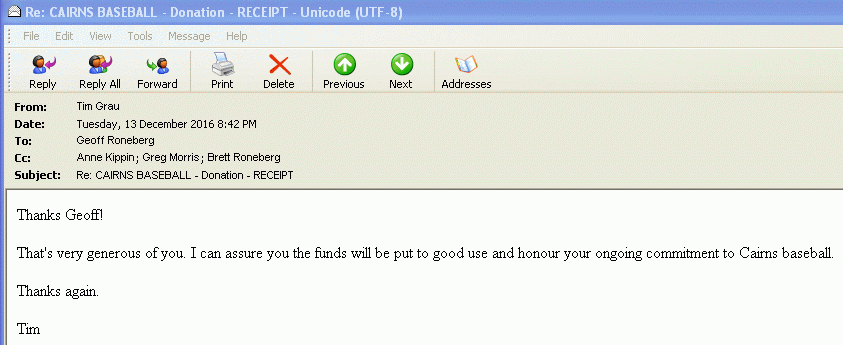 ******************************************************************
---
.
.
.
.
.