(Return to Home page)
(Return to Special Occasions page)
Mother's Day
Sunday 12th May 2002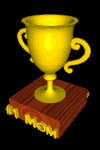 PHOTOS
The card from Tanya and Brett - "Indulge Yourself"
..........and The Present
#01 - the invitation to a "HEALTHY ESCAPE" to be held at The Lakes Resort Cairns on Sunday 19th May 2002
#02 - details of the day - "prepared and pampered" from eight o'clock in the morning until a cocktail party at six o'clock in the evening!!! - includes exercise, hydrotherapy, aromatherapy, spa, etc, etc!!!
..........the day has arrived!!! - Sunday 19th May 2002
Sharon ready to leave - and thinking about the day!!!
We called in to pick up Tanya - who was still having her breakfast - three photos ..........nice pictures
Sharon and Tanya - at The Lakes Resort - and ready for "An Enjoyable Ultimate Rejuvenation"!!! ..........another nice photo
And here is Tanya again ..........a good photo
..........some of the day's activities!!!
Aqua Aerobics - in the pool - photo #1 - photo #2 - photo #3
------------------and here is the group after this segment was over
Boxing - Sharon sparring with Sonya ..........and I don't think that Sharon could fight her way out of a wet paper bag!!!
Weight Work - Sharon struggling and Tanya in a panic!!! ..........and it looks like there aren't even any weights on the bar!!!
-----------------between them, it looks like they got the bar to move - a little bit!!!
-----------------and now it's time for a rest!!!
Exercise Bike - Sharon on the bike, and watching a sparring match
"Brunch" - time to eat!!! - Sharon, Tanya and the others are ready to be waited on!!! ..........a nice photo
..........and now "The Day of Pampering" is over!!! (these photos taken inside The Resort without a flash, but they are pretty good considering the subdued light - Sonya took a few pictures during the day, and these will be added as soon as I get copies)
Sharon looking glamorous!!! - two photos
Tanya, who looks like she enjoyed the day!!! - two photos
..........Tanya was able to go and enjoy the day with her Mum - but Brett was in the USA
An email from Sharon to Brett - describes the day's activities

A note from me to my lovely wife
---