.
Note from Laurence Coudrey ... Monday 21st May 2012

Hi Geoff

I have come across a book on "The History of Prospect" and it mention a building at 89 Prospect Road called "Leeds Villa"
This was the home of the Ward family

Hope it is of some interest

The first page shows 'as it is' and the second shows 'as it was
The buiding is now an authentic Indian Restaurant

Laurie
.
Ward Family Home

click on these photos to see a larger version

.

.

.

.

.

NOTE

the top section opposite is from Page Sixteen
and the bottom photo is on Page Seventeen
of the book shown below
.
This is the book that contains the pages detailed above

Here is another book on Prospect

and click HERE should you wish to purchase a copy
.

.
Email from Judith McCarthy (extract) ... Wednesday 9th May 2012

Hi Geoff and Sharon

Thanks for update

George Watford Ward's "Leeds Villa" (Mother says it was definitely called this) was at 89 Prospect Road, Prospect

The front of the building was restructured ... it had a new front on the left side of it
It became the Prospect Police Station and Court House (HERE) but is no longer used for that

It is now an Indian Restaurant ... Shanker's Authentic Indian Cuisine ...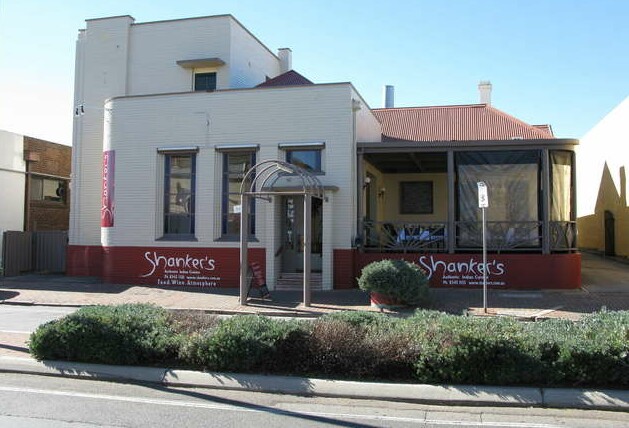 This link (HERE) should get you onto it at Google
The building ... if you look on Google you can see the original roof line at the back behind the old-new front
You have to lift over the front part to see the roof line and if you can maneuver along the right side of the building, you will see the bluestone
It is amazing how the building has changed ... I would not think it is for the better but different eras have different designs

Note from Erina (extract) ... Thursday 10th May 2012

Thanks Judith, Geoff and Sharon

Very interesting to fill in more bits of the genealogy

My mother (Audrey) spoke often of Margaret and exchanged cards and letters
In Mum's old address book, her home was listed as Auldana then Glenside

The house is still there at 89 Prospect Rd, but unfortunately it has had a 1920 addition tacked on to the front, which makes it unrecognisable
It was initially a police station, then various restaurants, and currently our favourite ... Indian Restaurant Shanker's !! ... HERE
The view from the left shows the two storey art deco addition ... HERE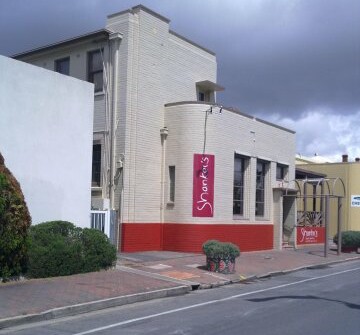 The Manager was very interested in the history when we were last there in January
Maybe we should have a family reunion there sometime ??
It is only a couple of streets away from us, and the food is delicious !!

If you look at Google maps street view, you can see part of the original building's roof and chimney to the right, and when you move the arrow to the right and look down the side, the original bluestone walls are visible
The back part of the house is used I think for antiques storage, but the high arches and some features are visible in the second and third room of the restaurant

Mum told me that the Ward's would have dinners for large groups and that the hallway was so wide they could seat them all at tables ranged down the centre

We are going there in a few weeks and will take some photos inside ... I must not forget !!

Email from Judith McCarthy (extract) ... Thursday 10th May 2012

Hi Sharon and Erina

I expect you have received my email sent to Geoff in regards to the location of the old "Leeds Villa" on Prospect Road
An email from Erina Hutton also confirms this, detecting the bluestone and roof line

After having Googled the old family house yesterday, I said that she and I should go to the Indian restaurant sometime
So if you are interested, Erina, or any other family members, we would love to catch up

Note from Sharon (extract) ... Thursday 10th May 2012

Hi Judith

I hope you are able to catch up with a few relations ... it would be fun to catch up ... we are a little too far away

Note from Erina (extract) ... Thursday 10th May 2012

Hi Judith

It would be lovely to go to Shanker's with you and your mother
And any others available who may want to ?? ... do you like Indian food, Lesley ??
I will see if my brothers are free but I know they will be away June/July possibly later, and we are going to England in June
Would it be okay after that ??

Will send you take away Sharon and Geoff !!

Note from Lesley (extract) ... Friday 11th May 2012

Hi Erina and Judith

I'm interested in lunch ... August, September, or sooner, next week !!
This sounds like a "Cousin's Do", Erina ... make a date !!

Email from Judith McCarthy (extract) ... Friday 11th May 2012

Hi Lesley

Mother and I would love to join you at a lunch and I am sure my cousin Roslyn, whom I am very close to, would love to join us too
Roslyn is the eldest of Mother's sisters three children and she lives in Adelaide
.

.
Note from Rex and Denny Hutton ... Friday 18th May 2012

Hi Geoff and Sharon

Had a great lunch today in the Ward family home

Some features of the old house are still evident from the inside
For example, the front door, which has been filled in and made into a Hindu shrine ... and the two front windows which look out onto an outside eating area

Guess Erina has sent some pictures of today

Thank you for all your effort in researching the family history ... keep up the good work
Very interesting reading !!

Cheers ... Rex and Denny

Note from Judith McCarthy ... Sunday 20th May 2012

Hi Geoff

I have been interested in the ongoing family information that has been coming through since I contacted you
I will sit down as soon as I can to sort it all out against photos

We had a lovely family get together last Friday with Erina and her two brothers plus partners and Lesley and her brother and partners
Unfortunately Roslyn and I were unable to bring our husbands on the day

After lunch we went to have a look at the house of Uncle Will (Francis William Ward) and his daughter and son-in-law, Elsa and Joe Tonkin ... this is at 41 Myrtle Street
The house next door, my Mother says, was George Watford Ward senior's after he moved from Prospect Road

Hopefully more of us will get together one day
It was very appropriate being able to meet in the old family home

Regards ... Judi

Note from Geoff to Judith McCarthy ... Monday 21st May 2012

Hi again, Judi

Yep, I have had a couple of notes about the "Lunch on Friday" and there are photos being sent ... and look forward to receiving them !!

It is amazing how something like this gets started ... and results in lots of fun for everybody !!

Regards ... Geoff

Note from Judith McCarthy ... Monday 21st May 2012

I have just received the photos and they are great to add to my Ward collection

Regards ... Judi

Note from Erina Newnham ... Monday 21st May 2012

Hi Geoff, the Geneaologist

The Indian man is Shanker, the very friendly owner who was fascinated with our history

The Hindu shrine is where the front door used to be, and the archway shows the hall way
The door behind it has been filled in, and the part of the house behind is now rented out so we couldn't see it

The two front windows on the right of the old photo have been made into doors

The fire places have been blocked off but the mantelpieces are still there

We dined in what was possibly a bedroom

Did you hear the story of the ghost of a young boy seen by a clairvoyant who dined there ??

Regards ... Erina

Note from Sharon ... Tuesday 22nd May 2012

I just love that a chance discovery of our website resulted in a get-together of distant cousins
Along with some previously unseen photos and previously unknown information

It is very exciting ... and I would have loved to have been at Shankers !!

Sharon
.
.

from the left

Jon Richards

Rex Hutton

Denny Hutton

Lesley Richards

Judith's cousin Roslyn

Margaret Newman (nee Ward)
.

from the right

Deane Hutton

Jan Hutton

Peter Newnham

Erina Newnham

Judith McCarthy
.

from the left

Peter Newnham

Jan Hutton

Deane Hutton

Laurence Coudrey

Jon Richards

Rex Hutton

Denny Hutton

Lesley Richards
.

from the left

Laurence

Lesley

Roslyn

Margaret

Judith

Rex

Jan

Deane

Erina

Denny
.

from the left

Laurence

Lesley

Roslyn

Margaret

Judith

Rex

Erina

Deane
.

Shanker

and

Laurence Coudrey
**************************************************************************