From Eileen ... Wednesday 19th September 2012
Hi again Geoff

I forgot to say in my last message, when you see Bob and Norma please give them my very best wishes
I hope they and their family are well

I wonder if they remember our walk to Easby Abbey when the heavens opened and we all got soaked ... that is apart from Bob and Norma who had come prepared with cycling capes !!

Best wishes to you all ... Eileen
From Geoff ... Wednesday 19th September 2012
Will say "hello" from you ... and mention "The Walk In The Rain"
I'll also give them your email address

PS ... web page nearly finished !!
From Eileen ... Sunday 23rd September 2012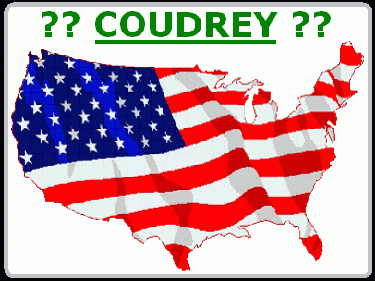 Hi Geoff

In one of your emails you mentioned a branch of the Coudrey family in the United States
Do you know whereabouts in the United States and anything at all about them please ??

Pleased to hear the web page is nearly finished and I am very much looking forward to seeing it

Best wishes ... Eileen
From Wally Knowles ... Sunday 23rd September 2012
Hi Geoff

I have been having quite a lot of contact with Eileen lately
She talks of your mention of the Coudrey Family in America
I am not aware of this ... could you please explain

Regards ... Wally
From Wally Knowles ... Sunday 23rd September 2012
Don't worry, Geoff ... I've found the connection
From Geoff ... Sunday 23rd September 2012
Hello to you two

Just as a matter of interest, click ... HERE
156,857 references to the Coudrey's in the United States !!
From Wally Knowles ... Monday 24th September 2012
Hi Geoff

I know you know of William Corderoy (Cordray) (1601-1667) coming to America in 1648, but did you know of other family members who also came ??

First was his cousin John (son of Uncle James) who arrived in 1622 but was killed by Indians a few weeks afterwards

The first settlers consisted of a party of twenty led by William's widowed sister Anna Bernard (nee Cordry) in 1652
They settled in Gloucester County, Virginia
Her husband Richard Bernard had arrived in 1647 but died in 1651
She took up the headrights for a total of one thousand acres near Gloucester Point
Her group then consisted of Anna (1608-1670), her brothers William and Edward, her sister Eleanor, her son Richard, her daughter Anna Smith (married John Smith in 1652), her uncles Jeromy and John, two other Bernards, three Iremongers (Anna's sister, Bridget, having married Sam Iremonger) and eight other persons

Her brother Edward may also have arrived in 1648

You probably know of all this but I contribute it just in case

Regards ... Wally
From Eileen ... Tuesday 25th September 2012
Hello Geoff

Many thanks for the link ... that will keep me busy !!

Do you know whether any of them were our ancestors ??

Best wishes ... Eileen
From Geoff ... Tuesday 25th September 2012
I actually haven't done any research on the side of the Coudrey Family that went to America
Simply put, I just haven't had the time !!

Soon, however, I am going to spend the $300.00 and join the ANCESTRY web site ... HERE ... for twelve months

This will be to continue looking for information on my parents and their direct ancestors and Sharon's parents and their direct ancestors ... but I might get the chance to look at the USA !!

HERE ...... Eileen, on this page there is some brief information on the Family in the United States and like a lot of the history, this was put together by Wally Knowles
The details mentioned in his email above are also briefly repeated on this page

Every now and again over the years, I have been contacted by people who have "stumbled" across my four Family History Web Sites ... similar to what you did, Eileen
What we need now is someone from America to search for and find the Coudrey History !!

Keep Searching !!
From Eileen ... Tuesday 25th September 2012
Hi again Geoff

Many thanks for the information on the American Coudreys

All this is very interesting and I am so grateful to you and Wally for the information you have unearthed
It is a fascinating subject and when I retire (again) and have more time then I can see me spending hours and hours on the various ancestry sites

Which site have you found the most rewarding ??

Very best wishes ... Eileen
From Geoff ... Tuesday 25th September 2012
Which site ?? ... definately this one ... click on the logo

From Eileen ... Wednesday 26th September 2012
Thanks Geoff

Will definitely try this site

Best wishes ... Eileen
From Eileen ... Thursday 4th October 2012
Hello Geoff

I have just seen the web page you have produced for my side of the family
Wow!! ... and I can't wait to tell my kids to look at it

Again, I am very impressed with your skills and can't express how grateful I am for the time and trouble you have taken in producing this web page

I have been corresponding with Wally and he has sent me a great photo of a Perfumery Shop owned by E Coudrey at the turn of the century
I don't know who he or she was though, do you ??

I hope you and your family are well

I have to say I think Sharon's great great (don't know how many greats) Uncle Joseph was wise to move his family to Australia
The weather here is atrocious
We have had a lousy summer (again) and it just rains all the time

Having said all that, Richmond is a beautiful town with a Norman castle, cobbled Market town, fine Georgian buildings and a river with waterfalls
I do actually love it here and wouldn't like to move back to Walsall
Where I live now is just a few yards from the River Swale and there are some lovely (muddy) walks around here

If any of you get the chance to come to England, then I would love to meet you
I only have a small cottage now as I downsized from a large house eleven years ago, but I could accommodate a couple of you

Once again, many thanks for the website and all the information you have given to me

Best wishes ... Eileen
From Geoff ... Friday 5th October 2012
Hi once more, Eileen, and your note is above

I am really glad that you like how your page turned out !!
As well as photos, I also think it is very important to have all these notes on the Family History Site
For the simple reason that no-one knows who might stumble over the details and contact us ... it has happened before and it will happen again !!

Now, I must admit that your page is not quite finished
Why ??
Well, I was going to do some research on your family and try to find some photos or certificates that I could surprise you with !!
I hadn't got around to it because I have just my hands on a lot of info and photos that relate to my Mother's Family and have been concentrating on them
But will get it done one day !!

"Perfumery Shop" and "E Coudrey"

I am guessing that this refers to the Chemist Shop owned by Joseph Edward Coudrey which was situated in Rundle Street Adelaide South Australia
He was the son of Joseph William Coudrey, who we know as the author of "The Coudrey Diary"

There is lots and lots of information about Joseph and his Shop in Section #08 on ... THIS ... page and you'll also see that we were able to buy (via Ebay) a Pill Bottle which includes the label from his shop ... a fantastic 'find' !!

I have one photo of his shop and here it is ...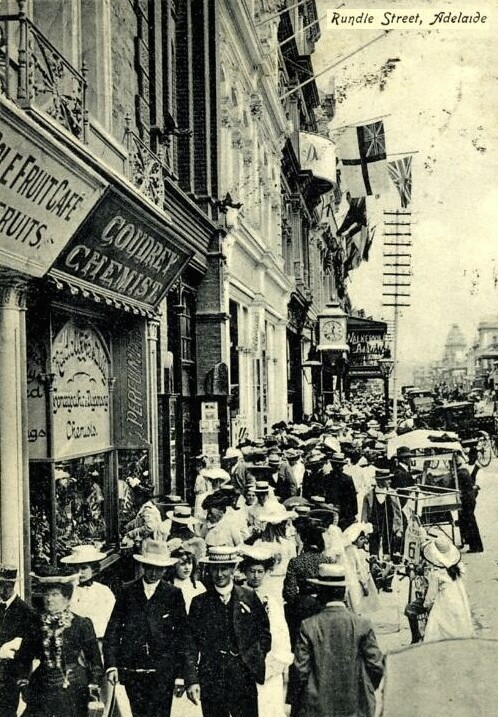 Is this the one that Wally sent you ?? (he is also receiving a copy of this)
If yours is different, could I please have a 'big' copy ... thanks

Your city sounds nice ... but cold !!
Cairns, where we live, is situated in the tropical north of Queensland and does not ever get too cold
Before moving here, we lived in both Adelaide and Melbourne ... freezing !! ... and we are spoilt now and will never 'go south' again !!

Thanks for the invite to England and your home
Will we ever get there ?? ... who knows what the future holds !!

I'll be in touch again ... when I make "an exciting discovery" !!

Bye ... Geoff
From Wally Knowles ... Friday 5th October 2012
Chemist's shop is definitely in France

Can I view Eileen's web page ??
E. COUDRAY'S Perfume Establishment - A portion of the sample room for wholesale buyers
These notes were supplied by Wally Knowles ... Saturday 20th October 2012

A small perfume shop M Maugenet and E Coudray was established in Paris around 1810
Edmond Coudray, a doctor-chemist, traveled over the world bringing back exotic raw materials

In 1837 the House of Coudray became the official supplier to the British Court

Coudray Parfums remained the family business until 1908, when it was acquired by Edouard Colmant

After World War II the house was revived thanks to survived formulas of perfumes

Early Coudray's perfumes, before the war, include
Reve de Paris (1920) - Nohiba or Tulip Noir (1922) - Charme de France (1920) - Onyx Noir (1930)

After the war Coudray launched
Reve de Reine, Kamelia Iris, Givrine, Vanille, Vanille Coco, Jacinthe Rose, and the celebrated Aqua Divina

The modern history of Coudray began in 2002 with a new owner
who does care about the traditions and the image of the house of Coudray
Almost all modern fragrances of Coudray are based on old formulas and even have the same names
Vanille et Coco - Jacinthe et Rose - Givrine - the newest Nohiba

Designer E Coudray has eight perfumes in our fragrance base
E Coudray is an old perfume house
The earliest edition was created in 1935 and the newest is from 2012
E. Coudray fragrances were made in collaboration with perfumers Gerard Anthony and Evelyne Boulanger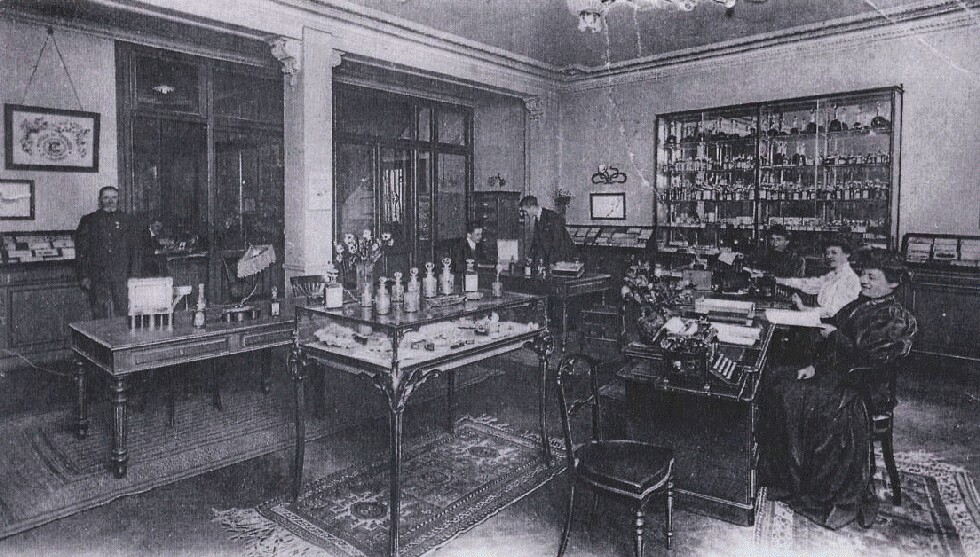 From Geoff ... Friday 5th October 2012
Hi Eileen
and Wally has just sent me a copy of the photo of "E Coudrey's Perfume Establishment"

That one is not in South Australia ... it's way over in France !!
I can't tell you anything about it ... but it's on file to be researched !!
From Eileen ... Sunday 7th October 2012
Hi Geoff

Pleased to hear Wally has sent you a copy of the Perfume Shop ... it's a great photo
It must have been a successful business ... it looks as though it was a large shop if the photo is just a portion of the wholesale section

How would you go about researching the shop ??

What a pity contact was lost with the French branch of the family after the war

Best wishes ... Eileen

###

Hi again

I forgot to thank you for the photo and information about the Chemist Shop owned by Joseph Edward Coudrey and for the information relating to the shop

You must have been thrilled to find the pill bottle with the name of the shop on it
It makes you wonder what else is waiting to be discovered

Best wishes, again ... Eileen
From Sharon ... Sunday 14th October 2012
We had a visit from Bob and Norma Coudrey, who came to Cairns for a Gideon Bible Convention

Bob is my cousin, and the son of my Dad's brother Charles who can be seen in the photo on ... THIS ... page

They were very busy during their short stay in Cairns but we were able to catch up for lunch on Sunday 14th October 2012
Tanya came along as well and we met them at Novatel Palm Cove where they were staying ... HERE

We headed off to Vivo Bar and Grill on the Esplanade ... HERE

During lunch I showed them all of this correspondence with Eileen Gould which Geoff had printed out
Bob and Norma visited Eileen in England during the early 1980's, and if you look at the note from Eileen on Wednesday 19th September which is at the top of this page, you'll see a comment about "a walk in the rain"
And yes, Bob and Norma remembered this day and spoke fondly their visit with Eileen

We had a beautiful lunch and there are photos below

It was lovely to exchange news and photos and just generally chat ... Norma said Bob was used to lots of girls chattering !!

I like that relatives take the time to make contact when they can
Even though we don't really know each other, there is a connection because we are family
Bob ... Sharon ... Norma
The Menu Selections
Norma and Sharon

.

Lamb Pilaf
slow braised lamb neck, green pea
roast garlic pilaf, baby bok choy,
crispy soba noodles,
tamarind / sweet chilli
Bob and Tanya

.

Vivo's Fish and Chips
battered barramundi, chunky fries,
garden salad, lemon, balsamic
dressing, dill / caper aioli
Norma and Sharon

.

Oliebollen
rhubarb oliebollen, pomegranate
caramel, wattle seed ice cream,
persian fairy floss
Tanya

Strawberry Tartlet
fresh strawberries, marjoram
custard, balsamic glaze,
white chocolate ice cream

.

.

Bob

Gelato Icecream
From Eileen ... Tuesday 16th October 2012
Hello Geoff

Would you do me a favour please and if possible put the attached photo onto the link you did for me on the Family History Page

It was taken yesterday when we were all together on a walk with the dogs
It isn't often that we are all together for a photo and it was a beautiful autumn day here, with the sun actually shining for a change

There are some family members missing ie Tom (my grandson), Jim (Lisa's husband) and Maud (my daughter in law who took the photo)

I hope you and your family are all well

Very best wishes ... Eileen
From Geoff ... Tuesday 16th October 2012
No problem ... have a look below

And it is a terrific shot !!
The Gould Family
The People

David Gould
with Madelijn and Matthijs
Eileen with Minouk
Mandy and
Anna Farquhar
Simon Farquhar
and Lisa Bramley
The Dogs

Cara
Eileen's Pyrenean Sheepdog
Sam
Mandy's Pyrenean
Ted
Lisa's Border Collie
Bea
David's Flatcoat Retriever
who is only five months old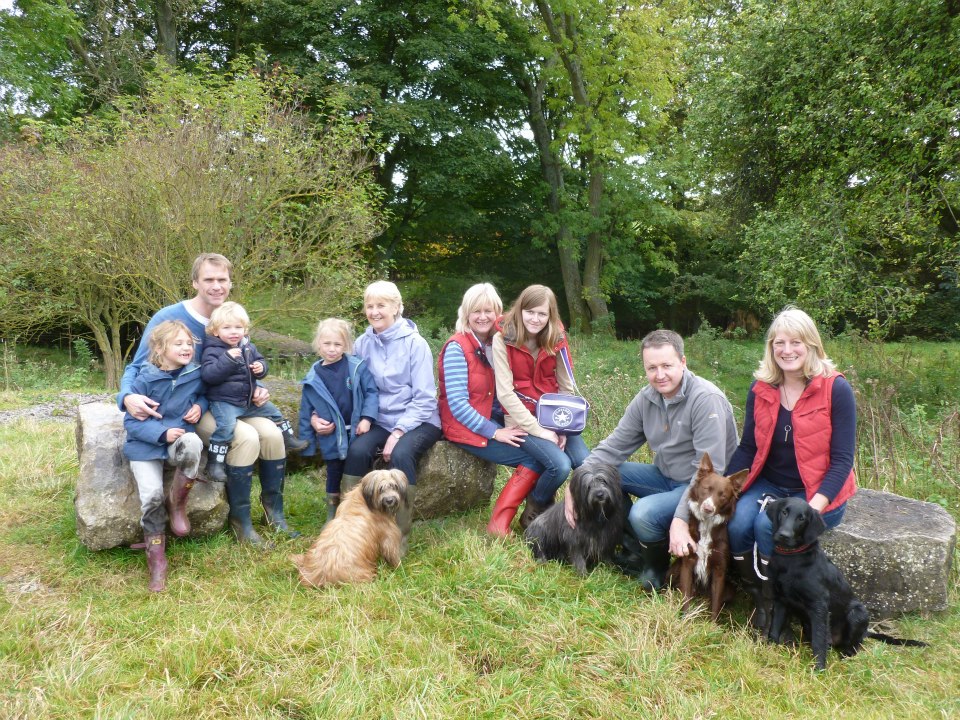 From Eileen ... Wednesday 17th October 2012
Hi Geoff

Thank you for putting the photo on the web page

Just for information attached is page one of the first letter I received from Charles Coudrey, in which he says that his brother Ronald had passed my request to him

I am new to scanning documents and can only manage to scan and send a page at a time (sorry !!)
If you would like me to send the other two pages of the letter I will do so but I am afraid that they will have to come as two separate emails

I also have the original letter from the State Library of South Australia, requesting the diary for their archives ... I can scan this too if you wish

I have a book written by Ronald Coudrey on The Flinders Ranges, which I think must have been given to me by Bob and Norma when they came over here

It was great to see the photos of Bob and Norma on the website, together with the ones of your family
The restaurant looked lovely and the meal very appetizing

Next time you speak to Bob and Norma can you tell them that I still have the picture they bought for us of a Sheltie dog sitting on a chair

Best wishes from Eileen
From Geoff ... Thursday 18th October 2012
YES !!
I would really appreciate the rest of this letter plus the one from the Library ... but no panic though
Just take your time with the scanner and I don't mind how many emails you send and the setting / resolution you used for this first page was perfect
When I have it all, I will then add everything to the page

In the letter he mentions a "Family Tree" ... wish I had that !!

I will pass on your comment to Bob and Norma ... they said they are not very 'computer smart' and need to have one of the youngsters help them out

Regards ... Geoff
From Geoff ... Thursday 18th October 2012
Hi ya again

All of the scans came through perfectly ... and they are great to have ... THANKS
I hope to get them uploaded to the web pages tomorrow

Bye for now ... Geoff
From Geoff ... Friday 19th October 2012
Hello to you Eileen and Hello to you Wally ... and to Lesley and to Sharon

PART #01

Firstly, in respect to Eileen's Web Pages, these have now been "all tidied" up and some information has been deleted while other sections have been updated ... much better and much more accurate !!

PART #02

Thank you, Eileen, for taking the time to do all those scans and send them over
A fantastic collection of letters and documents !!

Now, Wally, this is all 'brand new' to you ... so every item will be a surprise !!

Click ... HERE ... to have a look at it all

All of this information is linked to the first email I received from Eileen which can be seen ... HERE

PART #03

And while Sharon was preparing dinner last night, I was flicking around a few sites and found some information I did not have
Nothing real earth shattering but good anyway and click ... HERE ... to have a look

All the best to you both

Regards ... Geoff
From Eileen ... Tuesday 23rd October 2012
Hi Geoff

The web page is fantastic ... very many thanks

Best wishes ... Eileen
From Sharon ... Tuesday 23rd October 2012
Hi all

I did enjoy reading all the new bits of information ... Uncle Charles' letter was terrific !! ... HERE
It's 'macabre' I know but I like seeing handwriting of people who are no longer with us especially if I knew them or as in the case of the diary, related to them

All the loose ends neatly tidied up

The Parkside Baptist Church Records were interesting too
From Eileen ... Friday 16th November 2012
a number of photos were sent from Bob and Norma Coudrey and these were uploaded ... HERE
plus other changes and photos were completed on these pages ... HERE ... HERE ... HERE
and below is the reply from Eileen following these updates
Hi Geoff

Many thanks for keeping me "in the loop"

I was particularly interested in the photos of the Charles Coudrey
I first corresponded with him in the 1970's, although he was much older than that when I first heard from him

I thought that Sharon's dad was very good looking, and also very talented as I understand that, as well as being a musician, he was also an artist
Unfortunately, none of my family have inherited any musical or artistic talents

I will be away on holiday from 29th November until 15th December ... just so that you know I am not being rude if you don't get a reply to any correspondence you may send during that period
I am off to get some sun ... Sri Lanka and India

Very best wishes to you all ... Eileen