From Daniel ... Friday 29th January 2010
Subject ... Thought I would say "G'day"

Hi Geoff

I was just reading through your fantastic website ... HERE ... great stuff !!

I am Daniel Meers, son of Joseph and Margaret from Gladstone South Australia

I looked at your 1975 and 1983 photo ... THIS PHOTO ... rang some bells
NOTE - see the email below from Geoff on Sunday 31st January 2010

Michelle and I were born on 27th July 1965

I was working in China when your Mum died but Nell Duffy (Gladstone ... now deceased) kept us in the loop

Just quick update on the family

Theresa (56) ... lives in Tumby Bay South Australia
Her son Craig and family live in Port Lincoln
Her daughter Alison and family just moved to Cairns from Perth

Julie (54) ... lives in Bordertown South Australia
Her daughter Louise and family live in Adelaide
Her son Michael lives in Bordertown

Angela ... died at 39 years ... if she was alive today she would be fifty years old
Her son Luke and family live in Margaret River Western Australia
Her daughter Kelly and family live in Busselton Western Australia

Michael ... died at 17 years ... if he was alive today he would be fourty eight years old

Daniel (44) ... lives in Melbourne Victoria
Never married ... no children

Michelle (44) ... lives in Laura South Australia
Her son Ben (just turned 20) and daughter Sarah (17) still live at home

Of course both Mum (Margaret) and Dad (Joseph) are both deceased

On the Meers' side of things, Geoff
I have most contact with Margaret McDonald, eldest of Uncle Jim's (!!DANIEL!!) kids, in Birregurra near Colac
Actually Marg had mentioned that you had a website a while ago and just found myself on there tonight

I remembered Terry's face ... and saw that he is a grandfather

Incredible stuff, Geoff !!

I won't overtax your memory on you but I must say I really enjoyed seeing Nana Meers
The photos of her in the 1980's are the same as I remember her in my childhood memories

Say 'Hi' to your brothers for me ... your names have come up in family discussions/celebrations over the years with great fondness

Take care up there ... cyclones and all at the moment !!

Love and best wishes ... Daniel Meers
From Geoff ... Sunday 31st January 2010

Hey, Daniel ... and your note is above ... and it was great to read !!

Names from the past ... in fact, the very distant past !!

We are in the final stages of moving house ... so please give me a day or two to set out a proper reply

One thing ... your link where you state "THIS PHOTO" did not work ... ??

Will write again soon

Bye ... Geoff
From Geoff ... Tuesday 11th May 2010
Well, here I am again ... and it's only taken me about three months to answer ... BUT ... I do have a bit of an excuse

Over the last few months I have been researching The Family History
The pages that were on our site had been neglected for a while so I decided now is the time to sit in front of this computer and get as much information as I could ... and it worked !!
It is a frustrating business, trying to follow 'links and clues' which most times end up in a dead end
But I found heaps of new information and lots of new photos

I looked at both sides of the Family Tree ... and some of the info is amazing and terrific to read !!
Anyway, if you want, check it out yourself ... just click on these links

#01 - The Raneberg / Roneberg Family History

#02 - The Beerworth / Bierwirth and Meers Family History

It is probably of not that much interest to you, but I also did a heap of research into Dad's Military Service ... it is amazing what you can find out and obtain from the War Memorial and Archives

#03 - Dad's Military Service

#04 - Day-by-Day chart of where he was during the War Years

And finally, a few "very small" photos that I found stuck in a folder on my computer ... and one of them includes Joe and Theresa

#05 - The Meers Clan

Thanks for all the details on your family, Daniel

I still have memories of Joe and Margaret and their house in Gladstone
There was a shed out the back that had a milk separator set up in it and I used to get great fun out of turning the handle and watching it spin ... small things amuse, etc, eh !!

'Tis amazing how time marches by

If you want to see what's going on with us, the easiest way is to click on the link below and then check out anything that catches your eye

#06 - What's New in Cairns

Would you do me a favour ??
Please send this note on to anyone who may be interested
As I mentioned, there are heaps of new details but there is probably still heaps out there ... in drawers and cupboards ... plus old and terrific photos hanging on walls ... I would love copies of them all !!
And there might be corrections that need to be made ... some of the info from the internet is not 100% accurate !! ... tell them to let me know

So that's about it ... all the best to you and yours ... and we may run into Alison one day !!

Regards ... Geoff
From Daniel ... Friday 28th May 2010
Hey Geoff

Great to hear from you

Love the "#05 Meers Clan" ... what amazing photos ... particularly Dad with Theresa and Grandpa Jim ... terrific !!

You're amazing ... it must take an incredible amount of time to get this all together ... brilliant job ... thanks, Geoff

Best wishes ... Daniel
From Geoff ... Saturday 29th May 2010
Glad you like it all !!

I gotta admit it has been very interesting and good fun doing all the searching ... you just never know what you may come across ... I really like doing it !!

These Family Records and History do make you 'regret' things though
And the main one is ... why didn't we speak to these people when we had the opportunity ??
I would love to be able to sit down with Grandpa and Nana Meers and talk to them about their lives and families ... but it's too late now ... and that's a bit sad

You may have seen it, but look at this shot of Grandpa and Bill ... it is a classic ... love it ... and I'm guessing that's their home in Hallett in the background ... I would 'kill' for more shots of this farm !!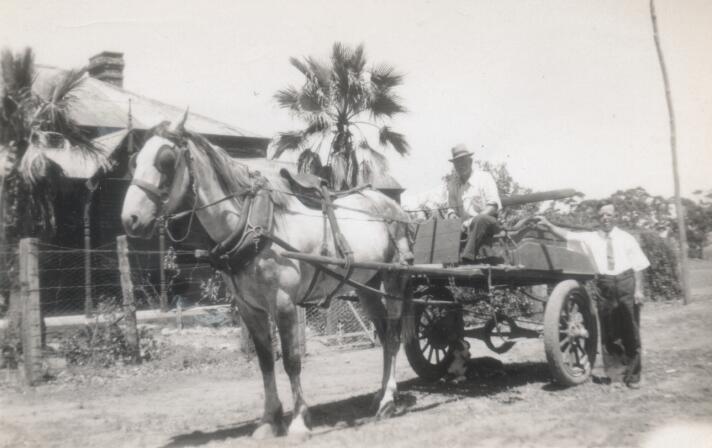 I don't want to hassle you or become a pain in the butt, but please remember to pass on my notes to those who may be interested
To be honest, yours is the only email address I have from all the relations ... and that's terrible !!

I need lots of help ... with the Facts'n'Figures ... but would also love photos ... and there might be some great shots of these people hanging on walls or in old photo albumns or stored in the bottom of wardrobes !!

Your namesake is one I am having hassles with ... Daniel Meers
If you check ... HERE ... he is listed in both the "Great/Great/Great" and "Great/Great" sections ... but I can't find out 'who/what/where' his parents were !!

Hey, I'll send you a note if I make any more discoveries !!

HAVEAGOODWEEKEND

See you ... Geoff