From Geoff to Lesley ... Friday 30th July 2010
this email refers to all the information above
Hi ya

As I mentioned in the recent "The Family Historys Update" email, I want to concentrate on the Knowles side of things for a while

I was going through my copies of the information you brought up here and came across this ...
Arthur Knowles ...... Mary Alice Peek ...... John Charles Tucker ...... Sarah Kent
Looking at 'Page 1' of the Peek Family Tree, there are some handwritten notes (they yours ??) and they state that after Arthur died early at fourty-two, Mary then married John Tucker who had been married to Sarah
However, there are a few question marks near the word "remarried"

There is also a few notes on a small piece of paper which I think you said were yours and these also say the same thing

Did I interpret it right ??

The reason I am asking is that I can find lots of details on a John Charles Tucker and these include his death notices and obituary
To check out the page, have a look HERE (this is the Tucker Page shown above)
BUT they do not mention Mary nor is there any mention of their marriage after Sarah's death which was during September 1910

When he died on the 8th June 1938 he was living at 2 Dudley Ave Prospect South Australia

Can you add anything more ??

Also, the notes about the "$10.00 and $10000.00 inheritances" look sorta interesting !!
Any more info on that ??

Thanks for your help ... time consuming this Family History stuff is, but it's fun doing it !!

Bye, bye
From Lesley to Geoff ... Friday 6th August 2010
Hi again

Grandpa Tucker's four daughters received quite a lot more than Audrey, Laurel and Norma
Aunty Norma said it was £10,000 to them and £10 to the Knowles girls

Brenton Adcock son
Clarrie Adcock father
Arthur Adcock grandfather and Margary Tucker his wife was one of the four daughters
John Charles Tucker
Lesley daughter
Laurel mother
Harry Clive father
Mary Alice Tucker nee Knowles nee Peek mother

So the Knowles girls were a generation removed from the Tucker daughters ... they would have been John Charles Tucker's 'step granddaughters'

Does this make any sense ??

Do we know when Mary Alice Tucker died ??

Good luck ... Lesley
From Geoff to John and Julie Tucker ... Friday 13th August 2010
Note - these are the owners of the site detailed above

Comments: Reference Your Site ... HERE and HERE

Good morning

I came across your site when I was conducting a search for one of my relatives

I am looking for the details on a Mr Tucker who married a Mary Alice (nee Peek maiden name and nee Knowles first husband's name before his death)

I am not sure how much information I can put in this Contact Form ... please let me know an email address and I would be happy to send more details

Thank you ... Geoff Roneberg ... geoff@ronebergcairns.com

Note - this Tucker Web Site has not been updated since March 2007 ... and as yet I have not received an answer
From Geoff to the Coudrey and Hutton Families ... Monday 30th August 2010
Reference ... "Section #08" from the Knowles Family History Albumn

Hello to y'all

Lesley and I have been a'searching and a'searching for some information mentioned in this Section

Which part ?? ... well, here is the question ...
"Mary married again to a Mr Tucker"
?? can anyone send me information or details on this elusive Mr Tucker ??
Anything at all that you have would be great ... name, birth and marriage and death dates, etc
From Lesley to Geoff ... Tuesday 7th September 2010
I was speaking to Auntie Norma today and I asked her about the 'Tucker Connection'

She said she only ever knew 'Mary Alice' as Grandma Tucker and that Grandpa Tucker had lots of money

She didn't think 'living in sin' was what they would have done !!
So somewhere there must be a record of their marriage !!

Cheers ... Lesley
From Lesley to Geoff ... Tuesday 7th September 2010
Hi again

Grandma Mary Alice Knowles was married to Mr Tucker between 1910 and 1922

It has to be in this time frame because ...
#1 - Gertrude and Clive gave them a Carnival Glass Fruit Bowl as a wedding gift
#2 - Gertrude and Clive were married in 1910 and Clive died in 1922

It was returned to Gertrude after Grandma Tucker died and Lyn now has it

Auntie Norma just rang with this info

Lesley
A note from Geoff ... Wednesday 8th September 2010
On the 'John Chalres Tucker' page above it states that he was buried in Kybunga Cemetery, which is near Clare in South Australia
I checked the cemetery details HERE and found this listing ...
TUCKER Sarah and John C
Now it is becoming a bit strange !!

This Mr Tucker was married to Sarah ... okay, she died in 1910 and Mr Tucker married again ... would he, when he died, ask to be buried with his first wife ??
Well, maybe ... but as I said, things are turning strange ... and I am starting to think that the handwritten notes on the pages above may not be accurate ??

Back to more searching now !! ... and will probably start looking for a different Mr Tucker
A note from Sharon to Lesley ... Saturday 11th September 2010
Looking for Mr Tucker ... it's the thrill of the search isn't it !!

I saw that the Adcock Family is mentioned in the 'John Charles Tucker' page above
Lesley, are there some Adcocks around that may have an idea about the Peeks ??
I seem to remember you or Mother saying something about us being related to the "Peeks / Adcocks" when we starting attending Knightsbridge Baptist Church
From Wally Knowles to Geoff ... Wednesday 5th December 2012
Have solved the problem of Mary Alice Knowles marrying John Charles Tucker

This wedding happened on 9th September 1918 at Maughan Church in Adelaide
Mary was fifty five years old at this time

John's previous wife, Sarah, died on 21st September 1910
They had married on 12th December 1876

I also found the date of Mary's death and this was on 17th June 1927
She was sixty four years of age

This information came from the excellent Genealogy Club at the local library

Have a good day
From Geoff to Wally ... Wednesday 5th December 2012
That "Genealogy Club" sounds like a Fantastic Place !!

I did a bit of searching and found these photos of the Maughan Church
circa 1870 ... View of Adelaide looking west down Franklin Street
In the left foreground can be seen the Methodist New Connexion Church
This was later the Maughan Methodist Church (demolished in 1964)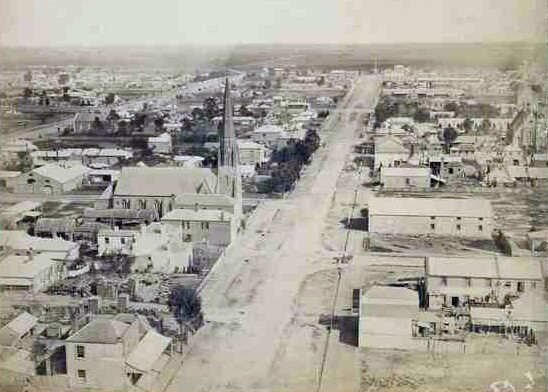 | | |
| --- | --- |
| circa 1880 | circa 1896 |
.

.

.

John and Mary married during 1918

The shot opposite is circa 1915

Not much has changed from the earlier shots above
and it is very similar to the one above from 1896
(maybe the dates are not quite right !!)
From Wally Knowles to Geoff ... Tuesday 9th April 2013
Just a little note to clear things up

When I gave you the info on Mr Tucker you said what a "fantastic place" the local Genealogy Club was

Actually, it more or less doesn't exist any more
They've shifted to Salisbury now and kept asking me to come and give them lectures as I had during the past
Because of my health, I knocked them back so many times they've given up now

But their facilities are still in the Elizabeth Library and being an ex-volunteer I know how to use them, which I do frequently

So there !!