Sunday 21st February 2010
Dear Mr Roneberg

Thank you for your review of my book on Amazon.com!

I am currently working on another Aussie themed baseball book, which could be in print by the end of the year
This project is based on some of my own experiences as a fan and even as a player
It captures the period of time from 1992 to 2004, but it's connotations extend beyond baseball too
Your son is the same age as me and many of the events in the above book will overlap with him

He does receive a mention in my current book, specifically during the 2004 Olympic Semi-Final in Athens, when he was knocked in by Brendan Kingman

I never reached the lofty heights of professional baseball, but your son's journey was a good one, and he was a cut above the rest even when he was 17-years old

This will make you laugh
I bumped into a rather cute lady at a nightclub in Sydney, and she told me that a friend of hers in London, has a brother who played baseball for Australia, but she only knew that the family was from Cairns, and of course your daughter's name
I instantly knew that it was Brett, and when I told her this, suddenly we weren't strangers anymore
Thanks Brett, I owe you one mate !

I would be happy to send you a personally signed copy of "The American Dream: From Perth to Sacramento" in appreciation of your support
Please let me know a suitable postal address

Also, at some stage in the future, I may be putting together a collection of baseball stories (professional experiences) and Brett is on my list of people to interview
I am very busy at the moment with my current project and full-time work, but I would like to work with Brett at some stage in the future

Thank you again Mr Roneberg, and your family has made an excellent contribution to Australian baseball dreams

All the best, Nicholas
Monday 22nd February 2010
First up, please call me Geoff

What a great email to receive !!

And yes, we would love a signed copy of the book
When I say "we", naturally I mean Brett as it will be passed on to him

I have decided that I will not show him this email just yet
Will wait until the above book arrives, then print this out along with the 'bio' I found on the internet ... and then make a "present" of it all

The Sydney Nightclub ... that is a great story ... from one side of the world to the other !!
I will also pass a copy on to Tanya to see if it "rings any bells"

Brett, I know, would be honoured to assist you in any way that he could ... I am sure he will send you a note when he receives his "present"

Thank you for the very nice comments ... we are very proud of what Brett achieved in his career ... enjoyed every minute, including that Silver Medal !!
Just as importantly, we are also proud of both our kids and the pleasant young adults they have become

There are a few links below in our signature ... allow yourself a bit of time ... because there are just under 80,000 photos spread around the site !!

All the best, Nicholas

Regards ... Geoff
Sunday 28th February 2010
Good morning Geoff

A signed copy of "The American Dream: From Perth to Sacramento" should reach your post office box early this week

I'm sure that it's nice and warm up in far North Queensland

All the best, Nicholas
Sunday 28th February 2010
Hi ya ... and that's great !!
Will let you know when it arrives and when it's been "passed on" to Brett

Yep ... it's stinking hot and it's stinking humid
But that's what we moved here for many years ago ... and there are three airconditioners ticking away in the house !!

Will write again soon ... with photos !!

Regards ... Geoff
Tuesday 2nd March 2010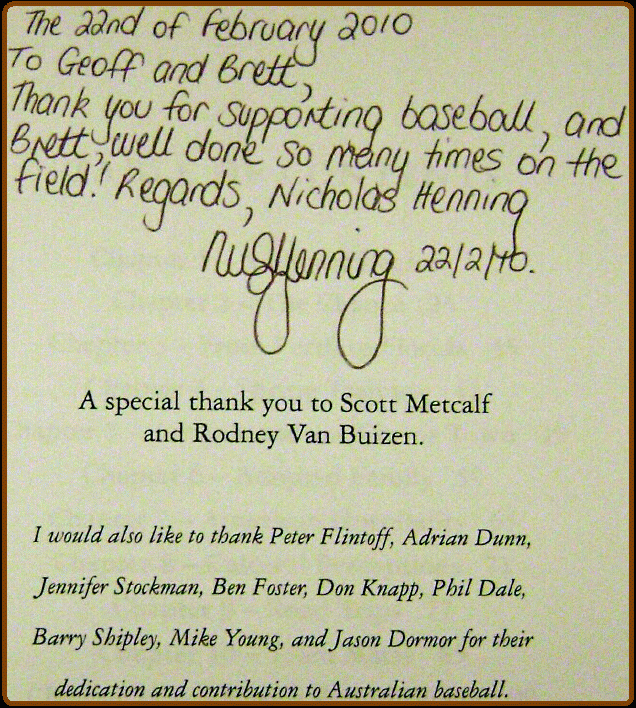 Hi once again ... and the book has arrived ... terrific !!

Will be giving it to Brett over the weekend coming up and I will write again on Monday

'tis very nice of you to do this ... thanks once more

Regards ... Geoff
Tuesday 2nd March 2010
You're welcome Geoff

Think of all the times you drove Brett to baseball training and games, and all the times you talked to Tanya about the world around us
Brett pursued baseball with some excellent success, and Tanya has experienced life beyond Australian shores

Give yourself and Mrs Roneberg a pat on the back ... good parents make good kids

All the best, Nicholas
Sunday 28th March 2010
Hi Nicholas

Finally things are progressing
I have started to make up a "Souvenir Web Page"

However before continuing with more photos and notes, I would like to ask for your approval to use the pictures, notes and emails that I have included so far (as above)
I have used these so the "Story of Your Book" has a start and finish

NOTE #01
This page is just for your approval and does 'not exist' as far as any external links go at this stage

NOTE #02
The links at the very top of the page will go to THIS PAGE and THIS PAGE when it is complete

If you give the okay for what I have used so far, I'll then 'pin Brett down in one spot' and get his reaction ... plus a note from Tanya !!

Regards ... Geoff
Sunday 28th March 2010
Good morning, Geoff, and thank you for your email

I'm flattered by your kind words and for your write up on your Family Web Site
Yes, you have my approval ... I would be honoured to be there

I didn't know that you discovered me through a posting on my 'blog' ... word travels a long way with the internet!

I'm making some excellent progress on my current baseball writing project, which is a pseudo biography based on me with a strong baseball theme

To give you a further insight into the project I have in mind for Brett ... I aim to focus on a professional Australian baseball player from each mainland state and territory, whose professional careers overlap
The rest is top secret!

I may travel to Cairns this year to dive amongst the Great Barrier Reef ... if this eventuates, I will let you know

I hope you're having a great weekend!

All the best, Nicholas
Sunday 28th March 2010
This 'as-it-happens' Alert is brought to you by Google
Alert for - roneberg
Nicholas R.W. Henning - "Thank You Geoff Roneberg"
I would like to take this opportunity to thank Geoff Roneberg for his support of my baseball novel "The American Dream: From Perth to Sacramento" and also for ...

I followed the link and found this Article ...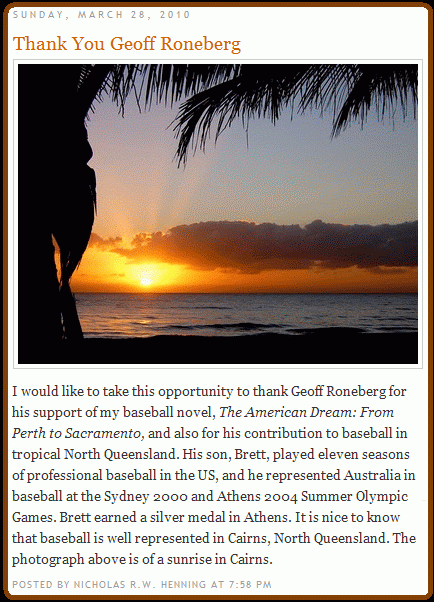 Monday 29th March 2010
Hey, Nicholas ... look at what I got !!
I am going to add this to the web page as well

C'mon Brett ... hurry up with your reading
Getting impatient to "officially release" the information !!

A very nice note ... really appreciated it

Regards ... Geoff
Tuesday 30th March 2010
You're welcome Geoff

I'm pleased you like the note

All the best, Nicholas
Saturday 24th April 2010
Hi Nicholas

I have finally been able to pin Brett down ... long enough to take a few photos and talk about your book ... took a while, but got 'im !!

The main reason for the delay has been his employment ... supervising a building project up on the Atherton Tablelands ... and he is away Monday to Friday, with not much time for the internet, etc

YOUR BOOK

The page is now complete
I added a photo of what you wrote in the signed copy you sent to him ... plus a few shots of Brett reading the book ... and yes, these were 'posed' but they add the finishing touch !! (see below)
He is looking forward to corresponding with you ... and his email address is ... BRoneberg@aol.com
(the job on the Tablelands is ongoing, so please understand if you don't receive a reply for a couple of days)

SHARON and TANYA

A bit of a surprise !!
When you open the above page, read it line by line until the end ... it's a nice story and there 'might' be things happening in the future . ?
And Tanya ... you are there too ... from London to Sydney . ?

LINKS

You might be interested in checking these out ...
---------------HERE ... redeveloping the Number One Field in Cairns
---------------HERE ... Brett presenting the Trophies and Awards following the Qld Schoolboys Championships

It's been nice 'talking' with you over the last couple of months ... and wish you Good Luck with your future projects

Regards ... Geoff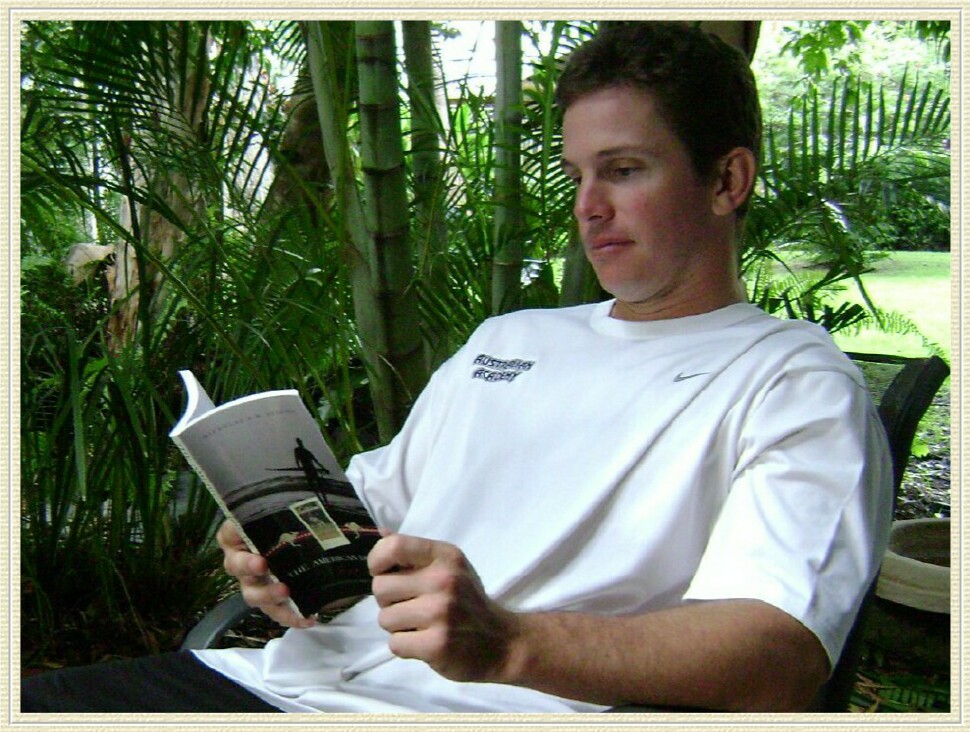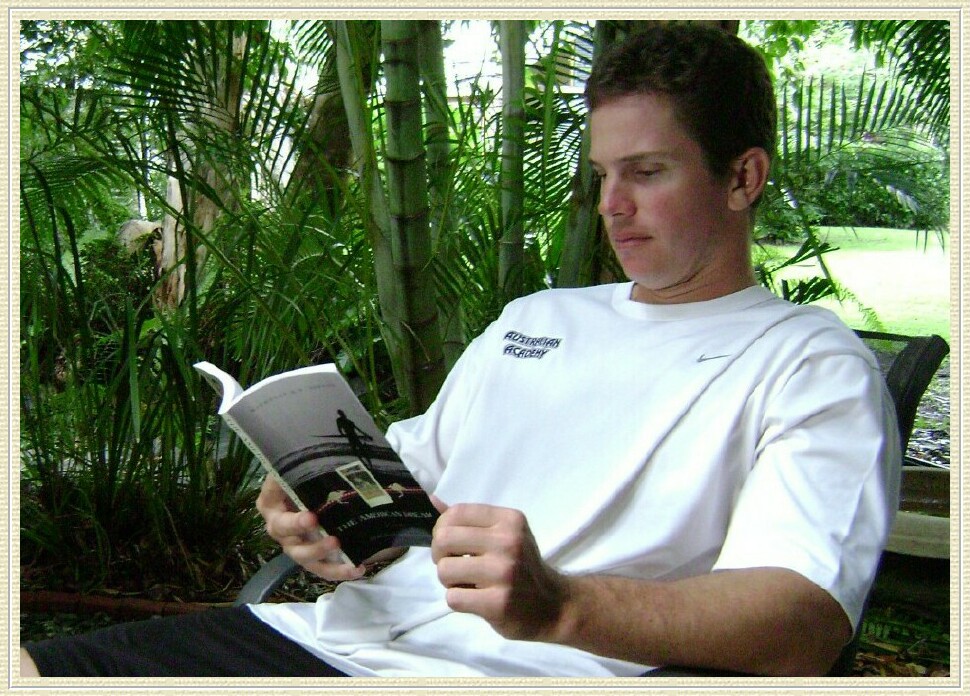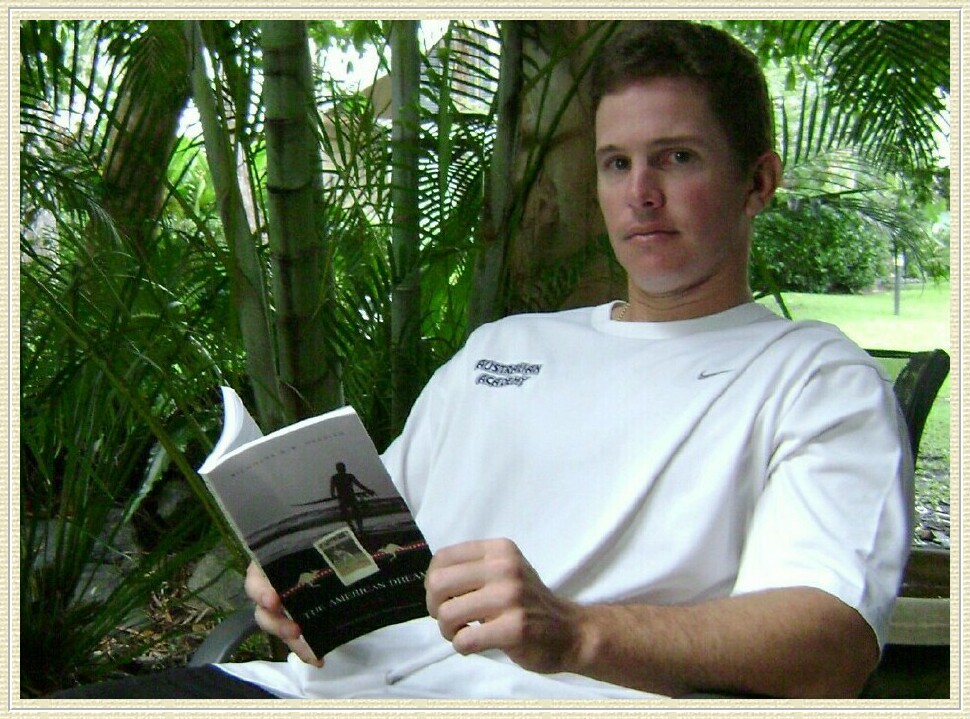 Saturday 24th April 2010
Dear Geoff

Very nice work !---Thank you !

It certainly appears that you put some good effort into it so thank you again

In my current book Brett is mentioned during the 2004 Olympic Semi-Final against Japan
That game was a very important part of Australian baseball history, and I had to have it in my book

I hope that Brett is enjoying his work, and I wish you and all your family the very best

Regards, Nicholas

PS - there is a writing project I have in mind which I would like to include Brett in, as mentioned previously
When I get to the point of commencing planning you'll be the first to know

I have another book coming out later this year, and you're on my list for a signed copy