(Return to "The Roneberg's of Cairns Index" page)
(Return to "Tanya's Index" page)
Tanya - 2008
PHOTOS

The Cairns Taipans Basketball Team - "Starry, Starry Night"
Annual Ball and Presentation Night
Tanya is ready to go!! - six photos of Tanya taken at her home just before she left for the Ball - also one photo of Tanya and her friends taken during the night - page includes details on the Taipans Award Winners - Friday 28th March 2008
A Night on the Town
Tanya and her friend Dana - dressed and ready for a night out in Cairns!! - seven photos - Saturday 26th April 2008 .......... great shots!!
......and where they went
Tanya at the "SOS Ball" held at Rydges Esplanade Resort in Cairns - as mentioned just above, Tanya and her friend Dana got 'all-dolled-up' and went out on the town - and they were snapped by The Cairns Post photographer during the evening - this page includes all the details of the article from the "CairnsEye" publication, along with a photo of Tanya and Dana - Saturday 26th April 2008
"Mother's Day" - photos of "MUM" and "MOTHER", Geoff and Sharon's parents - an ecard to Sharon - a photo/video of Tanya and Brett soon after they were born - a present for Sharon from her two kids - lots of details on 'Jamie Oliver', and a fantastic roast dinner planned-prepared-made-and-served by Chef Sharon!!! - as well as all this and more, there are lots of great photos!!! - Sunday 11th May 2008
Tanya's New Car
-------------------------------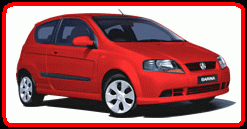 --Click on the picture for all the details and heaps of photos !!!
"State of Origin" - Tanya won a double pass to Game Two of this Queensland v New South Wales Series!! - she and her friend Natalie are off to the game in Brisbane - page includes the details, game report, and a couple of photos Tanya snapped - Wednesday 11th June 2008
Reflections - Does Tanya look like Geoff's Mum?? - Sharon thinks so!! ... and Tanya 'sorta' does too!! - the page includes notes from Sharon and Tanya along with a few photos - Saturday 28th June 2008
Two Blondes and A Brunette- Tanya and Jane and Marilyn - one photo ... and other pictures?? - Thursday 31st July 2008 .......... a nice photo!!

---"Happy Birthday" ... and ...

---"Merry Christmas"
They have come early!! - it is only September!! - !! Dell Inspiron 1525 Laptop Computer and Dell All-in-One 948 Printer and 479 Coins !! - the page includes photos and all the details - Wednesday 10th September 2008
Tanya with her friend Bethany ... and Tanya's "Hot'n'Red" machine!! - five photos - September 2008 .......... really good photos!!
Tamara and Jarrod's Wedding
Tanya was a Bridesmaid for her friend Tamara - Tanya travelled to Sydney for the Wedding ... and had a great time - there are over twenty photos on this page, including some terrific shots of Tanya - Sunday 5th October 2008
Tanya went with her friend Andria to see the "Deep Blue Orchestra" at the Cairns Civic Theatre - they were snapped by a photographer from "The Cairns Eye" Magazine - and their photos appeared in the October edition!! - page has details on the magazine and the photo - also included are all the details on the Orchestra ... and a terrific video clip!! - October 2008
Tanya at the Cairns Business Women's Club Monthly Luncheon held at the Cairns International Hotel - article and photo from the "In Touch In Business" Magazine - October 2008
A flying visit to Dunk Island - work related and not a holiday!!! - page includes maps, pictures, the aircraft ... and Tanya at the entrance to the Resort - five pictures - October 2008
Tanya as a "Halloween Devil" - one photo - Friday 31st October 2008

---"Happy Birthday"
As you can see above, Tanya got some Birthday Presents back in September - the actual day arrived, and she went out to dinner with her Mum and a group of friends ... and received another small present!!! - the page includes a card made up by Sharon, the present, and details on the dinner - plus there are some 'cold' presents from Brett!! - lots of pictures and photos - Sunday 9th November 2008
Tanya went with her friend Sonya to see the charity screening of the movie "Australia" - they were snapped by a photographer from The Cairns Eye Magazine - and their photos appeared in the December edition!! - page has details on the magazine and the photo - also included are details on the movie ... and a terrific video clip!! - December 2008
Tanya's car (as detailed above) sitting in the carport - one photo - Sunday 21st December 2008

---"Merry Christmas"
Tanya's Christmas Tree ... and all the presents!!! - three photos - Sunday 21st December 2008
---
UPDATES
Tanya's employer in Cairns is (name removed as requested) - Tanya commenced her new role as a Paralegal on Friday 9th February 2007 - this page includes details from the (name removed as requested) web site and shows the "Debt Recovery and Insolvency Law Team" of which Tanya is a member - there are also links to her promotion to Paralegal and the professional photos that were taken to be used in this type of advertising/brochure - Friday 11th January 2008
---------------------PAGE UPDATED - September 2009 - name and link and page removed as requested
Tanya's employer in Cairns is (name removed as requested) - Tanya, as a member of the "Debt Recovery and Insolvency Law Team", particpated in the "Santa Recoveries Reward Program" during November and December - she achived almost 100%!! - this page includes a copy of an inter house memo to (name removed as requested) staff - plus details of what Tanya was given for her efforts - and here is a clue ... she will be going to the Boxing Day Sales!!! - Monday 22nd December 2008
---------------------PAGE UPDATED - September 2009 - name and link and page removed as requested
---
x
x
x