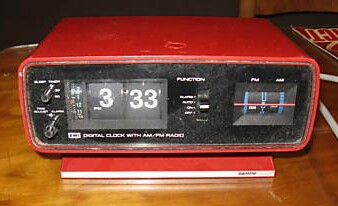 Retro EMI Gemini clock radio - this is in perfect working order!! - made in Korea during the 1970's - Kartell/Eames era - the colour is bright red with a plastic body and a black plastic face - the unit has an elevated design for that totally spaceage look!! - the features include AM and FM radio, tuning and volume dials on right, earphone jack on left, digital flip clock, sleep timer, time and alarm adjust, slow release snooze button on top - operates via a standard 240V cable - cosmetically, the clock/radio is very glossy and there are no cracks or chips - the dimensions are 23cm long, 11cm high and 15cm deep - November 2008

Final selling price - $16.20 ...... yes, just $16.20 !!

This is exactly the same clock/radio as ours - and it looks like this seller "pinched" the item description from the auction that we won!!