(Return to "Antiques and Collectables - Personal Items" albumn)
CowParade Figurine
"American Royal" ...... #9189
NOTE
- photos on this page are up to 1000 pixels in width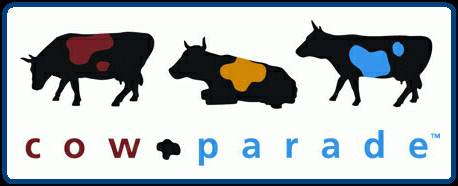 click on the above logo to go to the CowParade's Official Web Site
link active as at Tuesday 22nd April 2008
About the CowParade
For Art, For Charity, For Fun

CowParade is the world's largest public art event
From Chicago and New York in 1999 and 2000 to Kansas City and Houston in 2001 and London in 2002, CowParade continues to evolve, not just in size, but in creativity and quality of art
While the cow sculptures remain the same, each city's artists are challenged by the art from past events, inspired by the cultural influences of their respective cities, and moved by their own interpretation of the cow as an art object

CowParade is not meant to be high art, however
It is first and foremost a public art exhibit that is accessible to everyone

Most important, CowParade ultimately benefits charity
At the conclusion of each event, the cows are herded up and many are auctioned, with a substantial portion of the proceeds benefiting charity
Our Chicago auction raised an amazing $3,000,000.00 for charity, including $1.4 million on-line and $2.1 million at the live auction assisted by Sotheby's
The average bid price on the 140 cows was nearly $25,000, with the top cow, HANDsome, selling for $110,000
The CowParade New York 2000 Charity Auction raised an equally impressive $1,351,000.00 benefiting several New York City charities
The highest winning bid was $ 60,000, for Tiffany Cow
The average bid was $ 18,257

CowParade.com is your virtual 'moo-seum' for all of the CowParades, past, present and future
Enjoy!

Art is about breaking down barriers
It gets people to feel, to think, to react
So when you come across life-sized cow sculptures that have been covered in mirrors or gumdrops, cows that have been painted with elaborate themes or transformed into something else entirely, you can't help but stop and think about what it means
All your preconceived ideas go out the window
Suddenly people see that art can be fun and that art can be interesting to everyone, not just people who frequent museums
Peter Hanig
CowParade Event Organiser
************************************************************************************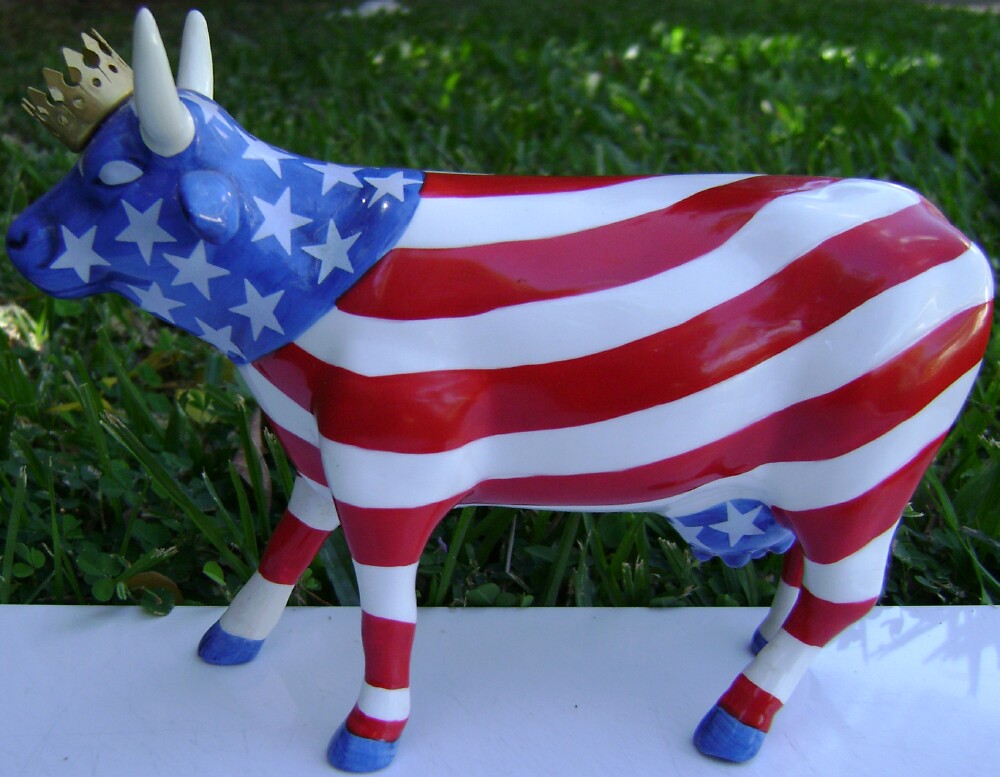 "American Royal"

more photos at the end of this page
Figurine - #9189 - ceramic figurine
Size - Medium (approx 6 inches x 4 inches)
City - Kansas City CowParade 2001
Released - 13th September 2001 by Westland Giftware
Retired - 2007
God bless America!
The design of 'American Royal' was inspired by the largest and oldest livestock show in the world, and having celebrated it's centennial last year, the artist felt it was appropriate to create this monument in its honor
The cow is covered with the flowing stars and stripes of Old Glory and adorned with a royal crown
This patriotic cow stands proud and strong

Sponsor
Fleishman-Hillard Inc

The Artist - Asher B. Johnson
Asher Johnson is a Graphic Designer and Illustrator and is currently an Associate Creative Director for Fleishman-Hillard, Inc., an international public relations agency
He has been honored several times by the Advertising Club of Kansas City, the Art Directors Club of Kansas City and the Public Relations Society of America for his work
************************************************************************************
Backstamp and Markings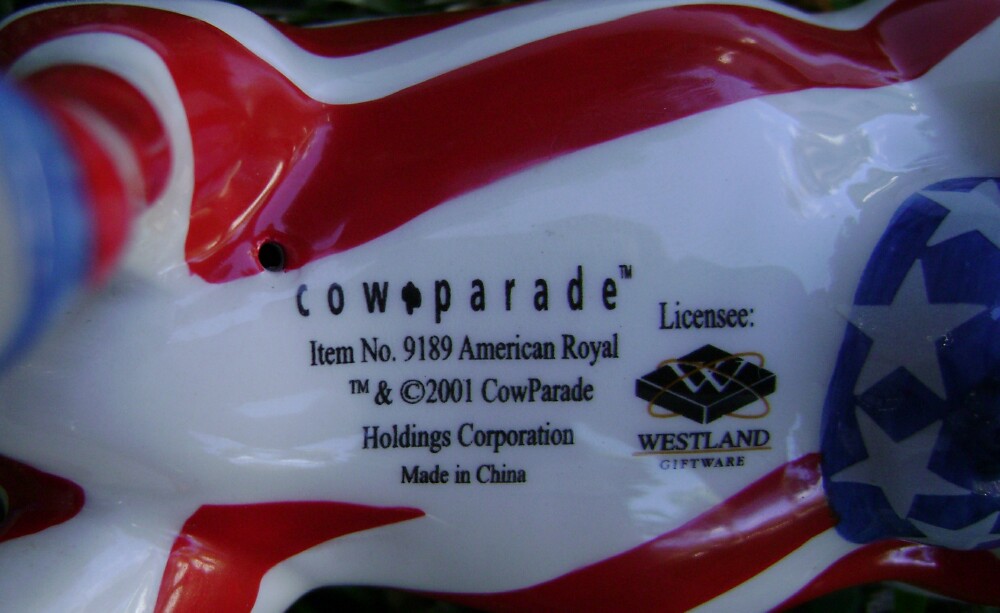 ************************************************************************************

click on the above logo to go to the Kansas City CowParade's Official Web Site
link active as at Tuesday 22nd April 2008
CowParade comes to Cow-nsas City!
Article published on Thursday 22nd March 2001
Purpose
CowParade Kansas City is an exciting public art event of Kansas City, Missouri, Kansas City, Kansas and the surrounding areas designed to promote the arts and to benefit children's art and education programs of The Kemper Museum of Contemporary Art, The American Royal, and The Friends of the Zoo

What is CowParade Kansas City
CowParade is a public art event featuring life-size, fiberglass cows painted and decorated by local artists
There are three styles of cows - standing, grazing and reclining - however, artists may paint, sculpt, transform and adorn the cow as her or she desires
CowParade Kansas City will consist of about 300 of these cows sculptures which will be transformed in to magnificent works of art

Who Benefits
Everyone benefits by CowParade - artists, the community, children, charity, and local businesses
After a 15-week public display on the streets and in the parks of Kansas city, the cows will be auctioned off with a substantial portion of the proceeds benefiting children's art and education programs of The Kemper Museum of Contemporary Art, The American Royal, and The Friends of the Zoo

Where will the Cows be Displayed
They will be on display in public places throughout the Kansas City area, including, The Country Club Plaza, Crown Center, Barney Allis Plaza-Downtown, Northland, and Swope Park/Zoo/Starlight Theater

When is CowParade Kansas City
June 8 through September 14, 2001
After the exhibition, a number of the cows will be auctioned in a live and an internet auction

Auction
On October 6, 2001 at the Municipal Auditorium there will be a live auction of many of the cows to benefit children's arts and education programs of The Kemper Museum of Contemporary Art, The American Royal, and the Friends of the Zoo
Following the live auction, there will be an internet auction
Stay tuned for more details!

Artists
CowParade sent out and advertised an "Open Call for Artists"
Submitted designs will be reviewed by a panel comprised of CowParade Kansas City 2001, Inc. the Kansas City Host Committee, and other arts and community organizations to ensure that the designs conform to the Guidelines set forth in the artist application
Accepted designs become part of the official portfolio for selection by sponsors
Artists will be paid $1,000 if their design is selected and they complete the work in conformance with their design proposal
It is not too late to submit a design
Please download a copy of the Artist Application and Guidelines and join us today!

Sponsorship
Join our growing list of sponsors today!
You can select from hundreds of designs that artists have submitted or commission an artist of your own
There are many sponsorship opportunities available starting with a single-cow sponsorship at $5,000, which includes the artist fees
Cow herd and special sponsorship opportunities are available which provide greater marketing opportunities
Benefits include
----Official Status as "CowParade Kansas City 2001 Patron"
----Marketing Rights to CowParade Kansas City 2001 and use of your cow in your general advertising, PR and promotional efforts
----Cow Plaque commemorating patron's, artist's and cow's name permanently affixed to sponsored cow
----Media/Website - Listing in official CowParade publications (e.g., viewing guides, rack cards, post cards, etc.), the website, and other promotional materials
----PR Exposure - Significant press coverage associated with the event. The cows are expected to be seen by millions of people during the exhibit
----Auction Gala - Through the Auction, sponsors will be contributing to Kansas City Metro programs, making a lasting impression on all
----Right of Refusal - Sponsor would hold "first refusal" rights for future CowParade exhibitions
Please call Suzanne Levy at 913-696-3811 for further sponsorship details
"American Royal" displayed at Crown Center in Kansas City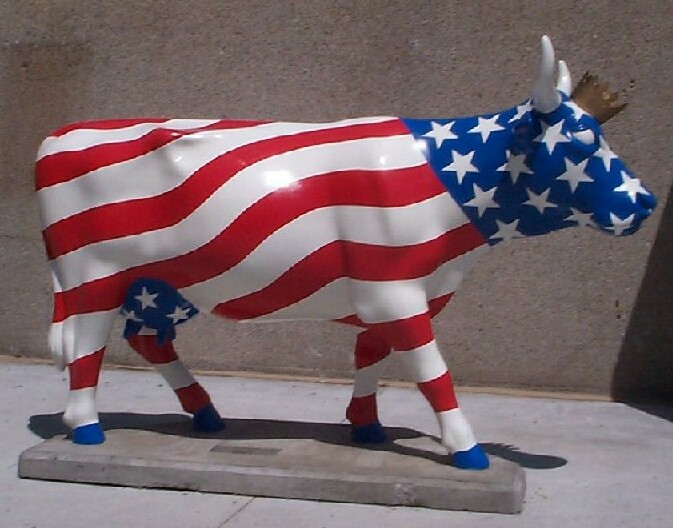 Live Auction Raises $450,000
Article published on Saturday 6th October 2001
The CowParade Kansas City live auction consisting of 60 cows raised just over $450,000
CowParade thanks all of the purchasers for their generous contributions to the youth education progams of the American Royal, Kemper Museum of Contemporary Art, and the Friends of the Kansas City Zoo
An additional $57,000 was pledged to the Twin Towers Fund by the auction attendees
This money, along with a special cow created by Hallmark on behalf of Kansas City in honor of New York City, will be sent to Mayor Rudolph Giuliani
************************************************************************************
On-line Stores
NOTE #01
- depending upon the 'cow-type-and-name', these figurines are available in a range of sizes
Small (3"x2") - Medium (6"x4") - Large (13"x8") - Extra large (16"x11") sizes

NOTE #02 - click on the logos below to go to Stores specializing in CowParade figurines
...... and there are hundreds of different Cows !!
these links were active as at Tuesday 22nd April 2008
NOTE #03
- having checked numerous Stores and Ebay Auctions, the average price for our figurine is Australian $25.00 to $30.00
| | | |
| --- | --- | --- |
| Click on Logo | Click on Logo | Click on Logo |
************************************************************************************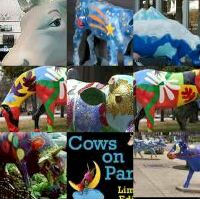 click on the above logo to go to the Chicago CowParade's Information Page
link active as at Tuesday 22nd April 2008
Chicago's 'Cows on Parade' Art Exhibit

Tuesday 15th June to Sunday 31st October 1999
Hundreds of cows promenade through the streets of Chicago
No, it's not the return of the stockyards
These life-size bovine beauties are works of art that were painted, pomaded and all dressed up for the city by Chicago artists, architects, photographers and designers, including several celebrities
Chicago's 1999 summer public art display was originally conceived by Beat Seeberger-Quin and presented in Zurich, Switzerland, during the summer of 1998

CLICK HERE
for the details
***********************************************************************
How did we get this "American Royal" Cow ???
CLICK HERE
for the details
************************************************************************************
More photos of our "American Royal" figurine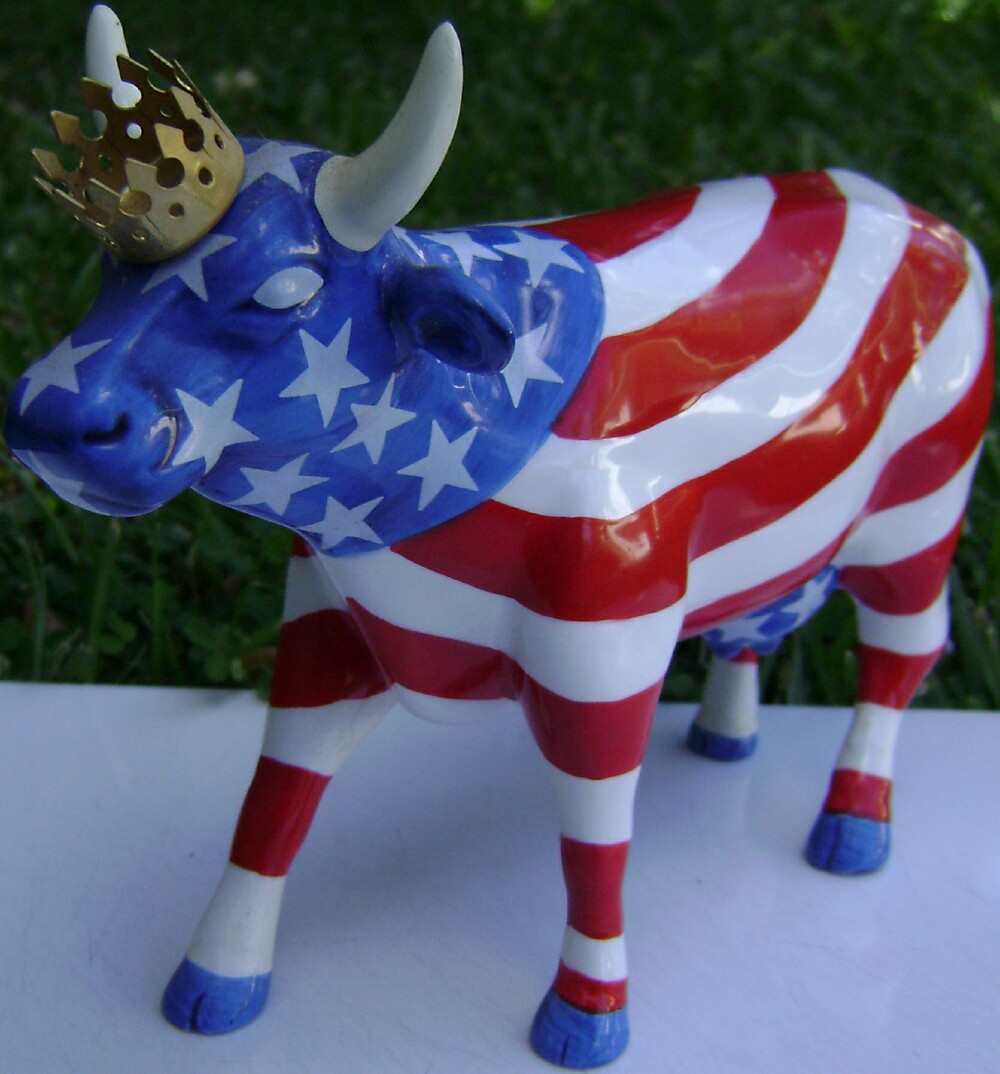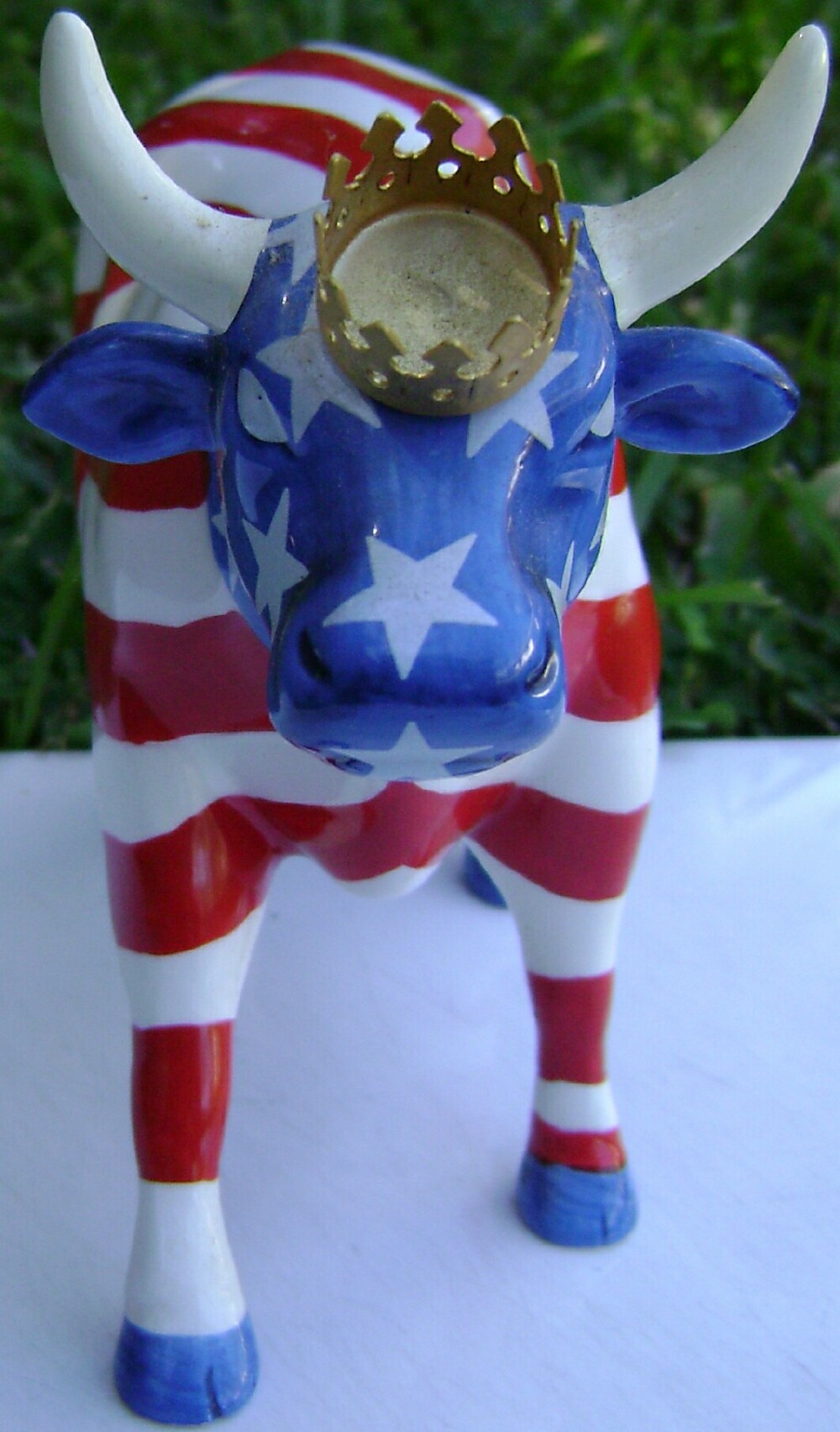 ---