(Return to "Our Home" albumn)
(Return to "Antiques and Collectables" page)
Romanian Mixing Bowl

Manufacturer
- see below in the "Markings and Backstamps" section
Made in Romania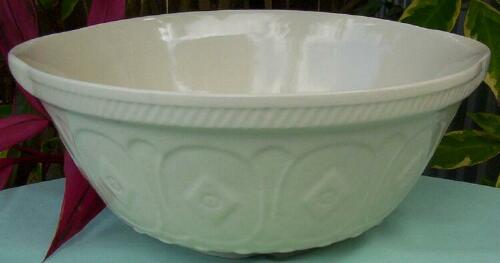 ......and there are larger photos below
********************************************************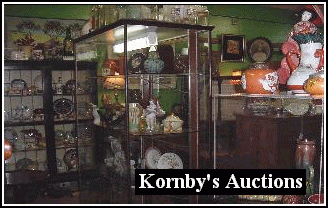 (click on the above picture to go to Kornby's Official Web Site)
Auction starting at 9.00am on Sunday 14th October 2007

Venue - Cairns Showgrounds
Fine Art - Antiques - Collectables
White Goods and Furniture from Deceased Estates and Other Vendors
A note from Geoff on Wednesday 24th October 2007
We went along to the above auction and picked up a few items, including this mixing bowl
Back in September 2006, Sharon bought a mixing bowl for her "kitchen masterpieces"
and click here for the details of this Grindley bowl
This bowl is 23cms wide and it is great
but she was on the look out for one that was just a bit bigger
She found it at this auction, and the bowl now belongs to her
The Price we Paid - $40.00 plus Auction Fees
***************************************************************
More Photos
Measurements
Across the bowl - 28cms
Across the bowl at the handles - 30.5cms
Depth of the bowl - 12.5cms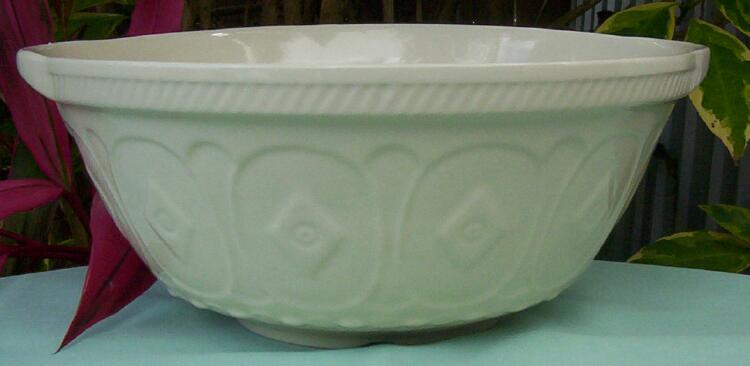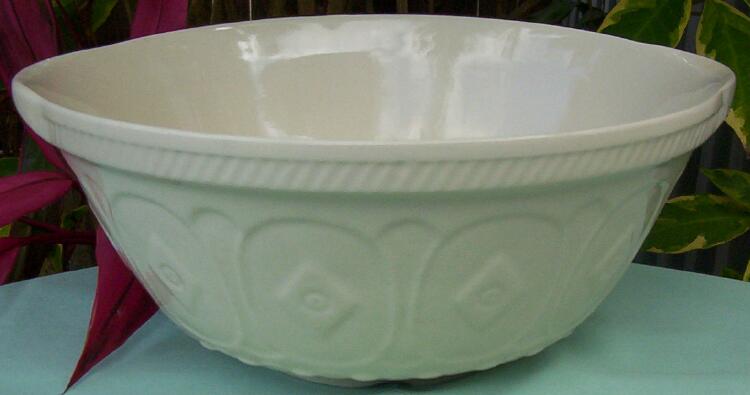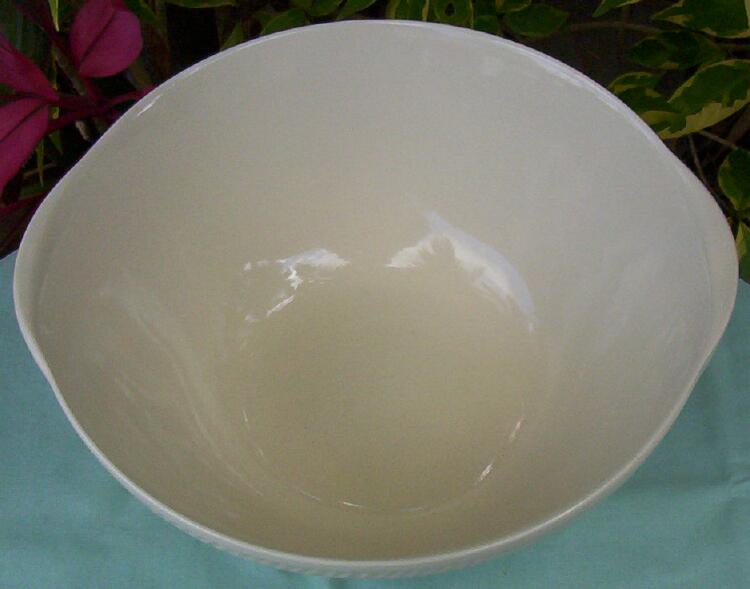 ***************************************************************
Markings and Backstamp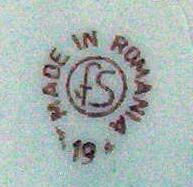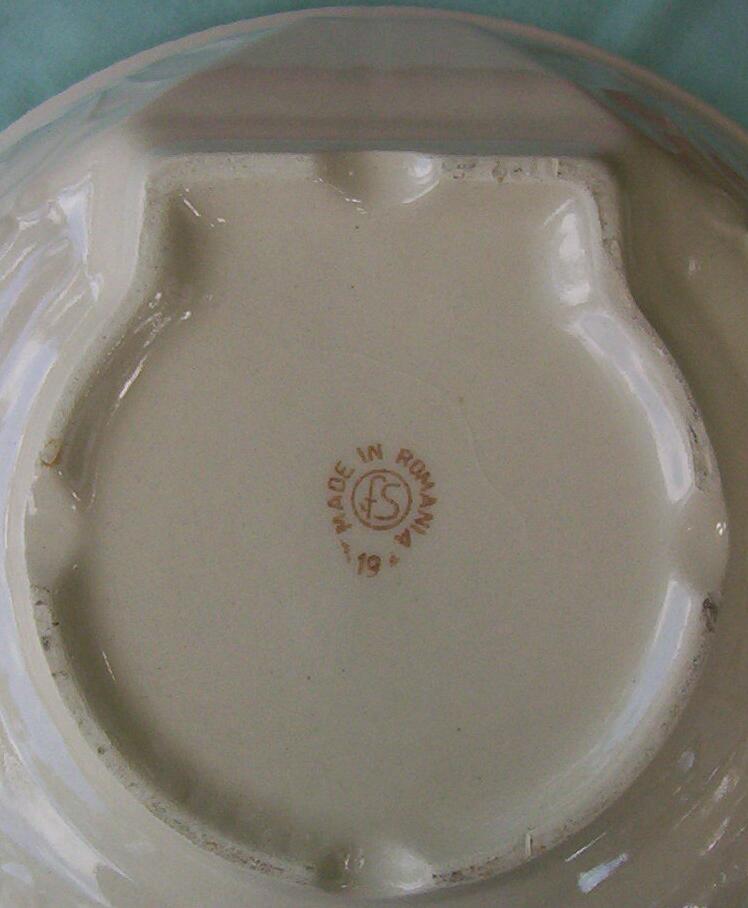 *********************************************************************
Information #01
The following email was sent to ...



... and click on the logo to go to the Official Web Site
A similar backstamp which is described as...
"FS Romania"
Importer's Mark
ca 1950's
Saturday 19th April 2008

....................three of the above photos were included with this note

Hi, and you recently gave me some great assistance with a "Sylvan" backstamp and thanks for that!!
This time I found the mark on your site and it was listed on this page ... mark is shown above
My query is about the description, and I am hoping you can clarify what your note "Importer's Mark" actually means?
The backstamp photo on your site it the same as ours except yours has a "2" at the bottom where as ours has the number "19"
We also know of someone who has a similar bowl with the same backstamp but their's has the number "20" on the bottom
Is there any significance in these number differences? - if it helps, we live in Australia
Thanks again, and I am very glad I found and joined your up with your site as it has been a terrific help!!
Regards, Geoff
Reply from Marks4Ceramics

Hello Geoff, and thanks for your inquiry and clear photos!
Thank you for your kind comments
If there is anything you would like to suggest on improving our site in any way, we will appreciate your feedback!
Yes, this mark is practically identical to the one in our database
"Importer's Mark" or "Trading Company" or "Asian Import" or similar description refers to any company that either has items made to order from one or more factories or selects their wares from a Wholesaler's Catalogue
Some of these companies are exclusive to specific factories or from a specific region of a country (this was particularly true ca 1890's - 1930's on German goods) and some are directly associated with a specific factory as the Distributing Branch of that factory
In this case, 'FS' does not seem to have registered this trademark in any official way abroad so we do not know what the actual initials stand for and may be as simple as the owner's initials
Most of their items date ca 1950's - 1980's
The Number usually denotes the Model Number or perhaps the Size or other internal manufacturing reference of no significance to its identity or age
It may also be a number assigned to a specific factory that this Trading Company has had these items made to order
Thanks again and regards, Elizabeth

'Thank You' note

WoW !! .......... What great Information!!
Thank you, Elizabeth
Really appreciate the effort you take to answer my questions ...... but I'll try not to bother you too much!!
The Backstamps
I am not sure if you add items to your Backstamp Library
In case you do, I have attached a copy of the one that this note refers to ... PLUS ,,, another similar backstamp that I was able to get my hands on ... this mark is shown in Auction #01 below
Looks like "Mr FS" changed the layout a bit!!
Have a good day over there in San Francisco!!
Regards, Geoff
***************************************************************
Other--

--Auctions for similar Mixing Bowls
......for a price comparison!!!
*******************************************
Auction #01
These are not the same type of mixing bowls
Included because of a 'similar' backstamp ... and refer to the emails in "Information #01" above
This auction is for a pair of vintage cream coloured mixing bowl - a rather nice pair that is in very good condition - the larger bowl is 9cm tall and 15cm in diameter, and the smaller is 7.5cm tall and 13cm in diameter - they fit into each other - the bowls are marked Made in Romania - a very nice clean pair of bowls - March 2008
There were no bids @ $15.00
*******************************************
Auction #02
This bowl looks exactly the same as Sharon's
Extremely old mixing bowl - Made in Romania #20 - spectacular and unbelievable condition!! - it has a flat area on side specifically for resting on when you are whisking!! - the bowl is very large being a huge 27cm in diameter and it is 11.5cm high - there are no cracks and no chips - UPDATE - I have been informed by a visiting aunt that her mum had a bowl like this one, and she said that her mum was mixing cakes in it when she was young - my aunt is soon turning seventy, so if this bowl is that old, I hope I age as well as it has!! - I have seen other bowls on Ebay that look the same but have 'Made in China' on the bottom - as mentioned, this one is Made in Romania and has a "FS" on the bottom along with the number 20 - April 2008
Final selling price - $50.85
---