(Return to "Our Home" albumn)
(Return to "Antiques and Collectables" page)
Tower Teapot
Made in England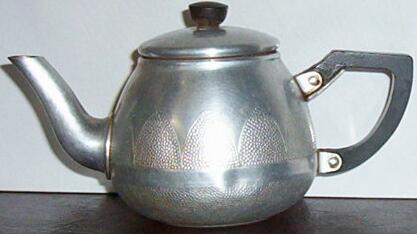 A note from Sharon on Tuesday 1st August 2006


I 'found' this teapot at work

It has been sitting around for years
and no-one used it and no-one wanted it
---so I claimed it and brought it home!!!

The bakelite handle has been repaired
and you can see the white patch near the top of the handle in the above photos
It also has a couple of minor dents

Other than that it displays well - just needs a good clean

It is very small, and measures just 100mm high (4 inches)
and is 180mm (7 inches) across from spout to handle

The markings on the bottom are too feint to photograph,
but they say 'Made in England - Tower Brand'

It is a nice partner to my larger teapots!!!
**************************************************************
Below is the same teapot listed on the auctions at

******************************************
Auction #01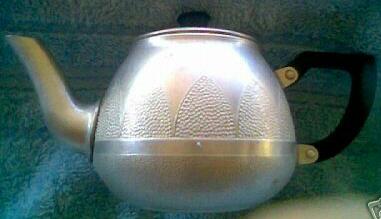 Old Retro Aluminium Teapot
Made in England by Tower
Bakelite handle and lid knob
Aluminium with impressed curved triangular pattern all around
The teapot is approx 9cm tall and 18cm across from spout to handle
Condition - two small dents to underside and one small dent on the spout
And it needs a good clean inside
It would be great for collectors!!!
Item location - Sydney, Australia
This auction was during July 2006
It was listed under the Ebay "Buy-it-Now" system
The price was $6.99
Ebay Notice - This item has ended
The seller ended this listing early - no bids
---