(Return to "Our Home" albumn)
(Return to "Antiques and Collectables" page)
Nutbrown Egg Slicer
Made in England
From the 1940's/1950's (???)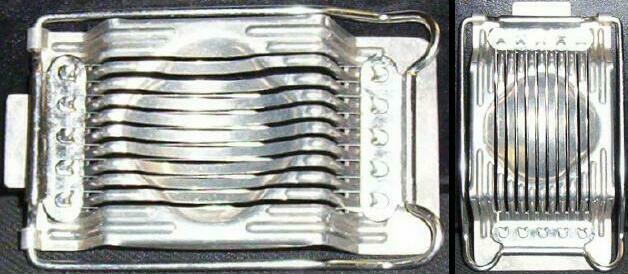 A note from Sharon on Thursday 25th May 2006

"When I was in Adelaide for Mother's funeral (July 2001) I brought home a few bits and pieces
All the family took the mementos they wanted

However, there was a lot left and as Lesley said, when the house was ready to be sold
someone had to empty it and she got the job!!
She ended up with heaps of stuff and is still going through it five years later!

At a recent "cousins" gathering that Lesley organised, she gave little bags with
"Memorabillia from Mother and Dad"
in them for all the guests
She said everyone was pleased to receive them!

I was in Adelaide during March 2006 and Lesley asked me if I wanted this egg slicer

There is no real dollar value to this slicer
I am just really glad to use the little things that my Mother used!!!"
Size of this slicer - 5.125 inches x 3.125 inches
(13cm x 8cm)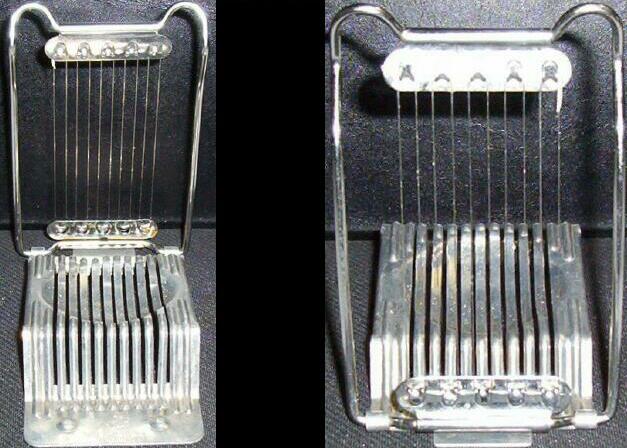 The Nutbrown Company
The Nutbrown Company has been making pie vents
and other traditional British kitchenware in England for 50 years or more
Nutbrown began life as Thomas M. Nutbrown in 1927
and registered himself as Thos M. Nutbrown in 1932
The company closed in 1988,
but Nutbrown products are now made by Fiskers UK Ltd
......and below are the markings on the slicer
******************************************
Below are some other egg slicers listed on the auctions at

NOTE
- there are "a lot" of slicers listed on Ebay!!!
Most of them are brand new items
The auctions below are those that included the word "VINTAGE"
******************************************
Auction #01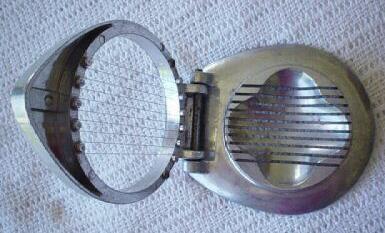 Vintage Cast Metal Egg Slicer
Perfect working condition!!
It can be used for many years to come!!
The slicer measures 13cm x 11cm
It is very solid metal with the base actually shaped like a horse shoe
You can put the egg either way and it will slice through like a hot knife through butter
- the perfect sliced egg every time
A beautiful old collector's piece or it can be for every day use in the kitchen
Item location - Brisbane, Queensland Australia
This auction ended on Thursday 25th May 2006
The starting price was set at $7.00
There were no bids
******************************************
Auction #02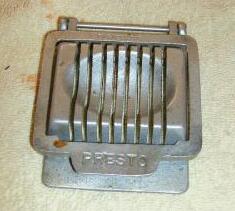 Vintage Egg Slicer
Here for auction is a vintage egg slicer
Made by Presto
It is in a nice shape
All the cutting strings are intact
The slicer could use a good cleaning!
Item location - La Grange Park, Illinois United States
This auction ended on Monday 29th May 2006
The starting price was set at USD$1.99
There were no bids
******************************************
Auction #03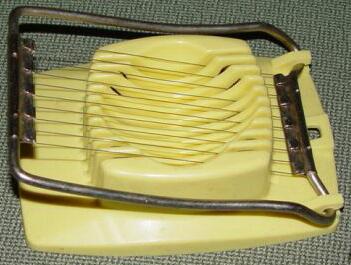 Vintage Yellow Egg Slicer
This is a yellow Ekco brand egg slicer
It is made of plastic with a stainless metal slicer
that comes down over the top of the egg slicing it to perfection
Great for the retro kitchen!
Excellent condition
The slicer measures 5" long by 3" wide by 1.5" tall
Item location - Omak, United States
This auction ended on Tuesday 30th May 2006
The starting price was set at USD$6.00
There were no bids
******************************************
Auction #04
Vintage Egg Slicer
A neat find!
This auction is for a very neat egg slicer
I picked it up a local sale and thought it looked interesting
This piece measures 4" across
It is in good condition
Item location - Barboursville, West Virginia United States
This auction ended on Wednesday 31st May 2006
The starting price was set at USD$0.99
There were no bids
******************************************
Auction #05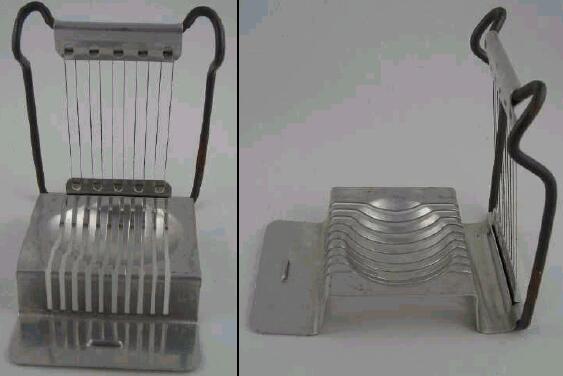 Vintage Aluminum Egg Slicer
This egg slicer is in good condition and made of aluminum
This would be good for your collection or for use in your kitchen
Item location - Licking, MO United States
This auction was listed under the "Buy-it-Now" system
The price was set at USD$4.00
Slicer did not sell
******************************************
Auction #06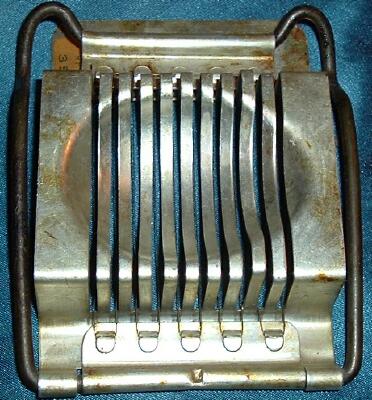 Egg Slicer Vintage
This is a vintage hard boiled egg slicer
It works much like a cheese slicer with cutting wires that move on a hinged frame
Unknown designer or manufacturer
Vintage item from an old Norwegian estate
Some light cosmetic wear, but overall it is in very good condition
Item location - Seattle, WA United States
This auction was listed under the "Buy-it-Now" system
The price was set at USD$1.90
Slicer did not sell
******************************************
Auction #07
......and this looks to be exactly the same as Sharon's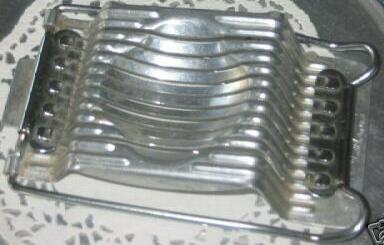 Vintage 1940/50's Nutbrown Egg Slicer
These vintage Nutbrown kitchen gadgets are just great
and are so much more sturdy than what you buy to-day
It is in very good condition
Item location - Woy Woy, New South Wales Australia
This auction ended on Sunday 9th July 2006
The starting price was set at $5.99
There were no bids
******************************************
Auction #08
The style is different, but this one is also made by Nutbrown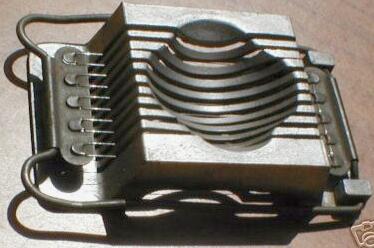 Vintage 1940/50's Nutbrown Egg Slicer
Very good condition
Item location - Dursley, United Kingdom
This auction was listed under the "Buy-it-Now" systen
The price was set at GBP3.00 = AUD$7.40
Sold for GBP3.00 = AUD$7.40
---