(Return to "Our Home" albumn)
(Return to "Antiques and Collectables" page)
Swan "The Carlton" Teapot
Made in England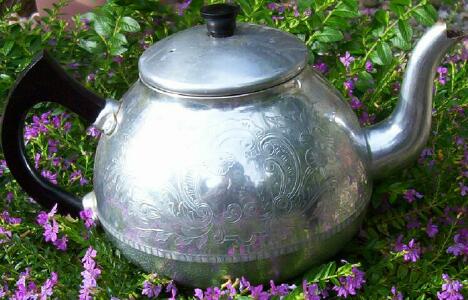 A note from Sharon on Monday 22nd May 2006

"This was my Mother's
and I brought it back from Adelaide after she died in 2001

It came with a nice tea cosy too

I don't know how long she had it or where it came from
I do know that it was around before we were married (January 1975)
as I remember it sitting on the table!!
It is an eight cup teapot and there was lots of tea drunk in our house!!

We don't use it now - 'Tea Bags were the ruination of Tea Pots'
but it is nice to have because of the memories"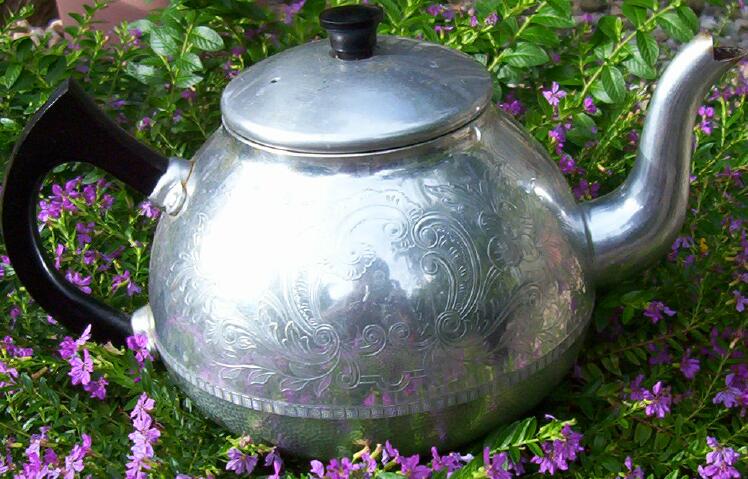 The Backstamp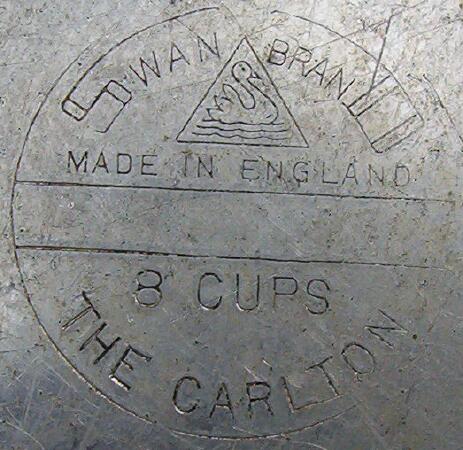 **************************************************************
Below is the same teapot listed on the auctions at

******************************************
Auction #01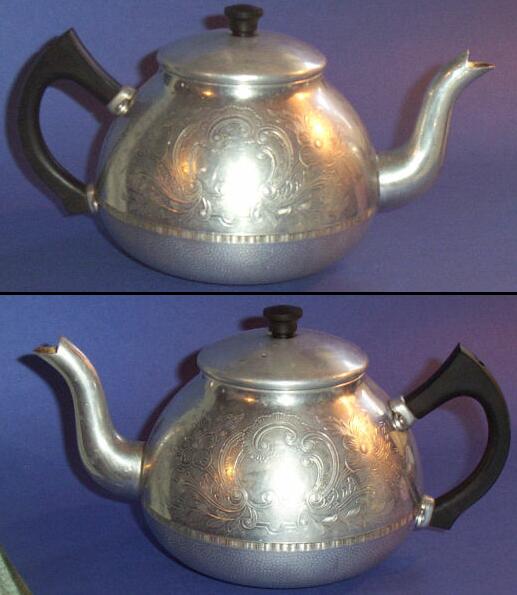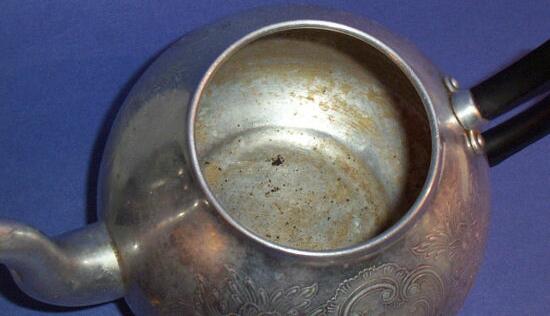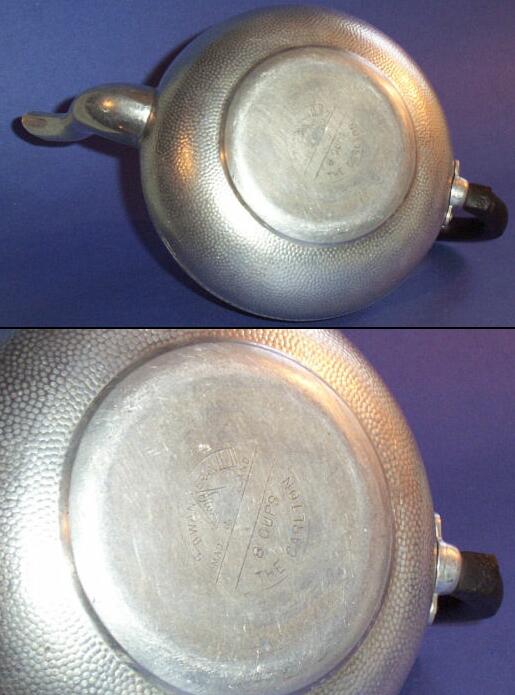 Large Swan Brand Teapot
The Carlton
I acquired this at an auction
A very large teapot with bakelite handle and knob
It has an pretty ornate design
It shows minimal wear and tear
The inside has tea stains, but I think they can be cleaned off with some elbow grease
The base is incised and reads "Swan Brand Made In England 8 Cups The Carlton"
Ideal for afternoon tea and crumpets
The teapot measures approx 5.5" tall x 10.25" from outside of handle to tip of spout
and it is 6" across - and it weighs 286 grams
Item location - Cherry Valley, Canada
This auction ended on Sunday 21st May 2006
The starting price was set at USD$6.25 and there was one bid during the auction
The final selling price was USD$6.25 = AUD$8.26
******************************************
Auction #02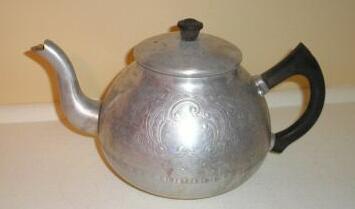 The Carlton Teapot
Swan Brand
Made in England
Eight cups
The teapot is in very good condition
It is silver with a black handle
Measurements - 5" high and 9.25" inches from spout to handle
Item location - Coshocton, OH United States
This auction was listed under the "Buy-it-Now" system
The price was set at USD$15.00
Sold for the set price of USD$15.00 = AUD$20.25
******************************************
Auction #03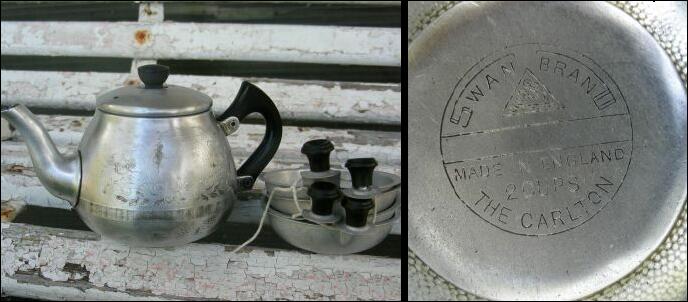 Beautiful Old Tea Pot and Egg Poaching Cups
An aluminium teapot
I am not sure of its age, but it is very old
The teapot has a bakelite knob and handle
It has a few little dents and needs a clean inside
It measures 10cm high and 10cm wide at the bottom
The four egg poaching cups also have bakelite handles
They measure 7.50cm in diameter
These will make a nice addition to any collection
Item location - Sydney, New South Wales Australia
This auction was listed under the "Buy-it-Now" system
The starting price was set at $25.00
There were no bids
(item deleted from auction listing by seller)
******************************************
Auction #04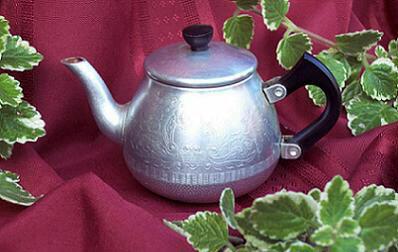 Small Silver Vintage Tea Pot with Bakelite Handle
Very cute small tea pot
Decorative pattern etched all over
In excellent condition
Measurements - 16cm wide from spout to handle and is 10cm high
I remember my Great-Grandmother using this!
A very nice collectors item!
Item location - Toongabbie, New South Wales Australia
This auction ended on Sunday 4th June 2006
The starting price was set at $9.99 and there was one bid during the auction
The final selling price was $9.99
******************************************
Auction #05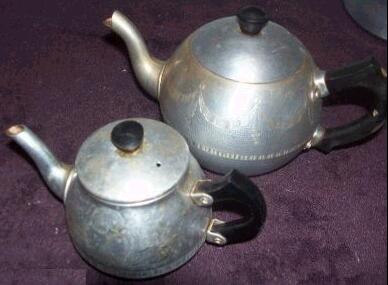 Old Collectable Tea Pots
Two old tea pots
Both of these are Swan Brand
One is a four cup and the other is a two cup
Good condition
Item location - Melbourne Victoria, Australia
This auction ended on Sunday 4th June 2006
The starting price was set at $6.00
There were no bids
******************************************
Auction #06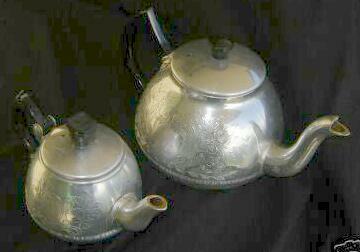 Vintage Swan Teapots
Both teapots are in pretty good condition - see the photo
Item location - Yorke, South Australia Australia
This auction ended on Monday 21st August 2006
The starting price was set at $15.00 and there was one bid during the auction
The final selling price was $15.00
******************************************
Auction #07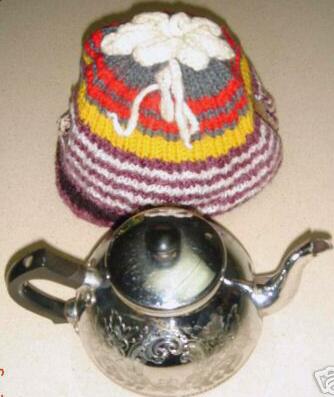 Swan Brand Four Cup Teapot and Two Cosies
Chrome plated
Written on the bottom is:-
"D6 - Swan Brand - Made in England - Swan-Cromalin - Four Cups - The Carlton"
And "The Carlton" may refer to the design
It has a couple of small dents
It could do with a good polish to make it shine again!!
Has a black handle and knob
The teapot is in not bad condition, considering its age
The outside cosy is in good condition, and the inner one is tea stained
as it was used to keep the heat in the teapot while it was drawing
Length from handle to spout is 21cm
The width is 13cm and the height is 12cm
Great for someone just setting up a home or flat!!
Item location - Templestowe, Victoria Australia
This auction ended on Tuesday 22nd August 2006
The starting price was set at $5.99 and there was one bid during the auction
The final selling price was $5.99
******************************************
Auction #08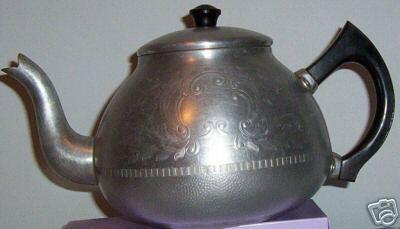 Old Retro Teapot
Very old
Silver colour
On the base it says "Made In England - The Carlton - Eight Cups"
The teapot has a black handle and black knob on lid
It has quite a pretty pattern etched on it
In good condition but well used
Item location - Albany, Western Australia Australia
This auction ended on Wednesday 23rd August 2006
The starting price was set at $1.99 and there were three bids during the auction
The final selling price was $10.00
******************************************
Auction #09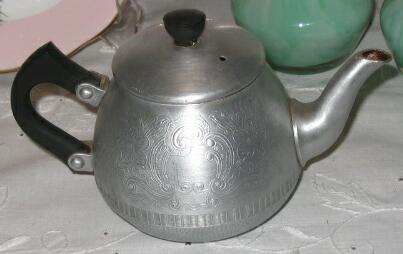 Vintage Swan Brand Aluminium and Bakelite Teapot
Shabby chic!!
You are bidding on this sweet little vintage tea pot
Made in England by Swan Brand, and named 'The Carlton' two cup pot
I would think of it more as a one mug pot, but this lovely little pot
came from a time when dainty little cups of tea where the thing!!
This pot is made of aluminium and has bakelite handles
I believe it dates to around the 1940's
This little tea pot has had a bit of use, and has some tea staining on the inside
And a few little dings on the outside, but overall it is completely charming
The collector of vintage kitchenalia will adore it!!
Item location - Beautiful Lake Macquarie, NSW Australia
This auction ended on Saturday 26th August 2006
The starting price was set at $6.00
There were no bids
---