(Return to "Our Home" albumn)
(Return to "Antiques and Collectables" page)
Waterford "Lismore" Crystal Perfume Atomiser
Item Number - 769 318 0033

Made in England

A note from Geoff on Monday 21st November 2005
"I bought this as a "Surprise Present" for Sharon
It will look fabulous on her antique dressing table which is shown here"

---The Ebay Auction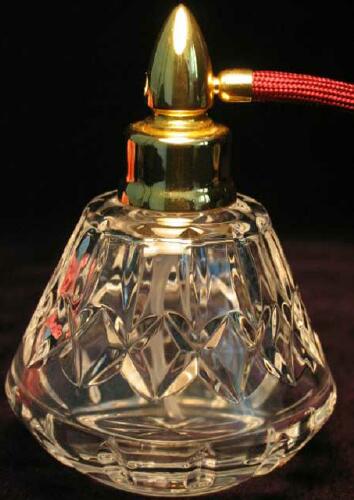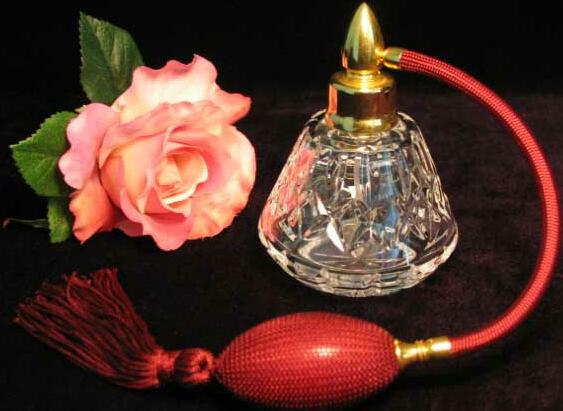 Signed Waterford Crystal Perfume Atomiser

Amazing!
Here for auction is something special to make a woman feel extra special!
This is a Waterford crystal perfume atomiser
This is one of the world's most brilliant crystal manufacturers
This atomiser is proof of their rating!!
The height is 11.50cm (4.50 inches)
There is no visible wear and no damage of any kind
The puffer works perfectly - I doubt it has ever been used
The famous "WATERFORD" name is etched below
This is wonderful and will make someone very happy
A note sent to the seller during the auction

Just a question re the atomiser
Do you have any idea of the age of it???
......and the reply
No, I don't
The condition is as close to brand new in appearance as you could get
But I have a sneaking feeling it's got some age - maybe 1960's
One of those items that was put away for a special occasion which never ever came!!
Item location - Queensland Australia
This auction ended on Monday 21st November 2005
The starting price was set at $0.95 and there were twenty-two bids during the auction
We won!!! - with a bid of $137.50 plus postage and insurance
**********************************************************
Official Waterford Web Sites

(click on the logo to go to the Web Site)

(click on the logo to go to the Web Site)
An email I sent to Waterford International on Tuesday 29th November 2005

Hello
I am writing from Cairns in Queensland, Australia
I have recently purchased my Wife a beautiful Waterford Crystal Perfume Atomiser
She loves it!!!
I purchased it second-hand, and I am not sure how old it is - but it is great!!!
I am writing to ask for your assistance in identifying the pattern name
I have some perfect and very clear photos of the item,
and I have attached these to this email
Please understand that I am not interested in a valuation - not at all!!!
I would just like the pattern name and maybe an approximate manufacture date
I hope you can help me out
Thank you for your time
Regards, Geoff
......and their reply
Dear Mr Roneberg
I refer to your attached query
We have identified this item as a Lismore Atomiser
with the Item Number - 769 318 0033
This item was available to order up to 2004
I trust this information has been of assistance to you
Please do not hesitate to contact me with any further queries you may have
Yours sincerely
Elaine O'Brien
eobrien@waterford.ie
Customer Care - Waterford Crystal Limited
**********************************************************
Sales of other "Lismore" Atomisers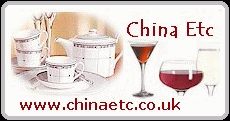 (click on the logo to go to the Official Web Site)
The item below was advertised on the above site during November 2005
It is similar to Sharon's, but has a different top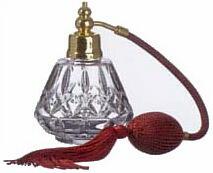 Waterford Crystal "Lismore" Atomiser
$110.00
**********************************************************
Other types of Atomisers

Stuart Crystal "Fuchsia Pattern" Perfume Atomiser

This perfume atomiser is in excellent condition
It measures 6 inches high
It has the Stuart Crystal blue label and is etched Stuart on the base
Item location - West Sussex United Kingdom
This auction ended on Thursday 24th November 2005
Price - $15.15
**********************************************************
Other Notes and Information

The information below is from



and click on the logo to go to their web site
or click here to go directly to the "Waterford" pattern list
or click here to go directly to the "Lismore" items page
(these pages/details were available as at Monday 5th December 2005)
There is a Lismore Perfume Atomiser listed,
but there is no photo, details or price
**********************************************************
Waterford Crystal History
In 1783, George and William Penrose opened a glass company in Ireland called Flint Glass Works

Although glassmaking had been popular throughout England and Ireland for a number of decades, the high rate of taxes and a number of Parliamentary Acts made it nearly impossible for one to open a productive glasshouse
The Parliamentary Act of 1780 opened free trade to the Emerald Isle

In Waterford County, Ireland, George and William Penrose began building a glass factory

Ironically, the brothers were not skilled in the art of blowing and cutting glass and viewed the opening of the glass works as a potentially profitable business under the new trade laws
They hired John Hill of Worcester's Stourbridge Glass Works and brought in fifty skilled artisans from the European continent
John Hill was named the Company's Managing Director

From the outset, the brothers demonstrated a keen sense of business
They began by petitioning Parliament for Government subsidies
By pointing out that England and Ireland would reduce its import of glass and by promising to run a business that would employ sixty to seventy employees, George and William were granted a 10,000 pound subsidy

After having set up their business, the brothers began to woo the aristocracy of Ireland and England
In 1788, Waterford produced a glassware service as a gift to her Majesty, Charlotte Sofia, wife to King George III
The King and Queen were so charmed by the crystal service that they ordered the set to be displayed at Cheltenham
Local newspaper reporters were thrilled by the sight of Waterford's curious design

In 1790, George and William invited the aristocracy to tour their factory
Dignitaries such as the Countess of Westmoreland, the Marquis and Marchioness of Waterford, and the Bishop of Ossory arrived in Waterford and were delighted by the manufacturing process shown to them

The original owners and their managing director decided to sell the old Flint Glass Works in 1799
Waterford was purchased by Jonathan Gatchell, an apprentice at the factory

Between 1800 and 1823, Waterford grew most rapidly
Jonathan Gatchell developed a plan by which his children could inherit and manage the glass works at Waterford
Also, Gatchell constructed a larger factory and hired twenty-five more employees

Jonathan Gatchell's son, George inherited the factory in 1835, on his 21st birthday

The old Flint Glass Works would only survive for another sixteen years

New taxes were levied on the import and export of crystal under the unction of King George IV
Unable to find a partner with a considerable amount of contributive capital, George Gatchell auctioned off the Waterford's Flint Glass Works factory

In 1851, Flint Glass Works closed its doors and remained closed for more than a century

To understand how and why Waterford's Glass Works would be reopened in the 20th century, one must understand the legends that developed around the famed glass maker
Waterford had been the only successful manufacturer of crystal in Ireland
The company represented the industrial revolution to the Irish people

Flint Glass Work's product was sought after by the aristocracies of Europe

After the company's closing, many of the Irish people would struggle for Independence from England
The struggles and civil wars in Ireland left the agrarian peoples of the Isle poor and disillusioned

During the 19th century, nearly half of Ireland's population would immigrate to the United States
With them, they brought stories of Ireland's famed glassmaker, Waterford
Before this point, no backstamps or "signatures" were used on crystal
As a result, it became vogue for Americans to refer to their crystal as Waterford

The Irish told stories of Waterford crystal having the clearest ring of all glass
At dinner parties, people began tapping their crystal with their silver to hear what type of ring it would produce

Another myth that developed around Waterford was that "it was so clear, that it was blue."
Consequently, blue glassware in the United States began being referred to as Waterford

During the 1930's, Ireland set out to develop a modern industrial society
Wanting more industry and to slow the number of immigrants, Ireland began inviting wealthy prospectors into the country
A group of Belgians, lead by two Irishmen, Joseph McGrath and Joseph Griffin, invested in the nearly defunct Irish Bottle Co
The partners opened what they called a "pilot factory"
This factory, in Ballytruckle, Ireland, successfully weathered hardships resulting from the great depression as well as the Second World War
By 1950, McGrath, Griffin, and Bernard Fitzpatrick, an important shareholder in the company, decided to revive the Waterford tradition
The Irish state remained poor with an unskilled labor force
The managing partners, like the Penroses before them, went to the European continent to find a skilled labor force
Their work was not hard as displacement camps throughout Europe remained full
Displacements camps were set up following the Second World War for those whose homes were destroyed or for people who had been transported to death or labor camps by the Nazis
Czechoslovakia and the Sudetenland were famed for their glassblowers and cutters
The people of Czechoslovakia and the Sudetenland were hardest hit and most poor as a result of the Second World War because they were first in sight of Hitler's conquest for Europe
McGrath and Griffin returned to Ireland and brought with them thirty skilled glass blowers and cutters
They began an apprentice program like none other
The thirty men brought from Europe trained Irishmen in the arts of glassmaking
Although these displaced artisans stayed for many years, all but one returned to the continent

A new factory was built in Johnstown in Waterford County
In 1951, the new factory opened exactly 100 years to the day that the old Flint Glass Works closed in 1851

Today, Waterford employs more than three thousand people
Their business remains steeped in tradition

The apprenticeship program that was instituted in 1951 to ensure the employment of Irishmen remains
Their crystal stemware can be found on tables throughout the world
Their chandeliers hang in buildings such as Windsor Castle, Westminster Abbey, and the Kennedy Center

Each pattern or "suite" of crystal made by Waterford reflects the Irish spirit and the history of the Emerald Isle

Many of Waterford's pattern names are those of young and beautiful girls. Alana, first produced in 1952, is a girl's name meaning "darling"
Sheila came from Anglo-Norman Caecelia and has evolved into Cecelia
Colleen was first produced in 1968 and is the Irish word for "young girl"
The name is almost never used in Ireland as a first name but is quite common in the United States
In 1968, Waterford produced Ashling
Ashling is a girl's name meaning "dream of beauty"

Other patterns by Waterford have been introduced to celebrate the isle itself
The Lismore pattern was first produced in 1957 and celebrates Lismore Castle in Waterford County
Powerscourt was first produced in 1969 and was produced in celebration of the Powerscourt Gardens in County Wicklow which is famed for its collection of Asian botanicals
Kenmare was first produced in 1968 and reminisces of the seaside town Kenmare in Kerry County

As Waterford has grown, it has introduced several lines of Christmas ornaments as well as giftware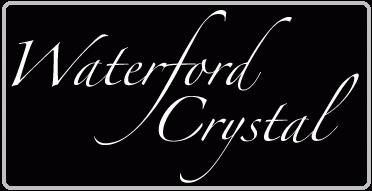 ---