(Return to "Our Home" albumn)
(Return to "Antiques and Collectables" page)
(Return to "Antiques and Collectables - Personal Items" page)
Carlton Ware "Rouge Royale" Lidded Trinket Dish
Pattern Number - (??? see below)
Shape Number - 1682 (??? see below)

Made in England

A note from Geoff on Thursday 20th October 2005
"I bought this as a 'Surprise Present' for Sharon!!!
She has a number of clear and green items on her dressing table
and this should look terrific with them!!! - well, I think so!!!
If you want, you can click here to have a look at her dressing table"
***********************************************

- The Ebay Auction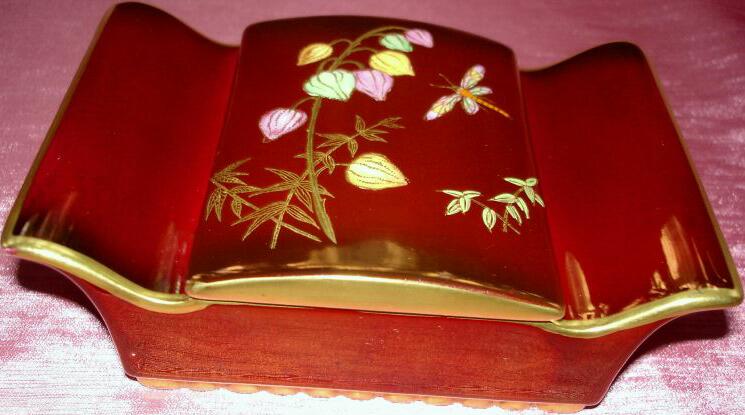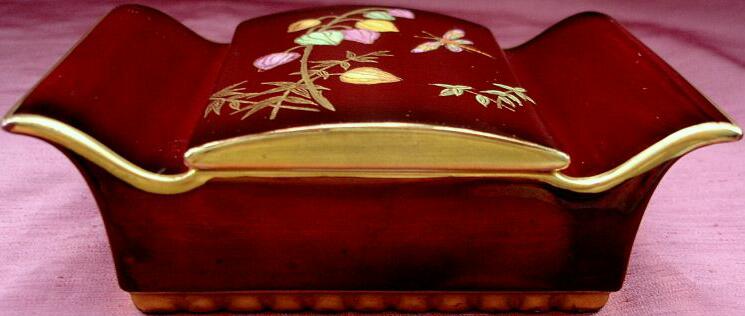 Quality Carlton Ware Trinket Dish
Handpainted on a "Rouge Royale" background and depicting flowers and a dragonfly
Circa 1940/1950's
A stunning shape with pearlised interior
This is the perfect Christmas gift for the lady in your life
Measurements - 5.00 long x 3.50 wide x 1.50 high (in inches)
The condition is excellent
No chips, cracks, crazing, scratches staining or restoration
The gilding is 99.9% perfect - just a very slight age rubbing to the extreme corners
- only mentioned for complete accuracy
Item location - Bournemouth Dorset BH65EF United Kingdom

The auction finished on Thursday 20th October 2005
The starting price was set at $11.77 (GBP5.00)
and there were thirteen bids during the auction
We won with a bid of $84.46 (GBP36.10) plus postage and insurance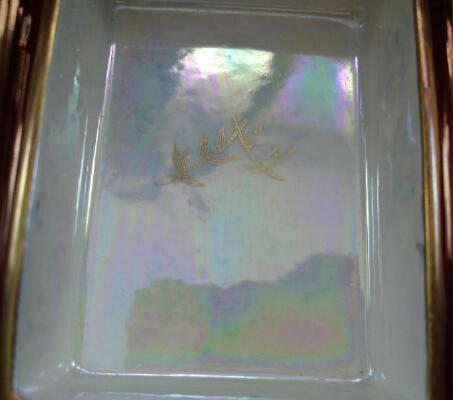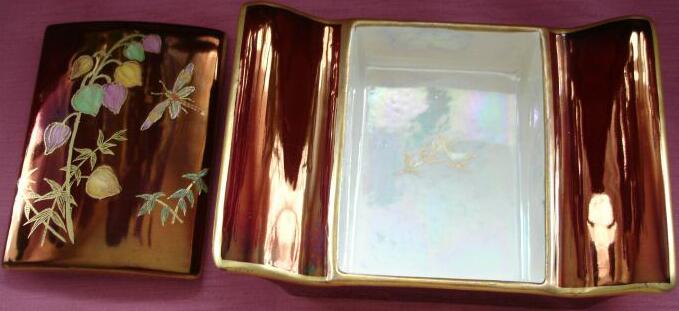 A note from Geoff to the seller - Tony Marsden

Hi ya - and I won the Carlton Ware auction!!!
My Darling Wife will be surprised!!! --- and happy!!!
I was hoping you could help me out
In the photos there is a shot of the backstamp
Just to the left of the Carlton Ware mark, there seems to be an impressed number
Would you be able to let me know what that is???
I am just trying to find out the Pattern Name and Number and the Shape Number
I have received your invoice, and I am just about to make the GBP42.85 payment via PayPal
Regards, Geoff
......and his reply
Hi Geoff
The item is already double-boxed and ready to go - and well done on winning the auction
Trinket lidded items usually have no pattern number and the impresion is not readable
but I have attached another picture (included below)
All the best, Tony
......another note
Hey - thanks for the note and info and photo
Sharon will like it no matter what it is called!!!
Have just made the payment
Have a nice day (or is it evening!!!) over there
Regards, Geoff
......and his reply
Hi Geoff
It's 9.30pm!!
I'm sure your lady will adore and treasure it
All the best, Tony
***************************************************************
The Backstamp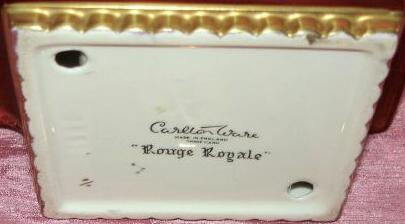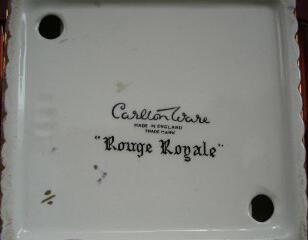 ***************************************************************
NOTE #1 - Dating Carlton Ware
The following information is from the links included in this logo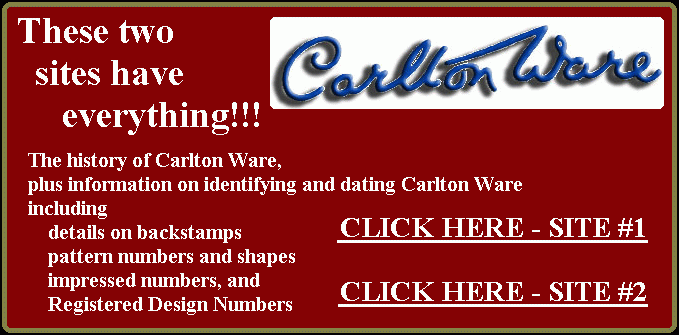 Intoduction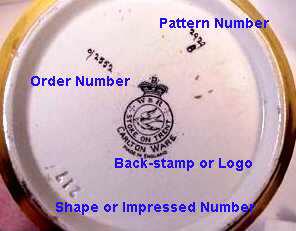 To help date Carlton Ware you need to look at
(1) the Carlton Ware (or W&R) backstamp or logo,
(2) the pattern number (usually handpainted) on the base, and
(3) the impressed number on the base

Sometimes the pattern numbers and impressed numbers are not present or are very difficult to read

In the picture above, the pattern number is '2929' and the shape or impressed number is '217'
The marking of '0/2552' is an order number
Backstamp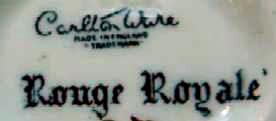 The following table provides a rough indication of the date a piece of Carlton Ware was made
by looking at the backstamp

NOTE - the above backstamp was taken from the table mentioned above,
and it looks very similar to the stamp on the item bought on Ebay

The dates given in the table were 1940+
Shape - "???"
Refer to the email below
Pattern Number - "???"
Refer to the email below
***************************************************************
NOTE #2 - Pattern and Shape Names and Numbers
An email sent to "admin@carltonware.com" on Thursday 20th October 2005

(this is the first web site listed in the above panel)

Hi, and I am hoping you can help me identify a piece of Carlton Ware

I have your book, "A pocket guide to Carlton Ware", and have gone through it page by page,
but cannot see a picture similar to the pattern on this trinket box

I have also been to your website, and looked at "a million patterns"!!!
- but again I cannot find anything similar
I used various search words, including dragonfly, flowers, rouge royale
- but could not find anything

Then I had a look at another book we have called "The Carlton Ware Collector's Handbook"
- but the same result!!! - nothing similar

My final hope was Ebay - and I looked through every item of Carlton Ware hoping that
someone had listed an item with a similar pattern - but again, I did not have any luck

So I am writing to ask for your help

Could you let me know the Pattern Name and Number???
Also, I have been told that the Shape Number is "1682"
and are you able to confirm this for me???

I have put this number into your web site search, but nothing is listed
I have also looked for this in both the books mentioned above,
but this number is not mentioned

Three photos are attached, showing the pattern and backstamp

I would really appreciate your help, and I look forward to hearing from you
- and please feel free to use these photos on your site if you wish to
- and I have others should you require them

Thank you - Regards, Geoff
......and the reply


Hi Geoff
Thanks for the pictures

Unfortunately we don't have a pattern number for this
but we do have it on the web site under reference "8094 Chinese Lanterns"

It wasn't put in the book because we didn't have a pattern number

We think it was produced in the 1950's-1960's

We'll add your pictures to the web site in due course

Regards - Czes and Yvonne
Here is the description of the pattern plus two photos refered to above
Floral decoration with Chinese Lanterns and a Dragon Fly
Rouge background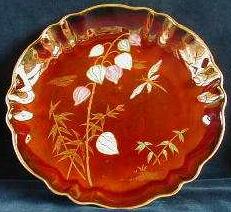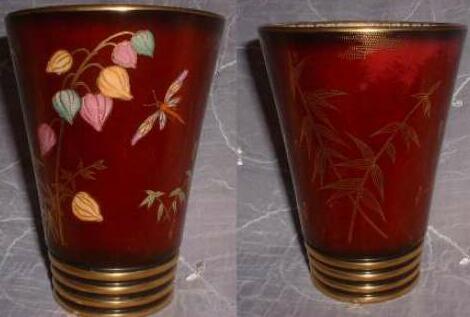 ***************************************************************
NOTE #3 - Sales and Pricing

The information below is from



and click on the logo to go to their web site
or click here to go directly to the "Rouge Royale" items page
(these pages/details were available as at Thursday 20th October 2005)
Carlton Ware "Rouge Royale"
Shape #???
Pattern Description - Dark Red, Gold Trim
Items similar to ours were not listed
***************************************************************
NOTE #4 - Carlton Ware Information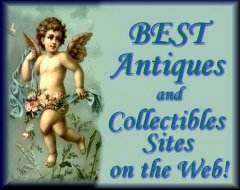 Click on this logo
The page has heaps of details and photos of Carlton Ware
It also includes this Message Board


which you can join if you want and have
"lots of chats with like-minded people!!!"
(these pages/details were available as at Thursday 20th October 2005)
***************************************************************
Other--

--Auctions for similar Trinket Boxes
......for price comparisons!!!
***********************************************
Auction #01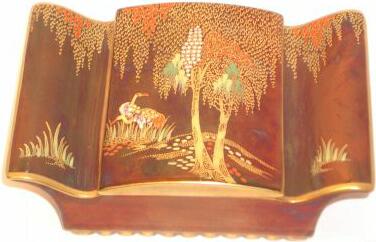 A Similar Trinket Dish
This is a very stunning Carlton Ware "Rouge Royale - New Stork Pattern" trinket box
The numbers on the base are "4340" (= Pattern) and "1682"
It measures 5.25 long x 3.50 wide (in inches)
Condition is very good - no chips, cracks, restoration or wear
Item location - Glasgow United Kingdom
The starting price was set at $164.85 (GBP69.99)
and there was a "Buy it Now" price of $235.51 (GBP99.99)
The auction is due to finish on Sunday 23rd October 2005
There were no bids - item was not sold!!!
***********************************************
Auction #02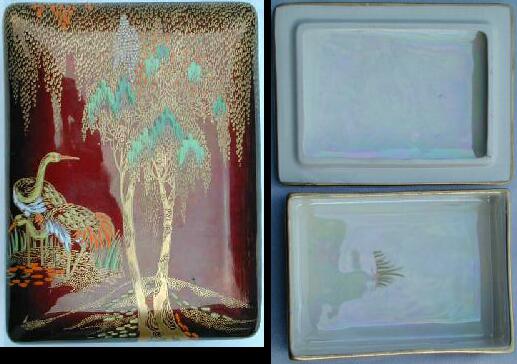 Another Trinket Dish
Carlton Ware "Rouge Royale" Trinket Box
A lovely pattern
Perfect condition
There is no gilt loss, scratches or imperfections
Measurements - 5.5 inches x 4.5 inches
This auction ended on Friday 25th November 2005
The starting price was set at $149.35 and there were six bids during the auction
The final selling price was $202.50
***********************************************
Auction #03

Carlton Ware Rouge Royale Lidded Trinket Box
Handpainted
A very pretty lidded trinket box produced by Carlton Ware
It is a beautiful rouge royale with hand painted flowers, bird of paradise and dragonfly
Inside it has a hand painted floral design with a pearlised base colour
The handles have a butterfly on one and a dragonfly on the other
It has a gilded fluted design around the base
It measures 5.00 inches wide inc. handles, nearly 3.50 inches long, and 1.25 inches high
Printed on the base in yellow is "Carlton Ware - Made in England"
It also has the impressed number '1682' on the base
It is in excellent condition
No chips,cracks or wear and all the gilding is intact
Item location - Hertfordshire, United Kingdom
This auction ended on Wednesday 19th July 2006
The starting price was set at GBP9.99 (AUD$24.33) and there were ten bids during the auction
The final selling price was GBP34.89 = AUD$84.76
***********************************************
Auction #04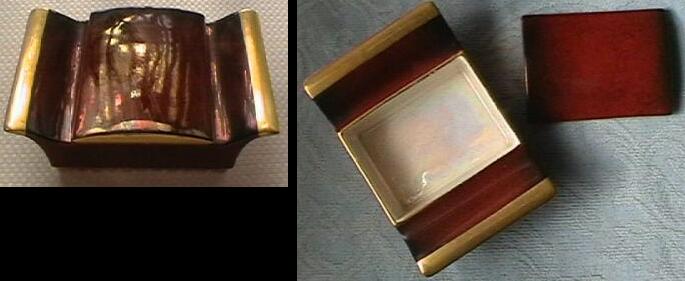 Carlton Ware Rouge Royale Trinket Box
A classic piece of Rouge Royale Carlton Ware
A trinket or cigarette box with a lovely pearlised interior
Fully marked on the back
Measures 13cm in length, 9cm in width and 4cm in height
Great condition - there are no nicks that I can see
Item location - Melbourne, Victoria Australia
This auction ended on Sunday 15th July 2007
The starting price was set at $20.00 and there were six bids during the auction
The final selling price was $34.00
---