(Return to "Our Home" albumn)
(Return to "Antiques and Collectables" page)
Carnival Glass Vase - Amethyst

A note from Sharon on Friday 2nd September 2005

"I have always wanted a piece of Carnival Glass
This piece came up for auction and it seemed a reasonable price
So we made a bid - and we won!!!
So I now have my piece of Carnival Glass - and I want more!!!"
NOTE - after looking at the photos and reading the information on this page,
click here for some "outdoor shots" of this vase

- The Ebay Auction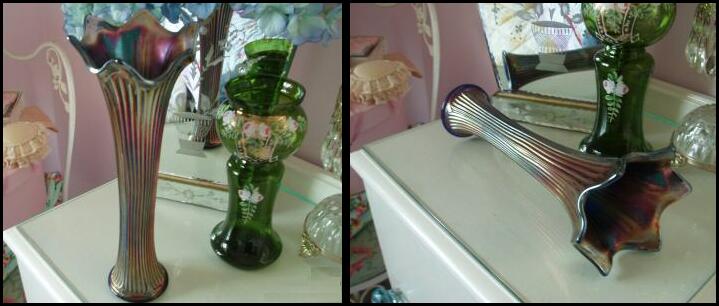 Stunning Amethyst Carnival Glass Vase - Vintage Antique

This auction is for a beautiful amethyst carnival glass vase in absolutely perfect condition
No chips, cracks or any other damage
This is a tall vase at 12 inches (30cm)
Although I do not know it's exact age,
this IS an original piece of carnival glass not a reproduction
Item location - Brisbane, Queensland Australia
This question was sent in by another bidder during the auction

Hi, and how wide is the vase across the base?
Regards, Barry
......and the reply
Hi, and the vase is 7cm across the base and 12cm across the top
Hope that helps
Amanda


The auction ended on Friday 2nd September 2005
The starting price was set at $55.00 and there were eight bids during the auction
Ours was the winner!!! - and we paid $87.50 plus postage
**********************************************************
The information and photos below are from this web site


and click on the logo to go to the Official Web Site
The Story of "Carnival Glass"
Carnival glass is one of the most widely collected types of glass, and many people are very knowledgeable about it
The aim of this article is to provide an introduction to the subject and encourage an interest in learning more

Carnival Glass is pressed glass which has an iridized surface treatment
It is made by exposing the newly formed hot pressed glass to sprays, fumes and vapours from heated metallic oxides
These form a lustrous coating at the surface of the glass
It looks as if it has rainbows on it, like the coloured patterns sometimes seen when petrol floats on water or like the rainbow colours on the surface of a soap bubble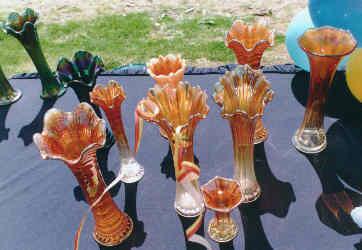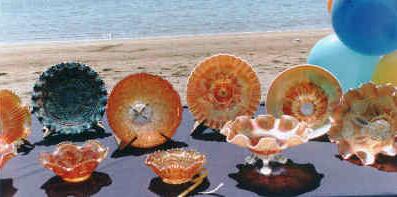 What you are actually seeing are light intereference patterns produced by constantly shifting wavelengths
No photograph can reproduce this effect - carnival glass has a magic of its own
But no doubt you can recognise it from the photographs above!!

Carnival Glass was first produced on a large scale by the newly-established Fenton Art Glass Company, of Williamstown, West Virginia, in 1908
John W. Fenton (President) and his brother Frank L. Fenton (General Manager and Secretary) had (with their team) developed a relatively stable and safe method of mass producing iridized glass
They named their first lines "Iridill" and "Rubi-glass" and described it as "a metallic lustre much like the Tiffany favrile glass"

Glass workers at the time called it "dope glass" because the hot glass was treated (or doped) with metallic sprays and vapours

It was instantly popular with the public, and they sold as much as they could make

In the same year (1908) the Northwood Glass Company, founded by Harry Northwood in Wheeling, West Virginia in 1902, produced a similar line of iridized glass
They called their fist lines "Golden Iris", but many names were tried over a long period of years
The word 'Iris' is from the Greek word for rainbow

It wasn't until the 1950's that glass collectors brought some order to the chaos of names, and called it all "Carnival Glass" (some of this kind of glass had been given away at carnivals)

In its heydays (1908 to 1925) Carnival Glass was also made by Imperial Glass in Ohio, Westmoreland from Pennsylvania, Dugan (later Diamond) in Indiana Pennsylvania, and Millersburg, in Ohio

Millersburg Glass Company was founded by John W. Fenton just two years after the opening success of the Fenton Art Glass venture
They called their Carnival Glass "Radium" and started its production in 1910, the year after they opened
Two years later they closed forever (1912) but during those two years they produced some very beautiful pieces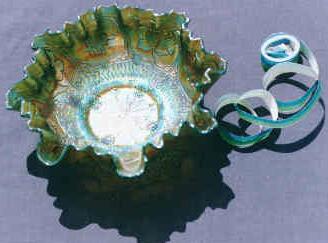 This green carnival glass bowl is Fenton's "Dragons and Lotus"
Introduced in 1920 it was one of Fenton's most successful items, and they made many thousands of bowls and plates with this pattern
There are many colours - the most common being marigold (orange) and the rarest being some of the pastel colours, such as "aqua", especially when it also has opalescence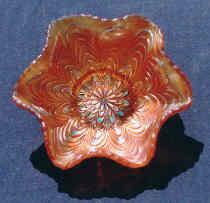 Another Fenton pattern is "Peacock Tail", shown in this little marigold-coloured bowl
It is listed in original Fenton catalogues, and the Peacock Tail pattern was used for various sizes of bowl, compotes, and hat-shaped novelty pieces, first produced around 1910
This Fenton pattern has a continuation of overlapping "feathers" right to the centre, as you can see in this picture

The design is very similar to the design by Northwood called "Nippon", but the Northwood pattern has two rings enclosing a plain circular band, surrounding a daisy-type flower in its centre, as you can see in the picture above

Northwood patterns can often be distinguished because they have the Northwood trademark of a circle surrounding a capital 'N'

It was unusual for Carnival glass to be marked by the makers
Northwood were one of the exceptions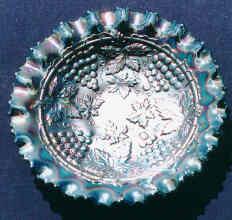 One of the most prolific designs from the Northwood company was "Grape and Cable" or just "Grape", shown in the photo above
It was first made early in 1910 and continued for several years, being offered in a range of colours and a wide range of items

Several other companies imitated this design, notably Fenton, who also produced a design showing grapes and cables

Carnival Glass "swung vases" were made by forming the vase and pattern in a relatively small mold (some 4 or 5 inches high) and then swinging the molten glass piece around to stretch it, often to over twenty inches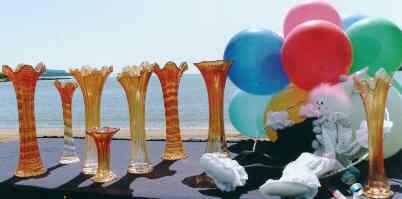 The collection above includes three Imperial "Ripple", two Northwood "Fine Rib", Dugan's "Corinth", Imperial "Morning Glory" and Fenton "Swirled Flute"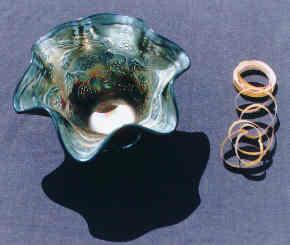 ----------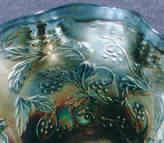 This little blue carnival glass bowl is called "French Knots" and was attributed to Fenton by Hartung
This kind of bowl is what is sometimes called a "ruffled-top hat-shaped novelty", and is a typical Fenton shape
"French Knots" is listed as a Fenton pattern in Heacock's book "Fenton Glass: the first 25 years"
Good pictures of this pattern are not all that common, so I have included below a close-up of part of the pattern, showing the flower-shape made up of six dots

There is no dispute that Fenton were the company which first introduced large volume pressed glass with an iridized finish in the USA

It is usually conceded that Harry Northwood was the person who brought the technique to the USA from his father's glassworks in England
Northwood described this glass as having a "changeable metallic sheen"
It's instant popularity owed a great deal to the expensive iridized glass made by Tiffany and Steuben around the turn of the century
It was often called "Poor man's Tiffany" and as Raymond Notley said "it delighted a generation and brought colour into drab homes"
It marked the end of the popularity of Tiffany glass
As Frederick Carder said "When the maid could possess iridescent glass as well as her mistress, the latter promptly lost interest in it"

The rage for Carnival Glass in the US continued for ten years (1908 to about 1918), and the last of the original US producers, Dugan Glass Company (later Diamond Glass Ware) of Indiana, Pennsylvania, continued production right through to their closure from a fire in 1931

But the market for this type of glass had already moved overseas, and US companies were exporting Carnival glass to Europe, Canada, Australia, and other countries during the 1920's

Carnival Glass was not, so far as we know, produced in the USA between 1931 and the 1950's

It continued to be made in Europe through the 1920's and 1930's - it was made in Australia in the 1930's - and in South America (Argentina) in the 1930's

Very little was made anywhere in the 1930's and 1940's

During the 1950's collectors became interested in Carnival Glass, so much so that it became economically worthwhile for glass manufacturers to start making it again, specifically for collectors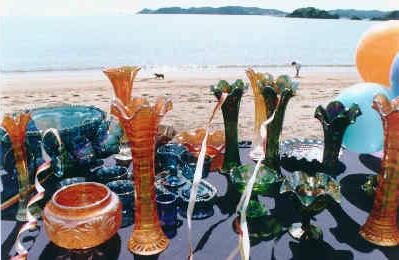 Many companies started to add an iridized finish to patterns they had been selling in clear glass
For example, "Iris and Herringbone" was a very popular pattern made by the Jeannette Glass Company, USA
They made it in clear glass (usually called "crystal" but it is pressed glass) from 1928 until the 1970's
And they made it in Marigold Carnival during the 1950's
I believe they also made some crystal "Candy bottoms" during the 1970's and sprayed them with two-tone iridescence (eg red and yellow)
It is a very popular collectable pattern

Other companies, notably Fenton and Imperial, re-introduced Carnival Glass in the 1960's using both the original designs and new designs
Since it was collectors who were interested, they carefully ensured that this new carnival glass could easily be distinguised from the originals, by putting distinct trade marks on the glass

Some manufacturers have not been so helpful, and there is reproduction carnival glass around, sometimes being made from the same molds, which is difficult to distinguish from the originals
---