(Return to "Our Home" albumn)
(Return to "Antiques and Collectables" page)
Royal Albert China "Old Country Roses - Porcelain" Spoons and Forks

A note from Geoff on Friday 29th July 2005

"I bought these as a 'Surprise Present' for Sharon!!!
As you can see from these "Antiques and Collectables" pages,
we have bought some very nice cups and saucers
Sharon likes to use them herself, and also got them out of the cabinet
when she recently had a Birthday Lunch for one of her friends
Well, the china all looked nice
BUT
the crappy 'bargain-basement' spoons that she had to use with them
looked awful!!!
I have been keeping my eye on the Ebay auctions and numerous antiques web sites,
but nothing like this has ever come up
So I bought them direct,
and they should look terrific - and I'm sure that Sharon will be pleased!!!"

Six of each
Demitasse Spoon in the Old Country Roses-Porcelain pattern - 5.375 inches
Cocktail Fork in the Old Country Roses-Porcelain pattern - 5.500 inches
Pattern description - Porcelain, Red and Yellow Roses, Gold Splatter
I bought them from



and click on the logo to go to their web site
or click here to go directly to the "Old Country Roses - Porcelain" items page
The Cost
Both the Spoons and Forks were USD$5.99 each, which is $7.92 in Australian dollars as at today's date
......and the confirmation letter from Replacements Ltd
Dear Mr. Roneberg
Thank you for contacting Replacements Ltd, the home of the world's largest inventory of old and new china, crystal, silver and collectibles
Your order has been finalised
The total cost, in United States dollars, is $95.63 ($71.88 merchandise + $23.75 shipping)
Thank you
Replacements Ltd
(this equals $126.40 in Australian dollars)
Some Interesting Information!!!

An Ebay Auction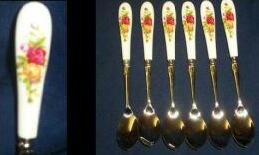 Royal Albert "Old Country Roses" Tea Spoon - New

You are looking at a BRAND NEW "Old Country Roses" Spoon!!
I'm calling this an ice-cream spoon because it would be great for when having a parfait
You could use it for anything though - a jam spoon or sugar spoon?
Lovely fine porcelain handle with the "Old Country Roses" pattern on it
This will compliment anyones china cabinet
Measurement - 15cms in length
Etched into the back of the silver handle is "Stainless 18-10"
No chips, cracks or crazing
It is in perfect condition
The photo shows six spoons, but you are only bidding on one
- I thought I would show what a set would look like!!
I've NEVER seen these before so I'm assuming are a rarity!!


This auction ended on Thursday 11th August 2005
The starting price was set at $18.99 and there was one bid at this price
......and that is more than double what we paid for an individual spoon!!!
---