(Return to "Our Home" albumn)
(Return to "Antiques and Collectables" page)
Crown Devon "Olde England Series" Cup and Saucer
'Ann Hathaway Cottage - Stratford on Avon'


Made in England

A note from Geoff on Wednesday 20th July 2005
"I bought this as a 'Surprise Present' for Sharon!!!
Firstly, because it is very different from the sets I have bought her recently
Secondly - and most importantly!!!
Tanya has been to Stratford-Upon-Avon and looked through this Cottage
This was on Sunday 2nd May 2004
and click here for a couple of shots of Tanya during her visit"

- Details of the Ebay Auction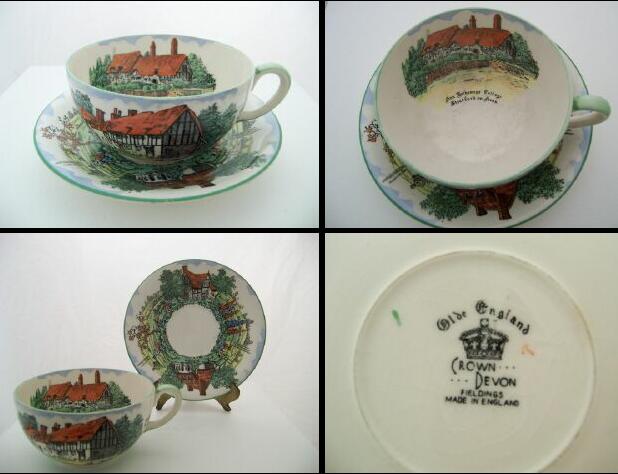 Crown Devon "Olde England Series" Cup and Saucer

This Crown Devon cup and saucer from the "Olde England Series"
features 'Ann Hathaway Cottage - Stratford on Avon'
Others in the series are 'Prestbury - Cheshire' and 'Ludington - Warwickshire'
The design is delightful with much detail
The cup has a small hairline crack on one side and both pieces have some age crazing
This set is quite old and both inconsistencies are within reason
The cup diameter is 12cm (4.55 inches)
The plate diameter is 17cm (6.75 inches)
Item location - Sydney, New South Wales Australia


This auction ended on Tuesday 19th July 2005
The opening price was set at $12.97 and during the auction there were two bids
The price I paid was $15.50 plus postage
More photos - taken after the items were received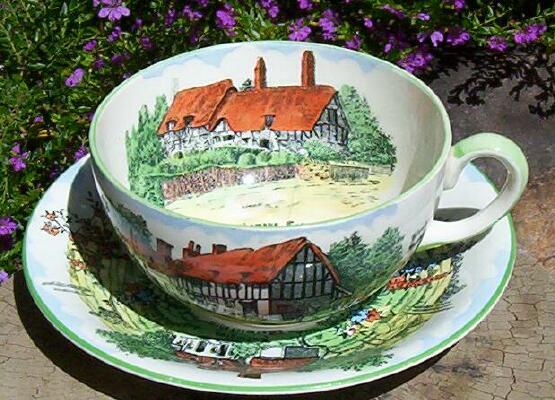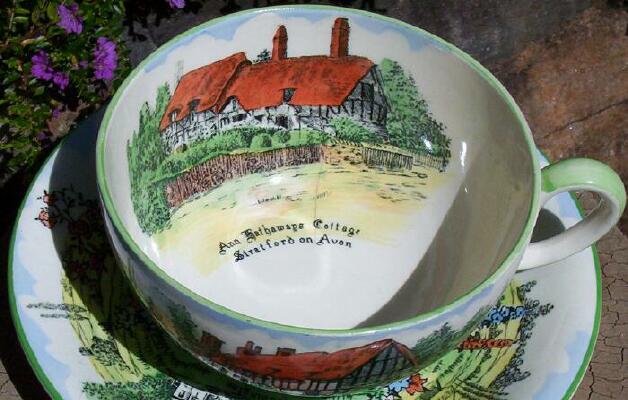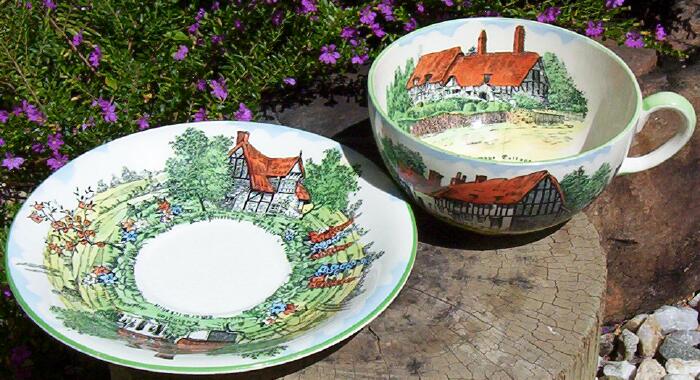 NOTE ONE - BACKSTAMPS

The photo below was taken after we received the cup and saucer
and it shows the backstamp on the cup......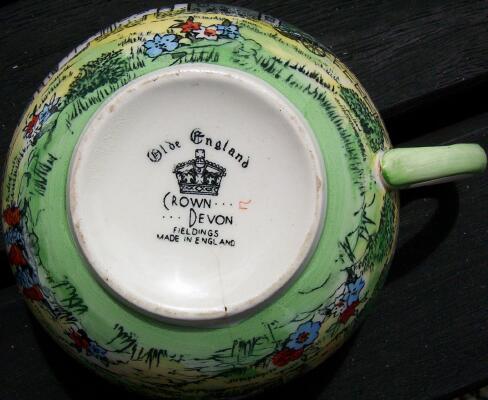 ......and this photo and details are from the "Crown Devon World" site detailed below
and click here to go directly to the "The Backstamps" identification page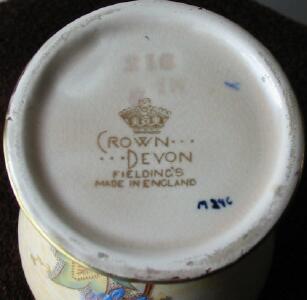 Looks "sort of" similar to the one on the items I purchased
but will have to do some more checking because it's not exactly the same!!!
"This backstamp was used on a wide variety of wares between 1930 and 1965
This sometimes makes it difficult to date a piece when the pattern number is not present"
NOTE TWO

The photo and pricing information below are from



and click on the logo to go to their web site
When looking through this site and searching for Crown Devon,
the patterns are listed under the name of Fieldings & Sons, S
- and this name can also be seen on the backstamp
or click here to go directly to the "Fieldings & Sons, S" patterns page
or click here to go directly to the "Olde England" items page
(these pages/details were available as at Wednesday 20th July 2005)
Fieldings & Sons, S "Olde England"
Pattern Description - Cottage, Landscape, No Trim

There were no items listed at this date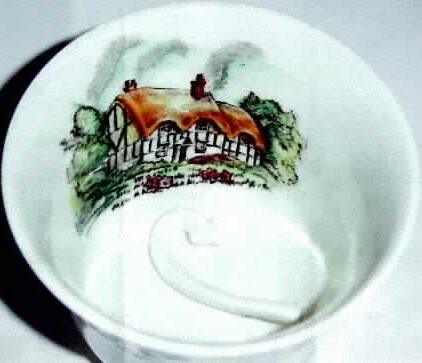 (this photo is from the Replacements site - the cup appears to have a broken handle!!!)
NOTE THREE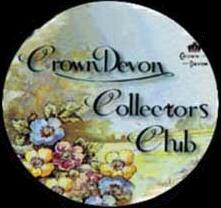 Click on the logo to go to the Collectors Club Official Web Site
NOTE FOUR




Click on the logo to go to the Crown Devon World Official Web Site
or click here to go directly to the "Olde England" items page
(these pages/details were available as at Wednesday 20th July 2005)
NOTE FIVE - and another Ebay Auction!!!

I found this listing for an auction that ended on Saturday 16th July 2005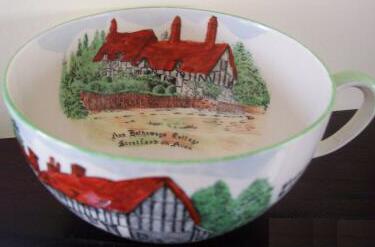 Lovely cup from Crown Devon Olde England Series (note this is for a cup only)

Approx. 4.75" in diameter
Full backstamp of Crown Devon Fieldings Made in England
Scenic paintings of Ann Hathaway's Cottage, Stratford upon Avon,
Blewbury Berkshire & Welford on Avon, Gloucestershire
It is in perfect condition with no chips, cracks or restoration
A good addition to a collection or replacing a damaged cup of the same pattern/series
The final price - GBP 0.99 - approximately EUR 1.44
and this is equal to $2.31 Australian dollars

(Oh well --- but Tanya has been there!!! --- so the price doesn't matter!!! --- does it???)
---