(Return to "Our Home" albumn)
(Return to "Antiques and Collectables" page)
Spode China Jug and Bowl
circa 1890 - ???
and there is more date and pattern information towards the bottom of the page
Made in England
A note from Geoff on Tuesday 28th June 2005

"I bought this as a 'Surprise Present' for Sharon!!!"

The Ebay Auction

On offer is a Spode jug and bowl

This was made for "T Goode and Co" London
The maker is Spode Copeland China England
After 1883, but I would judge it to be possibly around the 1900's
In mint condition
Measurements (approx) - Bowl 5" diameter by 3" tall
Measurements (approx) - Jug 6.25" tall by 4" at the widest of the jug
The decoration is in gold leaf on black - a traditional Greek frieze
A truly classic piece and possibly a rare item
Not to be missed for any Spode collector
Low starting price and no reserve
Item location - Broadford Australia
During the auction I sent this question to the seller

"Hi, and your description and photos give a lot of details,
but I was wondering if you knew the exact name and/or number of the pattern and/or style???
Thanks"

......and the answer

"Thank you for the question but I can't help you further,
although I did work for Spode for some years!
All I can add is that on the bowl beside the Crown and T. GOODE&Co Ltd London
in "lettuce green" there is "SPODE"
and under Copeland's China England in dark green
A five branch/points star in dark green
and the number 570B hand written in deep red
Same for the jug, but no star
Both are in mint condition
And as we say in France - "The most beautiful girl in the world can only give what she has!"
Hope this information helps - Cecile"
The starting price was $45.49
And there were no other bids - so that is the price I paid!!!
$45.49 plus postage
After the auction, the seller sent this note on Wednesday 6th July 2005

"You just got yourself a real bargain!! - but no hard feelings!!
I know you both must appreciate what you are getting
and I am truly glad this goes to a good home!"

......and another note on Wednesday 13th July 2005

"About the Spode
You got yourself a bargain!
I used to work for Spode a long time ago and now collect it
but I do not know much about this pattern
Nonetheless, it is top range!!
I am please it is being loved again!"
MORE PHOTOS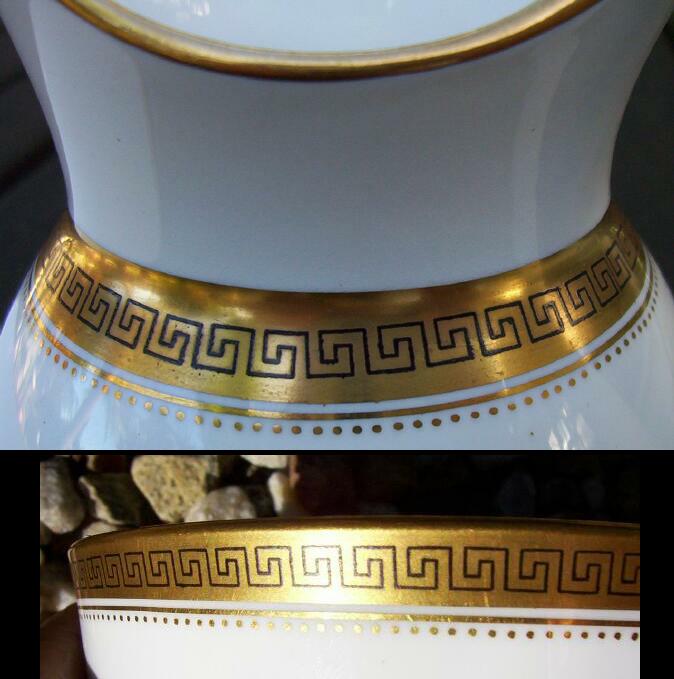 THE MEASUREMENTS
JUG
Heighth - to the top of the handle - 6.250 inches - 158mm
Width - at widest point - 4 inches - 102mm
BOWL
Heighth - 3 inches - 76mm
Width - 5 inches - 127mm
BACKSTAMP and NUMBERS-MARKINGS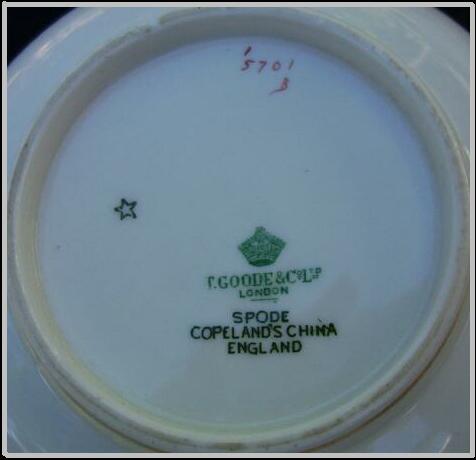 NOTE
- the above shot is the bottom of the bowl
The jug has the same backstamp and red numbers (5701 B), but it does not have the 'star'
SOME WORK FOR SHARON!!!
From Geoff to Sharon

"A job for you!!!
Below are a few links to 'Spode' web sites
Have a look around and see if you can identify the jug and bowl
The seller's photos are not really sharp,
and the description is a bit hard to understand
So it might be easier to wait until they arrive
so you can have a proper look at the backstamp and markings"

......and from Sharon

"I really, really like them
But I didn't put them on my computer desktop for you to buy
I thought they looked extra nice and just wanted to see how much they would go for
- that's all!!
But I'm glad I got them!!
And I reckon you have a bargain!!
I checked out both of the sites below quickly
- lots to look at so I will look properly over the weekend
Thank you, Husband!!"
NOTE ONE - "SPODE" web site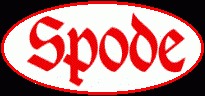 and click on the "SPODE" logo to go to the Official Site
NOTE TWO - "SPODE MUSEUM" web site


and click on the logo to go to the Museum's web site
NOTE THREE - another "SPODE" web site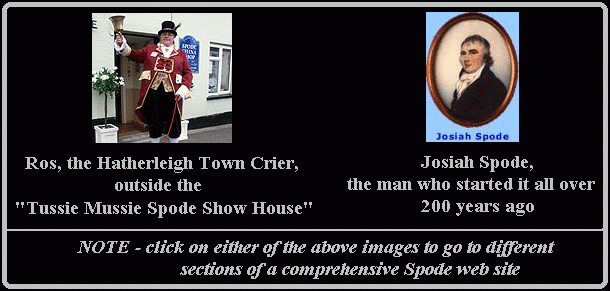 NOTE FOUR
The information below is from



and click on the logo to go to their web site
or click here to go directly to the "Spode Pattern List" page
(these pages/details were available as at Tuesday 28th June 2005)
TRYING TO IDENTIFY THE TWO PIECES!!!
An email sent out to "Spode Sites" on Wednesday 13th July 2005

Subject - Assistance Identifying Spode Items
We are writing to ask for your assistance in identifying a Spode jug and bowl
Please CLICK HERE (URL for this page) for all the details, including
photos, measurements, backstamp, and markings
Thank you for your time, and we really appreciate any help you can give us
Regards
Geoff and Sharon
Reply from The Spode Museum
The pattern number for this pattern is 1/5701
This is a china pattern first recorded in about 1889
It was sold through the retailer Thomas Goode whose mark you can see on the pieces
They are an interesting retailer and a little information about them is attached (click here)
There is no name for the pattern but it is described as Greek Key Border
The technical details from the pattern book are
"The band, fine line and gold spots and edge burnished, the key printed in black and sanded gold"
The burnishing and sanding give two different finishes to the gold
The Spode Copeland mark in this style was used from about 1904-54
Pam Woolliscroft
Curator
(and click here for details of our donation to The Museum and the "Thank You" note)

Reply from Replacements Ltd
Thank you for contacting Replacements, Ltd - home of the world's largest inventory of old & new china, crystal, silver and collectibles
Below is information regarding the identification request you sent to us recently
Dear Geoff and Sharon Roneberg
The date is circa 1927
T Goodes firm was founded
Spode was a part of T Goodes firm early on
The pattern is 5701 - Greek Key Border
Sincerely
Karen
Research Customer Service
(click here to go to Replacements Ltd Home Page)
(click here to go to the "Spode Pattern #5701" page on their site)
---