(Return to "Our Home" albumn)
(Return to "Antiques and Collectables" page)
Tuscan "Gold Pattern" Trio
Pattern #11260 (??)
......but see below!!!

Made in England

A note from Geoff on Friday 24th June 2005
"I bought this as a 'Surprise Present' for Sharon!!!
She has often mentioned that she likes the 'gold look'
and this one looked to be nice - and unusual!!!
So I made a bid - and won it for her!!!"

- Ebay Auction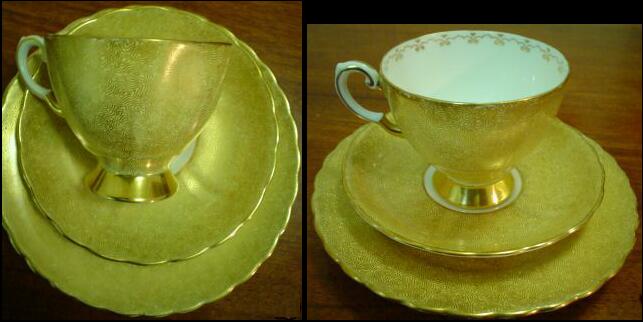 Gorgeous Tuscan Trio - Gold Pattern - WOW!!!
You are looking at this beautiful Tuscan trio in very good condition
It has no cracks or chips, and has very minimal gold wear
It is a gold pattern which is very striking
Written underneath is:
"Tuscan - Fine English China - a Crown and Wings (hallmark) - Made in England"
Then in gold is "11260" and there is a red "P"
A lovely addition to any collection
Thanks for looking

Item location - Newcastle, New South Wales Australia
The auction finished on Friday 24th June 2005

The bidding started at $10.00 and there were seventeen bids
My winning bid was AUD$39.95 plus postage
THE BACKSTAMP
This photo was taken after the trio was delivered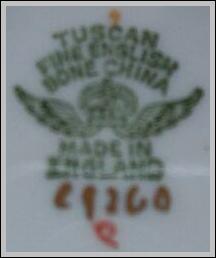 This is the backstamp from the saucer
and there are identical marks on both the cup and plate
However, the saucer is the only one with the number under the word 'England'
In the Ebay Auction description, the seller says that this number is "11260"
Well, it might be - but to us it looks like "C9260"
The seller also mentions the "Red P" which can be seen,
plus it looks like a "Gold 9" above the word 'Tuscan'

Below there is a section titled "Note Two - Backstamps"
From the chart, it looks like this trio is "circa 1947+"
NOTE ONE
The information below is from



and click on the logo to go to their web site

I haven't been able to find an exact pattern match,
and unfortunately, a lot of the pattern descriptions do not have a photo!!!
Click here to go to Replacements "Tuscan/Royal Tuscan Pattern List"
- and keeping looking!!!
(these pages/details were available as at Friday 24th June 2005)
NOTE TWO - BACKSTAMPS
The information below is from



and click on the logo to go to the web site
(these pages/details were available as at Friday 24th June 2005)
British Porcelain, Pottery and Ceramic Trade Marks

R H & S L Plant (Ltd)

Manufacturers of porcelain at the Tuscan Works, Longton
c.1898 -
Early marks include the initials 'R H & S L P'
Most mark including the trade-name 'TUSCAN'
Mark
Description and Date
c.1898+
RH & SL
----P
ENGLAND
Printed mark incorporating the Crowned Wings which is a regular mark of the Plant potteries and initials inside a Staffordshire Knot
Variation of this mark occurs with "RH & SL PLANT" underneath the Staffordshire Knot
c.1898+
Early mark with name "RH & SL PLANT" in full
c.1902+
Early mark with "PL" for Plant Limited
c.1907+
TUSCAN CHINA
ENGLAND
c.1920's
TUSCAN CHINA
MADE IN
ENGLAND
c.1936+
PLANT
TUSCAN CHINA
MADE IN
ENGLAND
TUSCAN CHINA
METALLISED
MADE IN ENGLAND
"TUSCAN CHINA" in an arch above
No winged crown on this mark
"Metallised" used as a trade mark on heavy duty ware
c.1947+
Note the introduction of the wording "FINE ENGLISH BONE CHINA"
Mark used when RH & SL Plant were first taken over by the Wedgwood Group
The "72" below the crown indicates the year of manufacture. i.e. 1972
BS4034 is the British Standards Kite Mark for Hotelware

Modern marks incorporate the name 'ROYAL TUSCAN'
April 1978
NOTE THREE - BACKSTAMPS
The information below is from



and click on the logo to go to the web site
(these pages/details were available as at Friday 24th June 2005)
Backstamp Identification and Pottery Trading Names
Over the years many of the Staffordshire potteries used a trading name for their wares and normally used this as a backstamp

Trading Name - Tuscan China
Pottery - R H & S L Plant Ltd

To a collector, the backstamp mark can be of great importance for, not only can the manufacturer be traced from this mark, but the mark can also ascertain the date of manufacture and in some cases, the exact year, particularly from such companies as Mintons, Wedgwood, etc., which employed private dating systems

Backstamp marks are usually applied in a few different ways
They are either impressed into the soft clay, incised into the soft clay, painted onto a fired piece and glazed over, or transfer printed onto or under the glaze

1 - Printed marks with the royal arms are dated in the 19th and 20th Centuries
2 - Marks signifying the name of the pattern are after 1810
3 - The word 'limited' usually denotes a date after 1861 with most examples being much later
4 - Trademark names were used after 1862 after the Trademarks Act of 1862
5 - Registered design numbers were used after 1883
6 - The word 'England' appearing on a backstamp denotes a date after 1891 (to comply with the American McKinley Tariff Act)
7 - 'Made in England' denotes a 20th Century date
8 - Use of the words 'bone china' or 'English bone china' denotes a 20th Century date
9 - The Staffordshire knot was used to denote wares made in Staffordshire, England
---