(Return to "Our Home" albumn)
(Return to "Antiques and Collectables" page)
Carlton Ware "Anemone" Bowl


Made in England

A note from Geoff on Saturday 4th June 2005
"Sharon likes 'the look' of Carlton Ware and when she was looking through
the Ebay auctions, she noticed this bowl
Her Antique Reference Book mentions this item (details below)
so she kept her eye on the auction as it progressed
With just a couple of minutes to go, the bid was just fourty-one dollars
so thought 'We gotta have a go at this'!!!
Her bid was one-hundred dollars which just beat a 'hidden bid' of ninety-nine dollars!!!
So it's now ours
and judging by the details and price in the Reference Book,
we hope we have got a real bargain!!!"

The auction details
Carlton Ware "Anemone" pattern serving dish
This is a lovely Carlton Ware "Anemone" pattern serving dish
It is in great condition and the colours are nice and bright
It measures 12" long, 7" wide, and 2" from the rim to the base (30 x 18 x 5cms)
No cracks, chips or repairs
Item location - New South Wales Australia

The auction ended Friday 3rd June 2005
Following a starting bid of $10.00, there were another eleven bids
My winning bid was $100.00 plus packing and postage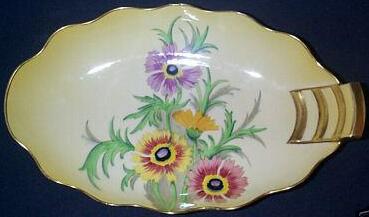 A note from Geoff to the Seller on Saturday 4th June 2005

Hi ya
We won and are glad about that!!!,
and we are sort of hoping that we got a bargain as well
I assume it's a "genuine" Carlton Ware piece,
and Sharon is looking forward to adding it to her small collection
I am wondering if you could do us a favour
(1) do you have a photo of the backstamp/markings that you couldsend us???
(2) have you any idea of the "history" of this piece???
- this is just interesting to know sometimes and we always ask
Some Sellers do know a little bit, and others don't
All the best Regards
Geoff
......and a reply from the Seller

Hi there Geoff
Congratulations on you winning this auction
I absolutely promise that this is a genuine Carlton Ware piece
I just tried to take a photo of the back stamp
but my camera appears to have died
But according to my Carlton Ware book this stamp is dated 1925
I'm sorry, I don't know the history of this piece
I brought it at a local second hand dealer
I hope that you are happy with it - I'm sure you will be
Kind regards
Bobbie
NOTE
- I wonder if her book on Carlton Ware is the same one that I bought Sharon
and which is detailed at the bottom of this page???
**********************************************************
NOTE ONE - "Price Guide to Antiques in Australia"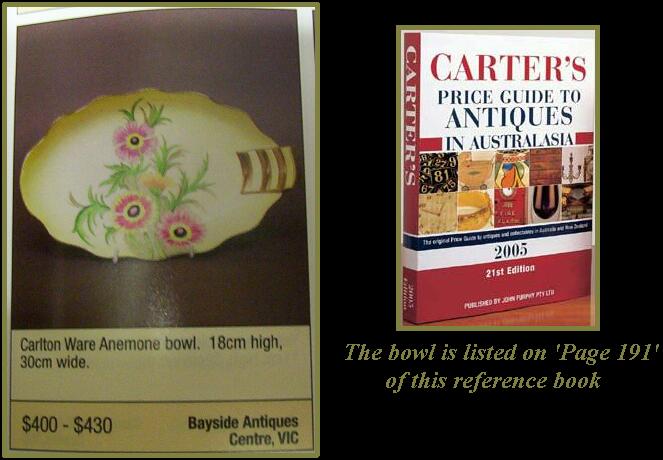 **********************************************************
NOTE TWO - another Ebay Auction!!!

......and this finished the day after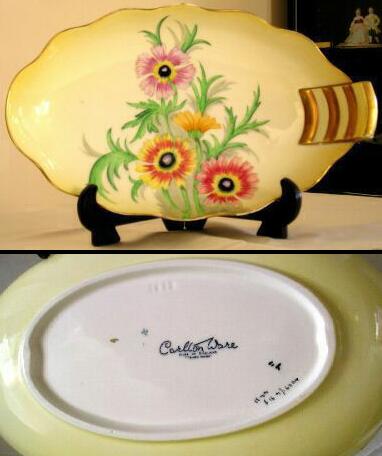 This auction ends on Saturday 4th June 2005
The starting price was set at $75.00
The final bid was ZERO!!! - there were no bids!!!
Item location - Townsville, North Queensland Australia
Carlton Ware "New Anemone" Plate
This is a beautiful dish
It has a yellow background which compliments the colours of the flowers
Backstamp says Carlton Ware Made in England "Trade Mark" Pattern number 423
I am unable to read the shape/impressed number
Condition is very good, with no chips, cracks, hairlines or repairs,
and no crazing that I can see
There is an underglaze spot in the yellow on the LH side as you look at the photo
but it does not detract from this lovely piece
There is some wear to the gold around the edges and on the handle
Length from tip of handle is 30cms, width is 18cms, and height is 4cms (12 x 7 x 1-1/2 inches)
**********************************************************
NOTE THREE - Carlton Ware Information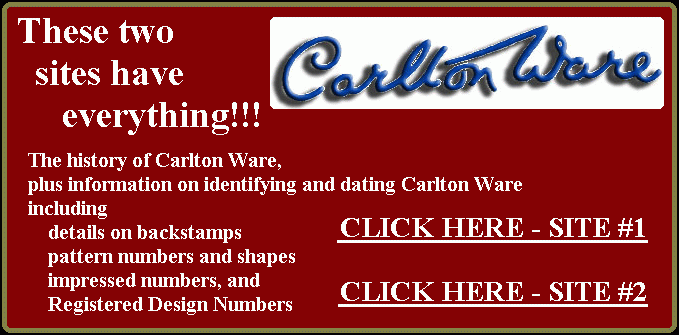 **********************************************************
NOTE FOUR - Carlton Ware Site and Message Board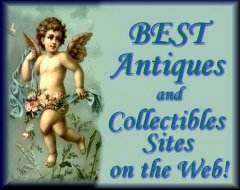 Click on this logo

The page has heaps of details and photos of Carlton Ware
It also includes this Message Board

**********************************************************
NOTE FIVE - Ebay Carlton Ware auction listings

Click on this logo

This is the search page for Carlton Ware
It usually has dozens of bits-and-pieces
**********************************************************
NOTE SIX - A Carlton Ware Reference Book

A book I bought Sharon, and as at Saturday 4th June 2005
it is still on it's way from the distributor in the USA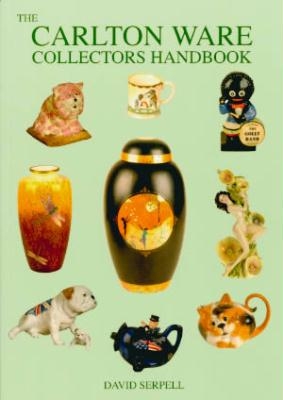 Included inside is a section on building a collection,
with tips on spotting reproductions and counterfeits, and advice on what to purchase
Collectors will also find information on how to date Carlton Ware,
and learn to identify pieces with the convenient pattern list
Over 280 full-color photographs display the diversity and beauty of the most popular
Carlton Ware collectible pieces and sets, and include pattern number
and current market value in British Pounds and U.S. Dollars
Includes essential tips and advice on collecting!
Teaches how to date and identify pieces!
Over 280 color photos include pattern number and current pricing!
---