(Return to "Our Home" albumn)
(Return to "Antiques and Collectables" page)
Queen Anne "Lady Margaret" Trio


Made in England

A note from Geoff on Wednesday 25th May 2005
"I bought this as a 'Surprise Present' for Sharon!!!"

- Ebay Auction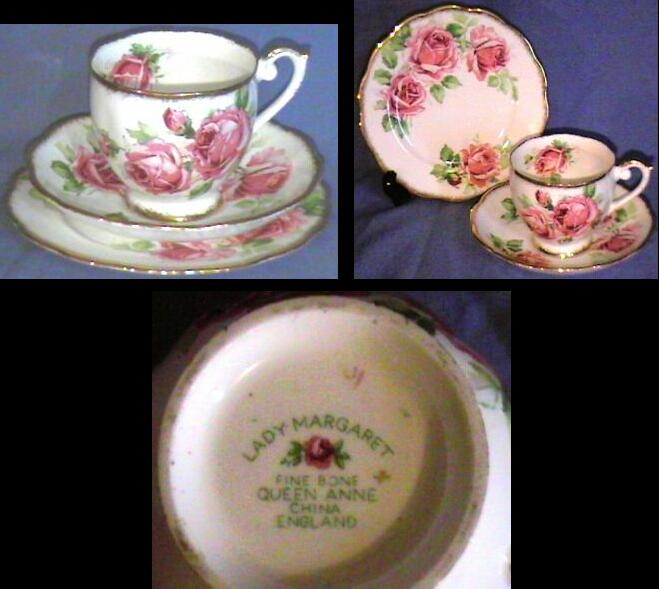 Queen Anne Fine Bone China "Lady Margaret" Trio

In mint condition, a gorgeous trio by Queen Anne
Rich golden trim in excellent condition
There are no cracks and such
Measurements
Plate - diameter is approx 16cm
Saucer - diameter is approx 14.5cm
Cup - approx 7cm high and approx 8cm in diameter
See photos above for markings
Item location - Gosford/Wyong, New South Wales Australia
The auction finished on Tuesday 24th May 2005


The bidding started at AUD$29.90 and I paid that price - I was the only bid!!!
NOTE ONE
The photo and pricing information below is from



and click on the logo to go to their web site
or click here to go directly to the "Lady Margaret" items page
(these pages/details were available as at Wednesday 25th May 2005)
Queen Anne "Lady Margaret"
Pattern Description - Pink Roses, Bone, Green Leaves
Cup and Saucer Set (Footed) - size 2.75 inches - USD$56.99
Bread and Butter Plate - size 6.25 inches - USD$17.99