(Return to "Our Home" albumn)
(Return to "Antiques and Collectables" page)
Shelley "Oleander Pattern #13883" Cup and Saucer


Made in England

A note from Geoff on Saturday 14th May 2005

"I noticed that Sharon had been looking at this Ebay auction
and had saved the details to her computer desktop
It looked to be the type of pattern and colours that she likes
......so I made a bid----------but did not tell her!!!"

......and I won!!!
The auction details
You are bidding on a beautiful Shelley England Fine Bone China Tea Cup and Saucer
The saucer is white with three little buntches of Oleander flowers around the edge
The saucer looks like a flower and has a pink rim
There is no crazing, cracks or chips
The cup also has two little buntches of flowers around it and one on the inside
The edge also looks like a flower and it's edged with pink, and has a pink handle
There is no crazing, cracks, chips or stains
On the base of the saucer and cup it has the number '13883'
Item location - Nelson Bay, New South Wales Australia

The auction ended Saturday 14th May 2005
Following a starting bid of USD$5.00, there were another eleven bids
My winning bid was USD$56.00 - approximately AUD$73.54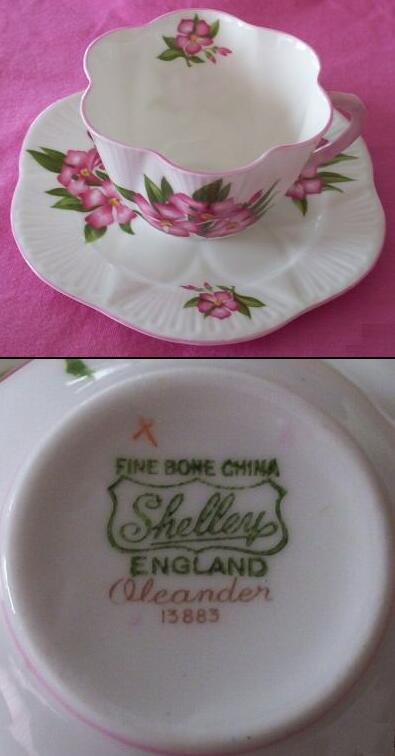 NOTE ONE
The photos and pricing information below are from



and click on the logo to go to their web site
or click here to go directly to the "Oleander #13883" items page
(these pages/details were available as at Sunday 15th May 2005)
OLEANDER by SHELLEY Pattern # 13883
Pattern Description - Dainty shape, with Pink Flowers and Trim
No prices were listed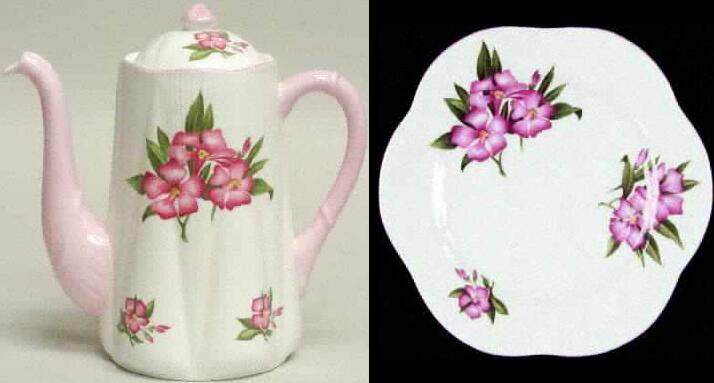 NOTE TWO - another Ebay Auction!!!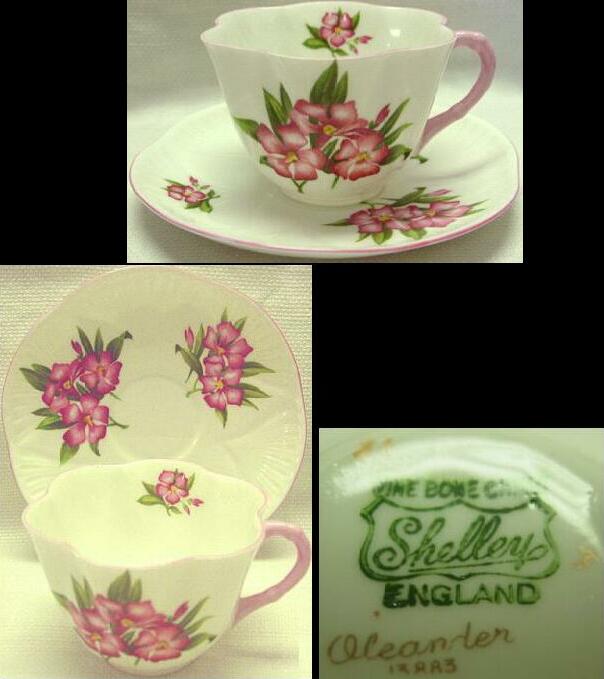 This auction ends on Monday 23rd May 2005
The starting bid was USD$39.99
The final bid was USD$57.90
......which is USD$1.90 more than what I paid!!!
Item location - Littleton, Massachusetts United States
Rare Shelley Oleander Pattern Cup and Saucer at No Reserve!
Unusual and beautiful pink handled Shelley "Made in England" collectible
Oleander pattern cup and saucer!
Approximate Age - no dates on bottom as seen in photo above
We are not certain but think it was manufactured after the 1940's by the markings
Measurements - scalloped edge cup is almost 3.25" in diameter and 2.5" high
The saucer is 5.75" in diameter
Nice sized pieces!
Markings - see photograph of cup with Shelley, Oleander, and Made in England markings
Please note that the saucer is also labelled Shelley on the bottom!
Condition - we believe excellent!
No chips or cracks that we can find anywhere
Nicely painted detail, with lovely pink rim with matching light pink handle
We sell this set as we purchased it
Perfect for a nice spot of tea!
Repairs or flaws - no chips or scratching
We believe it was hardly used
A great gift AND unusual collectible for the discriminating Shelley collector!
NOTE THREE - and still another auction!!!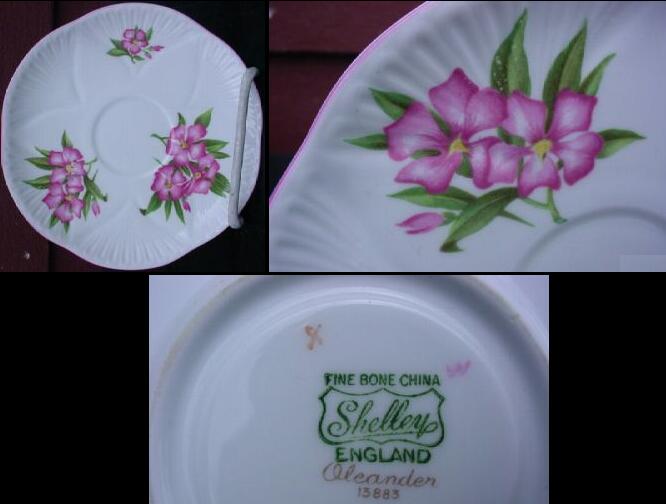 This auction ends on Wednesday 18th May 2005
The starting bid was set at USD$9.99
The final (and only) bid was USD$9.99
Item location - Massachusetts United States
Shelley Oleander 13883 Scalloped Saucer - Mint!!
Here is an elegant saucer
Markings - "Fine bone china - Shelley - England - Oleander 13883"
Also handwritten with red is a "5" and a "7"
There is a scalloped pink edge with six embossed panels that come off the edge formong six fans
That leaves a six sided star in the middle of the saucer
Measurements - it measures 5.75" across
Condition - this saucer is in superb condition
Repairs or flaws - it has no chips, cracks or crazing
It displays beautifully
---