(Return to "Our Home" albumn)
The Lounge Room

...and a new pair of matching recliners!!!
(lots of photos and details below)
Very nice!!!
Very comfortable!!!
PART ONE - THE DAY

Sunday 8th May 2005
and that's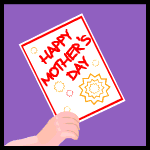 which is a good reason to go shopping!!!
PART TWO - A NOTE FROM SHARON


We have been 'slowly updating' all our furniture as you may have noticed on the Antiques and Collectables page

The red-couch-folding-bed has served Geoff well for his Saturday and Sunday afternnon television watching - and naps!!!
We bought it on the 29th August 2001 - and I disliked it from the start!!!
So that is going - as quickly as possible!!!

The blue chair is mine
We bought it years and years ago
It was covered in green fabric, but we have had the entire chair redone
I don't want to get rid of it, so we are going to store it with all of Tanya's stuff while she is on her working holiday

The new recliners are fantastic!!!
Geoff and I spent ages in the shop sitting in a million different types
Some were cheaper - some more expensive
We decided on these because the reclining action is easy to use and out of every chair we sat in, these were the most comfortable!!!

Unfortunately the store didn't have two of the "mocha" colour in stock so they will be delivered in about three weeks time
PART THREE - WHAT WE BOUGHT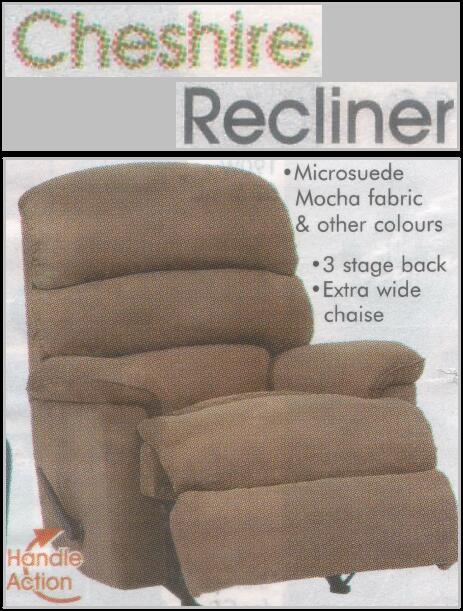 Bought from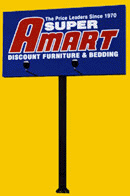 and they were $499.95 each = $999.90 + $44.00 delivery
(the regular price is $549.00 each)
PART FOUR - THE 'OLD' LOOK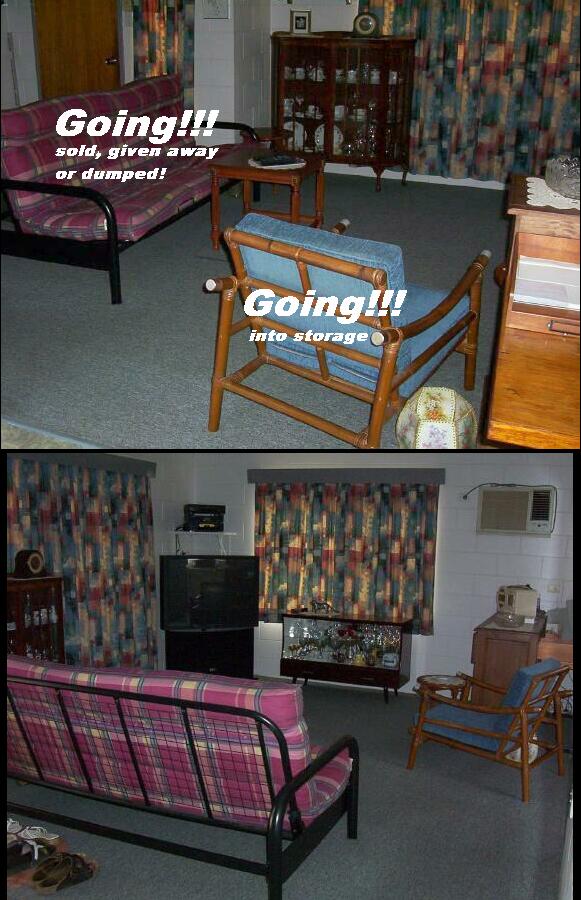 PART FIVE - THE 'NEW' LOOK!!!

(delivered on Thursday 19th May 2005)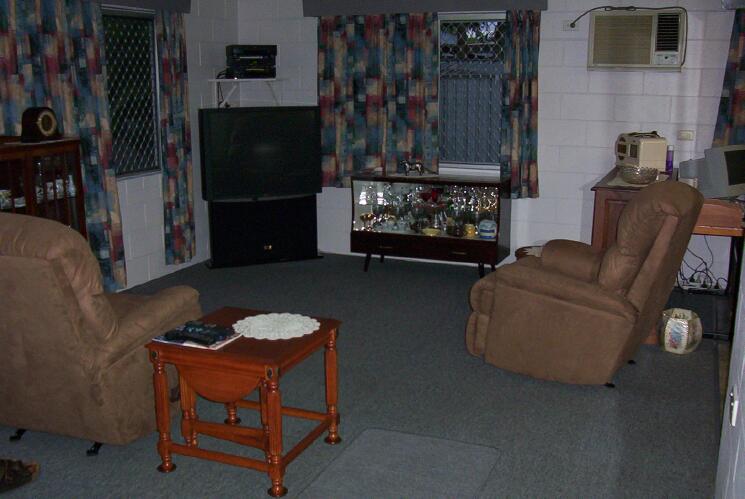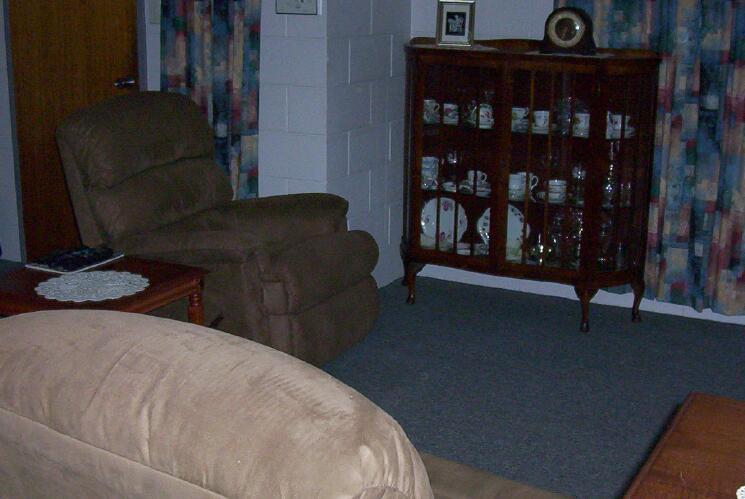 PART SIX - A BIT MORE DETAIL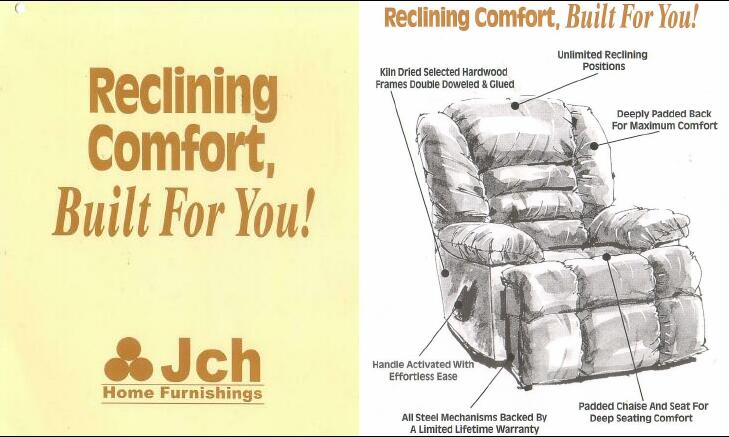 JCH Home Furnishings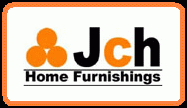 Click on the logo to go to their Official Web Site - link active as at Saturday 24th May 2008
JCH Home Furnishings Co Ltd
Shanghai China
sales@jchfurnind.com
Established in 2002, we manufacture living room furniture and upholstery,
and export them to buyers like you in North America, Eastern Europe, Australia, the Middle East and others
JCH is the manufacturer of finished upholstery including recliners, sofas, relevant cocktail tables,
and semi-finished goods such as cut and sewn cover kits
USA technology and experienced engineers make our products reach high quality standard
JCH searches the world to bring you the finest leathers and fabrics so that we can create
furniture that appeals to today's style-conscious but value oriented consumer
From our choices in design to our choices in construction and facilities, our entire focus
is on delivering top quality leather and fabric upholstery as well as cut-and-sewn cover kits
We invite you to explore the world of JCH where you will find the style,
comfort and quality your customers demand, at prices they can afford
Welcome to our website http://www.jchfurnind.com and we are looking forward to serving your demands
Should you have any inquiries and suggestions, please feel free to contact us

Note from Geoff on Saturday 24th May 2008
Looking through their product range, it appears that the "Cheshire" style has been discontinued
The closest match is this one-

-which is listed with the details "Number 73 Name 4691-1"
Importer/Exporter Details

Click on the logo to go to their Official Web Site
or click here to go directly to JCH Home Furnishings' page on this web site
Links active as at Saturday 24th May 2008
Australian Distributor----(??)

Click on the logo to go to their Official Web Site - links active as at Saturday 24th May 2008
JCH Home Furnishings Co Ltd is listed in the menu on the left-hand-side of the above page
Ausen also have a branch in China and click on this logo



to go to the comprehensive Web Site, which is in English
PART SEVEN - SHARON IN HER CHAIR
Click here for three photos
---