(Return to "Our Home" albumn)
(Return to "Antiques and Collectables" page)
Maling "Rosalind" Oblong Bowl
Length - 10 inches

Made in England

A note from Sharon
"Bought this at the Kornby's Auction on Sunday 27th March 2005
I paid $16.50 for the bowl
and from the information below, it looks like I may have got a bargain!!!"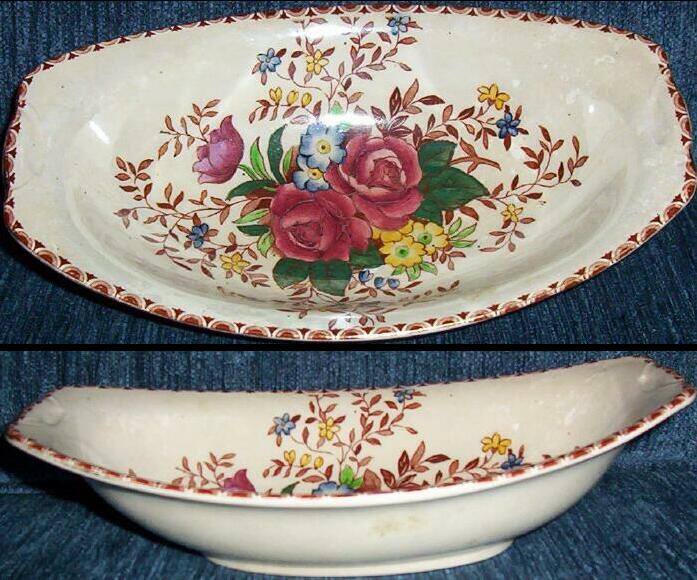 Below are the markings on the bottom of this bowl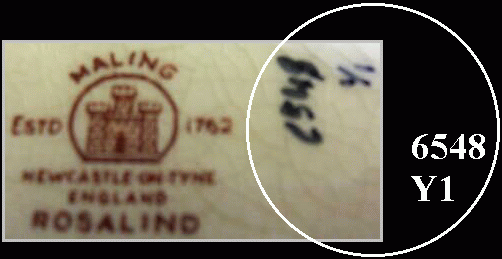 NOTE ONE
The following information about these markings was obtained from
The Maling Collectors' Society
and click on this logo to go to their web site


"This is a list of pattern numbers and names,
originally published by the Tyne & Wear Museums Service
It runs from the 5000s through to the 6000s (i.e. from about 1930 onwards)
The list was compiled from memory by former factory workers
and is known to contain both errors and omissions
Pattern numbers are hand painted and usually accompanied by the monogram of the paintress
This may be a letter, a number, a combination of both, or an abstract symbol
The monogram appears beneath the pattern number
Sorry, but we don't know who all the paintresses were"
From this information, it can be established that Sharon's bowl is
Pattern Number 6548
Pattern numbers 6524 to 6570 have a date range between 1950 and 1955
The paintress was "Y1"


NOTE TWO
The details and photo below are from
Sturt Street Antiques and Art
They are in Ballarat Victoria Australia and click here to go to that site
(these pages/details were available as at Sunday 27th March 2005)
Price - $180.00
Another note from Sharon

"When I found this listing, they were having a '25% Off Sale'
This means there would have been a $45.00 price reduction making the price $135.00
I am still way in front!!!"