(Return to "Our Home" albumn)
(Return to "Antiques and Collectables" page)
Biscuit Barrel
A note from Sharon on Saturday 19th March 2005

My Mother and Dad gave this biscuit barrel to their friends
Auntie Jessie and Uncle Lew Stapledon
The gift was in appreciation of them looking after "a-three-year-old-me"
while my sister Fiona was born
This was in 1957 - making the barrel at least fourty-eight years old!!!
It is inscribed as a gift from me!!! - being engraved "Jess and Lew from Sharon"
Then Aunty Jessie gave it back to me as a gift at my Kitchen Evening!!!
PS - the one advertised on the antique site below is almost exactly the same as mine
but looks to be in much in poorer condition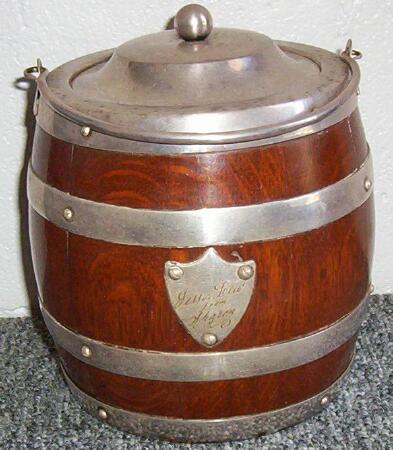 ***************************************************************
Below are auctions for similar barrels/buckets
********************************************
Here is the barrel Sharon saw on the internet - #01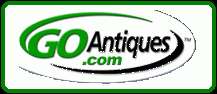 (click on the logo to go to GO-Antiques web site)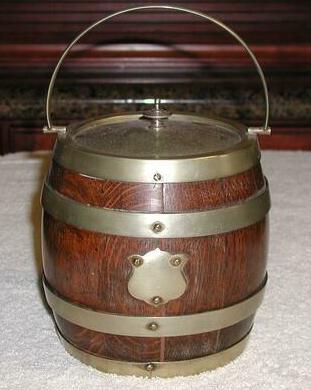 English Wooden Biscuit Barrel
S/P lid, rim, and brackets
Wood has splits that have been filled
Brackets are loose with age
Some of original screws have been replaced
Good porcolain interior
Good for any biscuit barrel collector
Very decorative item
Priced according to condition
Country - England
Height - 9 inches
Width - 5.25 inches
Year - 1940's
Dealer - Everything Nice Antiques
Price - $64.75
***********************************************************

--Auction #02
This is a "sorta similar but not very good" barrel!!!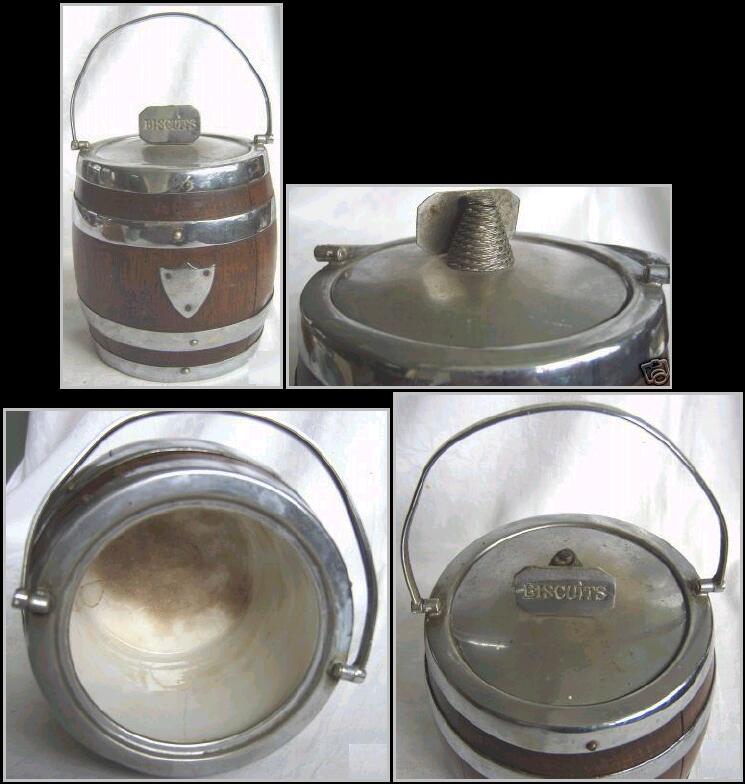 Vintage Oak Biscuit Barrel
Up for auction is this vintage oak biscuit barrel with EPNS trimming
It's not in good condition!! - but it is restorable
The liner is stained and cracked
The overall condition is as shown in the photographs
It is priced accordingly!!
The barrel stands 17cm high
Item location - New South Wales Australia
This auction finished on Thursday 16th February 2006
The starting price was set at $35.00 - and this was also the "Buy-it-Now" price
There were no bids
......which is not surprising considering it's condition!!!
The seller immediately relisted this item at the same
starting and "Buy-it-Now" price of $35.00, with the auction finishing in early March
......and it sold for that price - $35.00!!!
***********************************************************

--Auction #03
This one is very similar to Sharon's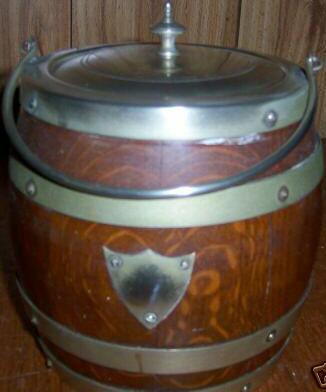 Old Oak Biscuit Barrel
Delightful old barrel with plated EPNS fittings
Ceramic inner
Very original
Little to no damage but needs a good shine!!
Measurements - 13cm diameter and 14cm high
Item location - Launceston, Tasmania Australia
This auction ended on Thursday 1st June 2006
The starting price was set at $25.00
There were no bids
***********************************************************

--Auction #04
This one is very similar to Sharon's
and looks exactly the same as the bucket in Auction #03 although
the positions of the screws in the bands are different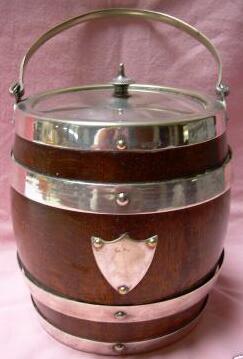 Antique Wooden Oak and EPNS Biscuit Barrel or Ice Bucket
Up for auction is an antique biscuit barrel or ice bucket made out of Oak
with EPNS bands, lid and handle
It also has a shield in the front
It has a white porcelaine inside which has a small bit of staining on the bottom
It is in good condition except for one missing silver screw on the bottom band
And it would come up a lot better with a polish!!
18cm high (without handle) x 14cm wide
Item location - North Goulburn, Victoria Australia
This auction ended on Saturday 27th January 2007
The starting price was set at $20.00 and there were five bids during the auction
The final selling price was $49.00
---