(Return to "Our Home" albumn)
(Return to "Antiques and Collectables" page)
A note from Sharon

"The rose-gold-garnet-ring was my Mother's and I always loved it
......but she said I would have to wait til she was gone before I could have it!
In the meantime, Mother and Dad gave me the oval-garnet-ring for my 18th birthday
This was to keep me happy til I was able to have hers!!
When I arrived in Adelaide for my Mother's funeral Lesley and Fiona were there
and Lesley gave me Mother's ring"
Oval Garnet Ring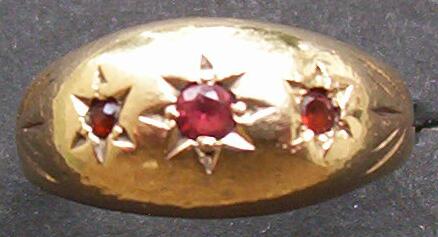 Rose Gold Garnet Ring